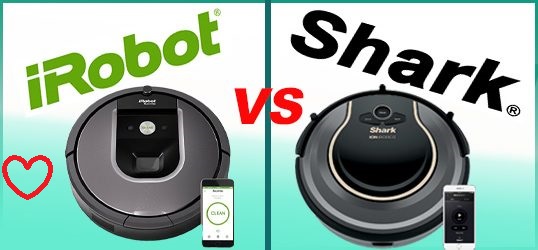 The Shark and Roomba are two of the most famous robot vacuum cleaners, and our comparison below reveals which one is the winner in this head-to-head battle. 
With plenty of vacuuming experience in a well-loved house that sees pets, mud, everyday messes, and plenty of big cleanups, I have tried all the tricks. When automatic vacuums first became available, the idea of ditching my old standup model was very appealing. 
Now, after trying pretty much every vacuum – particularly the Shark and Roomba models – I'm ready to declare a winner and answer the big question: is Shark or Roomba better? 
At a Glance
Both brands have strengths and weaknesses, making this a close call. Nevertheless, the Roomba is the big winner. There are just a few slight advantages that push it to the top spot in the battle of Shark vs. Roomba vacuums. 
However, there are definitely some trade-offs, specifically regarding Roomba's higher price tag. But they usually come with better battery life, which might make the few extra dollars worth it. 
Now, the Roombas can also vary their suction speed, resulting in a dramatically reduced runtime. 
So, if your house tends to get very dirty, you might want to think about which model is best for you: One with a standard run time that might leave some dirt behind (Shark) or a model that is more aggressive in terms of suction but might run for less time due to the extra power (Roomba). 
It's always going to be up to you to decide which is best for your particular circumstances. 
Since there is so much variation, let's look quickly at a couple of head-to-head vacuum comparisons for specific models, and then we'll explore the features available by brand. 
Shark Versus Roomba Models Head-to-Head
Before we get into breaking down the features, let's look at a couple of matchups, first at the low end and then at the high end of the pricing scale. 
Round 1 Budget Edition: Shark ION AV751 vs. Roomba 675
Both of these models are at the lower end of the robot vacuum price spectrum. They're available for about a couple of hundred dollars. 
The competition here is tight since both of these models run for about ninety minutes on a single complete charge of their lithium-ion batteries. The Shark model may run a bit longer, but it starts running out of steam after about the same amount of time as the Roomba. 
Both models have a standard feature where they return to their dock and charge automatically. 
Unlike some more expensive models, they don't automatically return to where they were working when they ran out of charge. That means it might take a little bit of coaching to complete a job. 
As an added plus, the Shark AV751 responds to commands from the Shark App and your voice. 
Winner: Shark AV751
Round 2 Premium Edition: Shark IQ R100AE vs. Roomba S9+
Both of these models are at the top end of the robot vacuum price spectrum. The S9+ is the very top model, costing almost $1,000, and the Shark IQ R100AE isn't too far behind that price when equipped with an optional HEPA-filter upgrade. 
The models come with all the top features, like self-emptying, intelligent routing, mapping, reporting through their app, and no-go zones. Across the board, Roomba's vacuums are better at mapping, so it's no surprise that the top model S9+ excels at this feature, taking advantage of its camera system and infrared walling solutions.
If you have a smaller home with less complicated furniture arrangements, the Shark IQ R100AE might meet your needs. But the more complicated the mapping becomes, the more you might wish for the Roomba S9+. In this head-to-head comparison of two specific models, the S9+ is the clear winner, but it's decidedly more expensive.
Winner: Roomba S9+
Roomba Vs. Shark Models List
Below you can find a list of all the models from both Shark and Roomba. They appear in the order of the most expensive, down to the least. As you see, Roomba offers more models, but you still have quite a few options from Shark. 
Roomba Models 
Shark Models 
Shark vs Roomba Vacuum: General Features
Despite the vast number of models offered by both companies, the choice of which model smart vacuum is best often comes down to finding the specific features you need. Let's compare some features across Roomba and Shark brands so you can get an idea of which you prefer and why Roomba is our winner. 
Rollers and Brushes
Roomba and Shark vacuums take a similar approach in gathering dirt, debris, and hair. They both use rollers to extract messes from floors and carpets. Universally, Shark models employ a single roller, and Roomba models use dual counter-rotating brushes. 
Lower-end Ninja models have nylon bristles on their brushes to help gather dirt. But they also tend to accumulate hair and string, which may cause some tangles that affect operation. You need to clean them periodically. Higher-end models from Shark, like their R101 flagship, solve this problem with a self-cleaning brush system. 
All but the most budget vacuum from Roomba have rubber rollers without bristles, so they don't tangle and rarely need cleaning. So, if you have a house with a lot of hair, particularly pet hair, you might need to consider this feature carefully. 
The Shark models will trap lots of hair, leading to tangles that you need to clear up. But it's quite possible that low-suction models from Roomba will miss some hair because of the lack of bristles and less suction, requiring you to run a vacuum or lint roller over some spots. 
For a robot vacuum, automation is the top priority, so we tend to favor Roomba's maintenance-free rollers without bristles. But, there are Shark models that clean themselves. So, since there really isn't a clear-cut winner, we're going to be right down the middle on this feature. 
Winner: Tie
Navigation and Software
At the entry-level, robot vacuums work randomly. They bump into objects, sometimes more than once, working their way around obstacles. This can usually get the job done, but these models are prone to leaving scuff marks along baseboards, knocking over light obstacles, and spilling pet food and water containers. 
Random cleaning models include the R72, R75, R76, and ION R85 from Shark, as well as the 675, 690, and e5 from Roomba. 
Models priced higher use cameras and better onboard software to avoid obstacles, plan routes, and set-up no go zones. The step up to more expensive models comes with more intelligent navigation from both manufacturers. Still, the mapping features on Roomba vacuums tend to be superior to the capabilities of comparable models from Shark. 
That's already enough for Roomba to win this battle of navigation and software. But, they also have another advantage. Roomba models use wireless infrared stations (sold separately) to create no-go zones. These stations can set up perimeters in straight lines or circles so that you can block off a room at a doorway or around a pet's water bowl. 
Shark models rely on magnetic strips that you stick to the floor to create boundaries. This method is quite effective, but sticking strips to the floor seems a bit archaic. Plus, who wants to look at them! 
Winner: Roomba
Filtration
All Shark vacuums come with a HEPA filter. You have the option of upgrading to a HEPA model on some Roomba models, like the S7, S9, and 960. But the less pricey offerings from Roomba don't even have an option for a HEPA upgrade. 
So, the Shark line of vacuums is the best choice for allergy sufferers looking for a budget cleaning solution. Even though there is the option to upgrade some of the Roomba models, the lack of HEPA filtration availability on a substantial part of their product line puts them at a disadvantage. 
Winner: Shark
Self-Emptying
At the top of the Roomba and Shark lines, there are models with a feature called self-emptying. After performing its vacuuming duties, the vacuum will automatically return to its base and empty the vacuum's collection bin. 
The Shark base is a bit smaller, so it's easier to hide in a corner. They both hold about thirty days worth of dust, crumbs, and other debris. That will obviously vary with how frequently your vacuum runs and how much dirt it collects. 
Here's where the big difference comes in. The Roomba Clean Base has a bag system, while the Shark Self-Empty Base has a collection bin with a trap door for emptying into a trash bin. So, to activate the Shark system, you have to carry the base to a garbage can, release the trap door, and drop the dirt into the waste bin. 
Each time you empty the Shark system, be prepared for a little bit of dust and light debris, like pet dander, to float into the air. You can minimize that by emptying the canister outside. Or, you may prefer the Roomba Clean Base's bagging system. To empty the Roomba version, open the Clean Base and release the bag. The bag self-seals at this point, with all the dirt and hair trapped inside. 
A set of bags isn't cheap, with each one costing a few dollars. But, if you have a loved one who is very sensitive to dirt in the air, you may prefer this system. Plus, there's nothing worse than emptying the base and ending up with a deposit of fine dirt and dust on the floor around your garbage can. 
You can also purchase the top-of-the-line Roomba S9+ without the self-emptying base (S9) if you'd prefer to empty that vacuum yourself. 
Winner: Roomba
Suction Strength
Suction strength tends to increase along with the price. The top model 'S' series from Roomba is the most powerful robot vacuum, but the Shark IQ R101 is right there in terms of maximum suction power as well. 
Lower-priced Shark models tend to have a bit more raw sucking power than their direct-competition counterparts from Roomba. That is consistent across the product lines. At the top end, the difference is negligible, but the edge still goes to the Shark lineup. 
Winner: Shark
Design
Most robotic vacuum cleaners from any brand are roundish or circular. One of the advancements that you'll see on top models, like the Roomba S9, is that one side of the unit is flattened. This design creates something approximating a D-shape. This straight edge allows the robot to get closer to walls, edges, and corners for a more thorough cleaning. 
When it comes to size, Roomba models are bigger on average, but only by a very slight margin. The footprint and height typically vary by less than a half-inch. So, it's not too likely that the dimensions will affect their cleaning ability when the margins are so tight. But, if you happen to have a couch that's one millimeter shorter than the height of your Roomba, you might want to look at a smaller, shorter model from Shark. 
But, Roomba models tend to be significantly heavier than Shark models across the board. That increased weight often translates into more battery capacity and runtime, a larger collection bin, and more user-friendly features. So, even while added weight is a factor, these robot vacuums are supposed to be mostly autonomous, so you shouldn't plan to carry them around much. 
For all these reasons, the Roomba models have an advantage across the design category. 
Winner: Roomba
Battery and Charging
Shark models typically run out of charge before a comparable model from Roomba. You can expect anywhere from 75-90 minutes of run time on most Roomba models. Shark smart vacuums are typically going to clean for about an hour before needing a recharge. 
All the models from both companies are supposed to return to the charging cradle at their docking station when the battery gets critically low. But, the lower-priced models don't pick up where they left off automatically. You may have to intervene to direct the vacuum on what to do when it's recharged and ready to work again. 
Top models like the IQ 100 and 101 from Shark, and the S9, S9+, i7, and some 900 series from Roomba all return to where they left off after a recharge. 
Some models from Roomba also come with a feature that detects heavier deposits of dirt, hair, and debris. When they encounter big messes, they ramp up their suction power to make sure they clean up the mess. That feature tends to drain the battery faster than regular operation. 
So, to take maximum advantage of the Roomba models and do a complete and thorough cleaning job, it makes a lot of sense to step up to the premium models, so the big messes get cleaned, the vacuum recharges, and picks up where it left off automatically. 
That flexibility and the longer average run time give the Roomba a bit of an edge in the battery and charging category. 
Winner: Roomba
Sound Levels
Unfortunately, neither company offers a smart vacuum that is much quieter than a standard vacuum or the ring of an old telephone. All the models will produce around 70 decibels of sound, which is at the low-end of the annoying area of the decibel scale. 
Some Roomba models are slightly quieter, coming in at about 68 decibels when operating. So, if you, a family member, or your pet are sensitive to loud sounds, you may want to look at that model line more closely. 
It's a relatively small difference. Yet even a few decibels can make the difference between you barely noticing a hum in the background while you're sitting on the couch with your dog and having your dog jump over the table to go investigate the louder sound coming from the other room. So, there is a bit of an edge for the Roombas here.
Winner: Roomba
App and Voice Control 
All but the lowest-priced models from both manufacturers allow vacuum control through voice and commands from their app through a WiFi connection. Typically, you have to pair the vacuum with your smart home hub, phone, or computer. 
There isn't a meaningful distinction between how these systems work on either brand of vacuums, so we can't declare a winner. 
Winner: Tie 
Multi-Stage Cleaning 
Only Roomba offers models that ramp up their suction when encountering heavy deposits of dirt. This increased and variable suction often comes at the expense of decreased running time, as the more powerful temporary suction draws the battery down faster. 
So if you tend to accumulate significant deposits of dust, dirt, or pet hair, having a Roomba that senses heavier messes will completely clean up but might need to recharge more often. That's a trade-off for sure, but when you combine the detection power of a Roomba with a model that picks up where it left off after a recharge, you can have the best of both worlds, albeit at the upper end of the price spectrum with models like the i7 and S9+. 
Roomba also offers a separate tool that works in conjunction with their vacuums. Their lineup includes a robot mop, the Braava Jet M6. When used as a companion to a robot vacuum, you can clean in sequence, vacuuming dirt, crumbs, hair, and debris, and then following with a mop, all without lifting a finger. 
For those who can afford this type of premium set up with a price tag that sits well over a thousand dollars, they can enjoy a superlatively clean home without the hassle of mopping and vacuuming manually. Since only the Roomba line from iRobot offers this sort of multi-stage cleaning, they are the decisive victor in this category. 
Winner: Roomba
Warranty
Both Shark and Roomba offer a one-year warranty on all their models. Therefore, there is no winner. 
Winner: Tie
Roomba vs. Shark: The Overall Winner
For our money, the Roomba is the clear winner when it comes to robot vacuums. That said, there is tremendous variation between specific models throughout the Shark and Roomba lines. Depending on your needs and the size of your home, you might very well find a Shark vacuum that gets the job done. 
If you can afford it, the Roomba S9+ is probably the best robotic vacuum on the market. It has almost two hours of runtime on a single charge, a relatively large dustbin, dual rollers, auto-emptying, scheduling software, recharge-and-resume capability, and the ability to use digital markers to create no-go zones. 
If you don't have quite as much to spend, and you don't need to create any no-go zones (avoiding the need for the placement of inelegant magnetic barriers), then the Shark IQ RV1000AE might be for you. It has most of the same features as the flagship model S9+ from Roomba. 
If self-emptying isn't on your list of must-haves, you can step down to the S9 from Roomba or the Shark IQ RV1000 without sacrificing other features. Or, you might decide that a budget Shark model is perfect for you because a HEPA filter is the most important feature on your list of needs, and the offerings from Roomba at that price point don't have that option. 
There are plenty of more budget-friendly models from both companies. But, as the price drops, so will the number of desirable features. For Sharks, that will mean fewer rollers with hard-to-clean bristles replacing rubber and less run time. Since their pricing is a bit higher universally, even most budget models from Roomba have dual rollers and at least ninety minutes of runtime.