I know that time is often in short supply these days, so I decided to focus on reviewing products from the most famous line of robot vacuums. Specifically, I wanted to compare Roomba models and see which of them are a good choice for most modern living environments.
I tested five products and found the Roomba i7+ to be the best Roomba for average households. 
I like the Roomba i7+ because it offers the best balance of price and performance for average households. It's not the most powerful model iRobot sells, but the truth is that most people don't need the most powerful model, either.
Different models perform better depending on specific situations, though. As part of making my iRobot Roomba comparison chart, I took various factors into account, like pricing, performance on carpet and hardwood, and accessibility for mopping features.
Keep reading to learn a whole lot more about Roomba models and what to look for when buying them. 
Let's Dive in
Here are my thoughts on the iRobot Roomba models currently on the market, as well as a bonus review for iRobot's Braava Jet m6 mopping robot.
One note before we begin, though: many of the models below have a + sign after their name. This means that iRobot sells them with an automatic dirt disposal system, which I think is far more convenient than emptying a Roomba manually every day. They usually sell the same robot without the automatic disposal at a lower price, which is good if you want to save money.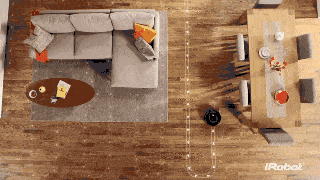 | | |
| --- | --- |
| PROS ✔️ | CONS ❌ |
| Three-stage cleaning system | Quite expensive for a robot vacuum |
| Works well on both carpets and hardwood | Targeted cleaning commands may not be worth the extra cost |
| Excellent performance for the money | |
| Supports customizable maps | |
| Targeted cleanup through voice commands | |
Roomba's i7 is a great option for buyers who want a powerful vacuum that's suitable for most situations but without the cost of going to the current premium model. 
Each time this vacuum begins cleaning, it performs a scan to map the area's structures and make sure it will clean along the most effective route. The real value of this feature comes through its Wi-Fi connectivity. The i7 can add its map to iRobot's HOME app, where you can label, merge, and split its pre-segmented areas as you like.
Once you have the map done, you can designate specific cleaning times or tell the i7 to clean an entire level. This is also how you can get it to clean specific areas. For example, if you designate an area as the kitchen table, you can tell it to clean that.
The i7 can remember up to ten floor plans, which is more than enough for several floors in one house and still have sufficient room to bring it to another household. Homes with exceptionally large floors may need to break that into segments, though.
If you get the disposal base, it will hold about 30 robot bins of general dust and debris. iRobot advertises this as emptying the bin once a month, but in practice, it varies based on how much dirt your home makes. Many pet owners, for example, may find their bin filling up much faster than once a month.
Keep in mind that disposal bases are not interchangeable between Roomba models. They're made to match the specific model they're sold with, so you can't change Roomba models later and use the same base.
One other feature I like is the addition of Keep Out Zones. These are areas that you can tell the Roomba to specifically avoid cleaning, which is good if you have breakable objects, pet feeding or sleeping areas, and so on.
Cleaning itself is made possible through a powerful suction system and iRobot's multi-surface rubber brushes. They claim their high-efficiency system will capture 99% of cat and dog dander, but like most brushing systems, they'll eventually wear down and need replacing. This is especially true if you have particularly hard floors or tough carpets.
Another valuable feature is the Smart Charge and Resume system, which lets the i7 estimate how long it will take to clean the remaining area and intelligently recharge to reduce the amount of time necessary before it's done. That's one of the most effective ways to improve robot cleaning times, and it's a nice feature.
The i7 isn't a perfect product. It's still relatively expensive, and advanced features like voice-targeted cleaning aren't an essential must-have for many households. That said, this is still the best overall option if you can afford it.
Roomba i3+ – Best Value For Money
| | |
| --- | --- |
| PROS ✔️ | CONS ❌ |
| Much more affordable than the i7 | Not as durable as the i7 |
| Learns cleaning schedules | Disposal bags are expensive |
| Intelligently suggests extra cleaning times as needed | |
| Focuses on dirty areas | |
| Cheapest unit with Roomba's standard suction power | |
The i7 may be the best choice for most buyers, but it's not quite the best value for the money. In this iRobot Roomba comparison, that honor falls to the unit with the highest suction power at the lowest price: the i3. 
This is the first model that has Roomba's "main" line of suction power, which is roughly ten times greater than their budget-focused 600 series. It's not as potent as others, but it's strong enough to be effective in most situations.
The i3's cleaning process involves a three-stage system supported by dirt detection systems that help it focus on the dirtiest areas of your home. It also offers reactive sensor technology, which helps identify which areas it can reach and which ones it can't.
One feature I particularly like is the focus on personalized cleaning schedules. This unit can build a database that understands when you usually want to clean things, then start cleaning automatically at those times. This goes even further with suggestions for extra cleans during times of high pollen or pet shedding.
Robot vacuums that understand enough context to suggest useful changes are handy, and that's one of the many reasons I think this is the best overall value for your money. It won't perform quite as well as the i7, but it will still perform well enough in most households.
I think this Roomba model is best for households with milder dirt traffic and pets that shed some, but not too much. It's also a great choice if you want to remove as much pollen as possible. That's especially important in homes that leave windows open regularly.
The main drawbacks of this Roomba are the fact that it's not quite as durable as the i7, and the disposal bags for the base are on the pricier side. That kind of cost adds up fast, so if you're looking for great value, you might want to get the version without the base instead.
Roomba 694 – Best For Budget Buyers
| | |
| --- | --- |
| PROS ✔️ | CONS ❌ |
| Most affordable option | Weakest suction power among all models |
| Has smart cleaning schedules | Not as useful for larger areas |
| Works well on both carpets and hardwood | |
| 90-minute runtime | |
| Automatically recharges | |
Roomba's 600-series is their budget-focused line and also the standard by which they compare all of their other products. This is especially true for suction power, where the next-weakest product on this list has five times as much power, and the strongest Roomba has forty times the suction.
To be clear, that doesn't mean the 694 is a bad product. It's not. It's still up there with some higher-end robot vacuums from other manufacturers, so it's a decent choice thanks to its merits. However, it's just not the right choice for everyone.
While this robot can clean on carpets, the comparatively low suction power means it won't perform as well. However, it works great on hardwoods, which means it's a fantastic choice in homes with little or no carpet to worry about. It's also better for smaller homes and apartments rather than areas with larger floor plans.
The main reason for this is its runtime. The 694 can run for about 90 minutes at a time, after which it returns to its dock and recharges. It doesn't automatically resume in the same spot, though, so it may not end up cleaning some areas that are far from its base.
However, you need to keep in mind that this is the affordable option, and you're really getting what you pay for.
Despite that significant flaw, though, this unit still has a robust suite of integrations and controls. Sensors help it navigate under and around items, while connectivity to Google Assistant and Amazon Alexa lets you start cleaning anytime.
If you don't need too much cleaning power and want to get the cheapest option on the market, this is a good choice. The 694 isn't for every household, but it is for some households. By all means, look at this product if you think it fits your home, but look for something else if you have a lot of carpets or a bigger floor plan.
Roomba e5 – Best For Hardwood Floors
| | |
| --- | --- |
| PROS ✔️ | CONS ❌ |
| Noticeably more powerful than the 694 | Sometimes misses spots |
| Efficient edge-sweeping brush | Noisier than some other models |
| Great for homes with pets | |
| Washable dust bin | |
| Automatically recharges | |
Roomba's e5 isn't one of the models it advertises most often, though that's not a surprise. This is a step above the budget line of the 694, but it's only about half as powerful as the i3, which is what we can consider the first of iRobot's mainline robot vacuum cleaners.
The main difference between the e5 and the 694 is the power of its suction system. The e5 has roughly five times the cleaning power while maintaining similar navigation and control features, which makes it noticeably better. That said, it's also a little noisy, so people who are sensitive to that may not like this model as much as some others.
This extra suction power is why I think the e5 is the best choice for hardwood floors. It can pick up almost any sort of dirt or debris from hard floors, and if that's all you're after, you don't need anything more expensive. This isn't the cheapest option on the market, but it's still affordable and does well in households with pets.
Like many of the other advanced models, the e5 can learn your general cleaning habits and suggest schedules that match your daily life. This includes recommendations for things you might not think of, like extra cleans during the pollen season.
The auto-adjusting cleaning head is a nice touch, too. This adapts the e5's height for different cleaning surfaces, which makes it more efficient on carpets with short, straight fibers and hard floors. Unfortunately, you may find that it's not quite as good on thicker carpets.
Make sure you don't wax the floors too heavily, though. That can cause problems for any robot vacuum.
| | |
| --- | --- |
| PROS ✔️ | CONS ❌ |
| Most powerful option on this list | Doesn't adjust maps very easily |
| Efficient edge-sweeping brush | Inconsistent build quality |
| Extra-wide cleaning brushes | Noisy |
Earlier, I wrote that the i7 was the best choice for most people because it offered a great balance of price and performance. In contrast, the s9 model has a few major flaws that hold it back from being the top choice overall, despite its higher price point. Before we get into that, however, let's talk about the positives.
This is easily the most powerful option that iRobot is currently selling, with a vacuum that's about forty times more powerful than the 694's. That's a lot of suction on every surface, and it means this robot is pretty good at getting deep into carpets and cleaning them as thoroughly as possible.
The s9 also features an extra-wide cleaning area compared to other models, which means it can find and suck in far more dirt. The D-shaped design lets it maneuver along walls and into 90-degree corners, although like most cleaning robots, it won't be able to get into angles that are too small.
Sadly, despite this model's power, there are a few flaws that make it hard to recommend for an average household. In many ways, I like this the least of all iRobot Roomba models, even though it's supposedly their premium choice.
The first issue is that it has difficulty remapping areas despite the number of sensors on it. Moving chairs a few inches is enough to make it lost sometimes. It also misses some corners, can't handle low-pile rugs, and will often spin in circles instead of reversing to get out of an area.
When these products last, they may only do so for about two years, which is a very short amount of time for a product you might be spending over a thousand dollars on. Worse, its suction power creates a lot of noise. In fact, you may have difficulty watching television even if the unit is several rooms away.
You can mitigate the noise issue by having it clean while you're out of the house, but that runs the risk of triggering other issues and not being there to fix them. There's no getting around that this model comes with several issues that are hard to overlook, unless, of course, you need that power.
This model would be great for someone who needs extra oomph when cleaning, including households with plenty of kids or dogs. It would also be superb in a commercial setting, such as at a retirement home or a rec center!
In short, this is the only model in this iRobot Roomba comparison that I don't recommend getting unless you need something that can tackle huge messes. The i7 and the i3 will do well enough on most carpets, and those are better choices for the average family even though this one outperforms them. 
| | |
| --- | --- |
| PROS ✔️ | CONS ❌ |
| Decently large liquid holder | Can have trouble sharing maps |
| Goes along edges quite well | Requires a lot more setting up |
| Smart home connection systems | |
Most people aren't nearly as familiar with the Braava line as they are with Roombas, but iRobot sells these as companions for their vacuums. There aren't any units that truly do both, so don't expect to find an all-in-one cleaner.
The manufacturer often sells this product only in a bundle with Roombas, but you can buy it separately from other retailers. Now that we've discussed that, let's talk about the actual features.
This unit focuses on cleaning in neat rows, with a particular emphasis on using smart mapping to understand where to go. It's got the power for multiple large rooms, but if you want to get the most from it, you'll need to dive deep into iRobot's HOME app.
The main issue here is that some cleaners aren't good at determining what needs spraying and what doesn't, so you'll need to adjust the smart map and section it into multiple small areas, then tell it where to stop so it won't try to clean anywhere else. That means you can expect a relatively long setup time as it builds the initial map.
The Jet m6 works with both single-use and reusable cleaning pads. I recommend reusable, especially if your hard floors don't get too dirty. The unit also uses its proprietary hard floor cleaning solution, and using other chemicals could damage the robot. This is a little awkward because the cleaning bottles don't last very long.
This robot works best on smooth, hard surfaces, notably including linoleum, laminate, tile, wood, and vinyl. It's not very good on areas with a lot of wax, though, while rougher terrain like bricks will probably snag the cleaning cloth.
Despite the hassles of setup, this is still a good choice for mopping. The trick is to make sure you vacuum the area first to clear up basic debris, then let the mopping unit handle what's left.
iRobot Roomba Buying Guide
Now that we've looked at all of the options for the iRobot Roomba comparison, let's take a look at the different factors to consider before you go shopping. I'm going to go into extensive detail on these, so by the time you're done, you should have all the information you need to make an informed decision about buying a Roomba.
Home Design
The first thing to consider when you're thinking about buying a robot vacuum cleaner is your home design. The principle is clear: simpler is better. It's much easier to clean a single floor with mostly flat surfaces than it is to clean three stories that otherwise provide the same amount of floor space.
Robot vacuums are practical for up to two floors but may need an additional base unless you always empty it manually. Once you hit three floors, it starts to become inconvenient to lift it up and down every day and deal with its changing maps, especially on lower-priced models.
Houses that are on the large side can also be an issue. Most Roombas run for about 90 minutes on a full charge. Depending on the model you have, they'll then either return to the base and stay there or charge up and complete the job later.
If you want to clean everything in your home, it's usually better to buy a model that can resume its cleaning process instead of restarting it. This is mostly a matter of pricing, so look towards the more expensive models if you have a larger floor plan.
As an additional note, battery life mostly isn't a concern except for particularly large houses. Most Roombas can complete their cleaning in less than a full charge, with many doing it in half an hour or less. In other words, you probably don't need to worry about battery life while picking a Roomba.
Roombas typically use lithium-ion batteries, which are among the most popular choices for home electronics, thanks to their high capacities and the ease of recharging them.
Flooring
Most robot vacuums, including Roombas, perform best on hardwood and short carpets. Thick carpets and long strings like rugs can be harder to clean or even get tangled up in the system. Can you imagine needing to free a robot vacuum every time it goes over a rug? Nobody wants to pay hundreds of dollars for that sort of hassle.
You can somewhat mitigate this with advanced Roombas, especially those that let you set exclusion zones on the map. Unfortunately, you may need to do a lot more of this than you originally expected, and here's why.
Large areas on the maps for advanced Roombas are bad. If they detect a problem, they may decide they need to remap the entire area. If they're remapping every time they run, you won't see any of the advantages in well-planned routes. Segmenting the map into specific areas lets a Roomba adjust small places without needing to replace the whole map.
This isn't very intuitive when you first get a Roomba, though, and it takes some time to truly master the app and its settings. The key to success here is smart planning. For example, you can make an exclusion zone around the tassels of a rug that would otherwise get tangled.
A secondary consideration for flooring is its elevation. The maximum height of a threshold for a Roomba is about 5/8 of an inch or 1.6 centimeters. This is approximately the height of two credit cards stacked together. That's pretty low for a cleaning robot. It's lower than the thresholds between rooms in many households.
While getting between rooms is important, it's worth noting that a Roomba may not be able to climb onto any rug area that's too thick. The motors are strong enough to push it into some areas, but that's not guaranteed.
As I said above: Roombas perform best on hardwood and short carpets, as in the kind that is set slightly below hardwood to create as flat a walking space as possible. If your flooring isn't compatible with robot vacuums, then even the best Roomba currently on the market won't clean nearly as well as you're probably hoping for.
Pets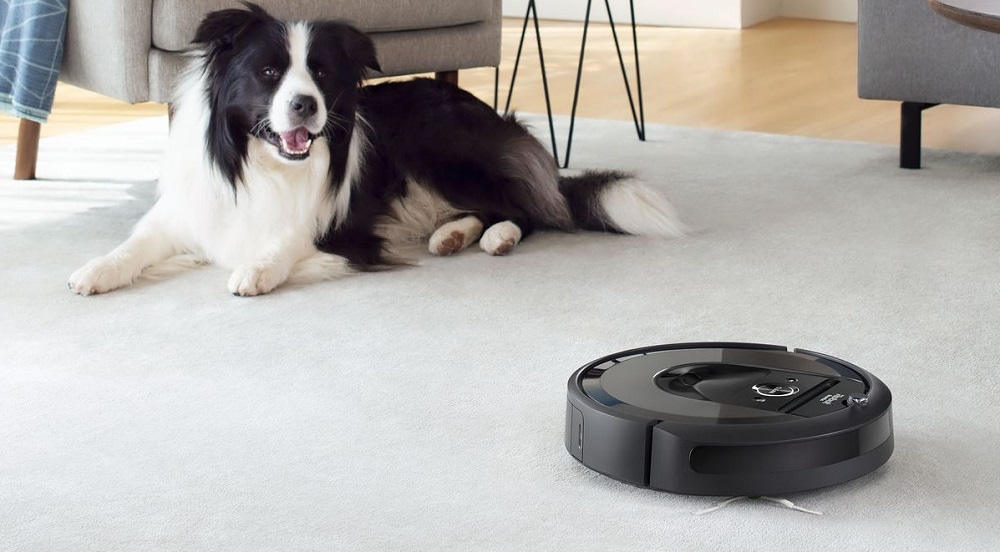 It's hard to overstate how much of a difference having pets makes with a robot vacuum. Many cat and dog breeds, for example, shed a lot of fur over time. This fur can be the huge majority of what you vacuum up, drastically reducing the time it takes to fill up any bin. Most Roombas are quite good at picking up pet hair, too, so they won't miss most of it.
There are two main considerations here.
First, having pets that shed a lot means things like the self-emptying stations will fill faster. iRobot wants you to buy their special bags for it, so you'll end up spending a lot more money on vacuum bags over time if you have pets. I have personally vacuumed up enough pet hair to fill one of their stations in a single day.
This means it may be better to empty your Roomba manually. Of course, that often means you'll need to be home while it's running, which takes away the convenience of having it run while you're out of the house.
The second consideration is that Roombas are surprisingly good at helping filter your air. The better models, in particular, suck in lots of air from the outside while picking up dirt, pollen, and other debris on the ground. This means that they can help filter allergens from your air as long as you keep their filters clean.
Roombas aren't a substitute for proper air cleaners, but their air filtering capabilities are a nice extra for owners who are sensitive to pet dander, pollen, and other floating problems.
Price Ranges
Most robot vacuums fall into three pricing ranges. Roombas fall into the mid and high-range categories, but I'm including all three here for convenience.
Budget Models: Up to $200
Robot vacuums that cost less than $200 are the cheap options. They tend to have decent batteries, large dustbins, and low profiles, but they don't have the same level of connectivity or control as higher-end models do.
The result is that budget robot vacuums tend to avoid having too many sensors, so they may move around near-randomly instead of following a set pattern. That's not a huge deal if your house doesn't get too dirty, but if you need to clean every location regularly, it's better to look for a mid-range model.
Roomba's 600-line sometimes falls as low as this category but mostly doesn't these days.
Mid-Range Models: $200-$600
This is the range where you'll find most of the better robot vacuums, including the majority of decent Roomba models. Units in this range tend to have advanced features like better mapping capability, smart home integration, and automatic dirt detection.
To some extent, mid-range models are also harder to use than their more affordable cousins. As I mentioned above, a lot of this has to do with the mapping systems and how they work. The fact that you can take more control of a map also means you need to spend time controlling the map to truly optimize performance.
This is less "robot does everything on its own" and more "advanced AI control to give precise commands" than it can look when you're first buying a robot. If you set up maps and no-go areas well, though, Roombas tend to perform quite well.
The functionality of mid-range models is also where I want to see units improve in the future. A robot with as many sensors as a good Roomba should be able to figure out how to segment areas on its own and create a precise, well-detailed map broken into helpful small zones without being overwhelmed. We may see that in the future, but it's not common quite yet.
I usually recommend this range to most buyers. These are the models that are advanced enough to be genuinely useful, and frankly, most premium models aren't significantly better in terms of mapping or general performance.
Premium Models: $600+
Premium robot vacuums can go from several hundred to over a thousand dollars. A few retailers sell robot vacuums for over $2000, but these are almost universally overpriced and not worth anywhere near what the seller wants to get from you.
Most premium vacuum models differ from the mid-range models in only one significant way: suction power. For all of the s9's flaws, as detailed above, there's no denying that it's an immensely powerful vacuum. It's about four times better than most of iRobot's mid-range models, and you can both see and hear the difference.
Some advanced models also have better mapping capabilities, including the ability to store ten or more areas. A few can work in tandem with other robot vacuums, although that's a comparatively rare feature.
Pricing varies somewhat by the retailer, but the Roomba i7 (my top choice) usually falls at the low end of premium models or the very highest end of mid-range models, depending on current features.
Accessories And Other Equipment
iRobot wants you to buy a lot of their proprietary equipment. That's not exactly unique to them, but it's worth keeping in mind that they'd rather you buy individual parts instead of throwing out the entire unit.
For example, they sell replacement dirt disposal bags, filters, edge-sweeping brushes, multi-surface regular brushes, virtual wall barriers, batteries, washing bins, wheel modules, and more for their I-series, including the i3 and i7 models. You can switch out most of a Roomba, with the exception of the sensors, without having to buy a whole new product.
Braava models have replacement pads, floor cleaner, filters, and so on, separate from everything Roombas offer.
In short, there's a lot of accessories on the market, and you may end up buying some of them over time. You have to get replacement supplies for the Braava, and even Roombas will usually have parts worn out to the extent you'll want several spares at a time. This raises the ultimate cost of ownership for every iRobot system, and you should factor that into your budgeting.
How Well Do Robot Vacuums Clean?
Robot vacuums, like Roombas, work best for lighter day-to-day cleaning. Even the best robot vacuums don't have the battery capacity to provide the kind of sustained suction that a high-end upright vacuum cleaner can provide when you need to do a deeper cleaning.
So, Roombas haven't made the need for other vacuum cleaners redundant. However, they can reduce how often you'll need to use those, and that's really what most people want out of them. You should still use carpet cleaners and do a deeper clean as needed, especially in areas with heavy traffic.
How Long Do Roombas Last?
Now, this is one of the most common questions people have, and it's a good one. It's also kind of hard to answer, for reasons I'll explain.
As a whole, Roombas last for two to five years, depending on how well you manage using them. If they get kicked around a lot or scrape over rough surfaces, they'll probably wear down much faster. If you only use them once every few days, they'll probably last a lot longer.
One of the biggest things that impact the product's lifespan is the varying components. For example, Roomba batteries are usually good for about four hundred charges. That's about one to two years of performance per battery, at which point you'll need to replace it before you can keep using the unit.
Notably, Roomba's limited warranty only covers one year of ownership, so after that, you'll have to buy the replacements yourself. Other parts may last for far less time. That includes the corner cleaning brushes and also the rubber roller, depending on the type of flooring your Roomba goes over.
Hard flooring tends to wear rubber down faster, so if you're mostly cleaning hardwood, keep an eye on the rollers for your Roomba.
Similarly, things like long pet hairs can clog rollers and lead to some issues with the motor, so it's best to check your Roomba regularly and try to keep it clean of clinging debris. With a good maintenance schedule, though, you can expect to get the maximum lifespan from any Roomba.
iRobot offers an excellent care schedule for owners. Note the distinction between its care schedule (i.e., cleaning things) and the replacement frequency.
What About Vacuum/Mop Hybrids?
Most hybrid units don't work very well. This might change in the future, but as things currently stand, most robots don't have enough power or capacity to handle vacuuming and mopping duties at the same time. This is particularly true because they need to spray areas before they mop them and give cleaning chemicals a little time to work.
If they spray the area and immediately vacuum it, a lot of the moisture goes into the vacuuming bin, and that doesn't usually work out. If you want to vacuum and mop the floors, get two robots and set them for different schedules. You can try to have one unit follow the other, but that messes up regularly and can be more of a hassle than it's worth. 
The Bottom Line – iRobot Roomba Comparison
For all the reasons above, I like Roomba's i7 the most out of its entire line of current products. It has excellent suction power, smart home connectivity, and generally good mapping technology at a reasonable price for what you're getting. It's also the best unit, period, even taking into account more expensive alternatives.
For budget-conscious buyers, the Roomba 694 is a great alternative if you have a relatively small, flat area that you want to clean regularly. I don't recommend the s9+ even if you're buying by power instead of price because production issues stop that model from being as good as it should be.
Roombas and Braavas are widely available, so you shouldn't have any difficulty buying them. Make sure to check iRobot's official site even if you plan to buy elsewhere; this may be the only place to get some replacement parts, and as detailed above, you're likely going to need those. You can also buy Roombas at retailers like Amazon, usually for a competitive price!