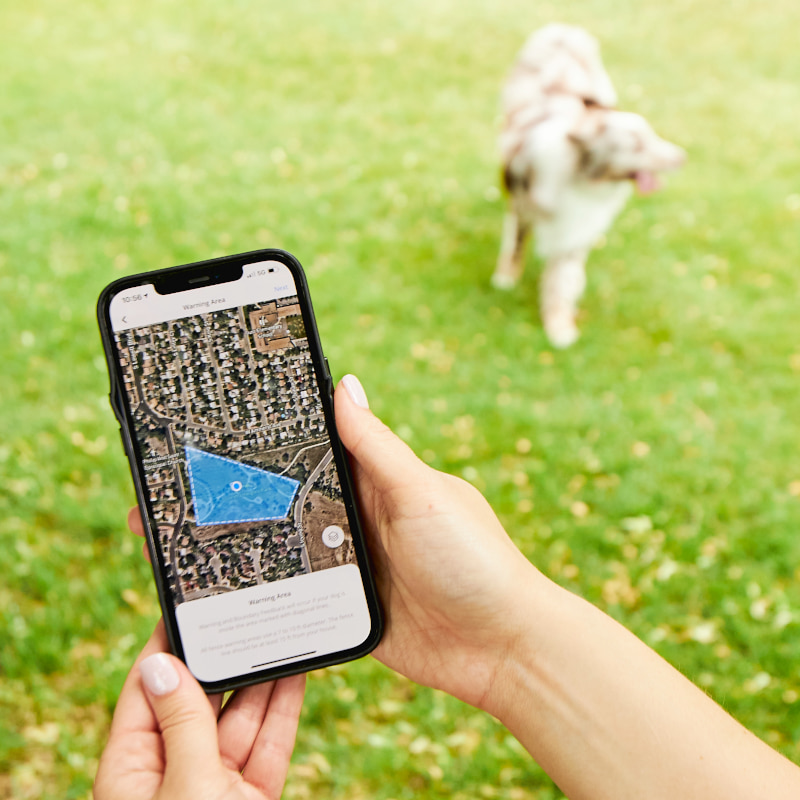 Keeping your dog safe is the top priority for any good pet owner. But for dogs who love to wander, chase animals, or explore their surroundings, making sure they're always safe, healthy, and in your yard can be harder than it might seem.
This is why Halo created an all-in-one solution with their unique next-generation smart collar and wireless fence. 
Over the years of trying to keep my pets as safe as possible, I've tried countless dog collars, invisible fences, and even physical fences and barriers. With everything that I've tried, I found the Halo Dog Collar and Wireless Fence to offer the most extensive protection, with plenty of unique features in a small and convenient package. 
Keep reading this Halo Dog Collar review to hear about its features and whether or not this smart collar is worth your money when it comes to protecting your dog.

One of the most popular smart collars on the market today, the Halo Dog Collar offers an innovative GPS collar designed with a huge range of modern high-tech features designed to keep your dog safe. 
Halo's goal is to create peace of mind when it comes to protecting your dog, and with their all-in-one smart collar and fence, you'll have easy and convenient access to an advanced wireless fence and complete safety solution. 
With more features than other smart collars at a practical price and unique training programs and resources, you can't go wrong with trying out a Halo GPS Collar for your dog. 
Halo Dog Collar Features We Love
Here are some of the features that come with the Halo Dog Collar that make it stand out from the other smart collars and invisible fences you can buy today. 
Halo Collar: Smart Dog Collar with Virtual Fence Reviews
While setting up in-ground fences for dogs can be a huge hassle, the Halo Dog Collar makes it simple and convenient to set boundaries for your dog and ensure they stay within the safety of your yard. 
You can easily set up the bounds of where you want your dog to play, and through smart fence technology, the Halo collar autonomously guides your puppy to stay within the parameter you set. With Halo's modern and innovative high-tech collar design, this virtual fence can work without any wifi or data connection, so you can let your dog roam and play in your yard without any concerns. 
You can set up to 20 different invisible fence zones, making it simple to give your dog all the space and freedom they could want with total peace of mind. With so many GPS-enabled fence options, you can let your dog have the freedom to safely run and play no matter where you go.
Natural Guidance and Prevention Feedback
Once you design a fence for your yard, the Halo Dog Collar uses natural guidance and prevention feedback to gently keep your dog safely within your set boundaries. 
So how exactly does a collar keep your dog in a yard?
The wireless collar includes three tiers of prevention, all of which are completely customizable and easy to adjust based on what you're looking for and how your dog best learns. 
The first type of prevention is a customized warning that allows your dog to learn what the boundaries mean and associate the area with "keep away" and "come back". The boundary and emergency feedback tiers are then used for situations in which your dog ignores the boundaries or gets distracted. 
This training all includes gentle guidance and personalized communication to tell your pup when it's time to come home. The collar also includes encouragement feedback for when a dog stops or turns around at a boundary, saying "good job" to encourage your dog to stay in the approved zones. 
All of this guidance and prevention feedback is entirely adjustable, with customizable feedback options including vibrations, sounds, or static.
GPS and GNSS Integration
The incorporation of advanced GPS and GNSS is a crucial feature that helps this collar stand out against any other safety system for dogs.
Because the Halo fences are installed with GPS and GNSS, you don't need to install any wires or barriers – once you set the boundaries, the GPS-enabled fences offer reassurance that your dog will stay safely inside your smart fence location.
Another part of Halo's mission is to prevent any more lost dogs. With the collar's GPS tracking ability, you can make sure your dog stays safe and finds their way home if they do get out of your yard. Not only will you be able to track their location within just a few feet, but the collar will use the parameters you set to guide your dog home.
While many in-ground fences don't provide any warning if your dog wanders too far, the Halo Dog Smart Collar is designed to send you an immediate notification if your dog strays past your set boundaries. If you're worried about your dog wandering and getting lost or hurt, the integrated GPS and GNSS systems are a great way to make sure you can always find your pup and bring them home safely.
Built-in Halo App
Everything you need to customize your safety features, create your preferences, and successfully install your Halo GPS dog collar is conveniently located in the built-in Halo phone app. 
Having an easy-to-use hub for everything related to the Halo Dog Collar makes this incredible safety system even more convenient. From the app, you can manage your customized prevention feedback, adjust your Halo plan, and change modes for one or multiple dogs. This is also the place to go to install up to 20 wireless smart fences in any area.
You'll also be able to access any tracking and training information for your dog. While the collar takes care of the work and guidance, you can easily manage the information and check your puppy's progress with just a few taps. Make sure to check out the app's dashboard for a summary of your dog's progress and daily activity inside your wireless fences.
Easily Adjustable Safe Boundaries
Without any complicated installation, Halo Dog Collar and the integrated wireless fence are super simple to adjust and create customized safe boundaries. When you log into the app, you have the ability to create multiple safe locations and customized fences at your fingertips. 
Whether you're going to the dog park, a friend's house, or anywhere away from home, you can use the app to create safety barriers. This allows you to easily allow your dog the freedom to roam and explore any new environment, without any fear that they may wander too far and get lost.
Activity Tracking
In the same way Apple Watches and FitBits can track health and activity for humans, the Halo Dog Collar tracks your dog's routine and activity throughout the day. 
This unique activity tracking feature monitors your dog, gathers data, and provides reports on some of the significant statistics about your dog's activity level. Through the Halo Dog Collar, you can view how many walks and steps your dog takes every day, time spent relaxing vs. being active, time spent outside, and more.
And when you're not with your dog, safety updates can help keep your mind at ease. Accessing real-time information about your dog's activity through the app is perfect for checking in on your puppy's health and safety when you can't be around.
You can find these reports on the dashboard of the Halo app. Tracking your dog's activity throughout the day is a great way to establish a routine, learn more about their health, and provide them with a healthy, active, and happy life.
Expert Training Program
One of the most unique features of the Halo Dog Collar is the included 21-day training program with the well-known dog trainer Cesar Millan.
Throughout this training, Cesar Millan provides you with all the tools you need to help your dog learn the customizable commands and use positive associations to understand boundaries. 
This safe and effective training is centered around a dog's psychology and is designed to help familiarize your dog with the collar and understand which customizable feedback sounds and encouragement will be most effective for your dog's learning style. The training program also includes step-by-step instructions and videos from Cesar Millan. 
With all these resources, it's simple to train your dog to understand the new boundaries and gain better insight into dog psychology that will help you build an even stronger relationship with your dog in the future.
Progress and Prevention Tracking
Throughout Cesar Millan's 21-day program, be sure to follow along in the app's dashboard to see your dog's progress and improvement in real-time. As you cover indoor and outdoor training, encouragements, customizable feedback, and more, you'll be able to track your dog's behavior and areas of improvement.
The prevention feedback provides even further insight into your dog's behavior and improvement with the boundaries of the yard. You'll be able to view how often different preventions are used to help understand which skills you still need to work on during training. Once training is over, this prevention tracking allows you to see changes or concerning patterns in your dog's behavior.
Works With Any Terrain
Because the GPS works with no wifi or data connection needed, the Halo Dog Collar can be trusted to keep your dog safe and give you peace of mind no matter where you travel. 
The wireless fences work in almost any terrain, so you can use them to keep your pup close on hikes, near rivers, the beach, and so much more. Your dog will love their newfound ability to run and explore across all terrains, while you'll enjoy the security of knowing they're safe and within your drawn boundaries. 
Because there are no wires or in-ground installation, the Halo Dog Collar also allows for complete portability wherever you travel. It's lightweight and waterproof, and with options to create numerous different fences, your dog can safely run, splash, and play in almost any environment and destination. 
Comfortable and Adjustable Fit
Outside of all the high-tech features of the Halo Dog Collar, your dog will love the fit and comfort of this collar on their neck. 
The strap comes in three sizes – small, medium, and large – and can be adjusted for a more precise fit on any dog. The collar is one-size-fits-most, with a no-slip design and custom clasp.
You also don't have to worry about a puppy quickly outgrowing their collar. The strap is easy to adjust or exchange for a different size for a perfect and comfortable fit as your dog gets bigger. The soft, flexible material creates additional comfort and allows your dog to wear it around all day without any irritation.
Practical pricing
We know that $999 sounds way too high for a collar – but when you consider the cost of invisible fences, training, a GPS tracking smart collar, and all the other features, you end up paying a lot less for a greater level of security and safety. 
With the in-ground wiring and additional installation costs of putting in an invisible fence, you can easily end up spending upwards of $1,000-$1,500. And with fewer features than the Halo Dog Collar, you won't end up getting your money's worth. 
Halo Dog Collar GPS Reviews rave about the results of the expert training, the safety and efficiency of the fence, and the peace of mind and sense of relief that comes with knowing where your dog is at all times. With all these benefits and happy and safe dogs, Halo is easily worth the price.
Variety of Subscription Plans
Halo offers something that suits every dog owner's needs, and with three different plans, it's simple to find the best features for you and your dog. 
The Basic Plan has everything you truly need for your dog to enjoy the freedom of their new smart collar with the virtual fence. However, the company also offers a Silver Plan, which includes even more customizable support and advanced activity tracking, as well as a Gold Plan with even more training sessions and live sessions with expert dog trainers.
If you aren't sure which plan is right for you, you can try the Gold Plan for free for 30 days and decide if the ultimate training sessions suit you and your dog's needs.
Alternatives
While the Halo Dog Collar is one of the top GPS smart collars you can find, there is a range of other collars with similar safety features and designs. Here are three alternatives if you decide the Halo collar isn't the right choice for you. 
If you're looking for a more budget-friendly alternative to the Halo Dog Collar, the Fi Smart Dog Collar is another great option. This collar is durable, adjustable, and designed for outdoor use in any condition, making it an excellent smart collar for dogs who love adventuring in the outdoors. 
The 24/7 GPS tracking is a major benefit, and the Lost Dog Mode feature allows you to receive real-time updates about your dog's location. While it lacks the same level of virtual fencing as Halo collars, you can use geofencing to create safe zones and receive a notification if they leave the perimeter. 
Wagz smart collars share a lot of similar features with Halo collars, including activity and wellness tracking, fitness mapping, and real-time, always connected GPS tracking. This collar even includes customizable geofences, with vibrations, audible cues, and sounds to deter dogs from the border. 
Unlike Halo, Wagz doesn't include a training program, so your dog will require additional training to learn how the collar works. With some extra work and communication with your pup, however, this collar is an excellent and affordable collar alternative. 
The Findster Duo Tracker offers another fantastic way of maintaining peace of mind when it comes to your pet's location. This collar includes a reliable GPS tracker, with real-time alerts that send your dog or cat's location right to your phone. 
Along with monitoring your pet's activity, you can create safe spaces and get notifications when your animal leaves the area. Despite not offering the same training resources, this is a great way to know your animal's location and keep them safe. 
One thing to keep in mind is that Findster is limited to tracking animals up to three miles, although this distance may shrink in more congested areas with less connection. 
Halo Dog Collar Review Bottom Line: Is It Worth it?
It's no secret to any dog owner that dogs of all ages love to roam, chase squirrels, and enjoy the outdoors. It can be a huge challenge to figure out how to provide the freedom and activity dogs want while keeping them safe and happy. 
Luckily, the Halo collar for dogs offers an innovative and advanced solution to this problem. With a huge variety of unique features designed to increase safety and give your dog the best life possible, this collar and virtual fence is one of the best smart training and collar systems you can find. 
If you're worried about your dog escaping your yard, be sure to check out Halo's unique collars for an effective, safe, and convenient solution.
FAQ
How much does halo collar cost?
Halo 2+ GPS Dog Collar & Wireless Virtual Fence will cost you $999 but you can get $300 off if you add the Pack Membership Plan that will set you up with the GPS and virtual fence.
How long does the halo dog collar battery last
The battery should last you about 20 hours for a single charge. Of course this number can vary based on the usage level of the app and the collar.
What are Halo Subscriptions plans?
Basic Plan– $4.49/month
Silver Plan– $9.99/month
Gold Plan– $29.99/month
We think the basic plan is more than enough it lets you create up to 20 wireless fences data storage, basic tracking, and training content the more advanced plans offer more customization options which is nice but not absolutely necessary.
How does halo dog collar work?
The collar let's you set up wireless/virtual fences that will function as borders for your dog. If your dog approaches or crosses these virtual fences you will be notified via the halo app.
Will Halo work without WIFI?
If you set up your Halo Fences beforehand, the fences are stored in the collar and still exists. However you won't be able to get notifications or live updats from the collar.