Dogs are curious creatures and have a tendency to wonder around as you probably know, searching for adventures, exercise, or socialize.
While some dogs can move out and come back safely, others may get lost on the way and may never return home unless you trace them. That is where the smart dog collars come into action.
Smart dog collars offer the best way of restraining, identifying, and tracking your 'escape artist dog.' However, not all collars are built the same.
They feature differences in their functionality, quality, durability, and safety, making it hard to secure the best collar for your four-legged friend.
As an experienced dog expert, I have extensively researched and reviewed the best dog collars you can find in the market.
Whistle Go Explore dog collar is the top product on my list. I ranked it the topmost due to its ability to trace the dog's whereabouts using its phone app.
The collar also notifies you whenever your dog leaves a designated zone. Keep reading to learn more about the Whistle Go Explore collar and other top-rated collars on the list.
If you are looking for a collar that monitors your pet's health and location, do not go beyond the Whistle Go Explore Dog Collar.
The 7.37 ounces dog collar by whistle features a location tracker, enabling you to trace your four-legged friend within 3,000 miles or more quickly. All you need is to set up alerts in your AT&T and Wi-Fi-enabled mobile device.
Included also in the Whistle's dog collar are the activity, health, and nutrition trackers. With the trackers, you can monitor the dog's behaviors like scratching, licking, sleeping patterns, and potential health issues in your whistle phone app.
Additionally, you can use the collar app to oversee the dog's activities like walking and health information like the number of calories burnt in strenuous activity.
Another amazing feature of this collar is the in-built nightlight, which offers you three fast flash, slow flash, and always on nightlight settings. You can quickly set your favorite nightlight using the phone app.
The collar is powered by a lithium-ion battery that can hit up to 20 days on a single charge. The battery plus the three nightlight settings make the collar ideal for outdoor adventures with your canine friend.
With an $8.25 monthly subscription, the collar won't break your bank account. Once you subscribe, you can get on-demand help and other online services via the whistle app.
Given the 7.37 ounces weight, the collar is best for adult dogs. It is also ideal for dog owners who want to learn about their dog's health and establish a smart dog collar virtual fence for their canine friends.
Pros
●      It can last up to 20 days on a single charge
●      Helps in monitoring dogs health
Cons
●      It cannot work in the absence of Wi-Fi and AT&T networks
With 1.37 ounces weight and 21 levels of static stimulation, Sportdog's 425XR Remote Trainer is the best collar kit for training your dogs on obedience, safety, following commands, and controlling them when they are off-leash.
For instance, you can use the 21 stimulation levels to communicate with a maximum of three dogs within a range of up to 500 yards.
The kit is constructed using the Dry Tek Waterproof Technology to allow for all-weather application. For instance, the remote can work effectively when submerged to a depth of 25 feet.
SportDOG 425X Remote Trainer has surpassed other dog collars in terms of power efficiency. The system's two lithium-ion batteries can last for more than 60 hours on a single charge, making the kit perfect for outdoor use.
Additionally, the kit's rechargeable batteries secure you from the burden of purchasing new batteries every time you want to do some dog training.
The package comes with basic training manual usage instructions.
It is recommended for 8 pounds dogs or their larger cousins with necks of sizes ranging between 5 and 22 inches.
Pros
●      Waterproof dog training kit
●      Power-efficient, given the long-lasting rechargeable batteries
Cons
●      Loss of control over your dogs should the batteries go off when you don't have spare ones.
BSEEN LED Dog collar is your go-to option if you are looking for a collar that can keep your dog safe at night.
BSEEN's 0.32 plastic dog collar features LED lights, which are visible within a range of 500 meters at night, allowing road users to spot your dog from far.
Also, the 360-degree lights make it easy for you to spot your four-legged friend in low light conditions. All you need is to press the lights button to access slow flash, quick flash, and continuous light collar lights options.
The collar is battery-powered and can last up to 10 hours after a full charge. Don't know how to use the collar? It's simple. Pull collar from either end, fit it to your dog and then re-insert it. That's all.
Better still, the BSEEN's dog collar size is adaptable with a simple cutting. This explains why the collar is recommended for dogs of all ages. The collar is also ideal for low-budget dog owners.
Pros
●      Adaptable size
●      Cheap collar
Cons
●      Lacks location and health trackers
If you want to tie down your roaming dog, then you should tie its neck with a special collar like the ROAM'S Premium Adjustable Dog Collar to avoid injuring the pooch.
The 4.13 ounces dog collar by ROAM is made from double-layer nylon with multiple line stitches for sturdiness. 
The collar includes the high-quality metal buckle for an efficient locking system and the small and large D rings. You can use the large D ring to attach the big dog's leash and the smaller one to attach the pup's tag.
The collar comes in 6 adjustable sizes and widths of 0.5 feet, 1 foot, and 1.5 feet. You can fit sizes 0 and 1 with the mini rubber logo. Do not forget to fit sizes 2 to 5 with the full rubber logo.
With varied sizes, the collar is suitable for dogs of all sizes.
Pros
●  It comes in varying lengths and widths to meet your specific needs
●  A lightweight dog collar
Cons
●  It lacks a location tracker
●  An Expensive collar option
Get real-time updates about your dog location, activity, workouts, and other aspects using the waterproof GPS dog tracker by Tractive.
The Tractive's 1.23 ounces modernized tracker features an LTE GPS tracker to let you locate your furry friend from anywhere and at any time. All you need is to switch to live mode via your Tractive phone app to get your dog's real-time updates after every three seconds.
Besides feeding you with real-time updates, the Tractive's allows you to create a smart dog collar virtual fence.
You can achieve this by designating specific areas like your home compound as safe zones, then customize the app's settings so that you can receive updates when the dog trespasses any of them and when it comes back.
Another amazing thing about this tracker is that it will aid in maintaining your dog's physical health. How? The dog collar tracker system will send you all-time updates about the dog's active and dormant moments.
It will also update you on the number of calories burnt when the dog is in active mode. That said, it would be easy for you to suspect a potential health issue when the dog activity reduces.
Tractive's smart collar is compact and lightweight to allow for universal application across dogs of all ages. It is also 100% waterproof to allow for all-weather application.
That said, you don't need to worry if your dog loves rolling in mud or swimming in water.
The collar is available on subscription. You can subscribe to a one-month plan, one-year plan, two-year plan, or 5-year-plan.
Pros
●  Real-time updates on dog location and activity
●  All weatherproof dog collar
Cons
●  Limited battery life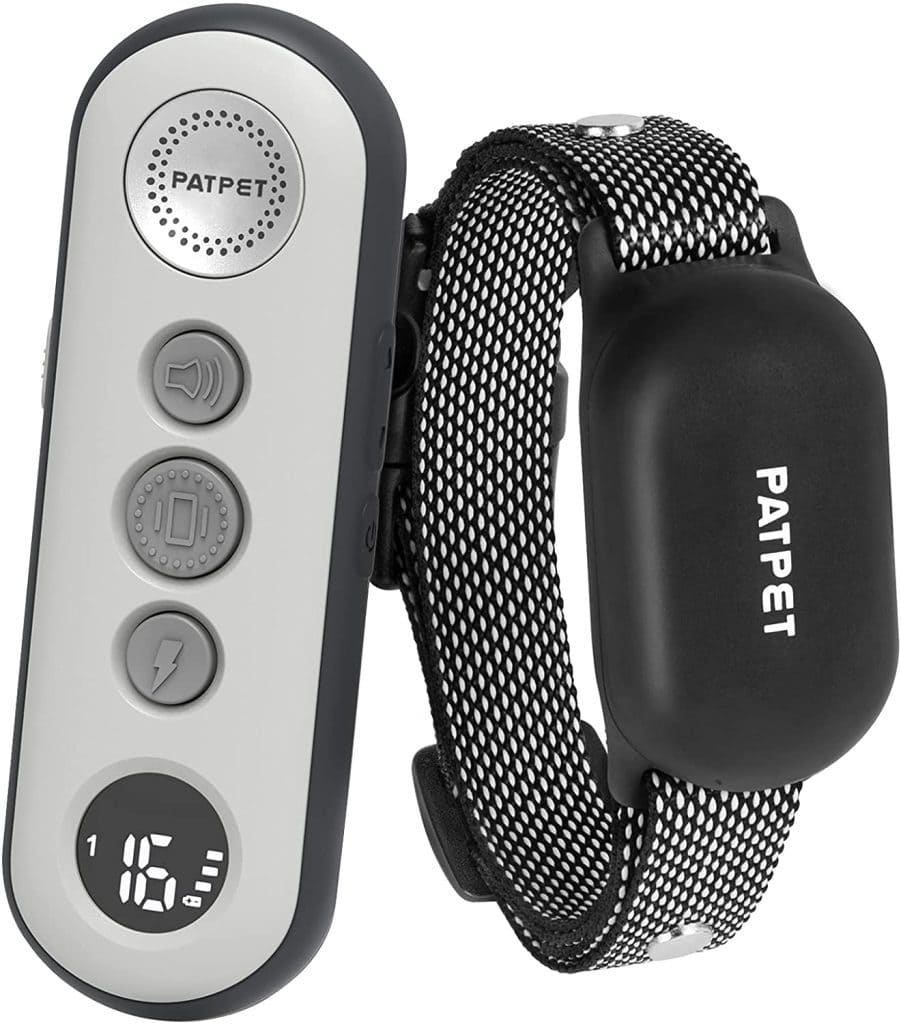 Pat pet dog training collar is one of the latest dog collars you can use to instill good behavior in your dog. The system includes a wireless receiver (the collar) and a wireless remote.
You can use the wireless remote to transmit signals to the receiver (tied around the dog's neck collar) to train or control up to two dogs at home, social setups, and other outdoor spaces.
You can achieve the above through the three training modes, the standard vibration mode, the standard tone mode, and the customized static shock (1-16 levels).
The NO/Off button at the remote side prevents accidental execution of commands to avoid hurting the dog or wasting the battery power. All you need is to press the button for 1.5 seconds to activate it.
Built with an IPX7 waterproof technology, the collar can work effectively for 30 minutes in mud or water to the depth of 3.2 ft. So you don't have to worry if your dog loves diving in the pool or playing in the rain.
The Pat pet dog training kit is power efficient. The lithium-ion battery in the remote can hit up to 60 days on a full charge. On the other hand, the lithium battery on the receiver can last for 30 days on a full charge.
The collar is ideal for dogs whose necks fall within 7 to 27 feet or within 8 and 100 lbs weight range. The above ranges imply that even the smallest puppies can use this collar.
Pros
●  Applicable across dogs of all sizes
●  Includes a protective button for securing the dogs against shock
Cons
●  Does not supply information about the dog activity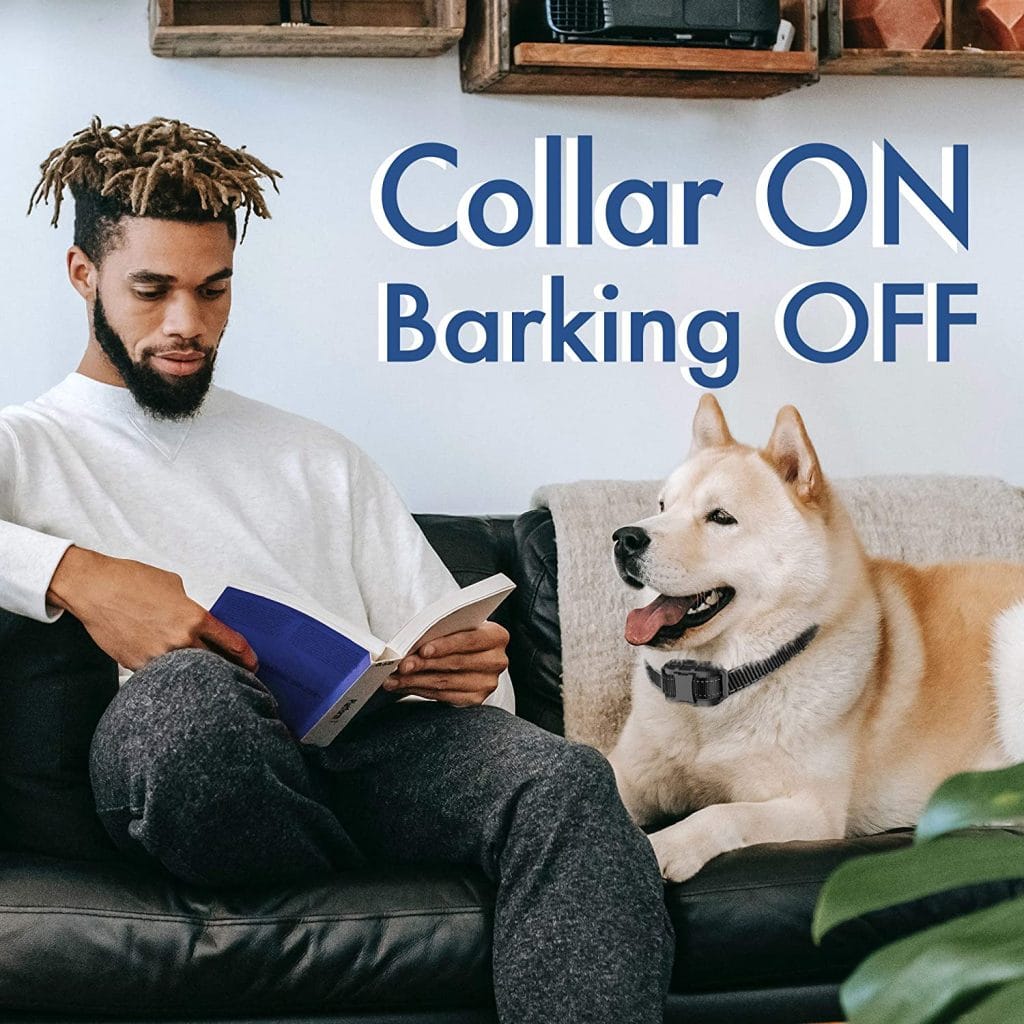 The Loyafish Smart Dog No Bark Collar is your go-to collar option if your barky dog has become a nuisance. The 5.3 ounces dog collar features five sensitivity levels, allowing you to adjust the right sensitivity level for your four-legged friend.
The collar offers you two dog training setting options. With the help of the M button, you can set the collar as barking or a vibration collar.
The barking collar vibrates, beeps and shocks when a dog barks. On the other hand, a vibration collar only beeps and vibrates.
The auto bark correction mechanism that controls your dog's barking in six progressive degrees is also included. Essentially, the mechanism will start with the lowest anti-bark setting and then move to higher settings as your dog continues barking.
This collar is constructed using Smart Triggering Technology, enabling the collar to differentiate your dog's barking from other sounds or movements to avoid unnecessary corrections.
This is not forgetting the system's rechargeable battery that can serve you for more than 20 days on a single charge.
The collar is ideal for 15lbs to 150lbs range dogs, with necks of sizes ranging between 7 to 25 inches.
Pros
●  No unnecessary barking corrections given the Smart Triggering Technology
●  Enhances the indoor comfort
Cons
●  The collar is not waterproof, limiting its outdoor application
The halo smart dog collar offers the most effective way of containing your stray dog. Getting the Halo's wireless collar for your dog will give you access to quality features like:
The Halo Smart App: Available upon subscription. You can use the app to control your dog's behavior and track its location, activity, and physical health. Also, the phone app allows you to set up to 20 virtual fences so that the app updates you when your dog goes beyond any of them.
The GPS Tracker: Sends notifications to the phone app after every 2 seconds to notify you about your dog's location. The GPS tracker will also notify you when your dog goes beyond the designated safe zones (virtual fences) and when it comes back.
Inbuilt Activity Tracker: Sends you real-time updates about the dog's activity as well as a summary of the dog's active and resting time. The phone app uses the dog's activity information to calculate the number of calories your dog has burnt in its active mode, aiding you in enhancing your dog's physical health.
You don't have to worry if you don't know how to use the collar and the phone app. The 21-day training program by Cesar Milan will help you learn how to use the app and the collar.
The collar is ideal for dogs aged five months and older.
Note: You should subscribe to activate the package perks, including activity tracking, GPS tracking, and the premium training program.
Pros
● Allows for up to 20 virtual fences
● Offers free training on how to set the app and the collar
Cons
● Expensive collar option
Buying Guide: What to Look For When Buying a Smart Dog Collar
It's important to buy the right dog collar, especially if you are doing it for the first time.  The ideal collar should be comfortable, well-fitting, safe, and should match your dog's lifestyle.
Since the collars come in different colors, sizes, and materials, you should take your time in the buying process to ensure you are getting the best. Here is an ultimate guide to help you choose the best collar for your canine friend.
Choose the Right Collar Style
We recommend that you start by identifying the best style for the collar. Style identifications require you to figure out how long the dog will be wearing the collar.
For instance, will the dog be wearing the collar for identification purposes? Or will they only be wearing it for training?
Flat Dog Collars
Flat collars are best for dogs that need an additional attachment, such as a dog identification tag. The collar retains its shape at all times, even in case of flip and slip.
Martingale Collars
Martingale dog collars look like flat collars, although they tighten when the dog pulls. However, since they only tighten and do not become loose, martingale collars are less likely to get off the dog's head.
To prevent choking, you should set the right collar adjustments such that the dog remains safe even at its tightest. You can buy a martingale collar if your dog needs some training or if you need more control over the dog when walking alongside it.
Safety Collars (Center Ring)
Safety collars come with an o-shaped ring built in the collar to provide maximum safety to the dog. They are ideal for hunting or active dogs that need enough space on the neck. When the dog hits a rock or enters a hole, it will remain safe because the collar will not choke them.
Quick Release Collar
Do you leave your dog in daycare and are looking for quick to add and remove collar? The quick-release collar is the best for you.
It comes with a metal or plastic buckle, which easily opens when you press on its sides. The quick-release collar is also ideal for puppies.
Choose the Right Material
Now that you have narrowed your options by choosing the style, it's time to pick the right material. 
Nylon Dog Collars
Nylon is the most common material for dog collars. Unlike the other materials, nylon is affordable and comes in many designs, giving you the freedom to choose the best.
Nylon is a multi-purpose material that you can use for walking dogs, hunting dogs, or even puppies that spend the most time in the house.
Though cheap and convenient, nylon collars are less durable, hard to clean, and may not work best for dogs with nylon allergies.
Leather Collars
Leather is the conventional type of dog collar which provides a classy and elegant look on your dog. Leather is durable, breathable, easy to clean, and great for dogs with skin allergies.
On the downside, leather collars may be costly and may come in limited designs. If you need a leather collar, then make sure you are buying the best quality leather material.
Chain Collars
Chain dog collars are made of stainless steel. They are sturdy and heavier when compared to the other materials. Chain collars work best for stubborn dogs because of their durability.
Conversely, chain dogs get cold quickly, so they don't work best for dogs living in cold areas.
Other great but uncommon chain collar materials include faux, biomethane, and neoprene.
Consider the Size of the Collar
Even after choosing the style and material, you will need to determine the size of your dog's neck to pick the ideal collar size. 
The best way is to measure the size of the neck using tape and add at least 2 inches for flexibility. The dog should be well-groomed when taking the measurements to avoid making errors.
Note that special dog collar brands come in varying sizes. So one brand may fit your dog's neck well, and another one may not. If possible, you should carry your dog for the fitting before you buy.
Special Features
Some collars are water-resistant, while others are not. Also, some collars have special LED features which make the dog visible in the dark. Always consider the additional features to ensure you get what you exactly need.
It's worth noting that every dog collar comes with special instructions on how to use it. When buying, be sure you check the manual to avoid making mistakes that may affect the dog.
Final Words about a Smart Dog Collar
Smart dog collars can help you keep track of your dog's location, activity, and physical health. The number of benefits you can get from a dog collar depends on the type of collar you choose to buy.
My overall best product on the list is the Whistle Go Explore Smart dog collar. I chose it because it can provide real-time information about the dog's location, physical health, and activity via the whistle phone app. This is not forgetting its nightlight features and power efficiency.
If the Whistle Go Explore does not work for you, you can choose your favorite dog collar from the various options available on my list. 
Follow my guide to pick the best collar for your dog. After choosing your product, you can click on its link to navigate to the Amazon site to place an order.