I tested four of the best Google Home smart lock devices and found the Yale Assure Touchscreen model the best overall. 
I looked at things like ease of installation, battery life, potential problems with the lock's operation, and the list of features each one offered. I also looked at how easy it was to use for people new to smart home devices. 
The best smart locks that support Google Assistant had to let me lock and unlock the door with a minimum of hassle and never proved to be inconvenient to use whether I was at home or away. 
The Yale brand lets users choose between several types of access and features to get the lock that's best for the way they'll use it. 
The Yale Assure Touchscreen lock combines several access types into one device. It's easy and convenient to install and operate. Some other locks cost less than Yale's, but they don't come with as robust a list of features.
Yale Assure Touchscreen is the best option I found for those who want all the benefits of using a smart lock like remote access, automatic locking, and reprogrammable access codes. 
Read on to see a breakdown of the Yale Assure smart lock's features, as well as in-depth reviews on the other smart lock models I tried.
Which is the Best Google Home Smart Lock?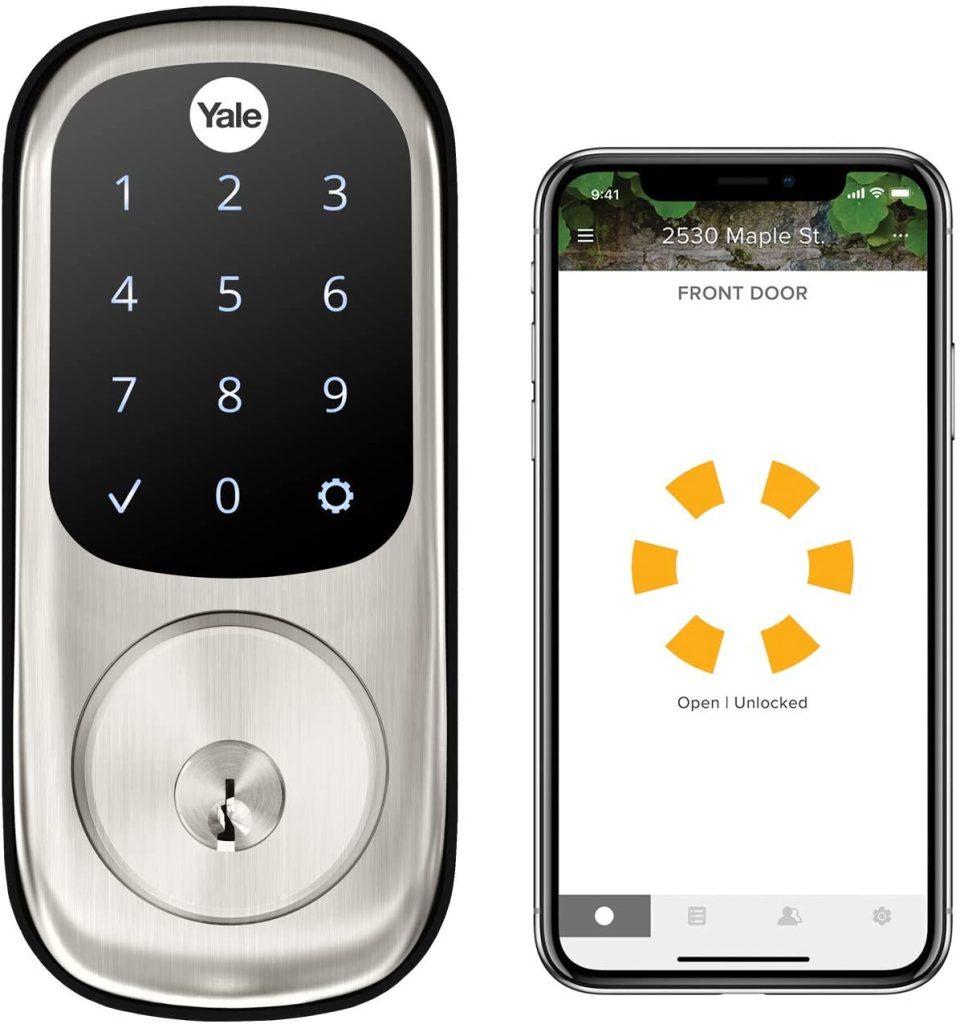 One of the reasons Yale Assure ranks on top of other locks is that under the Assure name, you get a choice of a keyless touchpad lock or one that also includes keyed entry. 
The Yale Assure lets you lock the door with a single touch. You can also set it to lock and unlock automatically, so you don't even need to use a key or a code when you get home. 
This smart lock replaces your current deadbolt, but installation is easy and takes only about 20 minutes. This smart lock has voice guidance in a few languages for those who need help installing it. 
The number of small details Yale built into this smart lock set it above many of the rest. For instance, let's say you get home at night, you don't have your phone or keys handy, and your porch light has gone out. The Yale Assure touchscreen is backlit, so you can easily see the numbers to punch in your code. 
You can create up to 25 PIN codes for access. If you have a Smart Module, you can use up to 250 unique codes at a time, making it a good option for commercial use.
This model comes with two keys and requires 4 AA batteries. It uses Wi-Fi to connect to your Google Home assistant, so it uses more battery life than Bluetooth but will sound an alarm to let you know when the batteries are getting low. 
Unlike some other brands, the Yale Assure includes a Wi-Fi bridge to connect to smart home assistants. You don't need to purchase a bridge or hub to use it with Google Home. 
The Yale Assure smart lock is compatible with every smart home assistant, including Google Home, Philips Hue, Apple's HomeKit, and Amazon Alexa.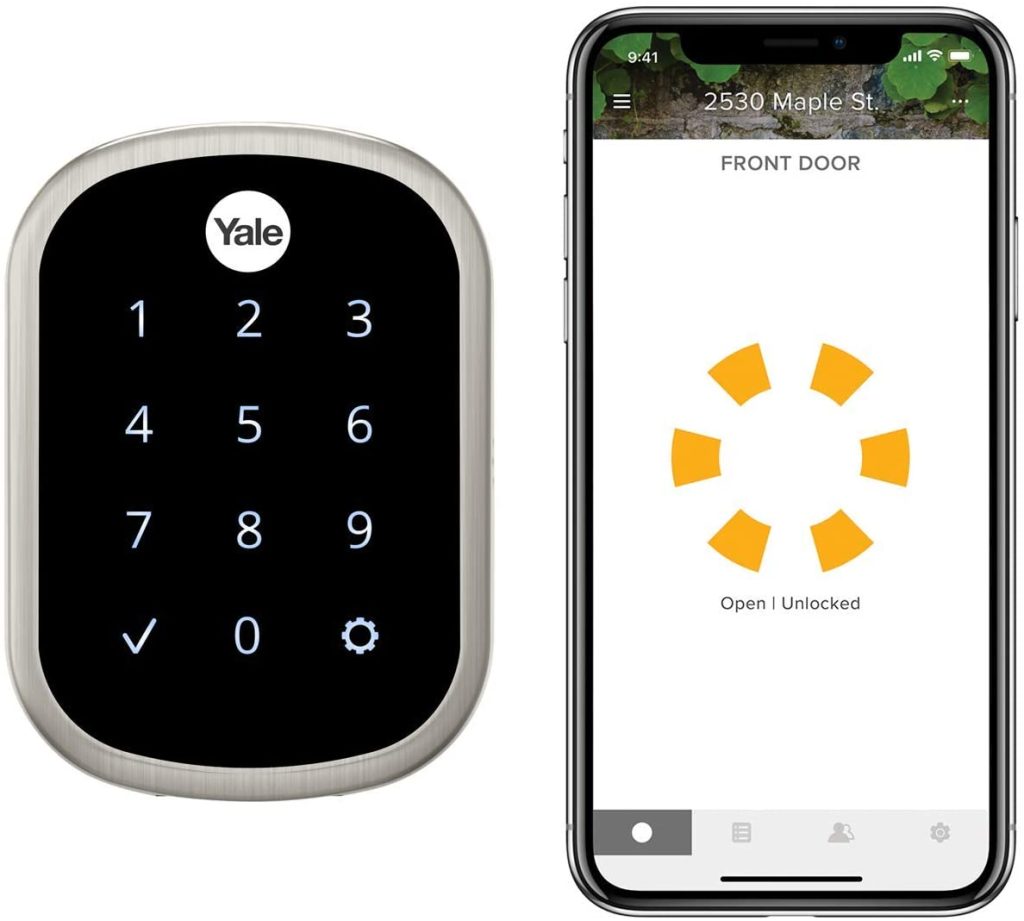 The Yale Assure Lock SL replaces your current deadbolt with a keyless smart lock device. This lock comes with Yale quality built-in and lets you kick your keys to the curb for good. It's smaller than the Yale Touchscreen and keyed model, and it's just as easy to install. 
One worry many people have about keyless locks is dead batteries. If you're inside the home when the batteries die, you can easily replace them. But what if you're outside with a locked door and dead batteries? How do you get in?
Yale lets you quickly charge the lock enough to allow its operation. Touch a 9-volt battery to the underside of the device to give it enough power to open. 
Since the device is keyless, no one can pick a lock that's not there. One other thing that makes this one of the best Google Home smart lock devices is the automatic locking and unlocking feature. 
You can set the door to automatically lock after it's closed and unlock when it detects the app so you can enter without the code.
Like Yale's Touchscreen model, the touchpad is backlit, and you can create multiple codes that you can delete when you no longer need them.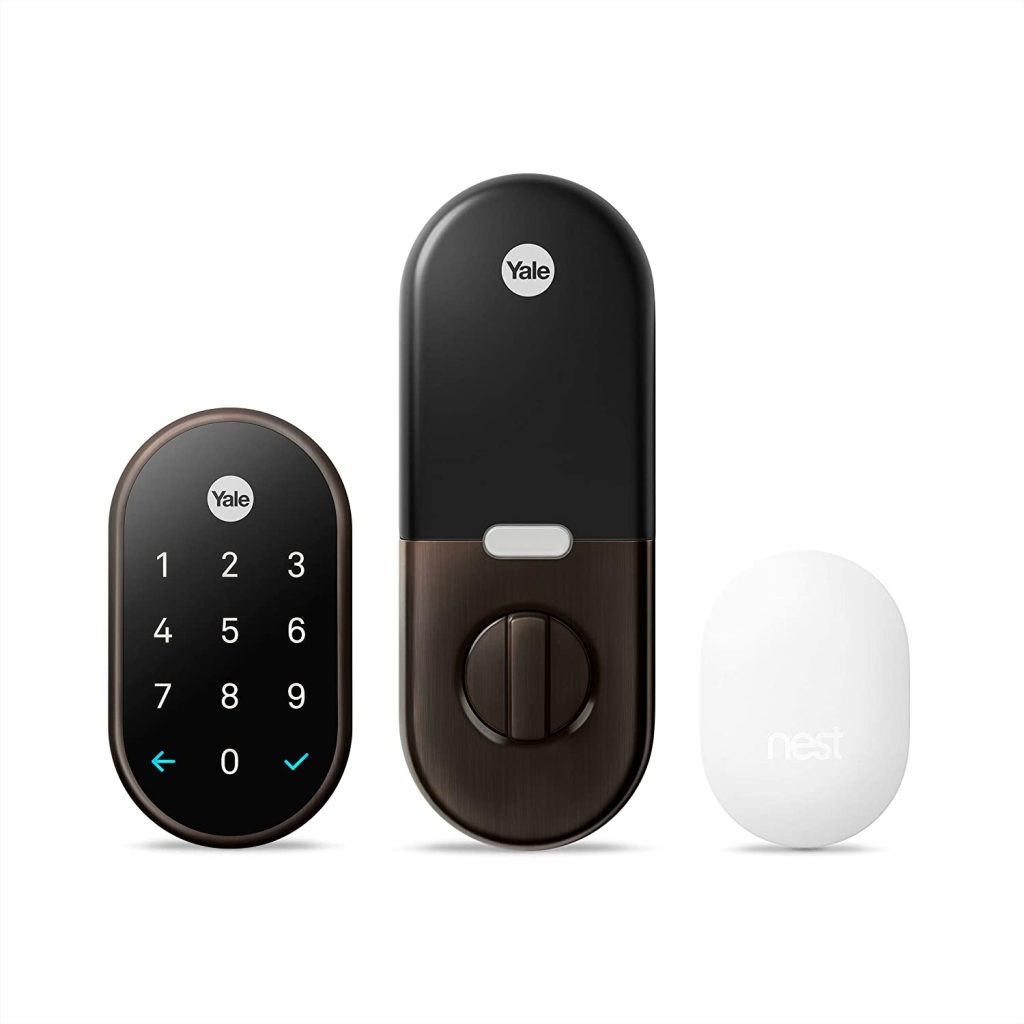 The only thing that kept this smart lock from being #1 on my list is that the Yale Assure felt better for smart home beginners. However, people who use several devices with Google Home or Google Nest should look at the Google Nest X Yale smart lock. 
This model is one of the best Google Home smart locks because it was designed specifically for Google hubs. Though designers built it to work with Google Nest, which is Google's total system, this lock also works with Google Home on its own. 
This lock uses Nest's Weave connectivity instead of Wi-Fi, but it works with Google Home, too. You can get alerts when the door opens, remotely access the lock, create passcodes you can turn on and off, and set it to auto-lock. 
If you plan to expand your smart home setup to other products like a doorbell and camera, this lock is a good choice because it works seamlessly with those Google Nest devices. Nest X Yale is the best smart door lock Google Home partnered with Yale brands to create.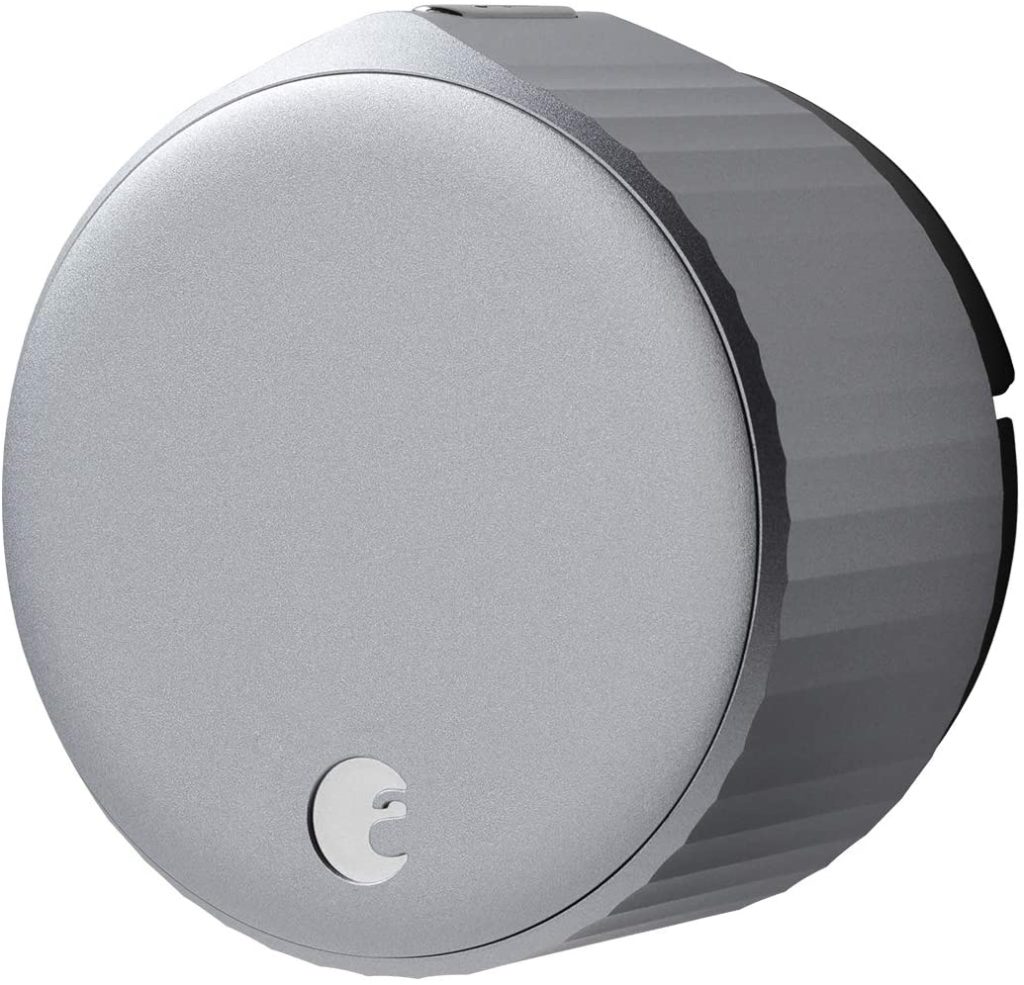 If you prefer to add a smart lock without replacing your current deadbolt, look at August's Smart Lock. You can install this in minutes to control your deadbolt. 
Because it uses Wi-Fi connectivity, it's compatible with Google Home and other smart home assistants, or you can use the feature-rich August app. 
This award-winning smart lock might appeal to people with vintage hardware on their front doors who don't want the look of a keypad or anything modern on the outside. August's lock won't affect your curb appeal or aesthetic since the device is only on the inside of the door. 
You won't have keypad access or codes to let people in, but you can control the lock from anywhere with your smartphone. You can also monitor the door, check the lock status, and set it to auto-lock after set time amounts. 
August's Wi-Fi retrofit model is the best smart door lock Google Home users can get without the need to replace their existing deadbolt. 
Smart Locks for Google Home Buying Guide
The best smart lock for Google Home for you depends on the features you're looking for in an automatic smart lock. You might prefer one that still allows you to use a key, or a touchscreen keyless lock with a fingerprint scanner might be more your style.
Compare the types of features each lock offers. Also, look at the expected length of time each one needs between battery changes. Some locks last longer, while others drain batteries fast. 
The style matters, too. You can choose between locks that go over your current deadbolt while others need complete removal of your existing deadbolt. 
The best smart locks will work with all of the top smart home assistants. These systems include Google Home, Apple's HomeKit, and Amazon's Alexa. Not all smart locks work with all systems, however. Make sure the one you choose works with Google Home. 
All the best brands provide a lock that operates remotely and securely without a physical key. These devices make opening the door of your home easy and convenient, whether your hands are full or you're not there but need to unlock the door. 
Make Sure Your Door Is Compatible With Smart Locks
Before you decide on a new lock, take a few minutes to make sure smart locks will work with your door.
Door Thickness
Most standard doors will work with smart locks, but measure to ensure the lock will fit properly inside your door. If your door is a non-standard size or cut, you might have problems with a smart lock. 
The best Google Home smart lock brands come with apps you download before you buy the locks. Their installation instructions and guides can help you determine whether your door is a good candidate for these types of locks or not. 
Bolt-Hole Depth
Check to ensure the hole in your door jamb is deep enough for the bolt. If your current setup doesn't turn all the way because the bolt hits wood, you could have problems with a smart lock. 
An automated lock that can't engage fully will continue to try to extend the bolt. If it can't, it will keep trying until the batteries run out or the electronics burn up inside the lock. Fixing this will require boring the bolt hole deep enough to accommodate the new bolt length.
Misalignment
Even the best Google Home smart locks can't work well on a misaligned door. Make sure your current deadbolt turns without interference. If you have to nudge the door or move it to turn the bolt completely one way or the other, you might have issues with a smart lock. 
These devices engage and disengage the bolt automatically. If your door and lock don't line up correctly, the bolt may get stuck. 
You can solve this problem by making sure the door properly aligns with the jamb. The fix could be as simple as adjusting the hinges. This problem could require professional help, depending on the cause.
Once you determine that a smart lock will work with your door, you have several other choices to make.
Some locks will be better for you than others based on how you plan to use the device. Other points you'll need to consider when choosing between the best smart locks for Google Home include:
Smart lock installation (retrofit, deadbolt replacement, doorknob replacement) 
Smart lock protocol (Bluetooth, Wi-Fi)
Smart lock operation (touchscreen, fingerprint scanner, key)
Smart Lock Installation
You have three choices when it comes to how you want to install a smart lock: retrofit, deadbolt replacement, and doorknob replacement.  
Retrofit Smart Locks
Retrofit door locks go over your existing deadbolt, so you won't remove your current lock to install them. They clamp over most deadbolt brands. 
Make sure the retrofit lock you want is compatible with your deadbolt. Non-standard deadbolts and some off-brands may not fit every type of lock. The best Google Home smart lock retrofit models have compatibility charts to help you determine whether they'll fit your deadbolt brand before you buy. 
Retrofit locks work well for people who rent and can't install a new lock because of their lease restrictions. These locks let you keep the same deadbolt, so you'll use the same key as before. The lock adds an automated way to engage and disengage the bolt. 
If you don't want to remove and install hardware on your door, a retrofit lock is an easy choice. 
Deadbolt Replacement Smart Locks
Replacement smart locks require you to remove your existing deadbolt and install the smart lock in its place. While it does require a lot more installation than a retrofit model, installation is no more difficult than changing out one manual deadbolt for another in most cases.
Choosing a replacement lock will give you a better selection because most brands manufacture this type of lock while fewer produce retrofit models. You'll also have a wider price range to choose from with more available features. 
One model currently exists, called a Lever Lock, that lets you keep your deadbolt hardware but replaces only the bolt and internal parts so you can continue to use the same key. Currently, this type of lock isn't available for Google Home, but future products like it probably will be. 
Whether you choose a retrofit model or a replacement, you should only need a screwdriver and some patience. Installing a replacement will take more time than clamping a retrofit lock over your existing deadbolt, but as long as your door is aligned correctly and you choose a model that fits your door, you should be able to install the lock in less than 30 minutes. 
Doorknob Replacement Smart Locks (Lever)
If your door doesn't have a separate deadbolt and locks only with the doorknob, you can still install a smart lock. These locks come with a lever or handle you turn to open the door.
This type of smart lock usually costs more than deadbolt replacements, but they're a good option for people who only have a doorknob on their front door. Installation is similar to doorknob installation. 
A lever-style lock is also a good option for doors that don't commonly have a separate deadbolt, like interior doors, a garage door leading into the home, or an outbuilding door. 
Smart Lock Protocol
The best smart door lock Google Home users can get will typically operate through one of two protocols: Bluetooth or Wi-Fi. The one you choose should depend on how you plan to use it and whether you have other smart devices or not. 
Bluetooth Plus Wi-Fi
Many of the best Google Home smart lock designs use Bluetooth technology. One of the benefits of locks with this technology is the long battery life. You should only need to replace the batteries in your smart lock about once a year with average use. 
Bluetooth also gives you the ability to connect your lock directly to your smartphone or tablet. You don't need a hub as you do with some system-connected smart devices. You don't even need Google Home if the only smart device you want is a lock. 
Smart locks that offer only Bluetooth connectivity have some drawbacks that limit their use, however. You'll have to be within Bluetooth range to operate your lock with your phone. You won't be able to lock or unlock the door remotely when you're away. 
Bluetooth-only smart locks don't work with smart hubs like Google Home, either. If you want remote control of your lock and plan to use it with other smart devices, you'll need a lock with Bluetooth and Wi-Fi abilities or Wi-Fi connectivity only. 
Wi-Fi
A smart lock with built-in Wi-Fi or the ability to add Wi-Fi connectivity allows you to operate the lock when you're away from home. Range, like with Bluetooth, won't be an issue. 
When you connect the lock through Wi-Fi with your Google Home device, you get all the features that make smart locks convenient and secure. 
Some brands offer a Wi-Fi add-on to their smart locks, and brands like August make locks with Wi-Fi built-in. 
Wi-Fi uses batteries faster than Bluetooth-only smart locks, but more frequent battery changes are a small price to pay for remote access and a longer list of features for most people. 
Smart Lock Operation
Consider how you want to engage with your smart lock before you purchase one. Your basic choices include a keypad, a fingerprint sensor, or touch technology. You can also choose between keyed and keyless versions. 
To Key or Not to Key
Some people prefer a smart lock that still allows you to use a key if you want, while others are ready to ditch keys for good. If you're prone to letting batteries go dead in devices, you might want to opt for a model that will still operate with a key. 
Keyless locks have a built-in feature for this scenario. Most brands let you use the touch of a 9-volt battery to give it enough power to operate if the internal batteries are dead. 
If you're locked out, that means you have to have a 9-volt battery on hand, or you have to get one, but it's a handy option to have. 
Touch Keypad
Smart locks with a keypad for entering a numeric code work well for things like guest access. They're also handy if your phone is dead or using remote access is impossible, and you need to get in. Anyone with the code can open the door. 
If you need to let someone in remotely like a service worker and you can't access the lock for any reason, you can give them the passcode and reprogram it after they've gone. 
Touch Technology
Some smart locks will open with a single tap from your finger as long as they detect the app in your phone or device. If your hands are full and your phone isn't handy, it will sense the app on your smartphone or its keychain fob. Tap the device to unlock the door. 
Others let you tap or knock on your smartphone to lock or unlock the device. 
Fingerprint Sensor
Some smart locks feature a fingerprint scanner, usually combined with another means of operation like a key or touch keypad. Some might allow access in several other ways for convenience. 
A fingerprint sensor makes it easy for the permanent, primary household members to unlock the door without a key or code. This option is helpful for people who might not remember a code. 
Conclusion
After a careful look at all the features and how easy the locks were for me to use, I preferred the Yale Assure Touchscreen smart lock. I think it's one of the best Google Home smart lock devices available. 
The Yale Assure Touchscreen lets you enjoy all the benefits of smart technology, from remote access to door monitoring. 
Though I tested locks for Google Home compatibility, you can use this lock with the other top smart home assistants and systems or use it without one and operate it with the Yale app. 
Other Yale options like the Yale Lock SL for completely keyless entry and the Nest X Yale smart lock made my list, too. Yale makes excellent smart locks, and while they're not the cheapest options, I believe they're the best. 
You can easily buy my top smart lock choice from Amazon. You can look at Yale's other models if you prefer keyless or keypad versions once you're on the product page,click the link to browse Yale Assure Touchscreen smart locks models.