You probably already know that the two most prominent players in the smart lock game are Schlage and Kwikset, two large and established makers of regular and smart locks. 
So, when you're shopping for a smart lock, you should be prepared to find lots of offerings from these two companies without seeing many other choices for other brands. The last thing you want to do is potentially expose your home to intruders by installing a smart lock from a questionable manufacturer, so be discerning. 
Answering which smart lock is best for you and your home will depend on a few things. There are options, controls, designs, compatibility, and overall aesthetics to consider. 
I have taken advantage of the convenience of smart locks from both Schlage and Kwikset. The convenience of offering an access code or a virtual key to a contractor or other visitor provides a lot of flexibility without compromising on safety and security. 
Based on my experiences, I'll compare the two companies' offerings so that you know which one is best without trial and error and time-consuming returns, and you can add the convenience of a smart lock to your home without hassle. 
Schlage Versus Kwikset Smart Locks: At a Glance
The Schlage series of smart locks is the best choice for most applications in terms of general reliability, overall security, and tamper resistance. 
But, Schlage smart locks tend to be a bit more expensive than their direct competitors from Kwikset. That's a trade-off you have to consider carefully.
Since there are so many different models and each homeowner's application, expectation, and use will be different, there is quite a bit of nuance to understand before you run out and buy a smart lock from either company. 
Schlage Vs Kwikset Smart Locks: Features Comparison
All smart locks have certain features. Let's break them down so you can see how different offerings from both Schlage and Kwikset can help protect your home while offering the modern convenience of smart home technology. 
Standard Features to Both Kwikset and Schlage Smart Locks
Both brands manufacture locks with the same goal, so it shouldn't surprise you that they have many similarities. 
Smart home compatibility
Smartphone Apps for user controls
Available rekeying of your lock
Various styles of lock designs, styles, and colors to match your home and your usage
Programming for multiple different users via access codes
Reasonably easy DIY installation and upkeep
Before purchasing any smart lock, you should carefully read through the manufacturer's installation guide and product features. Not every lock works with every smart home hub. The programming, number of available access codes, and other features vary by model. 
But these features are pretty much standard. 
Access Mechanisms
Schlage and Kwikset offer a few different models or series of smart locks. 
The Schlage Encode deadbolt is Wi-Fi-ready and fully compatible with Google Assistant and Amazon's Alexa. You can even pair it with Ring doorbell cameras and Key by Amazon. 
You can unlock (or lock) the door using the smartphone app, via custom keycodes utilizing the touchscreen, or via voice control. It even has a built-in alarm that will sound if someone tampers with the lock. 
The Schlage Encode is a premium option for a smart lock, so it's easily compared to one of Kwikset's top models, the Halo.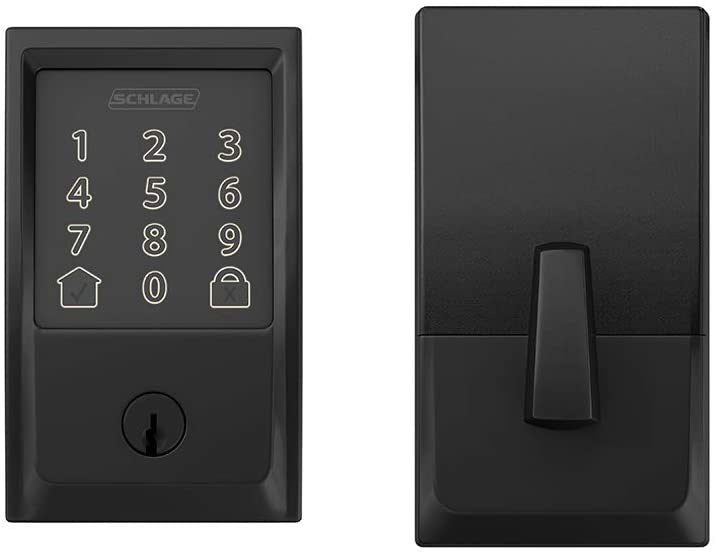 The top deadbolt offering from Kwikset is Halo. It's also Wi-Fi ready, has a touchscreen, remote locking and unlocking via a smartphone app, up to 250 unique user codes, DIY rekeying of a lock via SmartKey technology, Alexa and Google Assistant integrations, and a secure 'lock-out' mode where the keypad is disabled. However, the physical key or smartphone app still works.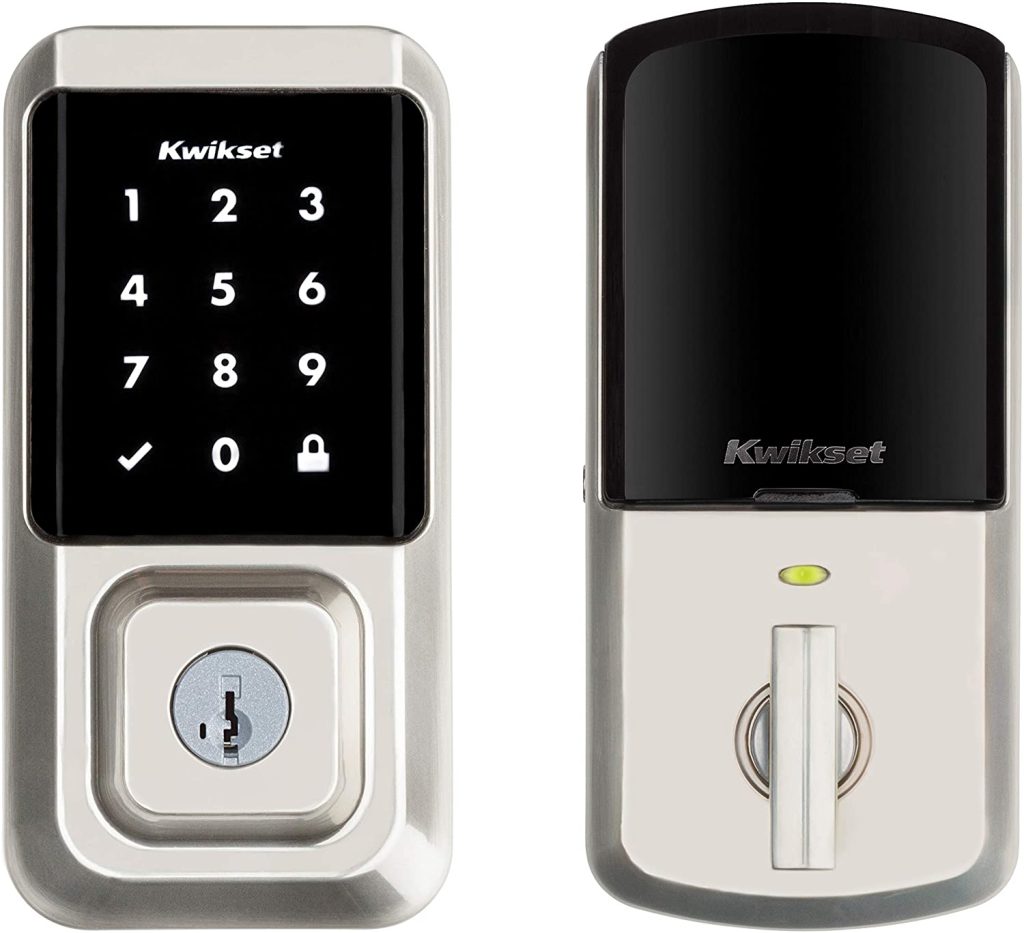 In this head-to-head comparison of two specific models, you can see that the access mechanisms are nearly identical. Their pricing is quite similar. They both use four AA batteries. 
The big difference is that the Schlage lock carries the top rating of an ANSI grade 1 deadbolt, meaning it is the toughest available for consumers. The Halo is rated lower at ANSI AAA. 
So if you want an extra measure of security, you might want to choose the Schlage model. But, if you need more than one hundred unique user codes, the Schlage tops out at just one hundred, while the Kwikset accommodates up to two-hundred-fifty. 
When purchasing any model, be sure to read through the features carefully. These two models are both enabled for Wi-Fi, right out of the box. Some other models require separate Wi0Fi modules, so make sure to compare total pricing, including any needed add-ons.
Access Mechanisms Winner: Schlage
Battery Life
This category is essentially a toss-up. Consider that whichever lock you choose, you'll need to change the batteries periodically. Some users will use the lock to control a primary point of entry that family, contractors, babysitters, delivery people, and visitors use multiple times every day. 
Those frequent uses of the lock will drain the battery faster than in a situation where the lock is only used once or twice per day.
As a general rule of thumb, you should expect to get between four and six months of life out of one set of batteries with either Schlage or Kwikset locks. With each company, the more you use the lock and the more notifications it sends to your app, the faster the batteries will run out. 
One of the most valuable features to look for might be a low-battery indicator. For instance, the Kwikset Halo has an audible and visual alert when the batteries are running low. 
If your batteries die, some of the useful features of your smart lock won't work, and you'll have to use a physical key. That could cause an access problem for someone without a key, so make sure to be proactive with battery replacements. 
Battery Life Winner: Tie
Price
On average, all of the Schlage models are just a bit more expensive than their direct competitors from Kwikset. 
It's fair to say that there are three separate classes of smart locks, each with particular sets of benefits, conveniences, and features. 
You might find a little bit more range in the Kwikset line of products. Right now, they offer seven different models of smart lock, while Schlage offers only four. 
High-End
This class of smart locks has all the bells and whistles you'd expect in a smart lock. Built-in Wi-Fi, remote operation and monitoring, one touch-locking, multiple entry codes, and smart home compatibility (like Alexa and Google Assistant) are standard. 
Locks like the Kwikset Halo and the Schlage Encode are in this category. 
Middle of the Road
This class of locks still offers a lot of conveniences, but you'll likely need to purchase a separate Wi-Fi adapter. And, you probably won't have as many user codes available. 
While the high-end models might have a hundred or more codes available for programming, these less expensive locks will probably only offer about 30 custom codes. The Schlage Sense and the Kwikset Premis both fall into this category of smart locks. 
Entry-Level 
At the lower end of the smart lock world, some models are quite affordable. But, they are unlikely to have Wi-Fi enabled out of the box. You'll need a separate adapter if there is even a Wi-Fi option. 
Some locks might only function with Bluetooth, which isn't necessarily bad. But, it likely means that a budget-friendly, entry-level smart lock won't have great interoperability with other devices in your smart home's ecosystem. 
The less expensive a smart lock is, the less likely it is to have advanced features or some of the conveniences of the top and most pricey models. 
Let's look at a few specific entry-level models from both Schlage and Kwikset to help you make the right purchasing decision for you, your family, and your home. 
The Kwikset Powerbolt is an affordable smart lock, so you don't have to break the bank to add convenient security. But, it doesn't have Wi-Fi, and it doesn't offer any smart home connectivity. You might want to upgrade to a Kwikset SmartCode 888 for better connectivity options and smart home integration, so long as you're prepared to spend the extra money to do so. 
Similarly, Schlage offers models like the BE365 keypad deadbolt without Wi-Fi and the VCAM 619 that allows better connectivity. But, the Kwikset models are less expensive, particularly for these budget models. 
Kwikset is the winner when it comes to absolute affordability, so it's fair to say that they're the best smart locks for budget shoppers. If your priority is spending as little as possible on your smart lock, you can likely save a few dollars by sticking with the Kwikset line of options. 
While the Schlage line is rated as slightly better in terms of robustness against tampering, leading to a commensurate rise in cost, the models from Kwikset aren't weaklings. They're just a little bit less expensive, and that's because they are more likely to have fewer anti-tampering features and a bit more plastic than their counterparts from Schlage. 
Price Winner: Kwikset
Security and Tamper Resistance
Schlage locks rate higher on the American National Standards Institute (ANSI) scale for security certification, and they're advertised as the only ANSI Grade 1 smart locks on the market. 
That means that while the Kwikset locks are functional and resistant to tampering, the offerings from Schlage are that much more robust. 
Schlage smart locks have more aggressive anti-tampering measures, so they are a bit harder to defeat than the Kwikset models. 
Across the board, Schlage locks, particularly deadbolt models, are drill-resistant, have bigger bolts made out of thicker metal, no plastic internals, and more secure housings. That all translates to better protection against forced entry by a potential intruder. Schlage locks have more resistance to non-forced entry as well, thanks to their additional security pins that help prevent the use of bump keys and lock picks. 
While we're not all guarding Fort Knox with our residential smart locks, our homes and property are deserving of protection too. So, security and tamper resistance is on the top of most smart lock consumers' priority lists. But, not every single door in your home needs to be burglar-proof. You may, in fact, have locks at your home that don't require the higher level of security and tamper resistance provided by Schlage locks. 
For instance, some Kwikset models are much less expensive, and though they have more plastic internals and aren't able to stand up to burglary tools and a determined criminal, they are perfect for preventing kids or guests from accessing off-limits areas in the interior of your home. 
Schlage is the frontrunner and clear winner in terms of absolute security and tamper resistance.
Security and Tamper Resistance Winner: Schlage
Colors and Finishes
Not all locks are available in all colors and finishes. While Schlage and Kwikset both have a lot of variations in their designs, you will have to find one that works best for you and your home's appearance. For instance, if you have a chrome lock on your door now, you might prefer to replace it with a smart lock that's also chrome. 
Some locks might only be available in satin nickel, black, or bronze. So, you might run into limitations by color and finish when you're shopping for different models. 
Both manufacturers have some funny names for their lock colors. For instance, I still can't figure out the difference between oil-rubbed bronze and Venetian bronze. So, you can make things easier on yourself by bringing an existing lock to the store with you when shopping. Or take a picture so you can compare colors accurately. 
Even if you don't buy the lock in a brick-and-mortar store, it makes sense to look at them in person before you buy one online. The names of the colors don't always match up with our expectations!
Colors and Finishes Winner: Tie
Keyless or Keyed
Some of the lower-end models of smart locks don't have an integrated keypad or voice control. Instead, you can use the app on your phone or the press of a finger to open the lock, provided your phone is close to the lock. These locks are perfect for simple access points. 
But if you need a keypad model to share codes with other users, those without keypads won't work for you.
Some models – like the Kwikset Kevo – offer a fob that provides touch-to-open convenience without requiring a smartphone. Just keep your fob in your pocket and open the lock by pressing it with your finger. The fob is usually sold separately but offers another layer of flexibility. 
Keyless or Keyed Options Winner: Kwikset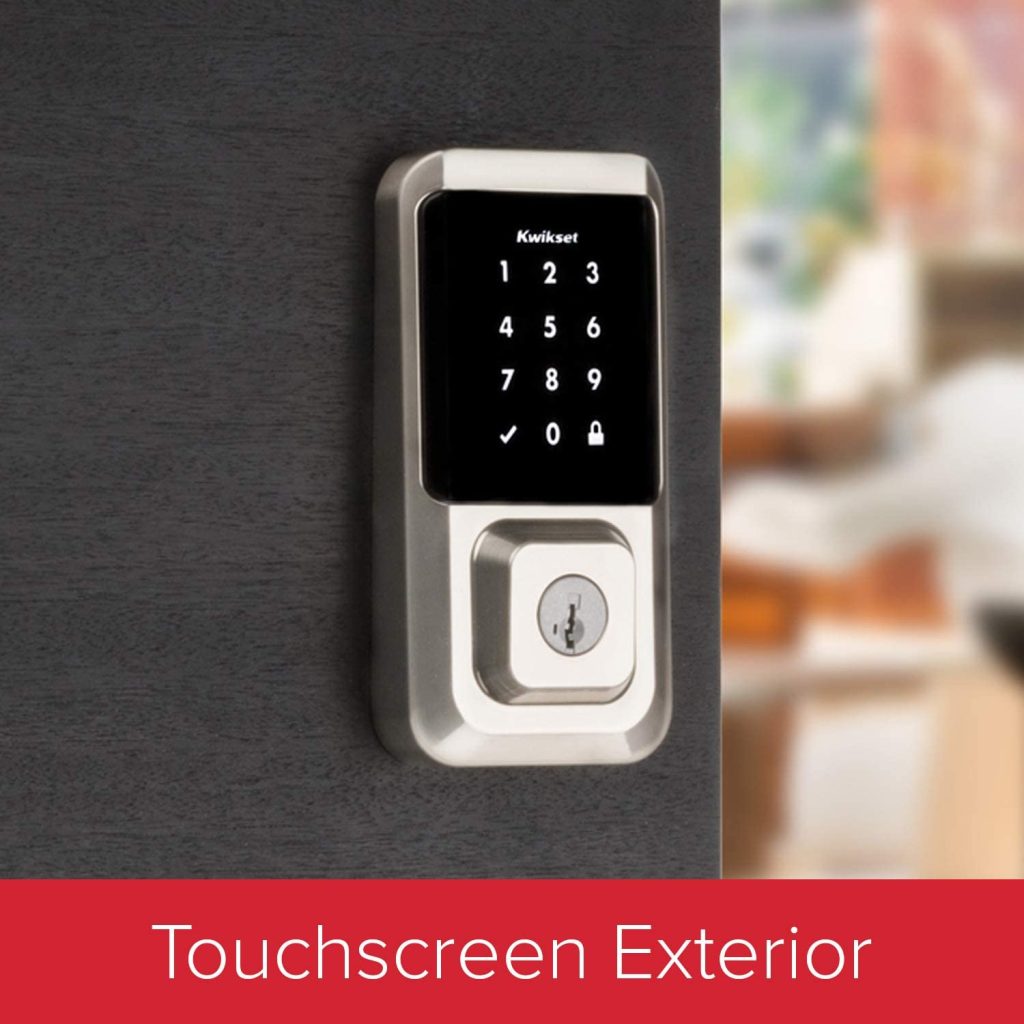 Installation
Most Schlage and Kwikset locks are fairly simple to install, often only requiring a screwdriver. But if you have an older door or one with a non-standard existing lock, you may need to make some modifications. That can become a much more involved project that you might not want to try DIY. 
For instance, a simple Kwikset Kevo smart lock works with almost any standard door (1 ¾" thick). But if you already have a complicated deadbolt, a lock integrated into the handle, or a non-standard door, this might not work well for you. 
Installation Winner: Kwikset
Compatibility
If you need a lock compatible with your existing smart home setup, you have to shop very carefully. Not every lock will work with every home assistant or other device. Since there are so many devices, and all the major technology companies offer their own home assistants, you need to carefully read each smart lock's documentation before purchasing. 
For instance, the Schlage Encode has compatibility with Z-wave, Zigbee, Alexa, Apple HomeKit, and Google Assistant. But, the Schlage Connect is only compatible with Apple HomeKit, so Android users should probably avoid that model. 
If you have an existing system that you need your smart lock to work with, shop for models that offer seamless integration. 
Compatibility Winner: Schlage
Kwikset Vs. Schlage Smart Locks: The Bottom Line
So what's the verdict you ask? Which is better schlage or kwikset?
Schlage smart locks are incrementally more secure than Kwikset models. That's enough to make them the hands-down winner of this head-to-head matchup. I put more emphasis on security than the average shopper, so even a modest increase in tamper resistance is worth spending the extra dollars for me and probably for the most security-conscious shoppers too. 
For my money, Schlage's Grade 1 rating makes their locks better than their Kwikset counterparts at every price point. 
However, if budget is your primary concern, Kwikset locks may be best for you. They might also be better if you're a consumer who is looking for less robust security for access control inside your home or business. 
But since there is so much variation in options and compatibility, you should start to drill down on exactly what you need. Check out the Kwikset and Schlage line of smart locks and get your home the convenience of smart access control it needs today.