Traditional safes have been commonplace for decades, but homeowners feel compelled to install smart safes as more households use digital devices.
The simplicity of use and ability to change codes instantly makes them a go-to device for people who store valuables at home.  Smart safes also record all movement, which gives you the confidence you need while away.
After an extensive search on the best safes and best gun safes for homes, I must say Verifi Smart Safe Biometric Gun Safe was my pick for the best overall safe. It stood out because of its near-instant opening mechanism, powerful fingerprint sensor, and long battery life.
What Are the Best Smart Safes for the Home?
When it comes to finding a safe that is, well, safe, it's essential to consider your options. I've outlined the best of the best safes for the home below.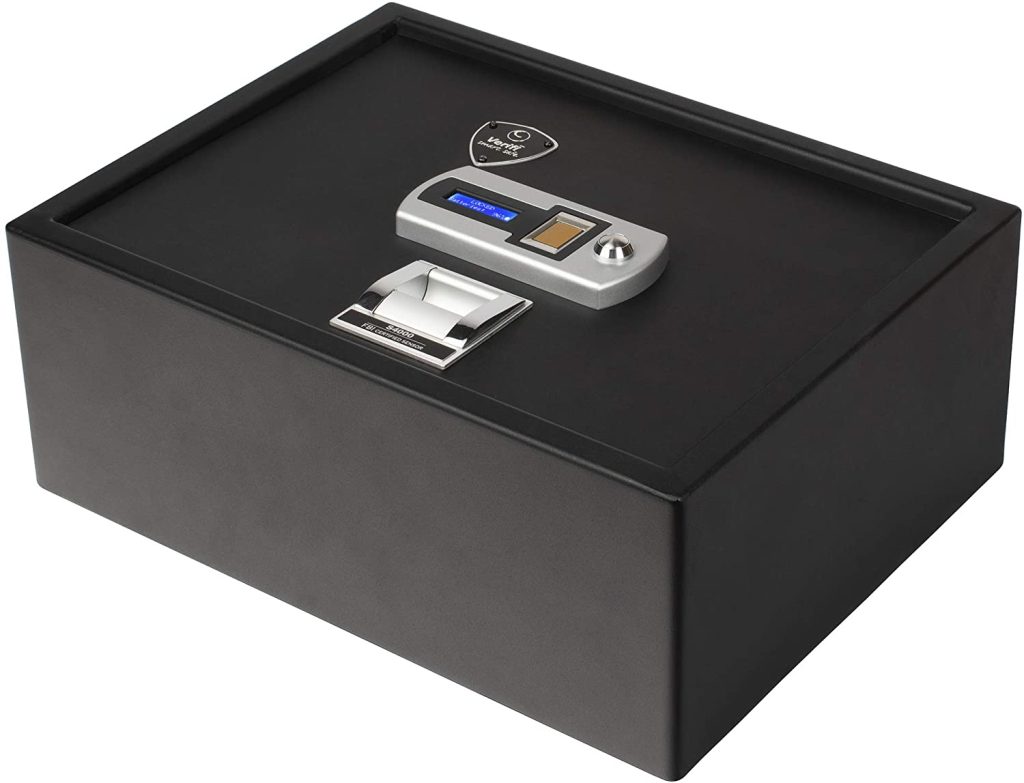 Whether you're storing a family heirloom, essential documents, a firearm, or expensive jewelry, the Verifi Smart Safe Biometric Gun Safe won't disappoint you. It's pricey but is worth every dime. Here's why.
Features
This safe combines several unique and quality features that you'll love. 
Powerful Fingerprint Sensor
Verifi equips this safe with a TouchChip TCS1 sensor that reads fingerprints fast. Once you place your finger in the safe, it displays all your details in a matter of seconds. It also opens within 1-1.5 seconds of verifying all your details.
You don't need to worry when your hands are dirty or oily, either. Verifi Smart Safe Biometric Gun Safe uses anti-spoof 3D capacitive sensors to read below the skin surface and allow access to the safe.
Durable Construction
The safe has a sturdy steel construction consisting of a 4mm-thick door and 2mm-thick walls. It also has mounting holes at the back and the bottom to prevent thugs from removing valuables. I also found the recessed door and hidden hinges pretty handy as they protect against pry-attacks.
Activity Log
This option is another handy feature any homeowner will find helpful, especially if going away for a long time. The safe provides up to 1,000 access logs that display the identity of users who have opened and closed it. You also find out the time they accessed the safe.
Easy to Set Up
The installation process for this safe is a breeze. Thanks to the setup wizard, your safe should be up and running within five minutes, making it easy to store fingerprints and make adjustments. Even more, if setting up is still challenging, you can use the instructional manual.
User-friendly Interface
The interface is pretty easy to use too. You can quickly edit the usernames, add/remove user accounts, edit the user authorization, and add up to 40 fingerprints.
Who Is It For?
The Verifi Smart Safe Biometric Gun Safe is the best for people looking for an all-around smart safe. You can store all your valuables here, and with all the safety features, you're confident they are safe.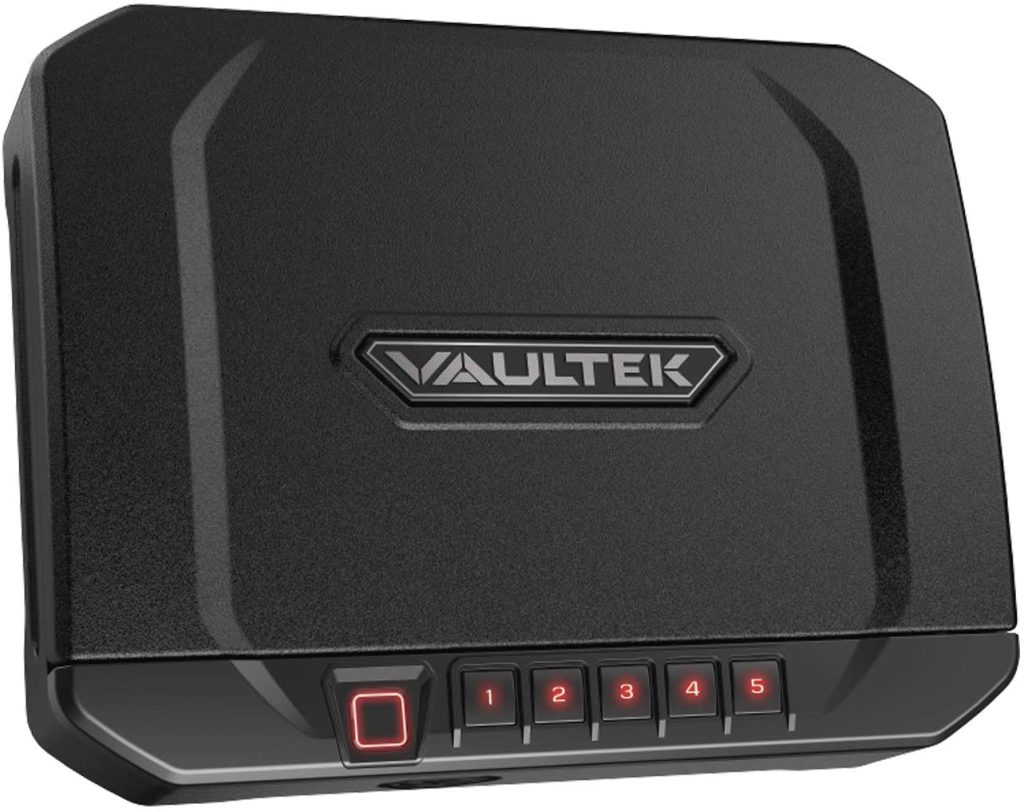 You want to keep a firearm at home without worrying about your little ones accessing it and injuring themselves. The Vaultek VT20i Smart Safe provides just that. 
The company is known for producing precision-engineered safes using cutting-edge technology, and this particular model is one of the best gun safes for home.
Features
So, what does Vaultek feature? Here are just a few options that come with this safe. 
Multiple Lock Mechanisms
Having a safe with multiple locking mechanisms is incredibly handy, especially when storing sensitive items like guns. 
Vaultek equips this safe with a keypad locking mechanism that allows you to access your valuables when the phone or safe battery is depleted. It also has a fingerprint sensor and a Bluetooth app for unlocking the device.
Bluetooth App
Not many smart safes are equipped with Bluetooth applications, but Vaultek incorporated one into this model. Apart from unlocking the safe, the device allows you to:

View the battery charge
View activity log
Adjust the interior LED
Get tamper notifications
Manage the fingerprints
Sturdy Construction
This sturdy safe is made from 16-gauge carbon steel material and has a rugged unibody design that can withstand the most brutal falls. What's more, it has a powder coat finish that protects the safe from corrosion and rusting.
Vaultek also equips this safe with advanced anti-theft protection features like:
Dual anti-impact latches 
Anti-pry bars
Bolstered interior hinges to keep it locked even after a hard fall
Rechargeable Battery Life
I haven't had such a good experience with smart safes in the past. Sometimes I purchase new batteries when the safe is red. Finding a smart safe with a rechargeable battery was a delight.
The Vaultek VT20i Smart Safe comes with a rechargeable 1860 lithium-ion battery that lasts 4-6 months, which is a great relief.
Who Is It For?
Vaultek VT20i Smart Safe is the best for homeowners who keep firearms at home. Its portability and ability to access essentials in multiple ways make it stand out.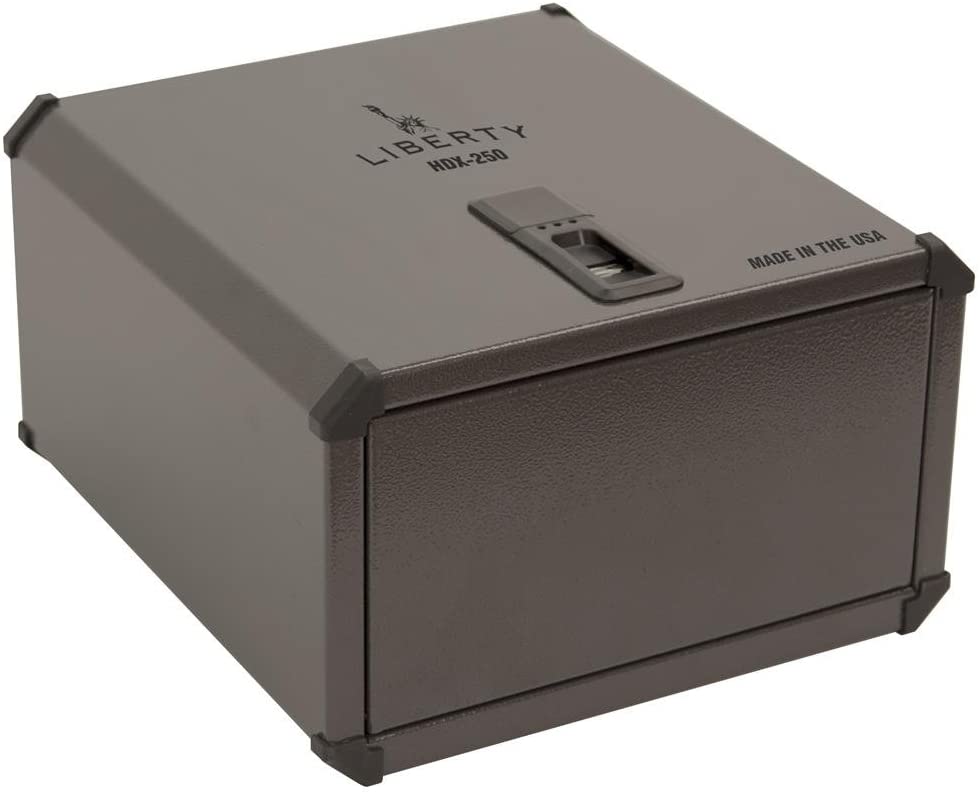 This safe is another convenient option for homeowners with guns at home, but it has an additional feature- a biometric system. 
The biometric system gives you confidence that no one can access your safe except yourself. What's more, the safe isn't as pricey as others with the biometric feature.
Features
Let's take a further look at the biometric system and other features of this safe. 
Biometric System
It's the most innovative security feature of the 21st century. You can get a device secured with a system that recognizes your fingerprint, face, or eye, giving you confidence in its safety.
However, I noted the biometric system took some time to be effective. I would recommend programming the safe from where you're going to mount it so the approach angle is quickly replicated on the sensor.
If installing it on a high shelf, be sure to program it on the same level. If programmed at a lower level, like waist level, the angle you approach the sensor becomes different.
If you're using the safe with many people, you'd need to grant access to them too. Luckily the HDX-250 Smart safe has a 15 fingerprint memory allowing you to use it with 14 other users.
Backup Key
Sometimes biometric and fingerprint systems get faulty and having a backup access method is critical. The safe is equipped with the traditional lock and key system, allowing you to access your valuables when the security system malfunctions or when the safe runs out of charge.
Tamper-resistant
With a 14-gauge steel door, the HDX-250 Smart safe renders itself tamper-proof. Steel is one of the most rigid metals that can't be cut, drilled, or dented easily. In addition, the safe comes with a reinforced latch system and anti-pry tabs.
Who is this For?
The Liberty 9G HDX-250 Smart Vault is ideal for homeowners looking for a smart safe with a biometric system. It's also pretty affordable for its features.
Fingerprint Memory

I loved this safe's small size and ability to grant fast access to my valuables in emergencies. 
However, I didn't find it ideal for storing expensive items; it would only fit one or two long guns at most. I kept a few spare ammunition, firearms, a flashlight, and a spare cell phone.
Features
For a smaller safe, this safe certainly has some excellent features. Let's take a look. 
Durable Steel Construction
The safe is made from 14-gauge steel material, and the inner edges are tamper-resistant. In addition, three steel deadbolts are used to create a 3-point locking system to lock out thieves. I also loved the small and thin form that made it easy to mount the safe on the bedroom closet or other hidden spaces. 
Biometric Fingerprint Reader
What stands out about this safe is its ability to store up to 120 fingerprints. That's an awful lot of fingerprints to store as you can provide access to most adults in the family. Once you swipe the finger, the safe opens in 2.5 seconds.
The registration process is pretty straightforward, but I found it better to register individual fingers at different positions and angles several times. Doing this is better because motor skills can be impaired during high-stress situations, preventing the safe from opening.
Registering multiple times ensures the scanner learns your fingerprint to minimize the chances of getting locked out during an emergency.
Backup Key Lock
Even with a battery-efficient biometric system, it is critical to have a backup method if the battery gets depleted. In addition to 4 AA batteries that power the safe for close to a year, Barska equips this model with a key lock. It's fitted under a stamped plate secured with two hex head screws.
Who is this For?
If you have a large family, it's best to look for a safe that allows you to register as many fingerprints. Barska Biometric Safe is an excellent example.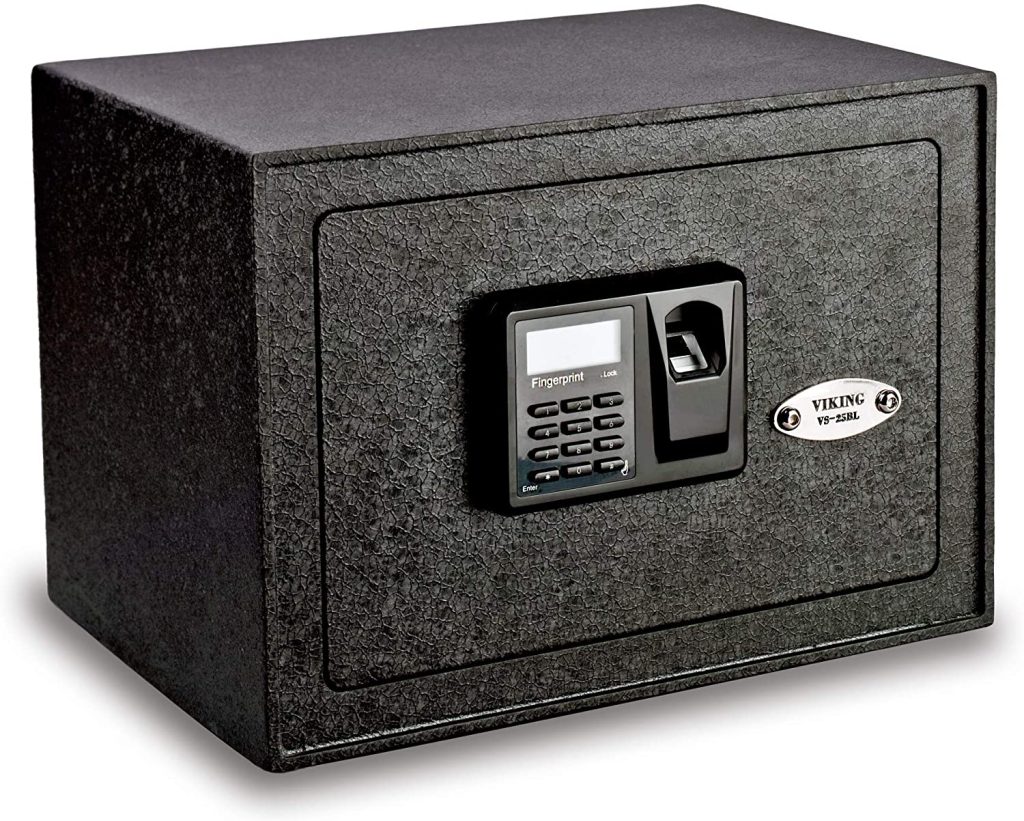 I found this model particularly convenient as it offers all the essential features of a smart safe at a relatively low price. Viking hardly compromises on the quality of construction as comparable brands offer cheaper biometric readers.
Features
Here are just a few of the Viking Fingerprint Safe's features. 
Biometric Fingerprint Scanner
Viking equips this model with state-of-the-art fingerprint scanning technology that's pretty effective if you're attentive to finger placement. The more fingers stored, the better the scans. It managed to get the prints right 95% of the time, but sometimes it was delayed by an extra second.
Heavy-duty Construction
Don't be fooled by its price; Viking uses some heavy-duty steel material to make this safe. The interior has a light carpet finish that adds an elegant touch to the safe.
I also loved how the company installed the door. It swings wide open, so you don't need a handle. It's also thicker (5mm) than smaller safes which have 2mm-thick doors. The safe is also retrofitted with locking deadbolts, reinforced with anti-pry insertion slots to enhance security.
Security Backup
Typically, this smart safe is designed to save 32 fingerprints. It also allows you to input a password, and unlike other fingerprint safes with six digits, Viking will enable users to create eight-digit passwords. Long passwords are more difficult to guess.
Additionally, if you leave the door open for a long time (15-20 seconds), the safe makes a loud beep every five seconds until it's closed.
Who is this For?
Viking Fingerprint Safe is suitable for homeowners looking for a small, affordable, yet functional smart safe.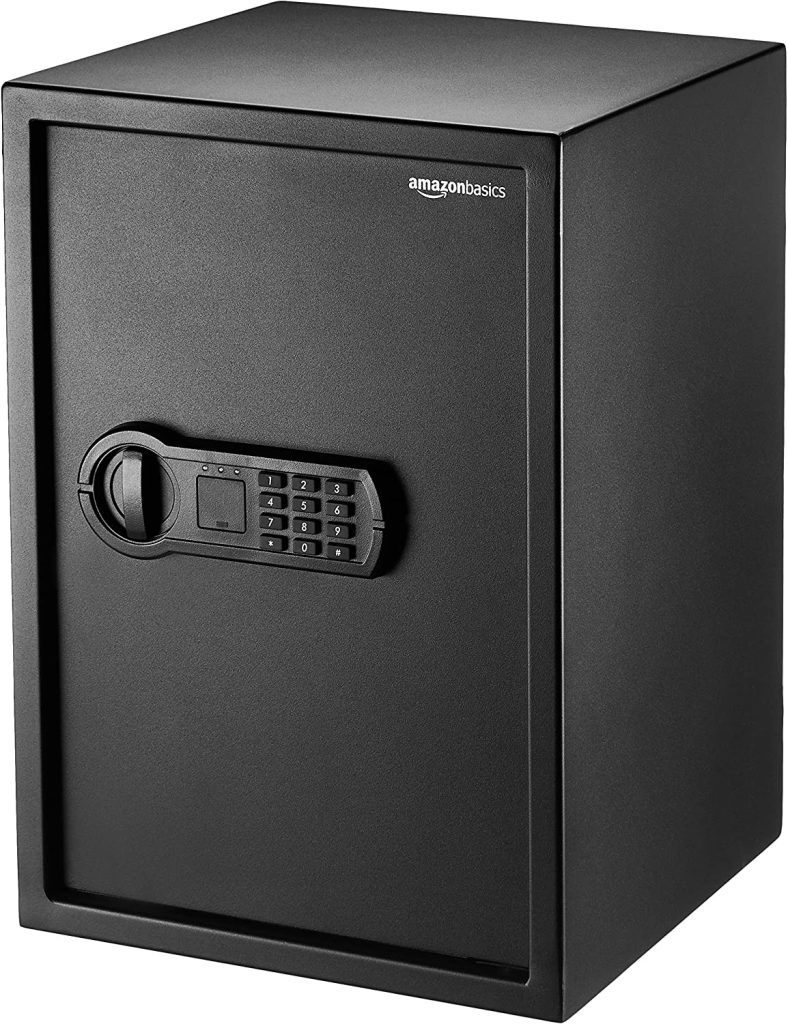 The safe is a great budget buy for homeowners looking to secure their valuables at a low cost. It has adequate space for stashing and organizing your documents, jewelry, and handguns. 
I also examined its security features, and I must say it doesn't fall short. It doesn't have a biometric scanner as other models reviewed but a reliable electronic keypad.
Features
For a cheaper option, this safe has tons of features to keep you and your family safe. 
Electronic Locking Mechanism
The safe uses an electronic keypad to secure your valuables. It's easy to set up the passcode and activate self-prompts. And once you enter the passcode, you only need to make a clockwise turn to open the safe.
In addition, it has an emergency override feature that allows you to access the safe in case you forget the passcode or the charge gets depleted.
Construction
The safe features a heavy-duty carbon steel material known for its durability. The door is outfitted with 8-gauge steel, while the body has a 14-gauge body making the safe impenetrable.
The interior is carpeted to provide a comfortable space to stash your valuables, and it has an adjustable shelf. You can organize smaller items on the shelf or remove them to accommodate more oversized items.
Digital Display
AmazonBasics Keypad Safe is also equipped with a digital display that shows when the safe is locked or unlocked and on a low battery. It uses three symbols to illustrate the three functions.
Who Is This For?
The safe is suitable for homeowners shopping on a budget. For a little over $100, you can stash your valuables in a heavy-duty safe.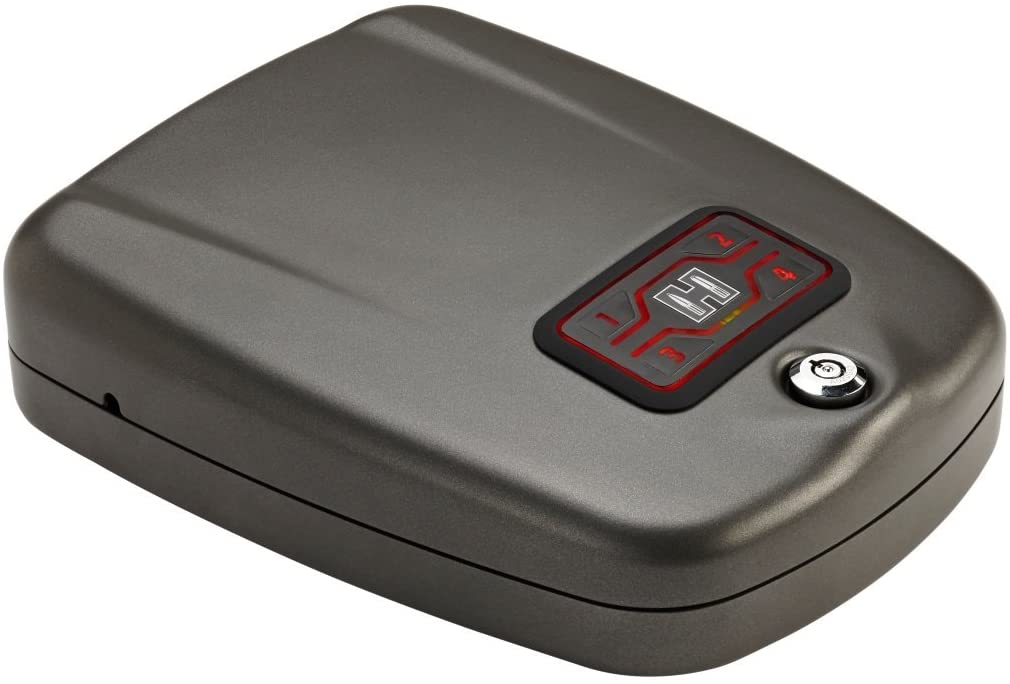 Apart from Biometric scanners, some smart safes use RFID technology to lock and unlock safes.  Probably also one of the best safes for apartments.
RFID systems operate faster than their counterparts as they scan objects automatically. This feature means there's no downtime when using safes equipped with RFID technology.
Features
Are you looking for a fast-access safe? Look no further. 
Prompt Access
With the patented Radio Frequency Identification (RFID) technology, the safe opens instantly. Simply place the RFID key fob or bracelet card over the reader, and the safe opens within seconds. The case comes with a pair of RFID wrist bands that you can wear to access your safe promptly in an emergency.
Multiple Locking Mechanisms
There are three ways of opening the Hornady Security RAPiD Safe. You can use the included wristband, a keychain, and a credit-size fob.
The wristband and the key fob open the safe almost instantly, while the keylock comes in handy when your battery charge is depleted or in case of electrical problems. What's more, it has a keypad you can use to enter a 4-6 digit code.
Heavy-duty Construction
Hornady is known for making firearms, and this safe is designed with these standards in mind. Its heavy-duty construction is robbery-proof, exceeding the ASTM international performance standards by far.
Hornady Security RAPiD Safe weighs a stunning 16 pounds when empty, and the 16 gauge steel used in its construction doesn't make it easy to carry it.
Who is it For?
It's essential to have a safe that's readily accessible, especially during emergencies. The Hornady Security RAPiD Safe fits this description perfectly. 
What to Look for When Buying Smart Safes
A good home safe protects your valuables against theft, but smart safes do a little more than that. They are equipped with digital features that make it more difficult for unauthorized persons to access your property.
Some smart safes also come with bill validators that reduce the risk of counterfeit fraud. The counterfeit detection is nearly impossible with the naked eye, given the rapid advancements in technology, making bill validators an essential feature.
When shopping for a smart safe for home, it's best to have an idea of the most critical features. Here are some of them.
Ease of Use
You don't want a safe that needs a manual every time you wish to access valuable documents. It should be easy to operate. Ease of use depends on various factors, including:
Touchscreen functionality
Accessibility to crucial components like a note validator, which allows you to detect counterfeit notes
A backup mechanism in case of failure 
Always look for a safe that meets your needs and also provides top-level security in an easy-to-use way. 
Locking Mechanism
It shouldn't be too complicated or too easy to guess what your password or unlocking method will be. Traditional safes used either of these four locking mechanisms;
Keyed locks
Digital number keypad
Combination locks 
However, smart safes rely on biometric locks.
This kind uses personal identification elements like retinal scans or fingerprints to ensure only authorized persons can open the safe. This personalization feature makes smart safes more expensive than those using other locking mechanisms.
Home safes using keyed locks, for example, are the most affordable because they use a regular key to open the safe. However, burglars can easily break into them. Another locking mechanism is the digital number keypad that involves pressing a few buttons in the correct order.
Such safes use alpha-numeric strings to keep the items secure, and you can change the combination quickly.
Combination locks are another reliable locking mechanism. While they don't appear as safe as a biometric locking mechanism, combination locks are harder to crack. A three-wheel combination lock, for example, has more than a million possible combinations.
Reliable Access
Nobody wants to deal with a finicky fingerprint scanner. As such, it's essential to test the safe's biometric scanner before buying it. Check how long it takes to scan the fingerprint and open the system. If buying from an online shop, check the reviews.
Remember: Sweaty or dirty fingers are likely to cause problems when scanning the fingerprint. Therefore, you want a device that allows you to scan as many fingerprints in multiple positions. That way, if your primary fingerprint doesn't work, you have a backup.
The Type of Safe
Are you looking for a safe to store jewelry, cash, or a gun? Home safes come in different types depending on the kind of item you want to store. Here's a brief overview:
Burglary Safes
These safes are more secure and heavier than ordinary ones as they are designed to protect against forced entry. Thieves use various tools to break into safes, including:
Power tools 
Hand tools 
Chemicals 
Explosives
Cutting torches
Burglary safes are designed to resist such attacks using heavy steel construction. They're not entirely burglar-proof, but they can delay skilled burglars or prevent thefts by unskilled thieves.
Typically, burglar safes are classified based on the types of tools they can resist and the time a thief would take to penetrate the safe. The ratings are designated using an alphanumeric code like the following. 
TL (Tool-Resistant): Safes with this code can resist attacks from ordinary power and hand tools.
TR (Torch-Resistant): Safes with this code can resist attacks from cutting torches.
TX: Safes with this rating are resistant to explosives and torches.
15: Safes with this rating can resist attacks for 15 minutes. Others can resist attacks for as long as an hour.

These codes are combined to form the safe's rating displayed on the product. For example, if you find a safe with code TRTL30, it means it's a torch and tool-resistant safe with a thirty-minute rating.
Fire Safes
These types of safes protect the contents of the safe from fire. Similar to burglar safes, they're not entirely burglar-proof. Fire safes are only resistant to fire for a specific period.
The Underwriters Laboratory, the primary testing lab for safes in the United States, has developed a comprehensive system that classifies safes based on the assets they can store. You can protect the time assets and the expected fire temperature.
This rating also accounts for the possibility of the safe falling from one floor to another. There are three main UL rating categories:

UL Class 350: Safes with this rating keep contents safe up to a temperature of 350 degrees Fahrenheit. They are suitable for storing paper documents.
UL Class 150: These safes keep contents safe up to a temperature of 150 F or less and are ideal for storing paper documents and optical media.
UL Class 125: Safes with this rating keep contents safe at 125 F. They also have water-resistant seals to prevent water entry.
Apart from these UL ratings, fire safes are further defined by the time they can tolerate fire and the kind of protection they offer against combinations of electrical, mechanical, and cutting tools. This rating is called a TL rating. Safes with this rating have different categories- A, B, C.
Gun Safes
The safes are designed for storing firearms and can be bulky depending on the type of firearm you want to keep. Some have a stand-alone design, while others are mounted to walls or under a desk.
Jewelry Safes
This type of safe is designed to protect and organize valuable jewelry. Most jewelry safes have a beautiful design so you can maintain the color, luster, and condition of your pieces. They are also burglary and fire-resistant.
Size
Size is another critical factor to consider, especially if living in a small apartment. A large safe allows you to store all your valuables as you expand your collection. However, they can be pretty heavy, so you want to ensure the floor underneath supports the weight adequately. 
Conversely, small safes are incredibly portable, allowing you to grab and go in case of an emergency. 
You want to stash your small safe in a well-hidden place, too, because their small size makes it easy for burglars to steal. It's best to mount them on the wall to make theft more complex and for additional stability. 
Battery Life Alerts
Most smart safes run on batteries, so it's best to look for a safe that notifies you when they get depleted.
Verifi Smart Safe, the best safe overall, for example, makes a beeping sound warning you about the depleted battery. In addition, it displays the percentage of battery charge left on the LED screen.
Connectivity
The smart safe should be compatible with the home's internet connection. This compatibility makes it easy to operate it using devices like Google Assistant. As such, you want to ensure the system provides Ethernet connectivity and wireless or cellular connectivity.
Bottom Line- Best Smart Safes For Home
Having reviewed seven smart safes, it's clear the Verifi Smart Safe stands out. Its exceptional functionality, long battery life, and ability to view users who have accessed the safe (up to 1,000 access logs) make it stand out.
Also, it has been certified by the FBI and can scan even dirty fingerprints adds to its credibility. What's more, with its self-diagnostics system, you don't need to re-run your fingerprints.
The system checks the safe's battery health, locking mechanisms, and fingerprint systems every 24 hours. Honestly, I haven't operated a smart safe equipped with such a system. 
If you're one of those homeowners who stash their valuables in boxes and large files, we have a solution for you. 
There's a large variety of smart safes for home. Consider key features like durability, battery life, locking mechanism and fire proof.  Hopefully this review helped you make a buying decision of your next safe!