Today, almost every appliance in your home can be connected to the internet. It's no surprise that these appliances can also be found in kitchens. And you should that creating a smart kitchen is very affordable. So if you ever wondered how to make a smart kitchen even if you're on a tight budget keep reading!
From ovens that will ensure your cake is baked perfectly to Alexa-operated coffee makers, a wide range of smart appliances is available for your home. Unfortunately, purchasing all these appliances can be pretty expensive. What do you do if you are on a tight budget?
Below, we'll cover how to make a smart kitchen even if you're on a tight budget. Read on to learn how to make your kitchen smart, the benefits of smart kitchens, and how to build a budget-friendly smart kitchen. 
What Is a Smart Kitchen?
A smart kitchen is a kitchen that is outfitted with various appliances that work together and make cooking and managing your kitchen easier. Most smart appliances are connected to your WiFi and are a part of the Internet of Things. 
The connectivity of the appliances is what makes them smart. The internet gives the appliance access to a wealth of information that can make cooking easier. The internet connection also gives you control of many appliances from anywhere in the world. 
Almost every appliance has a smart counterpart. Some refrigerators can look up recipes, ovens that your smartphone can activate, and robot vacuums to clean your floors. Once you own your first smart appliance, you're on your way to a smart kitchen. 
Modern smart appliances are also easy to use. Most appliances will offer a smartphone app that will give total control over your new appliances. Smart speakers and hubs are available that will enable voice control of most smart appliances as well. 
Read on if you want to learn how to make a smart kitchen for your home. 
What Do You Want Your Smart Kitchen to Accomplish?
When building a smart kitchen on a tight budget, you should focus on the goal you wish to accomplish. Below we've highlighted some of the most incredible things a smart kitchen can perform that will make cooking and maintaining your kitchen easier.
Smart speakers, displays, and hubs provide voice integration for your kitchen and access to your other smart appliances.  
Small appliances set timers and automate many cooking functions.
Many smart appliances allow access through your smartphone from anywhere in the world.
Large appliances can create shopping lists, order ingredients, and make you a master chef. 
Robot vacuums make cleaning up a breeze. 
The hands-free operation of many appliances makes your kitchen cleaner and more hygienic.
There are many affordable smart devices and appliances for chefs on a budget. 
Key Appliances in a Smart Kitchen 
If you're interested in a smart kitchen, there are a few key appliances you should invest in first. We encourage any homeowner to invest in smart speakers, smart displays, or smart hubs. These devices connect to your internet and allow you to use voice-activated commands on many other appliances.
A hub device will also give you access to the internet. Don't hesitate to ask your smart device for measurement conversions, ingredient lists, new recipes, adjust the temperature of your oven, or play your favorite song.
Smart Kitchen Appliances on a Tight Budget
Are you ready to learn how to make a smart kitchen? It's time to start shopping. If you're not sure what appliances or gadgets to look for, we've highlighted some of our favorite smart kitchen appliances for homeowners on a tight budget. 
We also added some high-ticket items at the end if you want to make a bigger upgrade to your kitchen.
Smart Kitchen Gadgets Under $50
If you're on a tight budget, you can still start building your smart kitchen. There are plenty of smart kitchen gadgets for cheap that will instantly upgrade your kitchen. Here's how to make a smart kitchen for under $50 a gadget. 
Etekcity Smart Food Nutrition Scale
A good food scale is essential if you want to be successful with any diet or exercise program. This scale connects to your fitness apps and makes food and calorie tracking much more manageable. 
The included app is available for iOS and Android and gives you access to the Nutritionix database of over 1 million food products data.
This automatic food stirrer gives you a second pair of hands in the kitchen. If you've ever struggled to keep stirring a recipe while finishing other parts of the recipe, this item is for you. Safe for stovetop use, the automatic food stirrer will prevent burning your favorite dish.
Digital Wireless Meat Thermometer 
If you've ever overcooked the turkey on Thanksgiving, this gadget is for you. This digital meat thermometer offers Bluetooth and WiFi connectivity to a smartphone app. 
The app gives you instant access to meat temperature, times, alarms, and more. This gadget is safe for BBQ, ovens, and smoker use. 
Smart Sous-Vide Thermal Immersion Circulator
Low-temperature Sous Vide cooking can bring your recipes to the next level. Sous Vide makes it easy to cook perfect meats with zero nutrition loss. 
This smart Sous Vide circulator offers smartphone connectivity that gives you control of the cooking process anywhere. 
The Dash Rapid Egg Cooker will have you cooking the perfect eggs in no time. This gadget provides fast and easy cooking for all types of egg recipes, including hard-boiled, poached, scrambled, and omelets. The cooker also features an auto shut-off to ensure you won't overcook your eggs.
Smart Kitchen Devices Under $100
Are you ready to invest a little more in your kitchen? Adding one or two smart kitchen devices will make you a few steps closer to your dream smart kitchen. These are our choices of some of the best smart kitchen devices under $100. 
Hamilton Beach Works Alexa Smart Coffee Maker
This coffee maker will always have your morning coffee ready and just the way you like it. Alexa controls let you operate the coffee maker from anywhere near your smart speaker. There's also no need to download an additional app to your phone.
Charmline Smart Knife Cutting Board and Disinfection Cleaner
Keeping your kitchen clean and disinfected is more important than ever. This 4-knife and cutting board collection comes with their smart disinfection chamber. The device ensures your knives and cutting boards are always clean and sanitary.
LED Smart Under-Cabinet Lighting System
If you don't have enough light in your kitchen, consider investing in a smart LED under-cabinet lighting system. This LED system is easy to install and gives you plenty of energy-efficient for your kitchen. The voice-activated lights are compatible with Alexa, Siri, Echo, and Google Home.  
Elechome Hydroponics Smart Indoor Herb Garden
Buying fresh herbs for every meal can be extremely expensive. It's time you should grow your own. This hydroponic herb garden uses no soil and can grow up to 10 plants at the same time. 
The 30-watt LED grow light system lets plants maximize photosynthesis and can grow many herbs in less than four weeks.
iTouchless 13 Gallon Touchless Sensor Trash Can
Touching a trash can is unhygienic. The last thing you want to do while cooking is to stick your hands in a trashcan. Luckily, iTouchless makes a wide range of touchless sensor trash cans. 
This 13-gallon can is perfect for your kitchen and features odor-stopping filters, touchless operation, and a sleek modern appearance. 
Smart Kitchen Appliances Under $250
These slightly more expensive smart kitchen appliances will soon have you feeling like a master chef. They can also keep your kitchen clean and healthier. This selection of appliances can transform your cooking techniques and have you creating world-class dishes in no time. 
Air fryers have quickly become a must-have kitchen appliance for many families. This smart air fryer improves the functionality of a traditional air fryer. Cosori Air Fryer works with Alexa, Google Assistant, and its app. 
You'll have hands-free control of your new air fryer from anywhere in your kitchen with the Cosori Smart WiFi Air Fryer.
Toshiba MLEM34P Smart Microwave Oven
This Toshiba microwave offers hands-free operation through its Alexa integration. Other features include an updateable preset menu, built-in humidity sensor, and energy-saving LED lighting. 
Breville Smart Coffee Bean Grinder
Adding a bean grinder to your morning coffee routine is a must for any serious coffee aficionado. 
The Breville Smart Coffee Bean Grinder will ensure you always have fresh ground coffee ready for your mornings. It features steel conical burrs to minimize grinding heat and protect the flavor of your coffee beans. 
Use the CHEF iQ app to connect and interact with your smart pressure cooker. This cooker has plenty of features that make cooking easy, including a built-in scale, 100 recipe app, auto pressure release, 300 cooking presets, and more.
This air purifier freshens up your kitchen and dramatically improves its air quality. The HEPA filter will eliminate dust, pet dander, allergens, smoke, and more. 
Featuring Alexa and Google Control options, you'll have total control of the functionality of this air purifier in your home. The Levoit air purifier cleans 100% of the air of any large kitchen in less than 12 minutes. 
Smart Speaker and Displays for Your Smart Kitchen
A smart speaker, hub, or display is a must for almost any smart kitchen. These devices will allow you to interact easily with all your other devices. They are also connected to the internet and can provide limitless information by asking device questions. 
Many smart appliances may require access to one of these hubs to operate at 100%. Amazon Alexa, Google Home, Nest Hub, and Apple HomePod are some of the most popular smart speaker options available for your home. 
Amazon Alexa Echo Dot Smart Speaker
While The Echo Dot is an affordable smart speaker, it is filled with features. Alexa connectivity gives your speaker voice-activated controls to any connected smart device. 
You'll have no problems setting oven temps, adding to shopping lists, or finding your favorite cooking tunes on the Amazon Alexa Echo Dot Smart Speaker. 
As Amazon's premium smart hub, The Echo Show 8 is a full-featured smart display that will make cooking fun and enjoyable. 
The display can effectively take the place of your tablet or smartphone. You'll have total control of your smart appliances and have access to music, movies, video calls, security camera feeds, and more. 
Smart Kitchen Appliances to Complete Your Smart Kitchen
If you are looking for the most futuristic appliances on our list, here's a selection. These appliances are an excellent complement to anyone creating the perfect smart kitchen where there is no budget restraint.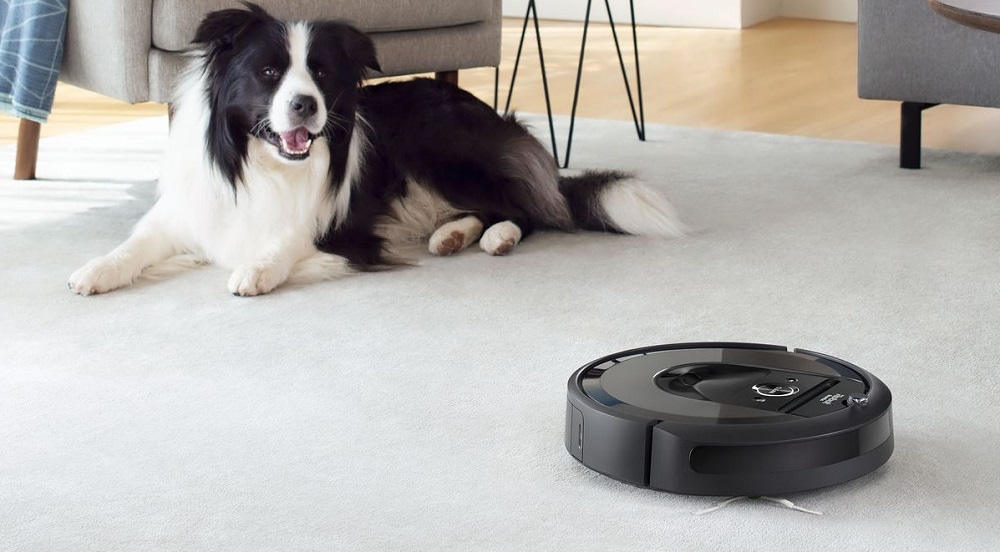 Roomba is the most popular robot vacuum on the market, and it delivers the highest quality cleaning compared to its competitors. 
Its AI learning abilities identify obstacles with its PrecisionVision Navigation system. Roomba offers smart mapping and provides Alexa control and operation. 
This smartphone-controlled oven from Tovala can toast, steam, bake, broil, and reheat your favorite recipes. 
You can use the bar code reader on this oven to scan and heat frozen foods perfectly. Other features include a free recipe library, Oven-Ready Meal subscription syncing, and more. 
Moen Sleek U Smart Pulldown Kitchen Faucet
Moen creates stunningly beautiful and functional faucets. If you've ever tried to turn on or off a faucet with your hands filled, this faucet is for you. 
It features four control methods, including manual, voice, app, and hands-free. These controls help keep your kitchen faucet clean and free of bacteria while cooking in your smart kitchen. 
Camp Chef WiFi SmokePro Pellet Grill
This grill is ideal for your outdoor kitchen or any chef who wants to improve their smoking and grilling skills. The Camp Chef SmokePro Pellet Grill uses WiFI and Bluetooth connectivity to ensure your meats always maintain safe cooking temperatures. 
The grill also features a patented clean-out system that makes cleaning and maintaining the SmokePro a breeze. 
Conclusion-How to Make a Smart Kitchen
As you can see, there are many affordable smart appliances you can add into your kitchen and making it smart. Start out by mapping out your most important and/or tedious tasks and see how they can be "outsourced" to smart appliances. Which kitchen appliances will you buy for your kitchen? Let us know in the comments!