We reviewed 10 smart bulbs to find the best Philips Hue Alternatives and found the Sengled Element Classic A19 to be the best Philips Hue alternative kit.
Philips Hue is one of the most famous brands for smart bulbs. The brand is the first name that comes to mind when you mention smart home lighting. Philips provides a rich lineup of multicolored and white bulbs that you can automate for several uses.
Unfortunately, diving into the Hue games comes at a steep price tag. But there are several worthy smart bulbs around. We are here to help you find the best Philips Hue cheap alternative for you. We highlight the top 10 smart bulbs after thorough research and reading reviews.
Our best pocket-friendly alternative for the Philips Hue is the Sengled Element Classic A19. Like its Philips counterpart, the Sengled smart bulb connects directly to a router. So you can control the lights even while you are on vacation, which is an efficient trick for scaring away intruders.
Both products offer the same brightness range, 16 million different light tones, have a dimming feature, and allow scheduling via IFTTT. Philips and Sengled smart bulbs will last up to 22.8 years with three hours of use daily. It's easy to see why we singled out the Sengled as the best Philips Hue cheap alternative. 
But that is not the only smart bulb we've researched.
Finding the best alternate smart bulbs was no simple task. We've broken down our list of our top contenders by what they do best. Below, you will find the best smart bulbs by budget, color changes, kits, and much more.
If the Philips Hue price point is too steep or you want to find other smart bulb brands available, this list is for you.
Top 10 Best Philips Hue Cheap Alternatives
Here's our pick of the top 10 Philips Hue alternatives on the market.
Sengled Element Classic A19 Kit—Best Overall Alternative
This is an affordable all-in-one kit by Sengled. The package comes with two soft-white controllable bulbs, a power adapter for the Element wireless hub, and a network cable. Setup involves connecting the hub to a router and installing the app onto your device. 
The simple app allows you to turn lights on, off, dim, or brighten. You can also use the app to set schedules. You have the option of using the kit with IFTTT to trigger lights based on the location, weather, and time of day. 
Sengled Element Classic works with Amazon Alexa, Google Home, Samsung SmartThings, AT&T Digital Life Wink, and Stringify (IFTTT's competitor). You can purchase a single bulb with extra features, such as built-in speakers.
Pros
Inexpensive
Voice control
Energy Star Certification
Simple assembly
A clean app interface
Easy connectivity with several Smart Assistants
One-year warranty
Cons
Requires a hub for Google Assistant and Alexa
Light color is not tunable
Scheduling is not as robust as Philips Hue's
It required an app for other Smart Assistants
SYLVANIA Smart+ Wi-Fi LED Light Bulb—Best White Color Customization
These SYLVANIA full-color dimmable bulbs offer a range of 16 million colors that increase the possibilities. Besides Wi-Fi, the smart bulbs are also Bluetooth compatible, so you don't need a smart hub. Bulbs are easy to install using the corresponding phone app, and they consume up to 80% less energy compared to regular bulbs. 
Each bulb offers a 15,000-plus-hours lifespan, making them suitable for the long haul. Google Assistant and Amazon Alexa compatibility allows turning the bulb on/off and dim using voice. Another functionality is the ability to set timers and routines for lights. 
SYLVANIA smart bulbs have an interesting color-changing feature. The feature allows customization of white light to different color temperatures. Choose a nice warm light when you want to relax or bright cool light when focusing on work. 
Pros
Don't require a smart hub to work
Voice assistant compatible
Energy Saving
Cons
Require a 2.4 GHz Wi-Fi connection
Not compatible with the Apple HomeKit
LUMIMAN RGB Bulbs—Best Color-Changing Smart Bulb
This two-pack of LUMIMAN RGB bulbs is impossible to ignore if you are on the market for beautiful, multicolored smart bulbs. For the price of a unit from other brands, you are getting two bulbs from LUMIMAN. Each bulb has a radiant color temperature and 800 Lumens of light suitable for table lamps in the bedroom, bars, and cafes. 
Create different lighting effects using these bulbs. You have up to 16 million light colors that are dimmable to some extent. The additional capacity to countdown or set a time helps you save power. 
The pair of smart bulbs are easy to control via Google Home, Echo dot, and Alexa Echo. Plus, you don't need a hub in-between. You can also turn each light on or off from anywhere using a 2.4 GHz Wi-Fi connection and smartphone app. 
Pros
Suitable for a table lamp or as a room bulb
Dimmable with all colors
Up to 16 million colors
Set a schedule and timer option
Cons
A complicated setup process
Not suitable for large rooms
LIFX Mini White 800-Lumen Light Bulb—Best Mini Smart Bulb
If color-tuning functionality is not your thing, then the LIFX Mini White is a viable solution. The smart bulb offers 800 Lumens max, but it locks the color temperature at 2700K. This smart bulb is the perfect compact lighting solution for home office and nightstand applications.
LIFX uses a proprietary cloud technology that allows controlling the Mini White light bulb from anywhere. The eco-friendly LED has a 22.8-year lifespan and a two-year warranty. 
LIFX is compatible with Android and iOS. It also works with Google Assistant, Alexa, and Apple HomeKit. The LED unit does not require a hub to work, making it a delightful small ray of sunshine in your space. 
Pros
No hub is required, which reduces upfront installation cost
Can hook into Nest Smoke Detector, Nest Thermostat, and IFTTT
Simple setup process
It can get as bright as a regular 60-watt bulb
Cons
The app lacks custom color cycles and light scheduling functions
High brightness washes out color
Sengled Solo Speaker Smart Bulb—Best Smart Bulb With Speaker
This Sengled lighting solution is not your ordinary smart bulb. It comes with a smart speaker for playing music. The bulb has high-fidelity JBL speakers that replicate the left and right sound effects for clear audio.
Use the Sengled Pulse app to adjust brightness or dimness, play music, and adjust volume from your Android or iOS smartphone. Sound and light are separately controlled, so you have the option of using one or the other depending on your liking. Bluetooth connectivity lets you stream audio from compatible devices and apps such as Apple Music and Spotify. 
All you require is the light, Wi-Fi, and the smartphone app to set up this bulb. This Sengled light rates for damp locations, making it an excellent choice if you enjoy listening to music in the shower. 
Pros
Plays music that is Bluetooth compatible
Loud, rich sound from built-in high-quality JBL speakers
Rated for damp environments
25,000 hours lifetime
Easy to install
Energy Saving
Cons
Cannot control light over the smart speaker
The app only offers a timer
Sacrifices bulb functionality for sound
Wyze Labs 4-Pack—Best Budget Pack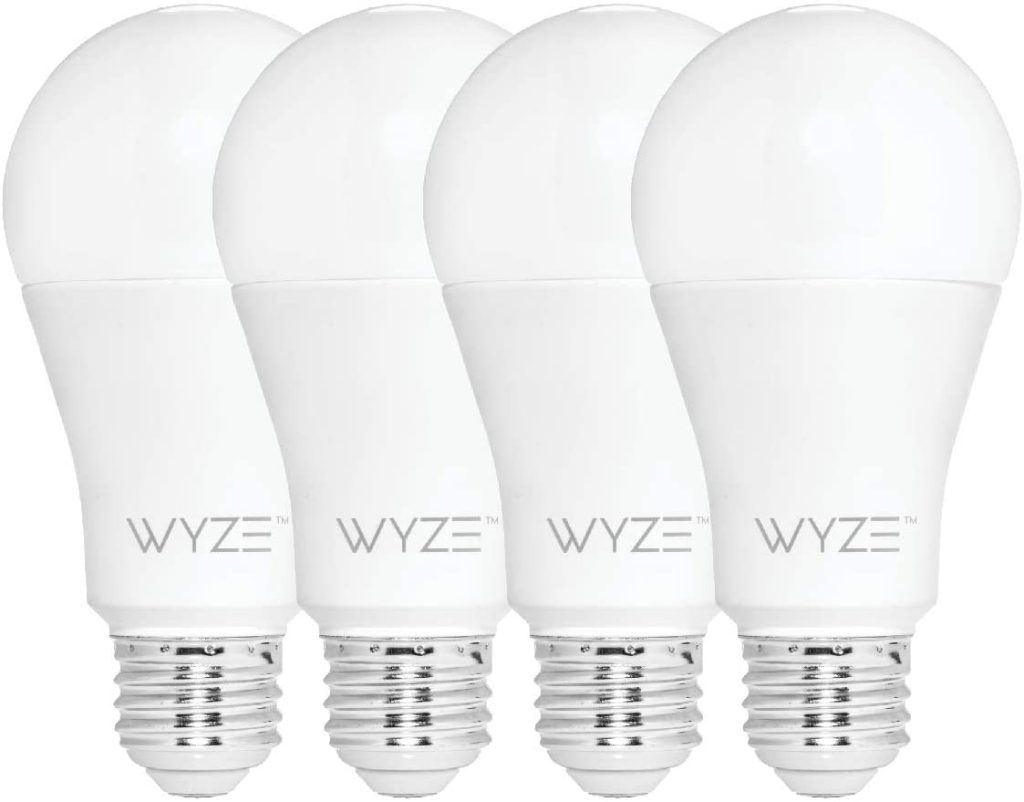 You can save a couple of dollars on a cheaper smart bulb. But this 4-pack of Wyze Labs brings the price for each at below $10. Plus, they are from a reliable brand with a history of offering affordable, quality smart solutions. 
The bargain price gets you a smart bulb set that allows color, temperature, and brightness control over a smartphone app. Set the lights to "Vacation Mode," which causes them to turn on and off using a predetermined schedule that mimics your presence at home. 
Each bulb in the pack integrates with Google and Alexa for voice control. Wyze is moving into the smart home security market. This 4-pack of smart lights is an excellent way to assemble the gear you need to make your home safer and smarter. 
Pros
Reliable and affordable
The intuitive app makes setting up easy
You can integrate the pack with the Wyze larger smart home ecosystem
Cons
You need separate bulbs for color and white
It does not integrate with Apple HomeKit
Ring Floodlight Smart Lighting—Best Outdoor Smart Bulb
Ring is an Amazon company famous for its large inventory of smart outdoor lighting products and its video doorbell. One of our favorite solutions from the brand is its outdoor motion-sensing wired floodlight. The unit is affordable and brings you bright lights in sturdy construction. 
However, the wired model costs more to install compared to the solar versions. But solar Ring floodlights have issues as they are not programmable and run out of power. We think the little extra is worth added reliability. 
Ring products require a bridge or hub that is easily purchasable, along with the bulb in a starter kit to save money. This Ring Floodlight only integrates with Amazon Alexa, considering it belongs to Amazon. You might need to choose a different setup if you have a different Voice Assistant. 
Pros
Available in solar-powered and wired outdoor models
Easily integrates with the Ring home security ecosystem
Offers a flawless voice control experience with Alexa
Cons
Requires Amazon Alexa or Ring hub to work
It does not work with Apple HomeKit or Google Assistant
The wired version may require professional installation
Kasa Smart Wi-Fi Light Bulb—Best Dimmable Smart Bulb
This Kasa smart bulb provides soft, dimmable white light suitable for all situations. The customizable dimming feature lets you match the mood in your room. Further, brightness control can also help you relax at night.
Control the Kasa Smart Wi-Fi bulb using voice control or the accompanying Kasa Smart app on the phone. A scheduling function in the app controls how the light functions while you are on vacation. The bulb remotely connects to Nest, IFTTT, Cortana, Google Assistant, and Echo devices. This makes the bulb one of the most functional units on this list. 
The 800-Lumen Kasa Wi-Fi smart bulb comes with a lifetime rating of 22.8 years. Use this smart bulb to use up to 80% less energy compared to a 60-watt incandescent. 
Pros
No additional hub required
The app allows observing energy usage
Easy setup
Two-year warranty
Cons
Only one bulb in a box
Works on a secure 2.4 GHz Wi-Fi connection only
Eufy Lumos Smart Bulb—Best Smart Bulb for Simplicity
This smart bulb works flawlessly with Google Assistant and Alexa via Wi-Fi, so you don't need extra hubs. Hands-free operation is possible with voice control to turn lights on and off and adjust brightness. You have the option of personalizing your home's mood by brightening or dimming in different rooms.
Control the lights anytime you are away from home using a smartphone app. Or you can set up a schedule to turn the lights on and off automatically.
The Eufy Lumos Smart Bulb is equivalent to a 60W incandescent light but uses only 9W. You save on energy and light bulbs since the LED lights in this bulb have a lifespan of up to 20 years.
Pros
Straightforward installation
Long-lasting
Accessible customer support
Hands-free operation
18-month warranty
Cons
Works only on a 2.4GHz Wi-Fi network
Offers limited dimming options
Using the app can be a challenge
NiteBird Dimmable Smart Bulbs—Best Music Reacting Bulb
If you are looking to jazz up your space with different-colored lighting that reacts to music, these NiteBird Wi-Fi Dimmable Bulbs are perfect. The bulbs come with 16 million colors and multiple preset scenes for different moods. These units react to music by dimming and getting brighter along with your music—exceptional for a house party.
You can control the lights using an app once connected to your Wi-Fi. Group all bulbs and control the entire household with a single tap without using a smart hub.
The app includes a timer for shutting off, dim, or on the lights at specific times. Voice assistant compatibility allows hands-free control with Google Assistant and Alexa.
Pros
Compatible with Google Assistant and Amazon Alexa
Energy Saving
Do not require a hub
Cons
Difficult to integrate with Bluetooth
They require a strong Wi-Fi network
Smart Bulb Buying Guide
All the options above provide a simple, pocket-friendly way to start your journey into the smart home era. You can be up and running within an hour or two of receiving your unit. All the best Philips Hue alternatives come with advanced apps and many features.
So, what features should you look for when purchasing a smart bulb?
Communication Technologies
The three leading control technologies on the smart bulb market are:
Zigbee—A smart home networking protocol that requires a hub to communicate with your Wi-Fi network. Philips adopts this technology for its Hue products, but there's more. 
Wi-Fi—Bulbs with Wi-Fi connectivity directly connect to your router without a hub or bridge. 
Bluetooth—These smart bulbs skip the home network and pair directly with your tablet or smartphone. But you cannot control Bluetooth bulbs from outside the home.
Integration with Other Smart Products
Many smart bulbs can integrate with other smart devices as part of your home's smart ecosystem. IFTTT capabilities provide you with more control over all connected devices in your home.
App for Remote Management
Brand-specific apps for smartphones and tablets make it easy to adjust your bulb in whichever way. All you need is to download the free app, an internet connection, and Wi-Fi to turn smart bulbs on and off or adjust their brightness and color from anywhere in the world.
Other apps help you set timers that shut off lights automatically. How many ways do you think this capability will come in handy?
Voice Assistant Compatibility
Voice assistance allows controlling the lights using simple voice commands. Devices such as Google Home and Amazon Alexa allow the management of smart devices in the home, including these bulbs.
However, it's important to note that you may not get the exact color control you would get from an app. But voice control is still handy when your phone is out of reach.
Colors
Many smart bulbs offer you an impressive 16 million color hues to choose from. You can set the color palette to match your mood using the dedicated app. Most times, you touch the color you want, and the bulb changes to your preference immediately.
Adjustable Brightness
Adjusting your bulb's brightness is one benefit that comes with smartphone technology. You do not have to walk across the room to adjust the lighting as long as your phone is on you.
Ambiance
These top alternatives of the Philips Hue also do an excellent job adding ambiance to your space. They offer the flexibility to adjust the hue, color, and brightness to suit your preferences.
Solar Power
Solar-powered outdoor smart bulbs absorb sunlight's energy and convert it into energy that is stored in a built-in battery. This battery keeps the light on at night, and the charging process starts over again in the morning. Solar smart bulbs are suitable for areas that require to be lit up for security.
Easy Installation
Most smart bulbs above are super easy to install. However, some require using a hub.
The installation process starts with downloading the recommended app. Follow the simple instructions and make sure you have a strong Wi-Fi signal. You will have the smart bulbs lighting up and running in no time.
Energy Usage Tracking
Some bulbs allow tracking of your power consumption via a compatible app. Such bulbs keep you informed of the current energy consumption so you can manage your electricity bills better.
Bottom Line
Sengled's smart bulb kit makes entry into the world of smart home lighting affordable. And we like it the most out of all the Philips Hue Alternatives we reviewed. The kit comes pre-paired with two bulbs, an excellent feature for those new to smart home devices. All you have to do is install the bulbs and hub, and you are ready to go.
The Sengled app's dashboard lets you monitor which bulbs are on and choose to turn everything off. An advanced tab introduces you to a scheduling feature. Unfortunately, the app does not have a vacation mode or built-in geofencing support like in Philips' app.
Bottom line, the low price Sengled starter kit and inexpensive replacement lights make the Element Classic an interesting solution if you are looking to save some money. The Sengled app is not as comprehensive, nor are its lighting options.
If you are on the market for the best Philips Hue alternative, the Sengled Element Classic is an excellent option.