We reviewed the best smart lighting solutions for smart homes and found the Phillips Hue White and Color Ambiance starter kit the best overall smart lighting system.
Good lighting creates a warm, inviting ambiance that improves mood and accentuates your home's best features. Smart lighting solutions do that and more. Thanks to app-based control, a smart lighting system allows you to remotely turn lights on and off or change the color, warmth, and brightness to fit the mood.
The earlier mentioned Phillips Hue White and Color starter kit comes ready with four bulbs and a high-speed hub, allowing first-time users to automate their homes instantly. 
We've also highlighted other smart lighting products, including the best light switches, multicolored bulbs, and even the best smart bulb for home security. 
Keep reading for detailed reviews of each.
If this is your first time installing a smart light system, the Phillips Hue White and color ambiance has everything you need to set up functional yet aesthetically pleasing smart lighting in your home. It includes four E26 bulbs and a bridge.
The hue bridge ships with a faster, upgraded processor cable of pairing up to 50 bulbs, and at the same time, facilitate integrations from voice assistants like Alexa. It is also compatible with the Apple Homekit and Google Assistant meaning seamless, hands-free control over your lighting system.
The bulbs feature a light output of 800 lumens and have an average life of up to 25,000 hours. With a color temperature range between 2000K and 6000K, these smart bulbs allow you to easily adjust brightness levels, creating a cozy, inviting environment. 
What's more, it has up to 16 million color options with incredibly vibrant blues and greens and nice-contrasting dark shades. The Hue app is user-friendly and incorporates switches and sliders that allow you to adjust lights.
Unable to choose a color scheme? Don't worry because this starter kit features plenty of visually pleasing, in-app preset themes you may maximize. Everything excellent comes at a price, and the Phillips Hue White and color starter kit has a pretty high one.
Key Features
Wattage: 9.5watts
Bulb type: A19
Integrations: Apple Homekit, Alexa, Google Assistant
Multicolored
800 Lumens
25,000 Hours lifetime
Pros
Superb preset themes
User-friendly app interface
Compatible with a wide range of third-party devices
Incredibly customizable
Easy to install
Cons
LIFX is one of Phillip Hue's biggest rivals, and looking at this smart light bulb's feature set, it's easy to see why. The Lifx night vision bulb promises up to 1100 lumens, while most smart bulbs, including the Phillip Hue starter kit, only offer 800 lumens.
What's more impressive is that the Lifx night vision LED bulb only draws 11 watts despite the high brightness levels, making it a highly functional yet energy-efficient smart bulb. It features built-in WiFi, so no need for a hub.
The Lifx app offers full customization options and a spectrum of brilliant RGB colors ranging from warm options (2500K) to cool daylight-like tones (9000K).
The recently redesigned app is now easier to use and features four icons at the bottom to switch between the different whites, colors, effects easily, and even presets.  
Besides third-party voice assistant devices, the LIFX night vision bulb is compatible with other third-party platforms, including smoke detectors and thermostats, allowing you complete home automation. 
Although the LIFX smart bulb packs a pretty punch, the marquee feature is its infrared light feature which complements, and efficiently extends the range of your night cameras' vision.
Key Features
Wattage: 11 watts
Bulb type: A19
Integrations: Alexa, Apple Homekit, Hey Google
1100 lumens
RGBW Color scheme
Pros
Infrared light
Vast color options
Wide light color temperature range
Brighter than most smart bulbs
It doesn't need a hub
Cons
Lacks Apple home kit compatibility
Designed to be compatible with any standard E26 socket, the Sengled E12-N1E is one of the best multi-colored bulbs in the market. The bulb has a brightness output of about 800 lumens and offers you up to 16 million color options. 
With its wide white temperature range (2000K-6500K), achieving the perfect ambiance for parties, romantic dinner nights, and movie nights becomes a walk in the park. 
This light is a WiFi-enabled multi-colored light bulb so that you won't need a hub. The Sengled smart app lets you control all your smart bulbs, create scenes, so bulbs display specific colors and adjust brightness levels.
Each room's bulb has a button on the app to turn it off and on, which makes controlling your home's lighting a breeze. Installation is equally as seamless. Simply screw the bulb into an E26 socket, turn it on and use the app to customize your lighting settings. 
Key Features
25000-hour bulb life
800 Lumens
2000K-6500K white color temperature 
Pros
16 million color options 
Wide color temperature
It doesn't require a hub
Voice control 
Cons 
Lacks Apple home kit compatibility 
Prefer to go the old-school way and switch your lights manually? Well, it doesn't have to be so old-school with the WeMo smart dimmer switch.
This slider switch has a glossy white build and features an on and off button at the bottom and a groove at the center through which you may move your finger to change brightness levels.
Long pressing the switch's power button lets you custom program various actions into the app, so the controller responds in a certain way whenever you press it.  For those who despise sleeping in a dark room, this smart light switch fade timer lets you gradually fade the lights out over half an hour.
Installation is relatively straightforward too. All four wires are clearly labeled at the back so you can have an easier time installing them. The manual is also quite well-elaborated and of great help.
The WeMo smart dimmer switch features modes like Away, which lets the button randomly turn lights on and off to make it look as if you're home whenever you are away. 
There's also the night mode which lets you reduce your lighting's brightness at night so you can sneak into the kitchen for a snack without waking the entire household.
Key Features
Terminal: DPDT
Integration: Amazon Alexa, Google Assistant, Apple HomeKit, WeMo
Circuit type: 1 way
Pros
Night mode
Away mode
Features fade timers
Easy to install
Cons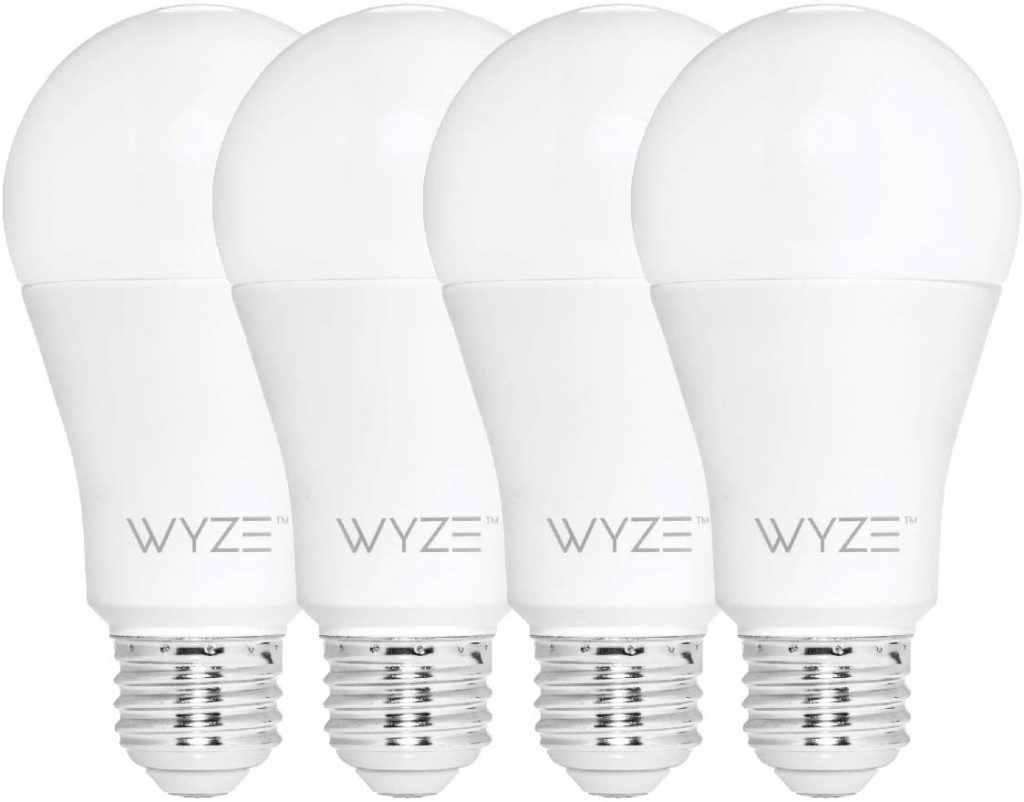 If you are on a budget and looking to automate your space, the Wyze bulb is one of the best innovative home lighting solutions for you. It is a white bulb with a tunable color temperature range between 2700K and 6500K.
That means you get to switch between warm, orange, candle-like white tones to cool, bluish, almost daylight-like tones whenever the need arises. 
It delivers 800 lumens but keeps your energy bill down with its low 9.5-watt power draw. The Wyze white bulb connects directly to your 2.4GHz WiFi network, so you don't need to buy a hub.
Its WiFi connectivity makes it compatible with third-party integrations such as Alexa and Google Assistant, allowing you to control your home's lighting from the comfort of your couch. You may schedule your lighting routines based on time and adjust brightness using the dedicated Wyze bulb app.
The app even allows you to create group lighting to control lights in different rooms using a single command. What's more, you may use the app to share the bulb or any other devices in your smart home ecosystem so friends and family can create and save their lighting scenes.
As if not impressive enough, the Wyze white bulb even features vacation mode to turn lights on and off automatically, so it looks as if someone is home, even if you're miles away on a tropical beach.
It also boasts contact and motion sensors making it an excellent addition to your outdoor smart lighting ecosystem.
Key Features
Wattage: 9.5 watts
Bulb type: A19
Integrations: Alexa, Google Assistant
800 Lumens
No hub required
White  
Pros
Equipped with contact and motion sensors
Vacation mode
You won't need a hub
Cons
Inefficient dimming function
You can only schedule lighting at specific times and not sunrise or sunset
If you'd like to keep your entire home, both indoors and outdoors, connected, the Cree Lighting Connected MaxPAR38 is an excellent buy. The bulb is designed to be weatherproof, so it'll do as well outside as it does indoors.
Also, with a brightness output of up to 1200 lumens, this smart bulb will perfectly illuminate your outdoors all night long. This smart light bulb features WiFi connectivity, meaning you won't need a hub. 
It has a wide temperature color setting ranging from warm, soft tones at 2200KI to cool, stark white tones at 6500K. Add in the immersive color options, and creating the perfect ambiance for reading or movie nights should be a breeze.
The light works with a dedicated app and is compatible with voice control assistants like Google. You can use the app to schedule your lighting and set up wake-up lighting. The app also features excellent preset themes for holidays like Christmas and other special occasions.
There's even a mode called Follow the Sun, which lets you set your Cree Connected bulb to mimic the sun's natural shifting patterns throughout the day. This shift helps improve your mood and even productivity. 
On top of that, the Cree Lighting Connected Max PAR38 also boasts Bluetooth connectivity, which adds to its ease of use.
Key Features

Wattage: 120 watts
Bulb type: A19
Integrations: Alexa, Google Assistant
1200 lumens
No hub needed
White and colored lighting
Pros
Superb brightness
Follow the Sun mode
Plenty of preset themes and scenes
Tunable white light
It doesn't need a hub
Cons
Lacks Apple Homekit compatibility
Floor lamps boost a room's intimacy and can enhance your seating area to make it more functional. The HueLiv Super Bright floor lamp is an excellent option if you're looking to incorporate floor lamps into your décor while maintaining your home's smart functionality. 
This corded smart floor lamp is designed from durable plastic and features a slender, minimalistic design, so it blends in with your home's interior and provides efficient accent lighting.  
The cord is long enough to keep the model away from your power outlet. What's more, this HueLiv floor lamp features an adjustable head and a 2.2kg upgraded base, so you can easily position it. The soft, matte surface is more than aesthetic since it helps soften the light for easier reading.
You'll find two buttons on the pole for effortless color selection or adjusting brightness. Alternatively, you may use the lamp's App Smart Life. The user-friendly app features up to 16 million colors to choose from and eight scenes.
Built-in WiFi compatibility also means you may pair it up with Alexa and other voice assistant devices for easier control. The HueLiv floor lamp promises up to 2000 lumens, so you have enough lighting for the darkest corners in your house.
This smart floor lamp runs on an advanced LED chip to improve energy efficiency despite the high luminosity. The lamp's memory function means it maintains the last brightness and lighting color settings you had on before you turned it off. You may even set a timer so it goes off automatically when you fall asleep.
Key Features
Corded electric floor lamp
Multicolor
2000 lumens
Advanced LED Chip technology
2.4Ghz WiFi
Pros
Highly ergonomic design
2000 lumens
Memory function for ease of use
Energy-saving LED chip
Cons
Some users report trouble connecting to the app
Need a hub to keep your smart light bulb, floor lamps, smart wall panels, or table lamps connected? If so, Samsung's SmartThings hub is an excellent smart lighting solution for your home.
It sports a white, glossy finish, with an Ethernet port, a pair of USB ports, and the power jack at the back edge while a small status indicator sits on the front. In case of power blackouts, the Samsung SmartThings hub got you covered with its in-wall power adapter that offers up to ten hours of power backup.
It is compatible with wireless protocols such as Zigbee, Z-Wave, IP, user-created apps, and a whole range of IFTTT recipes. As a result, you may pair it with an entire range of smart devices, ranging from cameras, smart light bulbs, thermostats, and even video doorbells.
Although it takes some time getting used to, the newly redesigned app is well-organized, and you'll find it quite intuitive once you get the hang of it. The home page displays the different devices in different rooms and their current status. You can also use it to create your security alerts.
You'll find shortcut keys at the bottom of the screen that take you to different pages on the app, such as the notifications and routines page. Even better is that Samsung continually updates the app's library to make it even more intuitive for the average user.
Installation is a breeze too. All you ought to do is download the app, create an account, and follow the prompts. You may control custom scenes and even use it to control the connected devices by voice.
Key Features
In-wall adapter with 4AA batteries
Compatible with: Zigbee, Z-Wave, IP, user-created apps, IFTTT recipes
1 Ethernet port
2 USB ports
Pros
Incredibly versatility
Features an Ethernet port and a pair of USB ports
Compatible with many brand devices
Up to ten hours of power backup with the in-wall adapter
Cons
Upgrading to modern versions might prove tricky
A smart table lamp is the simplest way to transform your home office into a smart space, and the Govee Aura smart table lamp is one of the best smart lighting solutions in that category. It sports a cylindrical design and is about 8inch tall with a 4-inch diameter.
The table lamp features white plastic construction with a light grey plastic top cap and base. Its five control buttons are strategically placed on top, so you can manually control the lamp without touching the main body.
You'll find a USB-C port and an eight-foot power cord on the bottom. We liked that the main body is translucent enough to let you enjoy the light show but not so sheer that you see the lamp's wiring. It emits up to 350 lumens and has a wide color temperature range of 2200K-6500K.
The dedicated Govee Home app is intuitive and features modes like scene, color, and music. The Govee Aura works well alone but can also be integrated into your smart home ecosystem thanks to its WiFi compatibility.
The Govee Aura table lamp has the most fascinating LED color shows you'll ever come across. You can customize its countless lighting patterns, and effects move to soft jazz (or any other music you like) to create the perfect working ambiance.
The lamp also features beautiful animated patterns and presets you can use to complement your office's or bedroom ambiance.
There's so much you can do with it. For instance, you may even set a timer and have it wake you up. It's perfect for your home office, bedroom, or any other setting that might need quality, extra lighting.
Key Features
350 lumens
2200K-6500K
Multicolor
Pros
Music reactive
37 scene modes
Compatible with third-party devices like Alexa
It can serve as your alarm
Cons
Nanoleaf is among the most popular brands when it comes to smart wall panels. Their eye-catching triangular Nanoleaf shapes are among their most recent additions to their lineup.
They weigh 800 grams, with an estimated thickness of about 5inches, so the setup looks neat and appealing after installation.
Each triangle features an oversized foam pad and a connector, making it easier to connect the shapes together during installation and remove them effortlessly. 
The Nanoleaf shapes triangles each feature two linking ports on each side, allowing more creative freedom since there are now multiple ways to connect them or expand.
The smaller links mean the triangles snap on each other for a more robust, reliable panel connection. Add in the over 16 million color options ranging from warm hues at 1200K to the cool, bright tones at 6500K, and creating perfect, Insta-worthy smart wall art using these panels becomes even more accessible.
Impressive aesthetics aside, The Nanoleaf shapes triangles offer enough brightness to serve as accent lighting in your space. You may connect up to thirty light panels using a single controller. The catch?  Nanoleaf shapes are pretty pricey. 
Key Features
800 grams
4.5watts
25000 hours lifetime
2.4Ghz WiFi
RGBW color scheme
2-year warranty
Pros
Wide color temperature range
Plenty of ways to creatively connect the shapes
One can control up to 30 panels using a single controller
Long life
Cons
You cannot easily rearrange it after installation
A bit pricey
Buying Guide for the Best Smart Lighting Systems
Here are some essential factors to consider when shopping for the best smart home lighting system.
Type of Smart Lighting Solution
From smart bulbs to lamps, switches, and dimmers, smart home lighting solutions come in nearly all shapes and sizes. They all have one thing in common. They can wirelessly connect to a smartphone, allowing you to remotely customize and control your home's lighting.
Although more expensive than standard lighting, these solutions use considerably less energy. Important factors to keep in mind while reviewing your options include:

Watts: Consider the watt rating of the bulb you're considering to determine how much energy it will use. Most smart bulbs typically use eight to ten watts.
Lumens: How bright do you want your smart light system to be? Most smart light bulbs will often feature an average of 800 lumens but consume less energy than standard bulbs.
Control Platform
As highlighted in our list, some smart light systems feature built-in WiFi and pair directly with your smartphone through a dedicated app for seamless control, while others feature Bluetooth and may come with a remote sensor.
Some require a hub such as Zigbee to control colors, warmth, brightness and even set lighting schedules. Note: Some hub-controlled smart bulbs come with their hub while others don't.
Color Options
Some smart light bulbs only feature one color-cool or warm white, while others boast an RGB color scheme and may have up to a million color variations. 
Integration
If you plan to integrate your smart light system with any other smart technology in the future, consider protocol compatibility with other devices. Most smart lighting options use standard options such as WiFi, Zigbee, and Bluetooth.
Benefits of the Best Smart Lighting Systems
Here's why smart light bulbs are a worthwhile investment. 
They Automate Your Home
Smart lights are the easiest way to automate your home. Thanks to app-based and sometimes voice control, these lighting fixtures allow you to turn lights on and off remotely and even control important lighting aspects such as warmth and brightness.
This light makes your home even more functional since you'll no longer need to fumble through dark hallways trying to find a light switch. They also add a layer of security to your space as you can control lighting even when you're miles away to make it look like someone's home.
Better Sleep
Lighting dramatically affects your quality of sleep. You can customize smart lighting to create the perfect ambiance for sleep and wake-up times so you can sleep better. For instance, if you hate sleeping with lights out, you may set your smart bulb to low brightness settings and have it fade away slowly, so it's easier to fall asleep. 
If you're not a morning person, configure your smart lights to turn on at specific times so it's easier to get out of bed.
A Cut On Your Energy Bill
Since they're essentially LED, smart light bulbs and other similar lighting solutions use considerably less energy, produce less heat, and are more durable.
Even while sitting dormant, a smart bulb draws only about 0.2 watts to 0.5 watts of power, which isn't much compared to standard bulbs whenever they're on.
They Improve Your Home's Ambiance
You can customize a smart bulb's color, warmth, and even brightness to suit different settings. This customization option lets you create the perfect ambiance for every occasion, whether movie nights or romantic home dinners. 
With some lights, you can even create preset color configurations.
Conclusion
After reviewing 10 smart lighting solutions, we found the Phillips Hue White and Color Ambiance starter kit the best overall smart lighting solution. The kit comes with multiple bulbs and a versatile hub, allowing even novices to automate their entire space in one go.
It also boasts excellent in-app features and countless color options that let you set the perfect ambiance for every occasion.
Are you ready to integrate smart lighting solutions into your smart home?