After reviewing 10 products and found KATALIC's clog-free option to be the best automatic dog feeder for most families.
However, there are plenty of dog feeders to slow down eating available on the market, and what works for one dog won't necessarily work for others. If nothing else, size differences alone have a significant impact on the viability of any particular feeder.
We know how important it is to keep your dog fed at a healthy rate, and the best auto dog feeders are a way to ensure that happens on a safe, predictable schedule. That's why we'll discuss not only our top choice but nine alternatives for cases like chew-proof and WI-fi-connected dog feeders.
 Keep reading to learn more about the best automatic dog feeders.
10 Best Automatic Dog Feeders
Here are the best automatic dog feeders currently on the market. We considered mainly price, ease of use, customer reviews and smart device features.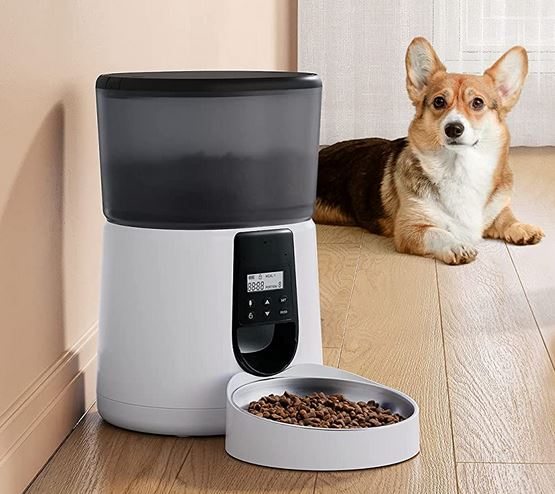 KATALIC's automatic feeder is a well-balanced option suitable for most small and medium breeds. 
The main draw here is the flexibility, with 20 different portion settings per meal, so you can decide exactly how much food your furry friend gets. It also comes with a 10-second voice recording system to feel more familiar to your dog.
The included bowl is a sensible stainless-steel option, which is both odor-free and unlikely to cause the allergic reactions we occasionally see in plastic bowls. This feeder mainly runs through a five-volt DC adapter, but you can also power it with several D-size batteries if you don't have a convenient socket near the place you want to put your feeder.
Now, there's nothing fundamentally revolutionary about this product. It's not in the top spot because of any special features or unique qualities that you can't find elsewhere. It's at the top because it's incredibly well-made, with fewer build issues than most competitors and a highly functional design.
In other words, it's an outstanding balance between price, features, and performance. That's what we look for in the top product, and KATALIC's dispenser earned the spot.
Pros:
Unusually well-built for an automatic dog feeder
Voice recording system helps encourage use
Generally lives up to its name as a clog-free dispenser
It offers an outstanding balance of price and performance
Cons:
Still a little more expensive than some people like
The four-liter tank is a little too small for big breeds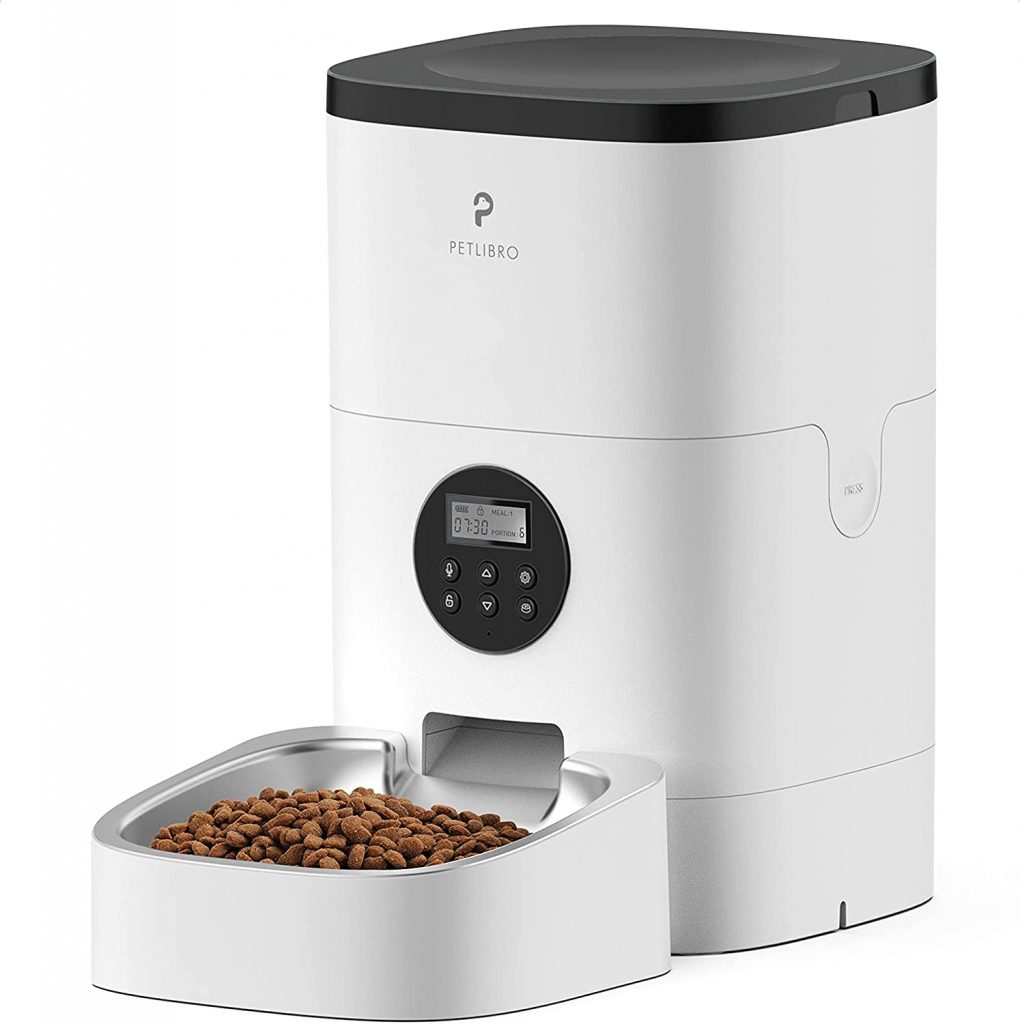 PETLIBRO's automatic feeder is a great runner-up for our top choice and largely addresses the same niche. It has the same capacity at four liters of dry pet food, and it has the same voice recording system to help ensure pets feel comfortable eating from it.
This is the runner-up mainly because it has fewer options than our top choice. It has just nine portion settings compared to the twenty choices in our top pick, as well as your choice of one to four meals per day.
However, while this isn't as good for varied portion sizes, it does come with a desiccant bag that helps keep food fresher. That's especially helpful if your dog is on a low-food diet and you want to keep their meal flavorful for as long as possible.
The container itself has a humanized design, which means that it's extremely difficult for pets to break into without completely destroying the feeder. That helps prevent accidental exposure to the food tank and acts as an extra level of security.
Pros:
Human-friendly design helps prevent accidents
Available in both 4L and 6L sizes
Slightly cheaper than our top choice
Has a button for additional feedings
Cons:
Fewer portion options than some other feeders
Somewhat harder to open and refill than other units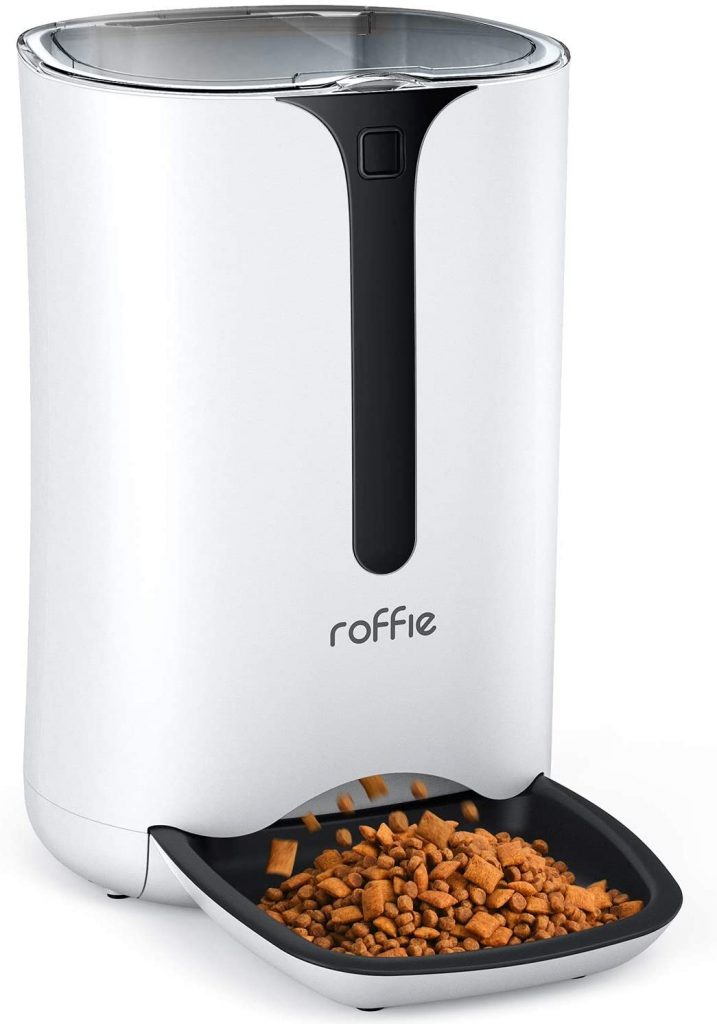 Size matters when you're dealing with automatic feeders. Put simply, large dogs need more food and might go through everything in a smaller feeder too quickly to make it worthwhile. That's where Roffie's 7L feeder comes in. This is one of the largest automatic feeders on the market, and even better, it's competitively priced rather than asking you to pay too much more.
Size isn't the only thing this feeder has going for it, though. It's also quite flexible, allowing you to set up to four meals per day, with each having different portion sizes. Some feeders allocate the same amount of food, so the extra flexibility here is a nice touch. There's also an impressive 39 portion sizes, allowing maximum control of food delivery.
Like most better feeders, this option lets you record a custom message to remind pets that it's time for food. Frankly, between its large size and its flexibility, this is a fantastic choice for most owners and a strong competitor for the top spot.
The one thing we don't like as much is the lack of a stainless steel bowl. Stainless steel is the best choice for pet food bowls, so this feeder lost a few points in that category. Otherwise, it probably would have gotten the top spot.
Pros:
Larger capacity than most other feeders
Uses a dual power supply for reliability
Outstanding control over the number of portion sizes
Lets you feed different amounts for each meal
Cons:
Only allows up to four meals per day
It doesn't have a stainless steel bowl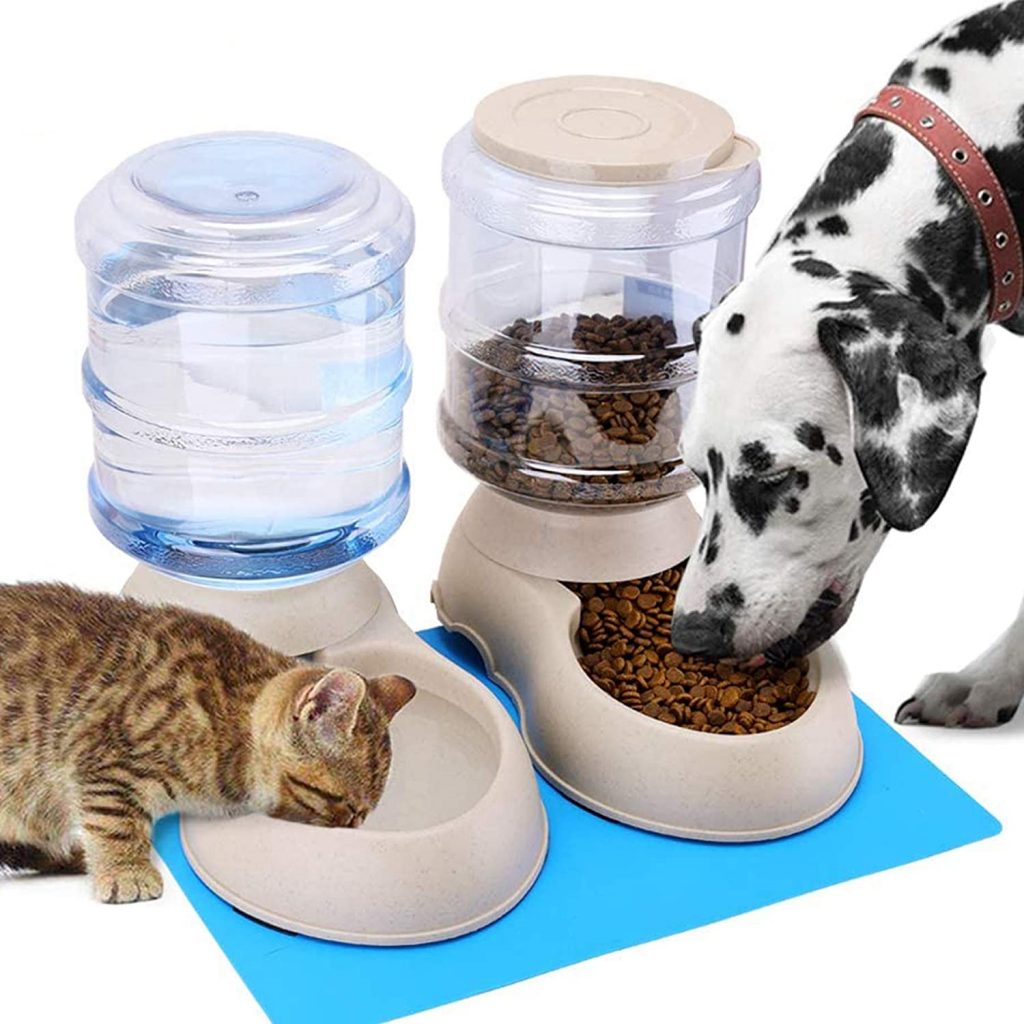 Before we go any further, it's worth noting that gravity-based feeders are a poor choice for some dogs. This is especially true if they had to compete for food as a puppy, which encourages them to eat as much of their food as fast as possible. However, gravity-based feeders are a suitable replacement for dogs who feel safe eating slower and allow them to eat at will.
This is a two-piece combination set with both water and food bowls, plus a mat to help keep the floor clean. The dry food container holds about six pounds of food, which is roughly three to seven days of food, depending on the size of your dog.
While we don't like this for all dogs because exposure to the air means food can go stale faster, this is a good choice for dogs who need to be able to eat medical food at their own pace. It also has the convenience of being an entirely manual system, which means this feeder will keep working even if there's a power outage or some other type of problem.
Keep this away from aggressive chewers, though, as they might try to break into the top half of the container.
Pros:
Well-built gravity-fed feeder
Comes with an automatic water dispenser, too
Great for dogs who want or need to eat at their own pace
Good balance between capacity and ability to keep food fresh
Works even with no electricity
Cons:
No control settings
Plastic bowl
Honestly not as good as any other option on this list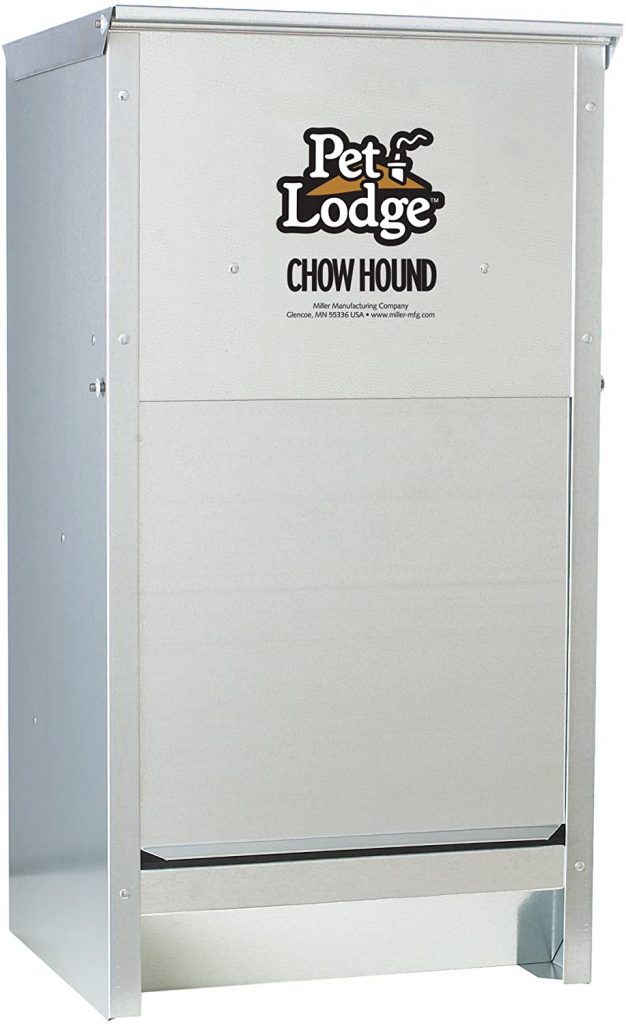 Little Giant's Chow Hound feeder is, in many ways, the exact opposite of our previous choice. While smaller plastic feeders like that one are prone to damage from chewing dogs, this galvanized steel feeder is basically impervious to biting and chewing.
Several other features help this feeder stand apart from other products. The first feature is its massive capacity. With the ability to hold about 25 pounds of food, this feeder is several times larger than any other option on this list. That means fewer refills and more ease of use for longer trips.
It's also a non-electric feeder, allowing dogs to push their heads in and eat at will. A magnetic closing system grabs and holds the door shut whenever your dog isn't using it while not restricting them from getting in normally.
While it's hard to recommend this for small breeds, this is a great feeder choice for large dogs. You can usually pour in an entire bag of food and let the existing system do the rest. It's particularly good for large breeds who can self-regulate their eating rather than trying to devour everything at once.
Pros:
Large, sturdy design
Holds a truly massive amount of food
The door system helps keep food fresh
Cons:
No electronic control settings
Not a good choice for dogs who can't self-regulate their food intake
Little Giant's feeder is great for bigger pets, while BELOPEZZ's feeder is better for small dogs. With just a 3L capacity, it holds less than most of the other options on this list. It's also limited to four meals per day, rather than spreading small meals out over a longer period.
However, other than the small size, this feeder is generally similar to our top choices. It includes a voice recording to announce food coming out, an infrared detector to help prevent clogging or overflow, and an impressive 39 portion control sizes for added flexibility with each meal.
The food discharge system here is particularly nice, featuring separated containers and a brushing system that makes it suitable for kibbles of almost any shape. The one major drawback to this feeder is common to the industry: it has a plastic ABS bowl rather than stainless steel.
The bowl isn't large enough for big dogs, but smaller pups should have no difficulty getting in and eating. Overall, there's a lot to love here if you don't need a big feeder and want something with enough quality to be reliable while you're away.
Pros:
A great choice for small dogs
An excellent number of portion controls
Uses sensors to help prevent overflow
Cons:
It doesn't have a stainless steel bowl
Its small capacity doesn't mix well with the larger portion sizes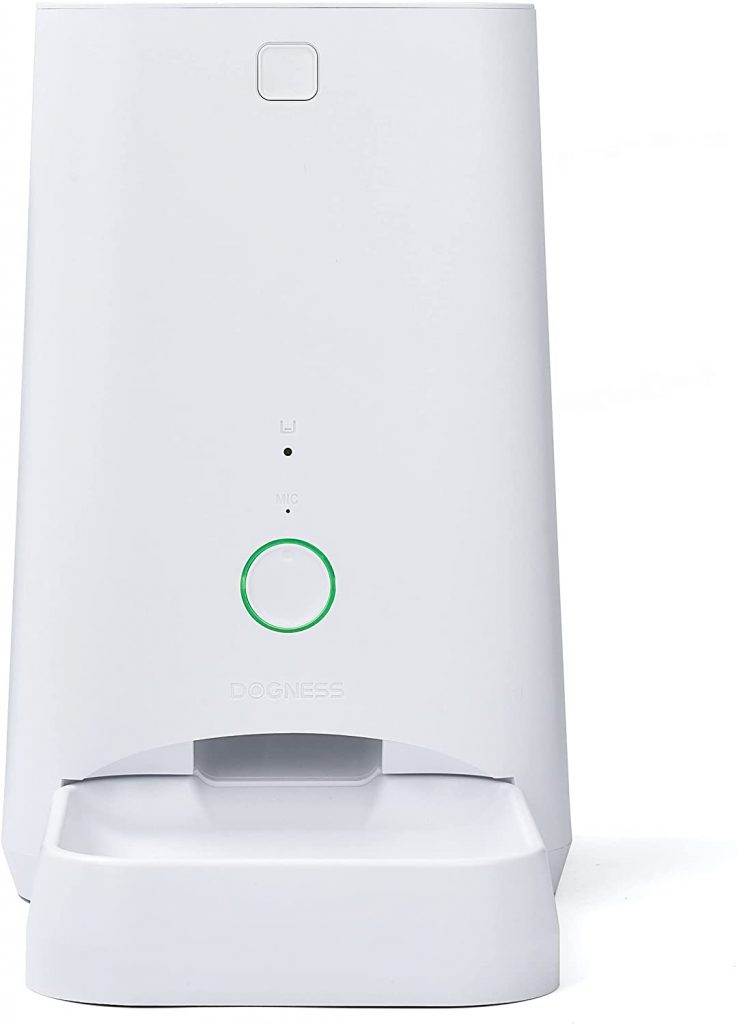 Almost everything can connect to the internet these days, and that's just as true for the best automatic dog feeders as it is for other smart devices. This 6L dispenser is towards the larger end, making it ideal for pets who need to eat a lot.
Instead of relying on buttons, you can control this feeder through the manufacturer's app. That makes it possible to set the exact frequency and amount for each meal, although it's true that most people prefer to simply create a schedule and leave it at that.
Even better, this feeder can let you know when food is getting too low. Forgetting to refill an automatic feeder is a relatively common problem, so notifications that go right to your phone can help you ensure your dog never needs to miss a meal.
As a bonus, this feeder comes with large and small portion wheels to provide further control over portion sizes. It's available in several colors to help match your home decor, and you can get a two-liter water fountain to go with it if you need one.
Surprisingly, this feeder isn't much more expensive than our top choice. It has a lot of added functionality for minimal added cost, making it perfect for owners who want easier access and information.
Pros:
Suitable for breeds of all sizes
Excellent capacity for an automatic feeder
It has an easy-to-use app for controlling the finer details
The color options help fit in with your decor
Cons:
Not as useful if your internet goes out
It doesn't have a stainless steel bowl
Most people don't need the number of options and controls this feeder offers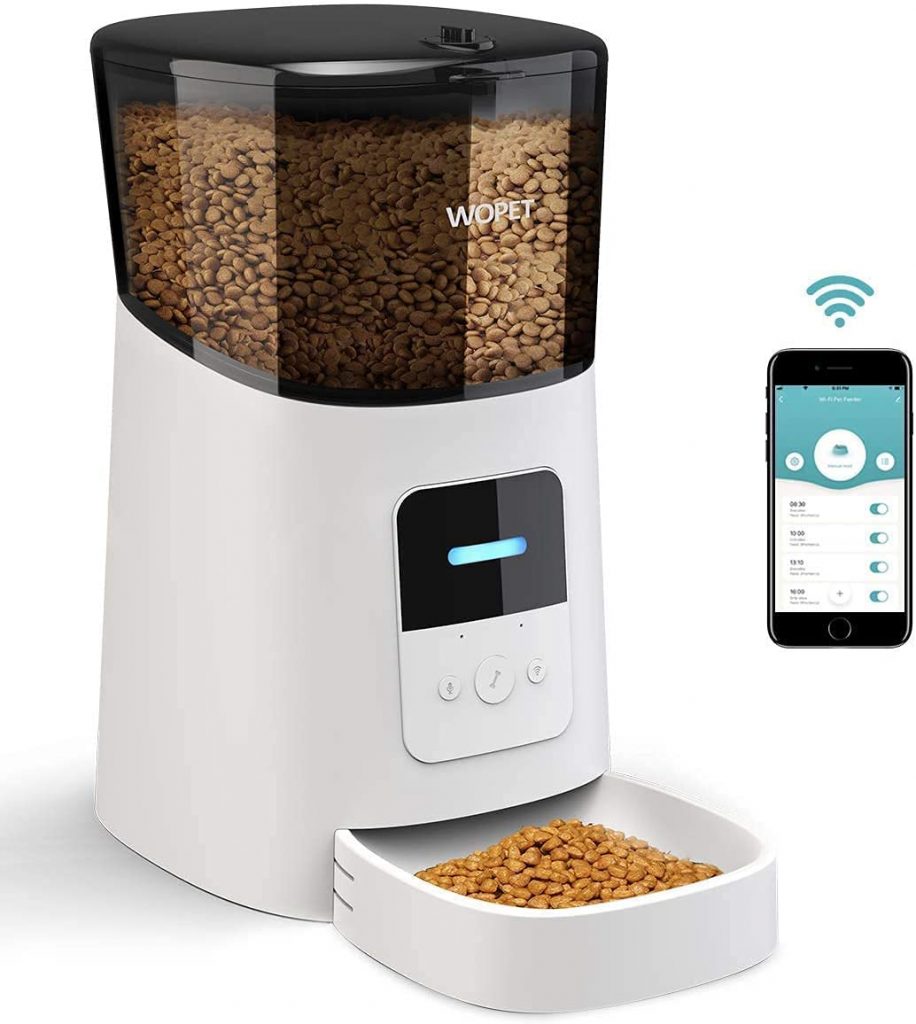 WOPET's automatic feeder is a strong competitor for our previous choice. It supports up to 15 meals per day, which makes it one of the best dog slow feeder options on this list. It also supports up to 50 portions per meal, which is frankly more precise than most people need.
As with other quality wi-fi feeders, this choice has an automatic notification that reminds you to refill it. Unlike some other models, it also has a semi-transparent top, so you can look inside without removing the top and see if it's getting low. Although primarily wall-powered, it has batteries as a backup option.
This product is competitive enough with our previous choice that you could get either of them and be fine. However, we decided to make this one the runner-up because the transparent food storage bin means the kibbles are more exposed to light and the vision of dogs who might try to break into the top.
Like most automatic pet feeders, this unit is made with food-grade ABS. It's not a bad material, but it's still not as good as having a stainless steel bowl.
Pros:
Highly competitive wi-fi feeder
An impressively high number of portion controls
Lets you see into the food storage bin
Has enough meals per day to help you space out your dog's eating
Cons:
It doesn't have a stainless steel bowl
The visibility of the food might tempt some dogs to try and break-in
Hard to recommend over the other wi-fi feeder on this list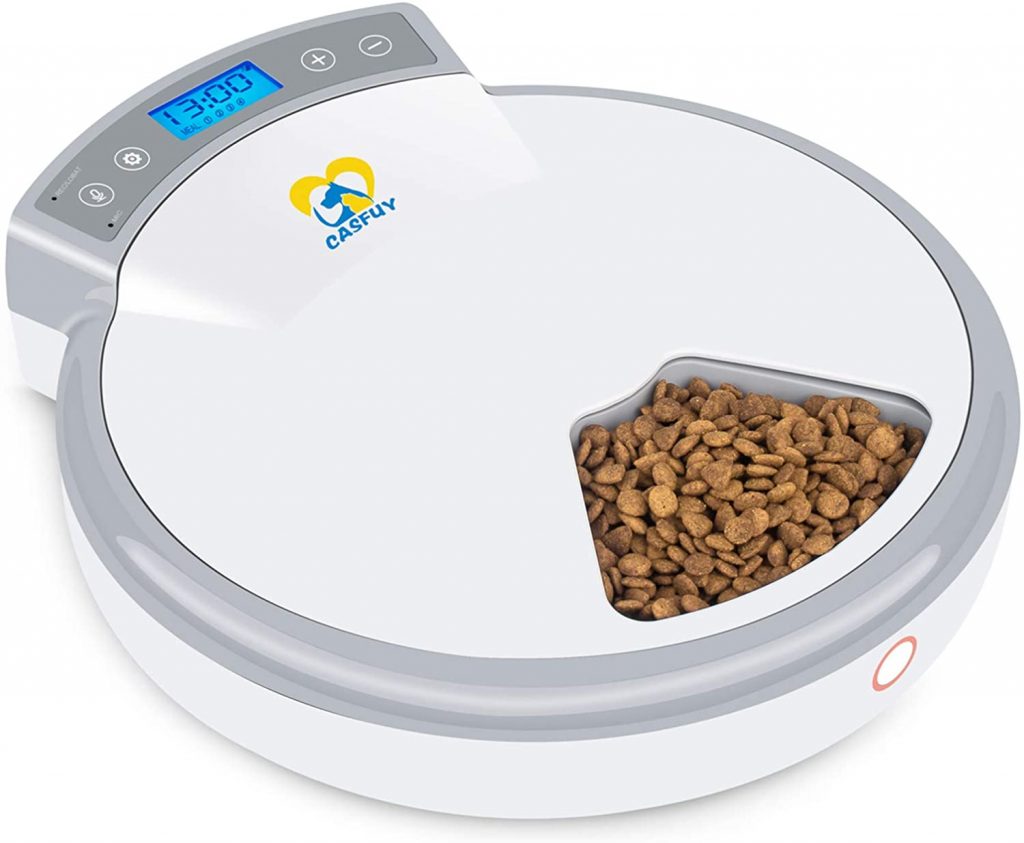 Most of the automatic pet feeders on this list have one thing in common: they're only suitable for dry food. Casfuy's automatic feeder breaks from the mold by offering five separate compartments in a rotating bin. 
Each compartment can store up to 240 ml of wet or dry food, allowing you to keep wet food moist until it's time for your dog to eat it.
The main downside to this feeder is its relatively low total capacity. With just five meals in it, it won't hold nearly as much food as any of the other options on this list. 
Frankly, that's an issue if you want to feed your dog wet food while you're out on a longer trip. However, there's no easy way to get around that since wet food is always best when it is as fresh as possible.
In short, whether you should get this automatic dog feeder depends on the type of food you want to give. If you're giving out dry food, get something else. 
If you want to give them wet food, this is the only option on our final list that meets your needs. That's the decisive factor here, so there's really nothing else that needs to be said about this product.
Pros:
Works with wet food
Encourages pets to maintain a schedule for eating
Holds about a day's worth of wet food in food-safe bins
Each compartment is fully isolated from the others
Cons:
It has a lower capacity than anything else on this list
Not a good choice for dry food
Won't work for larger breeds, even if you want to give them wet food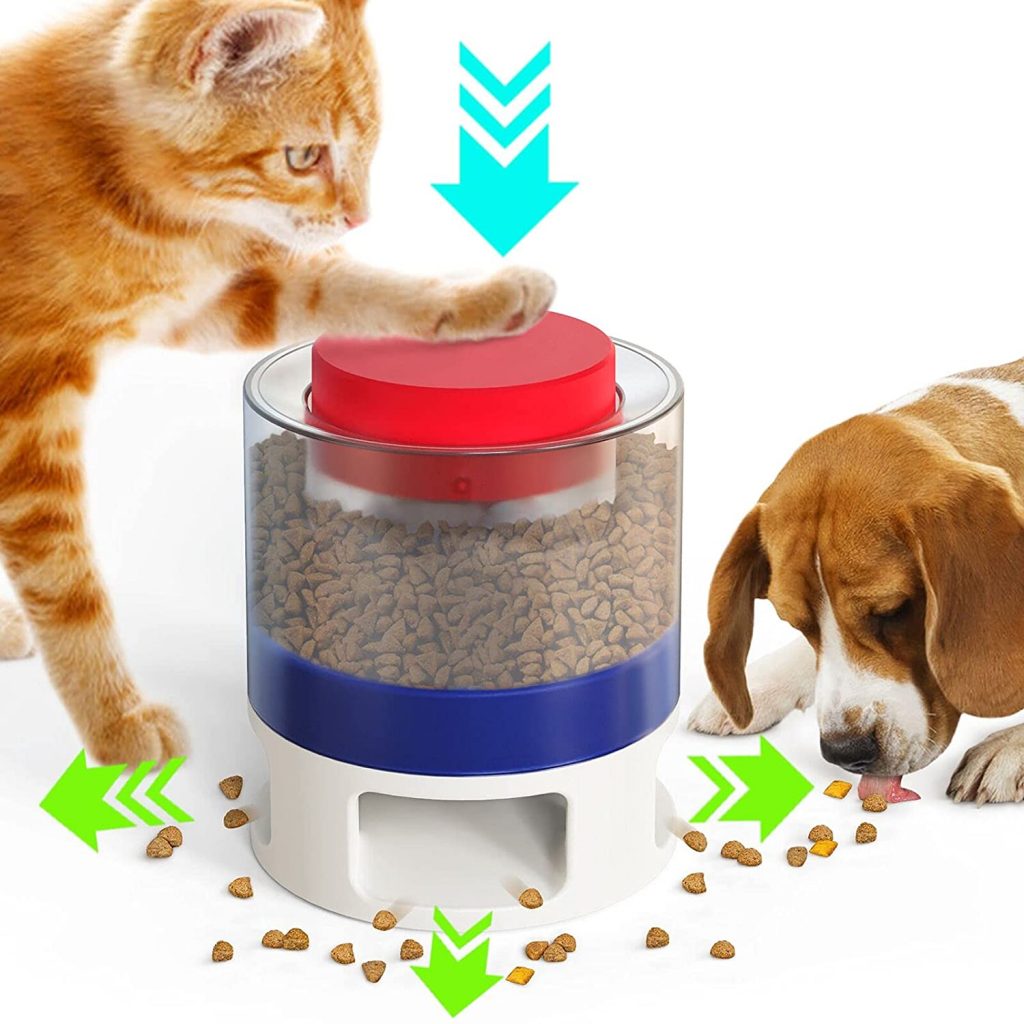 XIAOGO's feeder is another unusual option for this list, but it's also ideal for helping to slow down feeding times. 
This feeder is a button-press system where dogs can gently push the button on top to dispense food. Most dogs, distracted by the food, will eat what's dispensed before they push the button again.
The trick here is that this feeder only dispenses a few kibbles at a time. That significantly slows down a dog's eating speed and helps encourage them to eat at a much healthier rate. It's also good for dogs who are already capable of self-regulating because it lets them eat anytime they want, without the risk of too much food going stale.
This isn't a good long-term feeder choice because it has a relatively low capacity. However, many dogs will find this more engaging than a traditional feeder, allowing them to have a little fun. It's not wrong to call this product a toy despite its practical functions as a feeder.
In short, we can't recommend this as a proper automatic feeder. You can get a similar result by configuring a different feeder to release many small meals throughout the day, rather than a few large ones.
However, this product still earned a spot on our list because it's both non-electric and capable of dispensing small portion sizes. Most non-electric options let dogs eat as much as they want, so this is a surprisingly good balance of characteristics that you can't find in most competing products.
Pros:
More interactive than most automatic feeders
Helps encourage slower eating
Doesn't require electricity
It has a lifetime replacement guarantee
Cons:
Relatively low capacity
No control over the portion sizes, only the frequency
Buying Guide
Here are some things to consider when you're looking for the best automatic dog feeders.
What Is An Automatic Dog Feeder?
Defining what counts as an automatic dog feeder is surprisingly difficult. Ultimately, every dog feeder is some version of a manual feeder: you add food, and at some point, your dog eats it. It's the systems and components that set it apart.
For this guide, we decided to define automatic feeders as any with electronic controls, as well as any that can provide several meals worth of food with no further action on your part. In other words, mechanical systems your dog interacts with also count as automatic.
Feeding Control System
Automatic dog feeders have two types of feeding control systems: human-controlled and dog-controlled.
Human-controlled systems are generally electronic and let you do things like select the frequency and size of portions. About 30 portion sizes are good enough for most owners. Anything beyond that is probably too much because people don't need that much flexibility over the portion sizes.
The best feeders have a high number of meals per day. Anything with ten or more meals is particularly good. The main reason for having so many meals is that you can feed your dog many small meals throughout the day. 
Experts generally recommend feeding puppies at least four meals per day, and more meals are often better.
This provides dogs with a steady supply of energy rather than a feast-or-famine setup that can occur if they have a few large meals. Any human-controlled system with fewer than four meals a day isn't worth considering.
Most of the options on the list above are human-controlled.
The alternative option is a dog-controlled system. This allows a dog to eat whenever they want, and it's most appropriate for dogs who can self-regulate their eating and only take as much as they need. Some dogs fit this category, but not all of them, so you may need to train your companion before using one of these systems.
The main benefit to dog-controlled systems is that they're usually not electronic. This means there's no risk of failure or problems if there's a power outage or battery issues. Some of the better options in this category include self-closing doors to help keep the food fresher.
Dog-controlled systems can have significantly larger capacities than human-controlled systems. That makes them a better choice if you expect to be away for a long time or if you want to refill the feeder as rarely as possible.
Common Features
Most automatic dog feeders are fundamentally similar to each other. They may have different hopper designs and capacities, but this is a mature product field where manufacturers more or less know what works and what customers are looking for. 
That means there are a few common features you'll see on most of these products.
Voice Recording Systems
Voice recording systems allow you to record a bit of dialogue, usually about ten seconds long, that can play whenever you dispense food. This is mainly an alert for pets, so they know when food is available. Using your voice makes the product much more attractive to them.
Meals Per Day
Meals per day systems let you control how many meals your pet can get. In most cases, you can also set the time of day these happen. Four meals are the minimum, but better products can have more than a dozen meals, each with its own portion sizes.
Portion Controls
Portion control systems give you added flexibility for deciding how much food to give at each meal. Realistically, most people set this to either a large amount for a few meals per day or a small amount for many meals.
Conclusion- Best Automatic Dog Feeders
As you can see, there are several different types of automatic dog feeders on the market. We like KATALIC's clog-free feeder because it offers an excellent balance of features, pricing, and capacity. 
It's also, put simply, a well-made product with fewer problems than many other brands. Reliability is essential when you're feeding pets.
However, the fact that it's the best option overall doesn't mean it's the right choice for everyone. Larger breeds need feeders with higher capacities, while other features like isolated compartments can help you give out wet food instead. 
Always consider your dog's needs before you go shopping for an automatic feeder.
FAQ
Are smart dog feeders good for dogs?
Smart dog feeders can be beneficial for dogs in certain situations. They offer convenience and can help maintain a consistent feeding schedule, especially for busy pet owners. Here are some advantages and considerations regarding smart dog feeders:
Advantages:
Consistency: Smart feeders can dispense food at predetermined times, ensuring your dog receives regular meals even when you're away or busy.
Portion control: Some smart feeders allow you to pre-portion meals, helping to prevent overeating and obesity.
Feeding customization: Certain smart feeders can accommodate specific dietary needs, allowing you to schedule different types or quantities of food for your dog.
Monitoring and tracking: Many smart feeders come with companion apps that enable you to monitor your dog's feeding habits, adjust schedules, and receive alerts for missed meals.
Considerations:
Dog's behavior: Some dogs may find it challenging to adapt to a new feeding method or be hesitant about approaching a mechanical device. It's important to introduce the smart feeder gradually and ensure your dog is comfortable with it.
Power and connectivity: Smart feeders require a power source and internet connectivity to function properly. Power outages or Wi-Fi disruptions could temporarily impact their functionality.
Maintenance: Regular cleaning is necessary to keep the smart feeder hygienic and prevent food spoilage. Ensure the feeder is easy to disassemble and clean.
Reliability: Depending solely on a smart feeder may not be ideal in emergency situations or when unexpected circumstances arise. It's essential to have backup plans for feeding your dog if the smart feeder malfunctions or runs out of food.
Ultimately, the suitability of a smart dog feeder depends on your dog's needs, temperament, and your lifestyle. It can be a helpful tool for providing consistent and controlled feeding, but it's important to assess its compatibility with your dog's individual requirements.
How does a microchip feeder work?
A microchip feeder uses a special technology called a microchip or RFID tag to control a dog's access to food. The feeder has a scanner that can read the dog's microchip or RFID tag. When the dog comes close to the feeder, the scanner checks if the dog's microchip or tag matches the one registered in the feeder's system. If it's a match, the feeder opens up and dispenses the right amount of food into a bowl or tray for the dog to eat. This way, only the dog with the correct microchip or tag can eat from the feeder, keeping the food safe and preventing other animals from stealing it.