After testing dozens of top-rated Alexa-friendly coffee makers, we were able to choose which devices produce the best-tasting coffee, are easiest to use, and the most affordable. 
We tried multiple smart coffee makers, judging them based on their ease of use, price, capability, size, and maintenance. Though this experience did result in a few highly-caffeinated weeks around the office, it also allowed us to make an educated and informed assessment of which model might be the best Alexa coffee maker.
In our opinion, the best option is the Hamilton Beach 12-Cup Automatic Coffee Maker. Not only is it explicitly designed for Amazon Alexa compatibility, but it's also one of the easiest-to-use smart coffee makers. In addition, unlike other models, you'll never struggle with the hands-free operation when using this updated appliance.
However, multiple smart coffee makers are worth checking out, especially if you prefer individual coffee machines, espresso brewers, or self-grinding coffee makers. Nearly every coffee lover enjoys having their hot beans brewed in a specific way, so it's crucial to consider the alternative machines we've reviewed below.
Keep reading to discover more about the highest-quality WiFi coffee makers that can work well with your Alexa device.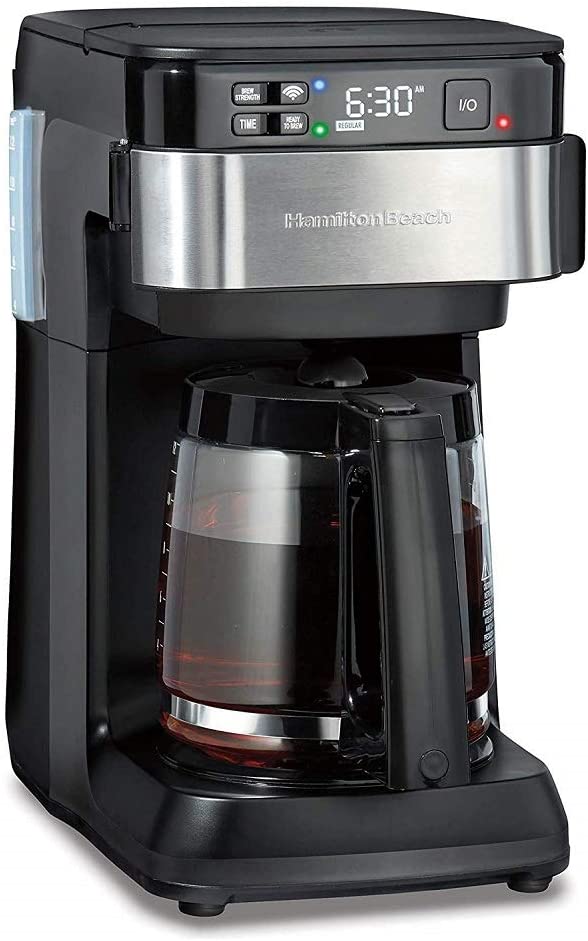 Hamilton Beach is one of the most highly-trusted kitchenware brands. Not only are they known for producing high-quality appliances, but they're also beloved for creating budget-friendly devices and machines. 
Though they originally designed and sold blenders and drink mixers, their current line of kitchen appliances is far more extensive and includes several types of coffee makers. One of these coffee makers happens to be one of the only specifically Alexa-compatible coffee brewers, a unique and competitive feature.
If you own an Alexa device and you enjoy drinking a fresh cup of coffee in the morning, there's a good chance that you'll be delighted to use this automated coffee maker. In fact, thanks to its hands-free Alexa compatibility, you can enjoy freshly brewed coffee at any hour and as often as possible.
At just over a foot tall and wide, this model is very nearly compact. Its swing-out coffee grounds basket is easy to use and fill. However, the basket hinge can collect bits of coffee grounds over time, making it challenging to smoothly swing the basket for filling or emptying. 
Still, you can use voice commands to turn your coffee maker on, set brew strength, and turn it off. You can also access your coffee maker's controls and settings via the Alexa app. As such, you might find yourself ignoring this machine's easy-to-use buttons and well-lit display screen. 
And at less than $100, this hi-tech coffee maker could be the best value option available to Amazon Alexa users. Overall, it's impossible to find a more compatible, convenient, and affordable Alexa coffee maker. After looking at dozens of options, nothing ever came quite close to touching the magnificence of this model.
| | |
| --- | --- |
| Pros | Cons |
| ✅ Designed for Amazon Alexa compatibility, eliminating the need to purchase smart plugs or additional devices for pairing. | 🚫 The water reservoir gauge on the side can be challenging to read, especially if the coffee maker is close to a wall or other appliances. |
| ✅ Capable of brewing 12 cups of coffee at a single time, which is an excellent feature for those that drink multiple cups throughout the day. | 🚫 The swing-out basket can be more challenging to keep clean than removable options. |
| ✅ It can be controlled via voice commands, app commands, or the physical control interface. | |
| ✅ Completely programmable and comes with brewing options such as brew strength. | |
| ✅ It fits onto most countertops and beneath most cabinets, making this model one of the best options for compact spaces. | |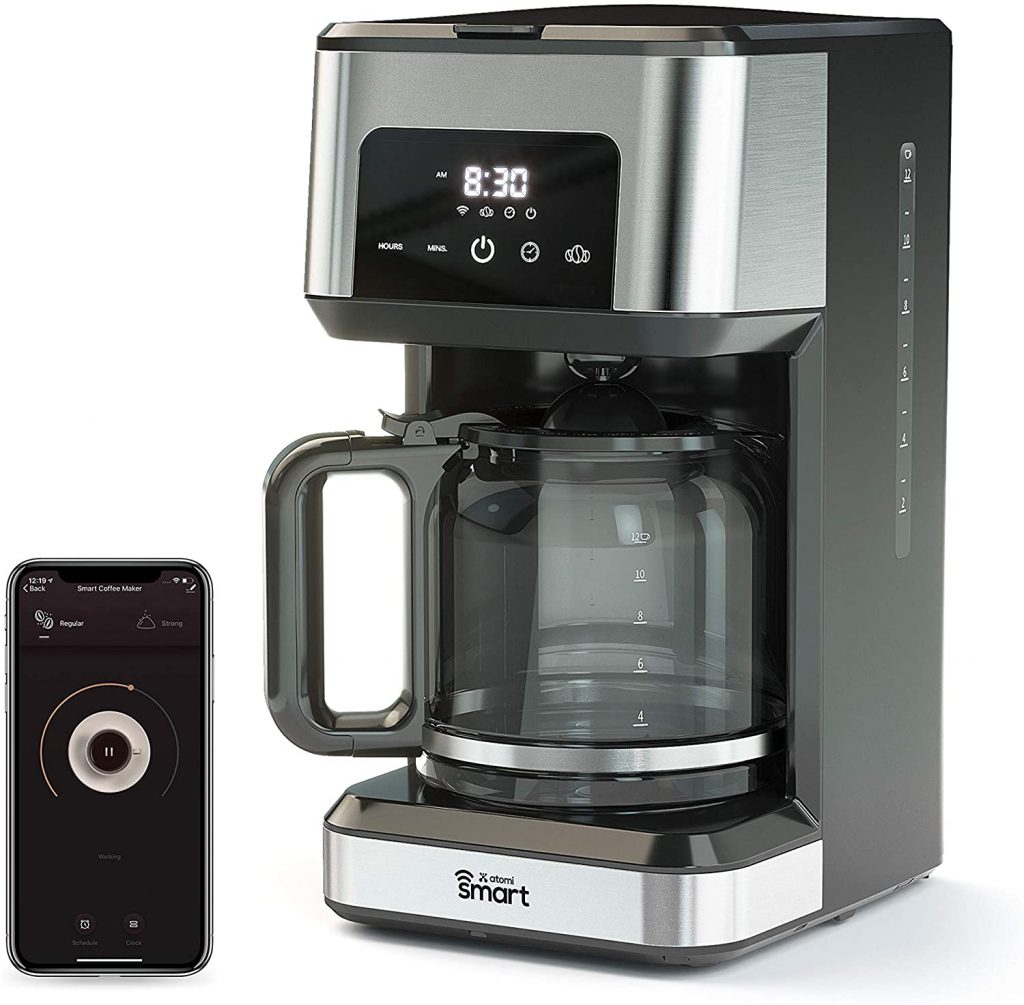 While many of us own at least one Amazon Alexa device, there's a good chance that you also utilize other brands of smart home products. Homes that integrate multiple smart home devices and systems can be tricky to manage.
One of the most exciting aspects of the Atomi Smart WiFi Coffee Maker is its compatibility with multiple smart home systems. You could use Alexa, Google Home, and just about any other major system with this coffee maker can come away feeling pleasantly rejuvenated and relaxed. 
That's because the Atomi Smart WiFi Coffee Maker doesn't need to pair with your other devices to function. Instead, it only requires a WiFi connection and a smartphone or tablet. In addition, the Atomi Smart app can send you notifications when your coffee is ready, and users can turn the machine on and off via the app.
Of course, you could also choose to pair this coffee maker with your Alexa device. In fact, this is one of the few rare coffee makers that features built-in Alexa integration. But it's neat that you can choose to control it with its base app as well, as it means that non-Alexa households can enjoy this coffee maker.
| | |
| --- | --- |
| Pros | Cons |
| ✅ It comes with a reusable filter that. | 🚫 Limited brewing options are a little disappointing. |
| ✅ Features an easy-to-read display screen that also doubles as a touchscreen. | 🚫 Basket design can result in grounds getting into the water reservoir. |
| ✅ Users can use the Atomi Smart app or their Amazon Alexa to control this coffee maker remotely. | |
| ✅ It has a built-in carafe sensor that stops spills before they start | |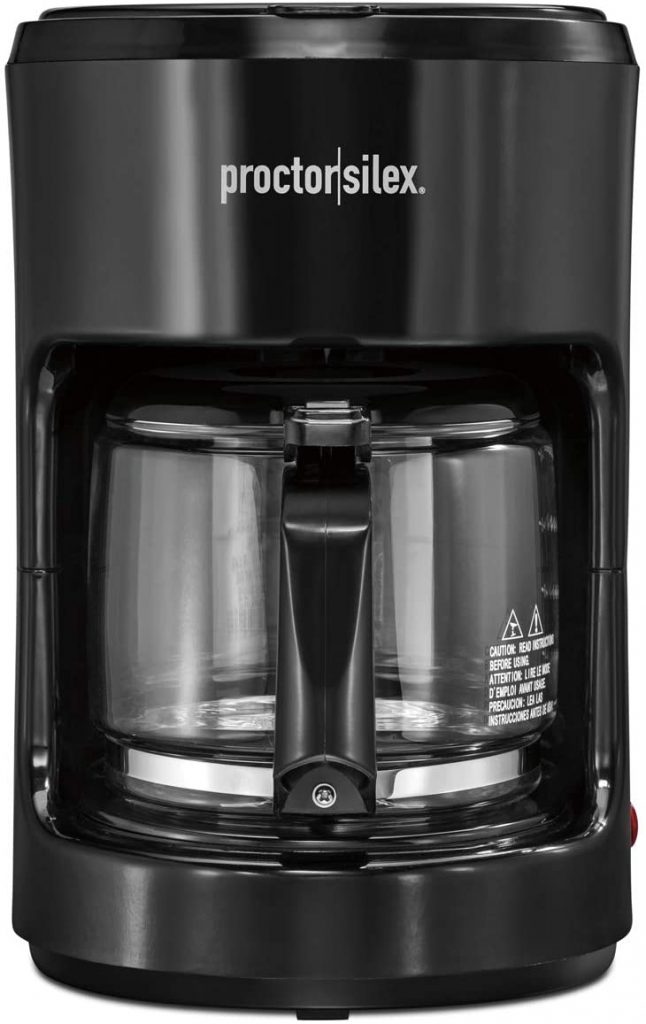 Proctor Silex and Hamilton Beach have quite a lot in common. For one, they're both owned by the same parent company, NACCO Industries. Secondly, they're both known for making high-quality, affordable, and accessible consumer appliances.
The Proctor Silex 10-Cup Coffee Maker is an excellent in-between for those torn between getting a 12-cup machine and a smaller model. Despite its brewing capacity, it's also surprisingly compact, coming in at just under a foot in height. It lacks programmability and display screens, but it does feature a nifty indicator light to let you know that the coffee maker is hot.
But perhaps the most notable aspect of this hard-working little coffee maker is its compatibility with multiple types of smart plugs. So whether you're working with an Amazon Alexa, Google Home, or any other kind of smart home system, this coffee maker can plug into the smart plug of your choice and get to work.
And unlike Hamilton Beach coffee makers, this model does include a fully removable grounds basket. As such, this coffee maker is one of the most straightforward models to keep clean and well-maintained. You can even pop your carafe and basket into your dishwasher!
| | |
| --- | --- |
| Pros | Cons |
| ✅ Dishwasher-safe cleaning for the removable basket and glass carafe. | 🚫 Not programmable. |
| ✅ A budget-friendly option for those watching their wallets. | 🚫 It comes with zero customization options. |
| ✅ Compatible with multiple smart plugs and smart home systems. | |
| ✅ It comes with a 3-year limited warranty. | |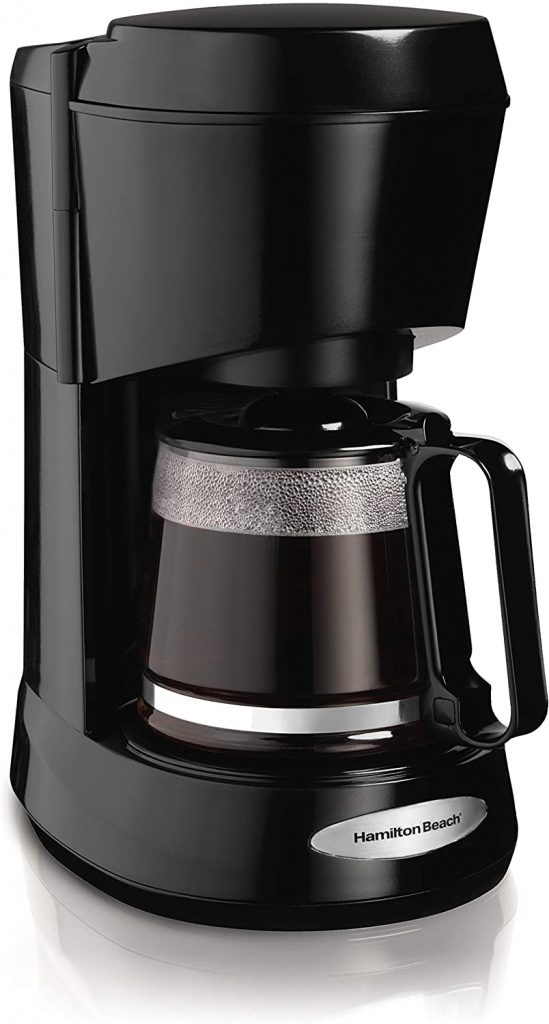 It's challenging to review the best Alexa coffee makers without highlighting Hamilton Beach. Though we've already touched on one model, we'd be remiss if we failed to mention the Hamilton Beach 5-Cup Switch Coffee Maker.
This coffee maker is several inches smaller than its 12-cup alternative, though it's just as capable. Still, you'll need a smart plug to access this device's innovative features. 
However, if you tend to drink smaller amounts of coffee in the morning or throughout the day, this model might be the better buy. Though it features a similar swing-out basket, which can be a little trickier to keep clean than removable baskets, it's a relatively frills-free coffee maker that couldn't be simpler to operate and enjoy.
Once connected to an Alexa smart plug, you can brew coffee by simply asking your Alexa to start the coffee maker. And while it might not have customizable brew settings or a display screen, what it lacks in features it more than makes up for with price. 
This coffee maker is one of the most affordable Alexa-compatible options available. Additionally, many shoppers have commented on the lifespan of this coffee maker, stating that it's lasted them years without experiencing any problems.
| | |
| --- | --- |
| Pros | Cons |
| ✅ One of the simplest smart coffee makers available. | 🚫 No customization options, extra tools, or display screens. |
| ✅ A space-saving option for those living in small apartments. | 🚫 Requires the additional purchase of a smart plug, preferably an Alexa smart plug. |
| ✅ Smaller brew size could be ideal for those that only drink a few cups of coffee each day. | |
| ✅ Smaller brew size could be ideal for those that only drink a few cups of coffee each day. | |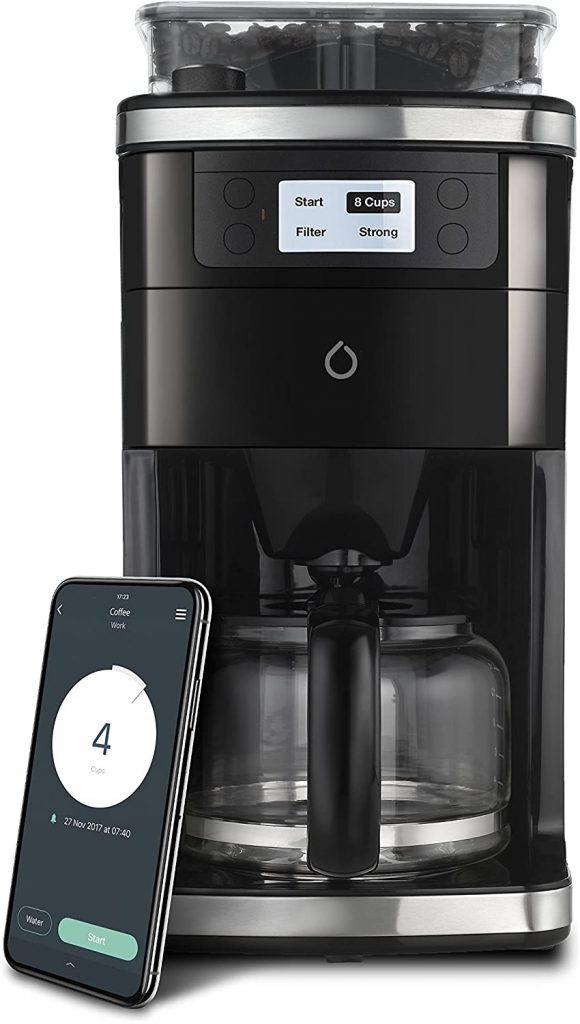 Style and substance are two factors that seem to be at constant odds with one another. But it doesn't have to be that way. The Smarter SMC01 iCoffee machine combines all the utility of a smart coffee maker with a unique charm not found in most models: Interchangeable faceplates.
In addition to brewing up to 12 cups of fresh coffee, this model comes with three colored plates that attach to the exterior. This allows users to enjoy a sleek black, chrome silver, or cherry red coffee maker to match their ever-changing kitchen decor.
Even better, this WiFi coffee maker comes with a built-in top bean grinder for immediate grinding. This is a relatively distinct feature that's lacking in most smart coffee makers. However, it can make clean-up and maintenance a little trickier, which shoppers should consider before purchasing.
To use this coffee maker, you'll need to download the Smarter app, available for Android and Apple devices. However, users have noted that the app has a lackluster user interface and can be frustrating to use.
| | |
| --- | --- |
| Pros | Cons |
| ✅ It comes with interchangeable faceplates so that users can customize the look and style of their coffee maker. | 🚫 Bean grinder can get jammed with grounds, resulting in a clogged output funnel and weak coffee. |
| ✅ Utilizes a dedicated smartphone app available on nearly all devices. | 🚫 The Smarter app that users must download to use this machine's smart features needs improvement. |
| ✅ Smaller brew size could be ideal for those that only drink a few cups of coffee each day. | |
| ✅ It has a built-in bean grinder at the top that is easily accessible. | |
| ✅ Works with most WiFi systems. | |
Buying Guide
We've investigated and reviewed multiple smart coffee makers and feel that we've found some real winners. But our top pick might not be your ideal option. After all, your perfect cup of coffee is bound to be different from your neighbor or partner's preferred cup of joe. 
When choosing a new coffee maker, especially one capable of working with smart home devices, it's crucial to consider your needs. For example, how much coffee do you intend to drink each day? Do you already own an Alexa device? Will you need to purchase additional items to use your new smart coffee maker?
By asking and answering these questions, you can begin to develop a good idea of what kind of WiFi coffee maker you need. Of course, it's also crucial to consider several factors that can affect your buying experience, including:
The best coffee maker is the perfect size for daily drinks, fits neatly onto countertops, and is chock-full of useful features. But it's also affordable, easy to use, and simple to keep clean. So let's quickly touch on each of these factors to discuss why they're crucial to the buying process and how they impact your overall product interaction. 
Size
Not all coffee makers are equally counter-friendly. For example, if you're living in a studio or one-bedroom apartment, you won't have the same amount of kitchen space as someone living in a large home, and that's something to consider when choosing a coffee maker.
Additionally, most homes have quite a few countertop appliances already in place, including blenders, toasters, and microwaves. Adding a coffee maker to the mix could leave you with little remaining space for food preparation or additional appliances.
Most coffee makers are designed with space limitations in mind. However, many of the higher-end options can be somewhat bulky, spreading over more space than your standard device. That said, smart coffee makers are often relatively compact.
Still, if you're working with limited kitchen countertop space, you may want to measure your available space before purchasing an Alexa-compatible coffee maker. A standard metal tape measure can help you figure out how much space is available, though you could also choose to use a flexible sewing measuring tape as well.
Brewing Capacity
The larger the coffee maker, the more coffee you can brew at a single time. While maximizing counter space might be an essential factor for those in smaller areas, it might not be the top priority for those who drink several cups of coffee each day.
Brewing capacity is a vital feature to consider when choosing a new coffee maker. Single-serve coffee makers or smaller models could be a smart option if you're planning on enjoying a fresh cup at home. However, larger-capacity models tend to work well for passionate coffee drinkers and larger households.
Before you buy a coffee maker, take a moment to consider how much coffee you drink. If you're accustomed to drinking more than three cups per day, be sure to invest in a coffee maker with a similar (three cups or more) capacity.   
Features
The best smart coffee makers are feature-rich devices designed to keep you well-caffeinated in the most convenient way possible. Of course, the highlight feature of any smart coffee maker is smart device compatibility, but there are additional features to watch out for.
For example, a high-quality Alexa coffee maker is programmable, easy to access via smartphones or tablets, and effortless to keep clean. Stainless steel and plastic coffee makers tend to be the easiest to keep clean, and they're far less prone to cracking than glass drip coffee makers.
Built-in coffee grinders, changeable faceplates, and lit display screens are also valuable features. Some smart coffee makers also have customizable brew options to help you craft the perfect cup of coffee. But, of course, you may not need or want all of these features.
Understanding which features take top priority is a fantastic way to ensure you pick the best possible smart coffee maker. Naturally, the price will also play a role in the buying process. 
Price
Though smart coffee makers feature contemporary technologies that would have shocked coffee lovers of the past, they're surprisingly inexpensive. The average price for one of these machines is about $80. 
Considering that the average US income is about $68,700 per year (or just under $6,000 per month), the cost of a new Alexa coffee maker is well within most household's budgets. That said, prices vary widely from model to model. Budget-friendly models tend to cost about $20, but it's not uncommon to find other smart coffee makers listed at $250 or more.
Generally, though not always, the priciest WiFi coffee makers include unique features not found in standard devices. Built-in coffee grinders, roasters, and other tools almost always result in a higher price.
Ease of Use
Brewing a cup (or a dozen cups) of coffee shouldn't be complicated. Fortunately, most smart coffee makers are exceptionally easy to use. That said, there could be a few technological or operational hurdles to overcome when you first receive your new coffee maker.
While some models pair easily with Alexa devices and other smart home systems, a few models require a little know-how and preparation to use. If you're not familiar with setting up smart home devices, including smart plugs, you might struggle to install and use your smart coffee maker.
If you're not the most tech-friendly person in your household, you might want to choose a WiFi coffee maker that's designed for your specific smart system. For example, an Alexa coffee maker works best when paired with an Amazon Alexa system. But a home filled with Google Home products might do better with a coffee maker that's compatible with Google Home.
It's also essential to consider the standard operation. After pairing your new coffee maker with your current smart home devices and systems, you'll naturally want to brew a fresh pot of coffee. But if the touchscreen, dials, or buttons are confusing, you might struggle to get started.
Be sure to choose a coffee maker that makes sense to you. If you're accustomed to press-and-brew machines, you might want to opt for a device with fewer buttons and settings. And if you're ready to select your preferred brewing time and temperature, go ahead and spring for a machine that lets you customize those settings.
Cleaning and Maintenance
Standard boil-drip models tend to be the easiest to clean, especially if they feature removable baskets. However, the most challenging aspect of maintaining these coffee makers is getting rid of hard water and calcium buildup in the reservoir. 
However, a little vinegar and water go a long way toward cleaning the water reservoir and heating coils. Additionally, you could choose to use filtered water when brewing your coffee to help prevent calcium buildup. A high-quality fridge water filter pitcher, like the ZeroWater Pitcher, is an excellent choice.
Still, if you've got your eye on a coffee maker that includes a grinder at the top, you may be looking at a more challenging cleaning process. Small bits of coffee beans can easily attach themselves to the grinder's blades, clogging the output funnel. Not only is this a hygienic issue, but it could also become a hazard.
When debris builds up around a grinder's blade, the motor that powers the blades must work harder to move them. This malfunction can cause the motor to overheat. As you might imagine, an overheated motor in the heart of your coffee maker can be disastrous. That's why it's crucial to keep your coffee maker as clean as possible.
Essentially, if you're not prepared to put in the hard work to keep a multi-purpose coffee maker in excellent shape, you may want to choose a simpler model. Not only are standard drip models far easier to clean each day, but they're also far more straightforward in terms of maintenance.
Final Thoughts
The Hamilton Beach 12-Cup Automatic Coffee Maker is our top pick for WiFi coffee makers. Not only is it one of the most accessible options, with Hamilton Beach appliances being one of the most popular choices for major department stores, but it's also one of the easiest to use and most affordable and effective options.
This Alexa-compatible coffee maker is one of the only options specifically designed to be used with Amazon Alexa devices. This eliminates challenging technical setups, making pairing a breeze. With a 12-cup capacity, it's also a perfect option for homes and offices.
Whether you're running late for work or hoping to surprise your cup with a fresh cup of coffee, you can activate and operate your Hamilton Beach coffee maker by using your Alexa app. Once you've invested in this hard-working machine, you'll never need to worry that you left your coffee maker on—turning it off is as easy as asking Alexa!
Invest in an Alexa Coffee Maker Today!
You can purchase any of these top-notch Alexa coffee makers online, and some models may also be available at your local department store. So if you're ready to upgrade your morning routine, go ahead and try a new smart coffee maker today!