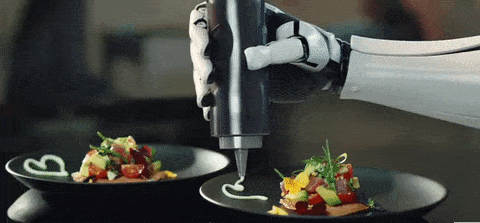 Have You Heard of Moley's kitchen?
Are you tired of spending your evenings cooking a big meal for your family? Do you hate having to put together lunches for the week every Sunday night?
If cooking has got you down, you will love to learn about this robot kitchen. While the idea of a robot cooking your meals sounds incredible, the only way for it to become a reality is if you have an extra $300,000 lying around.
Introducing Moley's Kitchen
Some interesting Facts about Molye's Kitchen:
Moley's kitchen includes a robot kitchen chef for homeowners who can spend more than $300,000 on this equipment
A first-class chef displayed his cooking expertise to teach the robot kitchen chef how to cook properly.
The fast food chain- White Castle has begun examining the use of a robot cooking assistant for its restaurants.
Moley's kitchen is essentially a large gadget with two robotic arms. These arms include two hands that can replicate human cooking movements. The robot kitchencook can take ingredients from a Smart fridge, mix and pour ingredients, and serve food on a plate much like a human would. 
You will find that the robot kitchen can even wash up and put away things after their use. Today, more people around the globe are cooking at home due to the dangers of dining out during the COVID-19 pandemic. As such, a robot that can cook meals may be an excellent investment. 
"To have that cooking done for you right in your own kitchen with no cleanup is a pretty alluring idea, especially when so many of us aren't able to go dine at our favorite restaurants,"  Julie Ryan Evans, the editor of SecurityNerd, told Lifewire. 
"This kitchen is almost like bringing a restaurant to you, and even better than take-out, since you don't have to worry about the food getting cold [or] soggy en route."
Does the Food Taste Different When Cooked by a Robot? 
Moley's kitchen representatives claimed that their robot will not make food that tastes like a machine created it. The engineers used the cooking techniques of Chef Tim Anderson, the winner of a BBC Master Chef competition, to model the same hand movements in the robot kitchen. 
Anderson's cooking movements were converted into digital motion by the robot. Anderson, along with other chefs, used 30 recipes to train the robot. Furthermore, the chefs add new recipes every month. 
The plan is to have at least 5,000 recipes for homeowners to choose from when utilizing the robot kitchen. In addition, users can create their own recipes and teach the robot through the software program.
Nonetheless, this equipment is costly, and the average homeowner will not be able to afford it. It costs about the same as a typical house. 
However, the manufacturer hopes that it will be more affordable in the future and that the elderly or the disabled might use it for cooking a meal at home. Busy working parents could also greatly benefit from such a creation. 
While the cost is high, Moley Robotics representatives have stated that they have more than 1,000 sales enquries from individuals looking to purchase Moley's robot kitchen , according to The Guardian. 
The Beginnings of the Moley Robot Kitchen
The robotics company Moley developed the robot kitchen after Russian computer scientist and mathematician Mark Oleynik first conceived of this incredible kitchen gadget. The company is headquartered in London, UK. 
The kitchen robot took six years to build and is designed around a track that you can install on the kitchen ceiling. 
It includes two robotic arms and two movable hands designed to repeat the motions of professional chefs. The engineers uploaded these movements into the robot's memory.
In 2017, the first recipe that this robot could create was the crab bisque, but it can now make several thousand recipes. 
This robot is expected to cook its users up to 5,000 different meals with the simple press of a button in the near future. All the user has to do is pick a meal on the touchscreen and watch it work. Best of all, it can even clean up after it's done cooking.
At this point, the original developer Mark Oleynik has stated that there have been 1,205 qualified buyers asking about possibly purchasing the robot kitchen. Oleynik explains that it costs about the same amount to buy the robot kitchen as a small yacht. 
The full price is around $335,000. Because of the high cost, it is clear that this robot won't soon become a regular brand in the typical kitchen.
Yet, the Moley robotics company is hoping to unveil more affordable kitchen robot models in the future.
"What you are looking at here is the world's first consumer robotic kitchen," Oleynik explained at the Gulf IT (information technology) exhibition in Dubai. 
"Like all breakthrough technologies – cars, televisions, and computers – it will appeal to enthusiasts, professionals, and early adopters and is priced accordingly. We anticipate that our pricing will be reduced significantly over time with production volume, efficiencies, and economies of scale."
Along with world-class chefs Tim Anderson, Nicole Pisani, and Andrew Clarke, two other chefs used their skills to help train the robot to cook the first 30 dishes and add more meals every month. 
The hope is to add a total of 5,000 dishes and allow customers to add their favorite meals to the robot's menu.
The Features of the Moley Robot Kitchen
This machine includes two robotic arms with hands and fingers that you can use to cook meals. The Moley Robot Kitchen was created after partnering with the world-class robotic company Schunk in Germany.
The robot kitchen can easily replicate human hand motions. As such, the robot can get food from a smart fridge, change the cooking temperature of an oven, use the faucet, pour liquids, stir ingredients together, and plate a meal. 
The robot works exactly as a human cook would. There are plenty of tasks that this robot can complete, such as cracking an egg. 
However, the Moley Robot Kitchen is not capable of performing all cooking-related tasks. For instance, this robot cannot dice carrots or peel potatoes. The user will need to perform pre-cooking steps like cutting vegetables or prepping meat before laying out all the ingredients on the counter or smart fridge for the robot kitchen to complete cooking the meal.
Despite the user needing to complete some prep work, the Moley Robot Kitchen can clean up after cooking a meal. In addition, you can personalize this machine to blend into your kitchen. 
Some other features of the robot kitchen chef include:
Ergonomic thermo-resistant handles
Aluminum inner layer
Stainless steel material, such as a magnetic stainless steel outer layer
Furthermore, this robot can tell you when you need to replace certain foods in your refrigerator or ingredients in your pantry. It can advise on the type of meals you should have for lunch or dinner based on the foods available in your fridge. 
Over time, the robot will learn what type of foods you like and can even wash up a surface after use. Lastly, you should mount this robot on the kitchen ceiling to ensure it can work properly.
The Benefits of a Robot Kitchen Chef
There are numerous benefits that you can gain from implementing a robot kitchen chef, such as:
Saving time on cooking (You can save up to 1.5 hours!)
Gaining more free time that you would have, otherwise, spent cooking
Planning a menu based on different diets, desires, and lifestyles
Having a meal based on your favorite country's cuisine, whether it is Italian, French, Chinese, Mexican, Indian, or Greek
Reducing the calorie intake in your diet, which is harder to determine when getting take-out or going out to dinner at a restaurant
Learn recipes and gain cooking advice based on professional chefs from around the globe
Choose meals out of thousands of world-class chef recipes
In addition, if you purchase the Moley Robot Kitchen, the company provides a regular delivery service where you can order ready-to-cook groceries in Moley containers. 
These ingredients are fresh and already cut up. This makes it easy for the robot kitchen to cook your meals without you having to prep any foods ahead of time.
These are some of the most significant benefits of the Moley Robot Kitchen. However, if you run a restaurant, you may want to consider purchasing a cooking assistant robot. 
The Cooking Assistant Robot
Besides the idea of a robot who cooks entire meals in your home, some restaurants are investing in a cooking assistant robot from Miso Robotics. The assistant robot is called Flippy, and it is built for fast-food restaurants to handle cooking french fries and analyzing oil usage.
The robotics company even claims that Flippy can learn new skills over time as it gets acclimated to its new climate at any restaurant. Along with managing a fryer, this single-armed robot can also use a grill to get burger patties fully cooked.
Not long ago, the White Castle hamburger restaurant chain decided to use the Flippy in its restaurants. Essentially, the robotics industry is gaining a foot in the door to the restaurant sector, which is adopting more artificial intelligence and robotics in cooking meals and appetizers.
White Castle hopes that this implementation will help boost production speeds, better allocate labor, and improve health and safety when cooking meals for its customers. Along with the Flippy robot chef, there are plenty of others changing the restaurant sector worldwide.
Other Robot Chefs for the Restaurant Kitchen 
Robotic chefs are making a real impact on the restaurant industry. For instance, French company Pazzi developed the first robot that makes pizza, according to the GlobeTrender publication. 
This robot chef took seven years to create, and you can find it in a Pizzeria near Disneyland Paris. The way this system works is relatively simple. Customers can choose their favorite pizza using their phones or via self-service dashboards.
Then the robot chefs make the pizza right in front of the customers. It only takes a few minutes to get the pizza ready to go in the oven. The robot can put on the sauce, put the pizza in the oven, slice it, and box it for the consumer.
Another incredible machine comes from San Francisco-based company Creator. This company has developed a system that creates customized hamburgers and cheeseburgers similarly to an assembly line.
Some ingredients that this burger can include are horseradish, parsley, tomato, pickles, Persian lime pepper, fried shallots, scallion mayo, beef, pepitas, and black sesame seeds, and habanero salt. Consumers can choose whatever ingredients they want in their hamburger to customize it based on their preferred flavors.
Another intriguing company is Spyce, the first restaurant where robot chefs cook the meals entirely while human chefs are only responsible for the prep work. 
This restaurant is located in Boston, Massachusetts. Four MIT graduates developed these robots and the restaurant. 
Michelin star chef Daniel Boulud handles the cooking robots and oversees everything running smoothly in his kitchen. With these robots, the cooking is completed more precisely with greater "consistency, taste, and freshness," according to Boulud.
These are just some of the robotic chefs that are changing the restaurant industry worldwide.
Wrap Up
If you have an extra $330,000 available and you're tired of cooking your own dinners, then you might want to invest in Moley's kitchen robot chef. The robot kitchen has thousands of recipes available, and its skills are based on the cooking skills of top world-class chefs.
Furthermore, restaurant owners can take advantage of other robotic systems, such as the cooking assistant robot known as Flippy or robot chefs that can customize a pizza or a hamburger. 
As you can see, it is clear that the robotics industry is transforming both the home kitchen and the restaurant kitchen.