If you want to enhance your home kitchen experience, this post is for you. I've compiled the best smart kitchen devices you can get your hands on.
You always want your kitchen to have that wow factor. For a lot of homeowners, the kitchen is one of the most important rooms on the premise.
Today, the aesthetic includes the coolest smart kitchen devices. These appliances are not necessarily practical and energy-saving; they just look darn cool.
The idea is to help you find the appliances that'll save money on utilities, ensure your space is efficient and making sure your kitchen looks good.
As an interior designer with a specialty in appliances, I've got solid experience in picking the best appliances for any environment using any preferences, budgets, or tastes.
In all my categories, coming out on top was a factor of cost, functionality, appearance, and results. I compared anywhere between six and a dozen of the best products and narrowed them down to the top slot.
Our list consists of the most common appliances you could want in your kitchen. Not all are essential. Some you may not even need. But every product is at the top of its class.
Keep reading for my thoughts on the best cool smart kitchen devices.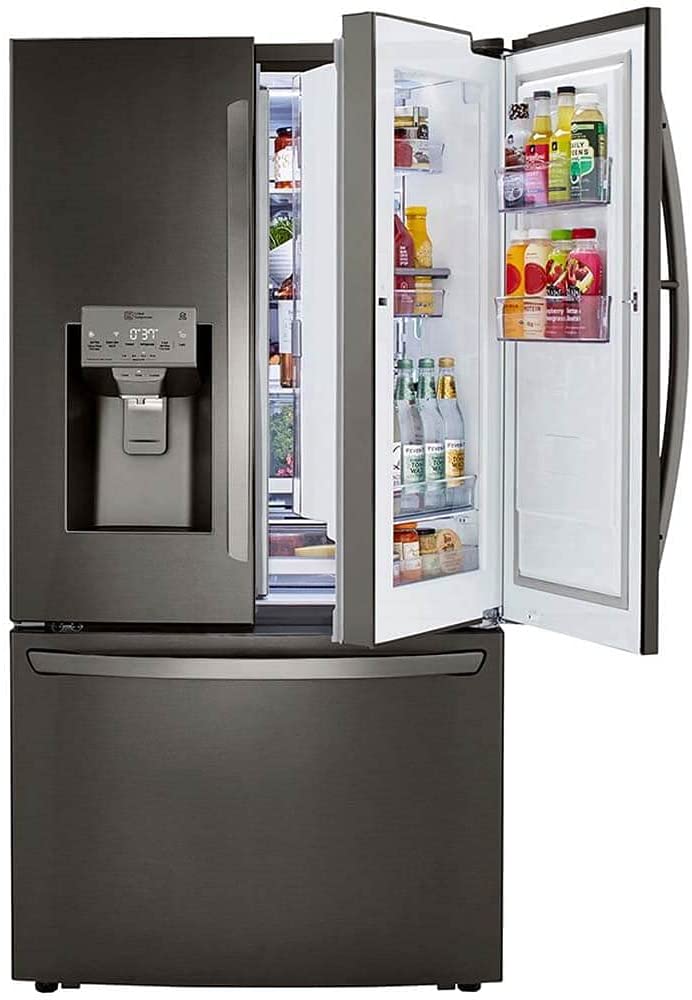 The LG fridge comes with an ample 30 cubic feet of storage. You can make a huge shopping trip, fill 'er up, and save yourself less work later. Features include door-in-door storage and adjustable bins. 
Instead of a space-consuming icemaker, this fridge has a low-profile system that LG calls the Slim Spaceplus. The icemaker's behind shelves tucked in a small area. The device creates craft ice so you can impress your friends and family when it's time to show off your bartending skills.
The refrigerator's loaded with smart features. Expect the fridge to analyze habits and usage and adopt practices that fit your needs, including adjusting temps. 
There's also the ThinQ app. I like how it provides usage reports and maintenance information.
With its smart design perks and organizational prowess, the LG's an easy choice for my list of smart kitchen devices.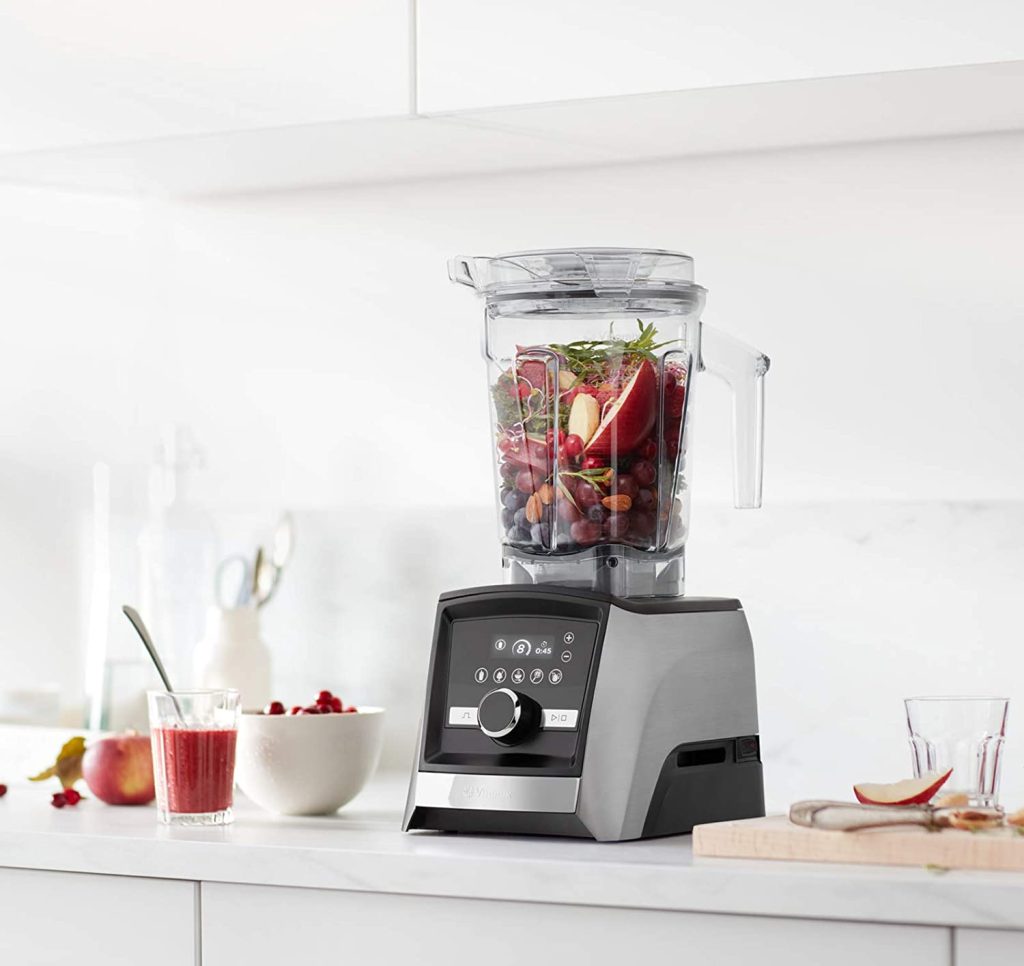 The Vitamix A3500 is part of the manufacturer's Ascent Series. It's a professional-grade, low-profile smart device with built-in wireless connectivity. The series is a line of products engineered to produce high-quality devices that are aesthetically pleasing and tech-driven.
The Ascent series is sleek and well-designed. You load ingredients, press a button, and let the blender do the rest. The Vitamix A3500 has a digital display, and five presets (dips and spreads, hot soups, smoothies, frozen desserts, and self-cleaning). 
Pair the blender with the Vitamix Perfect Blend app and program wirelessly. The design has a pitcher that's broad and wide. The blender provides a lower profile with its squat design. It's easily set under a cabinet, or you can place it out of the way on your countertop.
The Vitamix fits the bill for the best smart kitchen device with its brushed stainless steel accents and slick molded, black base. The timer lets you blend for exacting periods. The device also has a max blend time of six-and-a-half minutes. That's a sufficient amount for even stubborn purees.
With its straightforward use, pre-loaded programming, and app, the Vitamix is a top-notch, high-end device in terms of features and performance.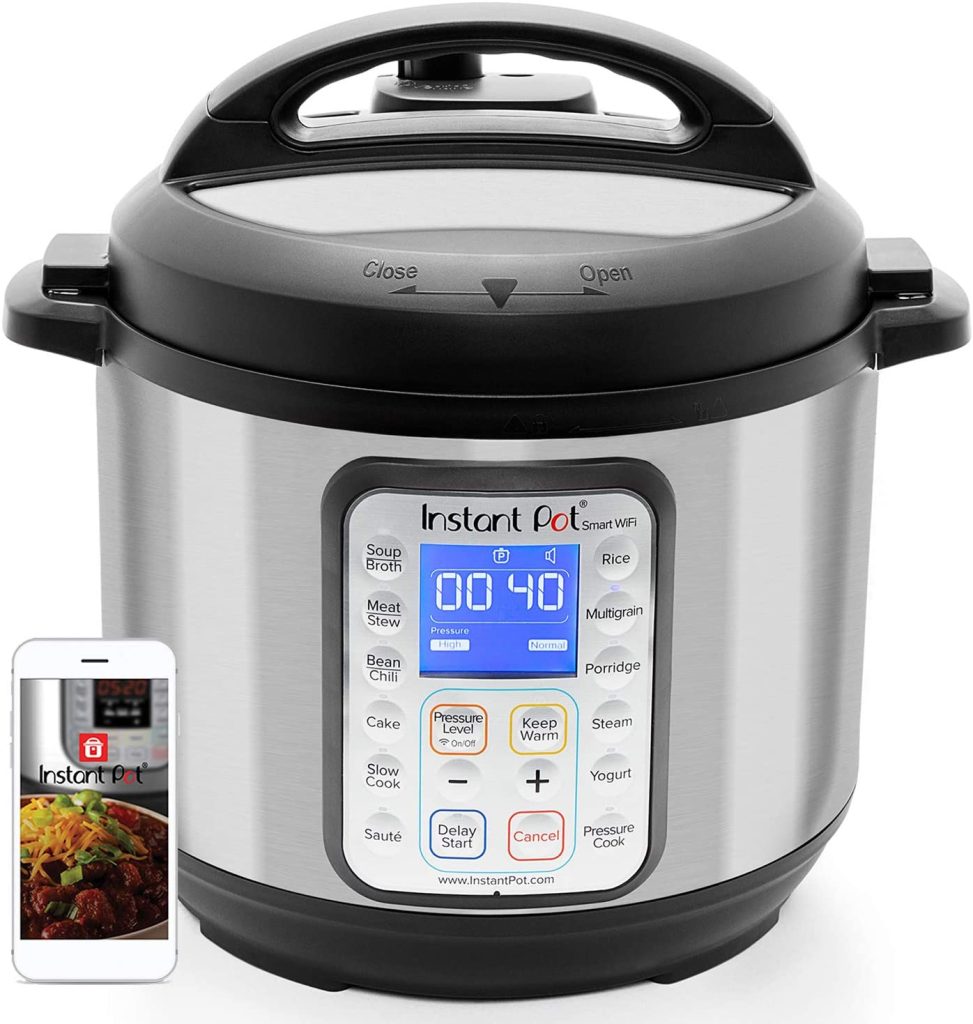 Your smart kitchen wouldn't be on point without a pressure cooker. They save time and can do wonders in enhancing your meals. The Instant Pot is all things: slow cooker, fermenter, pressure cooker, yogurt and cake maker, and rice cooker. And most of these foods the Instant Pot prepares on autopilot.
The LCD shows you everything you need to manage cooking, pressure, temperature, and status. There are almost 50 user-friendly presets accessible through the onboard Wi-Fi you can utilize with Alexa.
With the Instant Pot, there's no stirring or monitoring. Set it up and go to work or the gym. Use the app to check progress and get notifications. 
The Poultry Smart Program ensures all your meats are tender and moist. The app is Android and iOS compatible and loads with various recipes that will up your culinary game.
The Instant Pot's an affordable option with a stainless steel inner pot and a three-ply durable bottom that's dishwasher safe.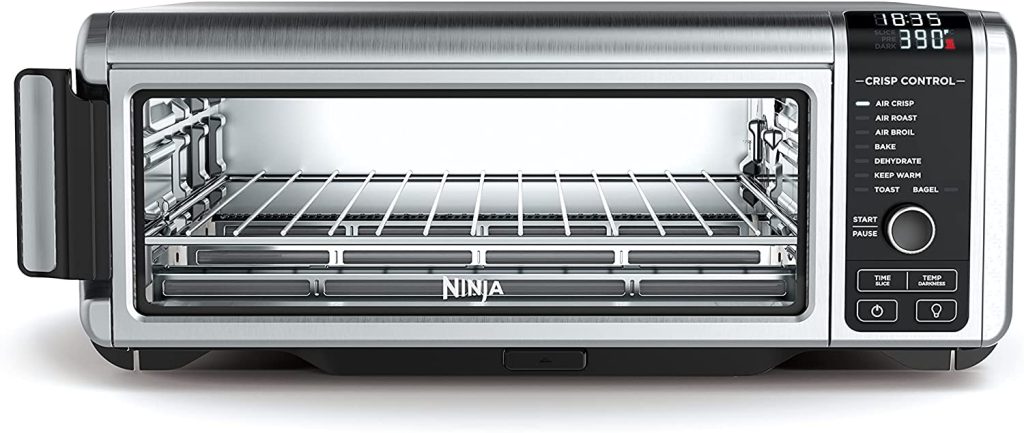 The Ninja Convection Oven is a countertop marvel. No, you won't be preparing that Thanksgiving turkey in its compact baker, but you'll roast, air fry, broil, toast, bake, dehydrate, and warm. 
The stainless steel black oven's low profile preheats in 60 seconds and does full meals in approximately 20 minutes. The cabin's wide enough for six chicken breasts or a 13- by 13-inch sheet pan.
The design aims to be a smaller device that does more than a conventional oven without taking up a lot of space. In fact, when not in use, the oven can be safely flipped up to save even more countertop space.
The oven comes with various accessories: a mesh tray, a non-stick tray, and a slide-in for the non-stick tray to rest on. You also have a crumb tray for the, well, crumbs. That makes for easy clean-up. 
I found the appliance so user-ready you have a good chance of figuring out how to use the Ninja without going through the guide. (Do it anyway!)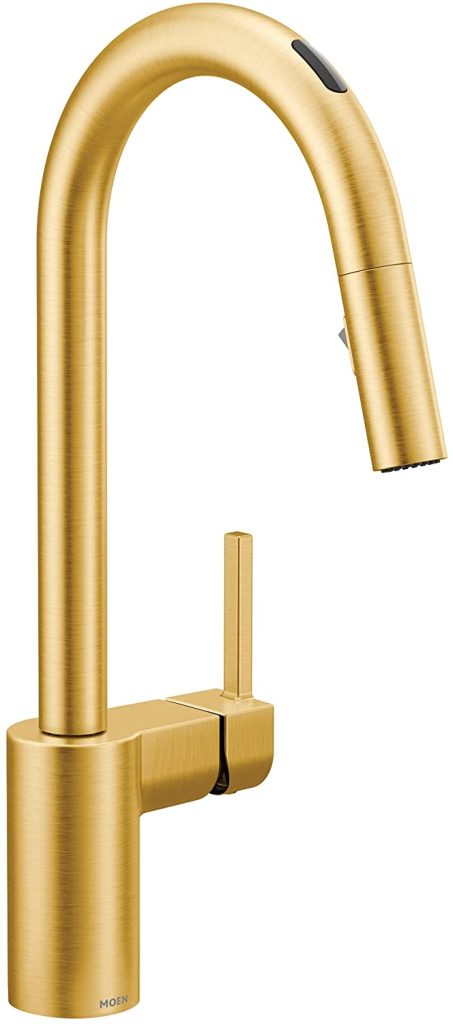 The U from Moen is one of a variety of touchless taps. I think this one leads the pack because it doesn't just come with activating water flow via a sensor. Connect this bad boy to the Moen app and use Google Assistant or Amazon Alexa to operate the U with voice control.
Imagine turning on the faucet while you carry a large pot in each hand. You can give critically exacting commands. Picture asking for two 100-degree teaspoons of water. 
The small glitch here is your command must go through your virtual assistant. i.e., "Alexa, ask Moen to turn on the cold water." This might get tiring after a while.
The app has a healthy set of presets. You can program two cups of hot water for your cream of wheat, monitor the amount of water you're using, or program a time to shut the water off. 
Another handy feature is setting the U to trickle water. That helps prevent freezing pipes while you're on vacation in cold seasons.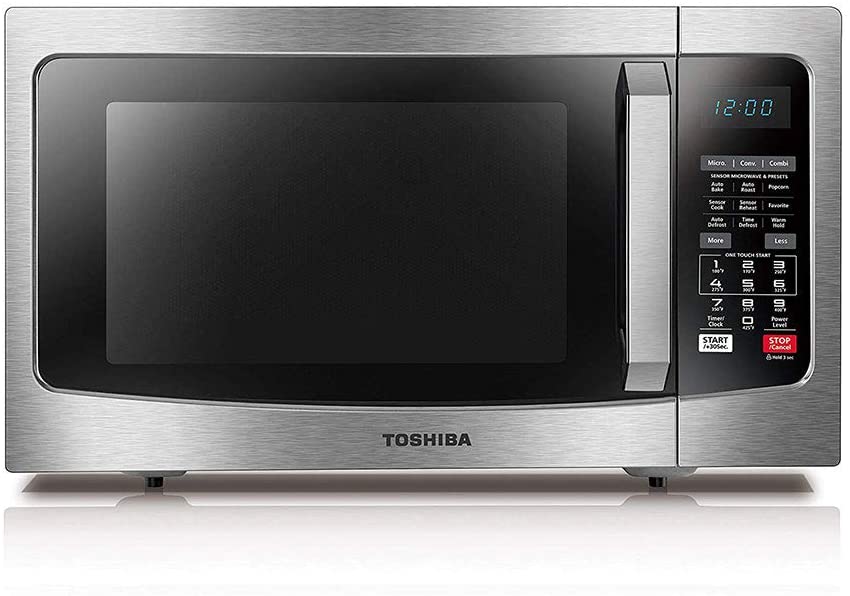 Sure, you can spend a lot more, but it doesn't mean you're getting the best smart kitchen device. This Toshiba is a sound balance of features, performance, and price. 
Affordable as it gets, the microwave doesn't have sensors or voice control or uses Alexa or a fancy app. But you do have Express Cook for getting up to six minutes of microwaving. 
There's a mute button to stop beeping and pre-programmed set-ups for baked potatoes, popcorn, and pizza for even cooking. 
The Toshiba has a stainless steel black finish that'll accommodate different kitchen styles. While compact, it has a larger interior capacity than comparable models. The LED cavity light is durable and power efficient. 
The Eco Mode is energy saving, minimizing standby power by 50 percent. With the Toshiba Microwave, you save operating costs and energy consumption while cutting back on your carbon footprint.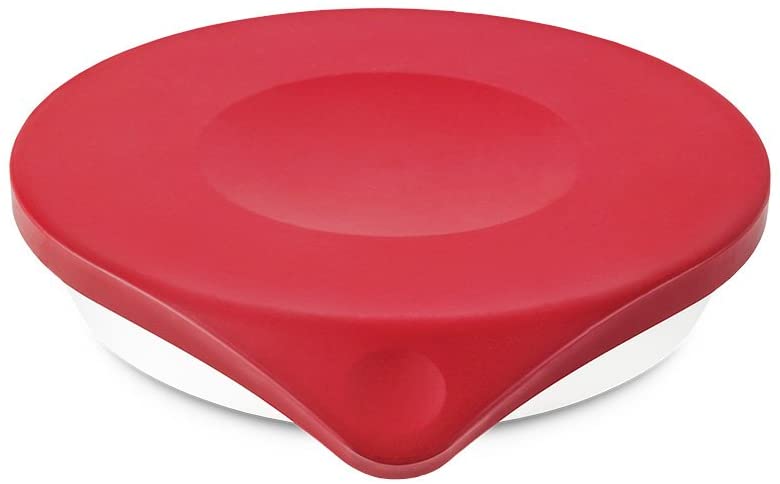 The Drop Scale lets you select a dish from its app recipe book and puts together exact ingredients for your bake. For the Drop, you only need one bowl, so there's less clean-up. 
The Drop Scale has a cool feature where if you don't have enough of an ingredient, the app offers smart alternatives, re-scaling the recipe based on your stock.
The app library and its interactive steps provide hundreds of possibilities that work with the Drop's precise weighing capabilities. 
The Drop is compact, lightweight, and durable. The scale has a white plastic base and an upper coating of silicone that cleans easily. 
I appreciate filling the mixing bowl quickly with the scale rooted to your countertop. Set-ups are tidy, quick, and easy. And what I really love is despite all the Drop's potential, it has one button.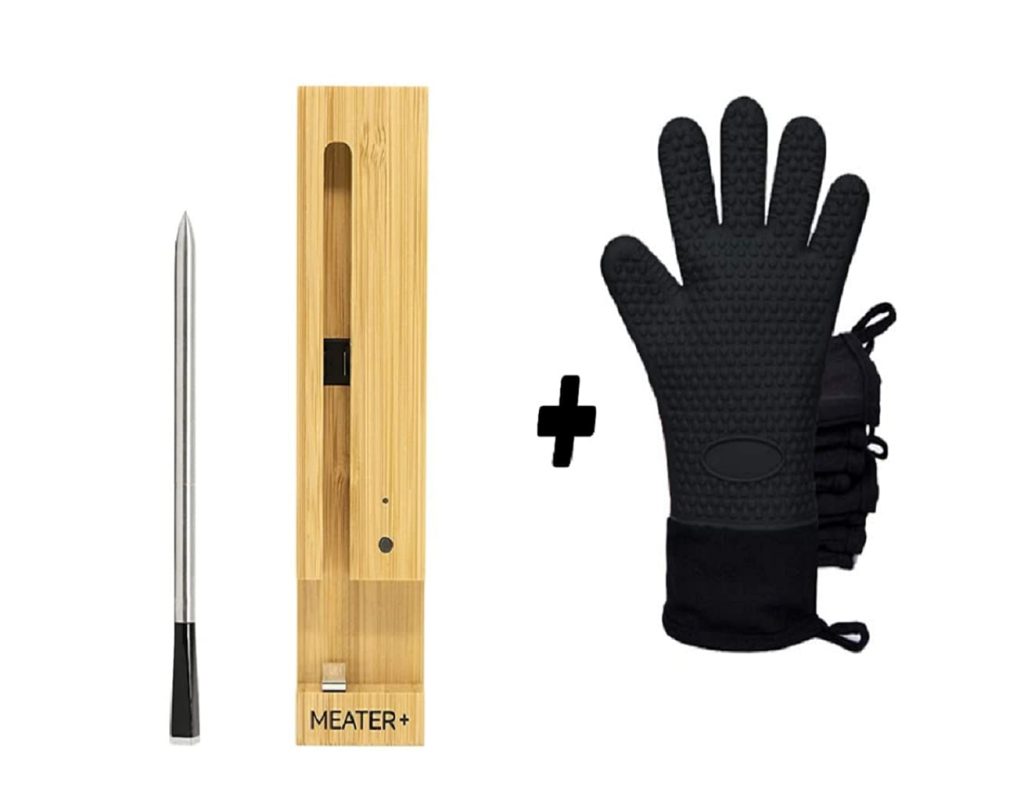 If you want to ensure you never under- or overcook your meat, the Meater+ is going to change the way you prepare everything from a hamburger to chicken. It's the world's first meat thermometer with wireless capability.
Like any meat thermometer, you insert the probe into your poultry, pork, fish, etc. Leave the sensor room about an inch exposed and select meat cut, type, and desired finish in the app. 
With that info, the app's going to provide target and current temps, as well as ambient temps. The Meater+ takes it from there, sending you alerts as the meat cooks.
The Meater+ is ideal for your BBQs, stovetop and oven cooking, and more. It charges internally with an AA battery. The app range is up to 165 feet from your device.
The Meater+ stores and charges four programs, giving you the ability to monitor several types of meat at once. A touch control screen on the unit provides all the info you need if you don't have the app.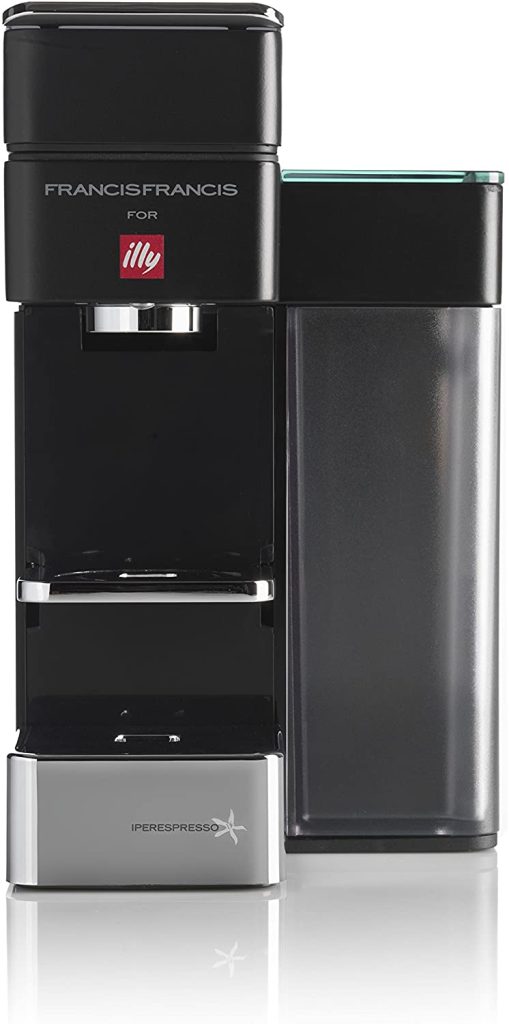 The Y5 Bluetooth is neat, slick, and modern. The water tank's in front, and there's a responsive touch interface. It offers a filter-stye or espresso-style cup of joe with deep flavor.
Combine it with the My Illy Espresso app and work with a variety of java options. The app customizes water volume, giving the cup size you want every time. You'll also be able to pre-program switch on times so you can brew the second you get up. 
Its design is user-safe plastic with appealing pops of chrome. The Illy Y5 is easily a top choice for a list of the best smart kitchen devices.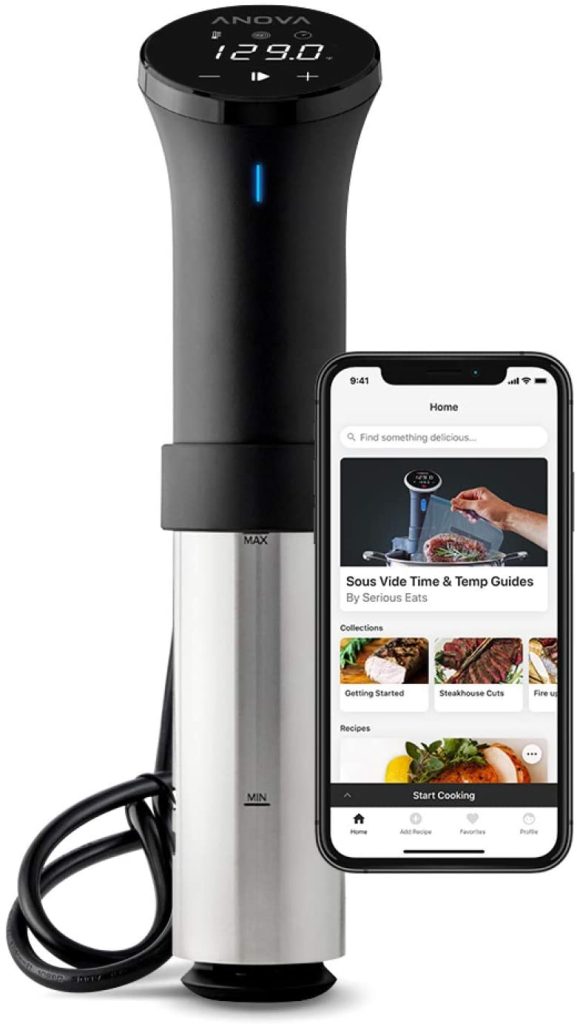 Having an Instant Pot or Toshiba microwave in your arsenal is all well and good, but here comes a tool that cranks up the amp on developing the juiciest steak you can get. If you want that delicious restaurant taste, your best bet is a sous vide cooker. 
Sous vide is an electric solution that cooks vacuum-sealed food in a water bath. It does so at precise temps for optimized taste. The Anova Culinary Precision Cooker lets you prepare a mouth-watering piece of beef without getting off the couch. Set the time and temp (remotely if you like) and wait.
The sous vide cooking method is perfect for fish, chicken, vegetables, beef, eggs, pork, lamb, and more. The Anova locks in moisture and flavor, resulting in a taste and texture you'll never get from a stove, oven, or grill.
The Anova circulates water at precise temperatures. The cooker heats water fast and manages even temps. The companion app provides thousands of recipes, and you can monitor your cook from anywhere in the house.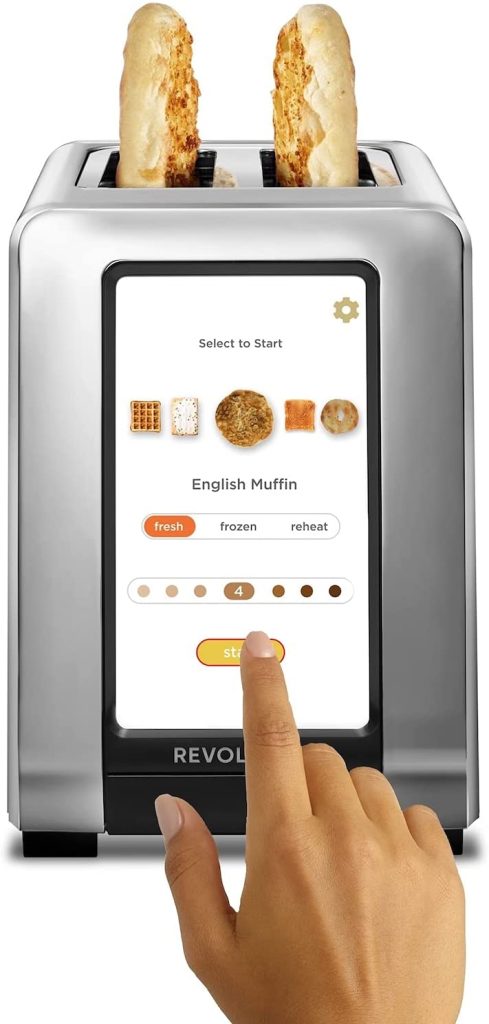 The R180 Revolution Touchscreen Toaster is a high-speed, two-slice stainless steel appliance that far excels its cost. I can't even imagine what you'd do with 63 precise settings for toast! 
The unit is equipped with InstaGLO, a heating system that locks in 30% more moisture than the competition. The features promise crispiness on the outside and a soft inside.
Evenly distributed heat's controlled by double helix metal coils, generating heat that cools up and down in a fraction of conventional toaster time. The smart toaster adjusts to your food, so you never have to stick your fingers into the unit or grab a fork.
You can apply front and back settings on bread, waffles, bagels, toaster pastries, and muffins by running on a smart algorithm. Brightness is adjustable, and there's a countdown timer, alert signal, and a notification when to clean the removable crumb tray.

Having Hot+Cool in the kitchen will keep the area nice, odorless, and comfy while you tackle meals or entertain. 
Dyson is a pioneer in smart appliances. The Hot+Cool uses air multiplier tech to return powerful, clean air without the use of a fan. It also produces heat, making the device a cooling fan, air purifier, and heater. 
The Dyson Pure is Wi-Fi compatible, letting you control it with the Dyson Link app connected to Alexa or Siri. You'll be able to monitor stats on air quality as the device auto detects, diagnoses, and reports in real-time.
HEPA carbon filters capture and remove allergens and air debris. The oscillation is adjustable from 45 to 350 degrees, letting you precise-direct air. It's tested for filtration efficiency, heating performance, and purification coverage.
The Dyson Hot+Cool is an award-winning option that'll keep kitchen temps where you need them.
Farberware Professional Compact Countertop Dishwasher – Best Compact Countertop Dishwasher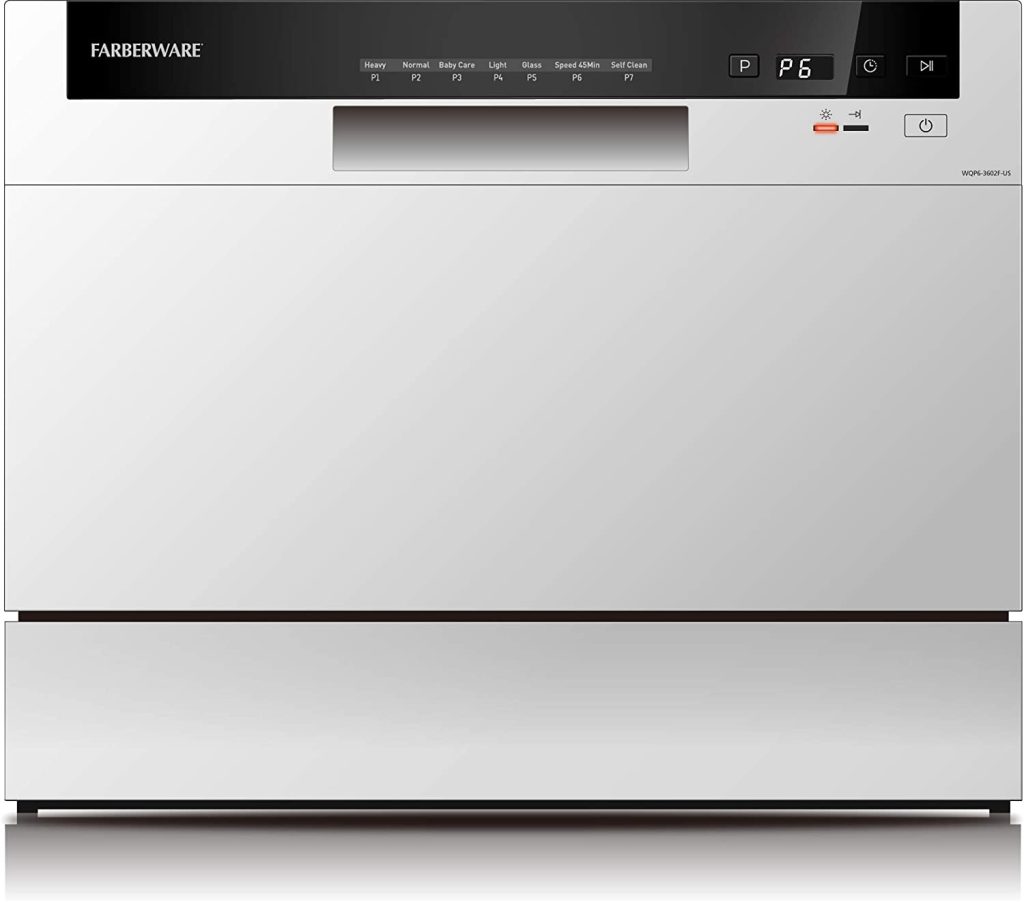 If you lack the space to accommodate a full-sized dishwasher, opt for the Farberware countertop. It has an assortment of features that easily compete with a variety of floor models. There are digital LED touch controls, seven wash cycles such as baby care, and 45-minute speed wash cycles.
Perhaps it's because of the compact size, but the Farberware dishwasher meets the challenge of distributing extra heat. Even the best large machines have trouble getting heat to the final rinse. Minimizing spotting makes this countertop appliance a solid choice.
At a width of 22 inches, the device holds up to six place settings and has a removable flatware basket and a folding cup shelf. There's a nifty self-cleaning cycle so that the interior's free of the hard water stains and deposits that get stuck in less capable machines.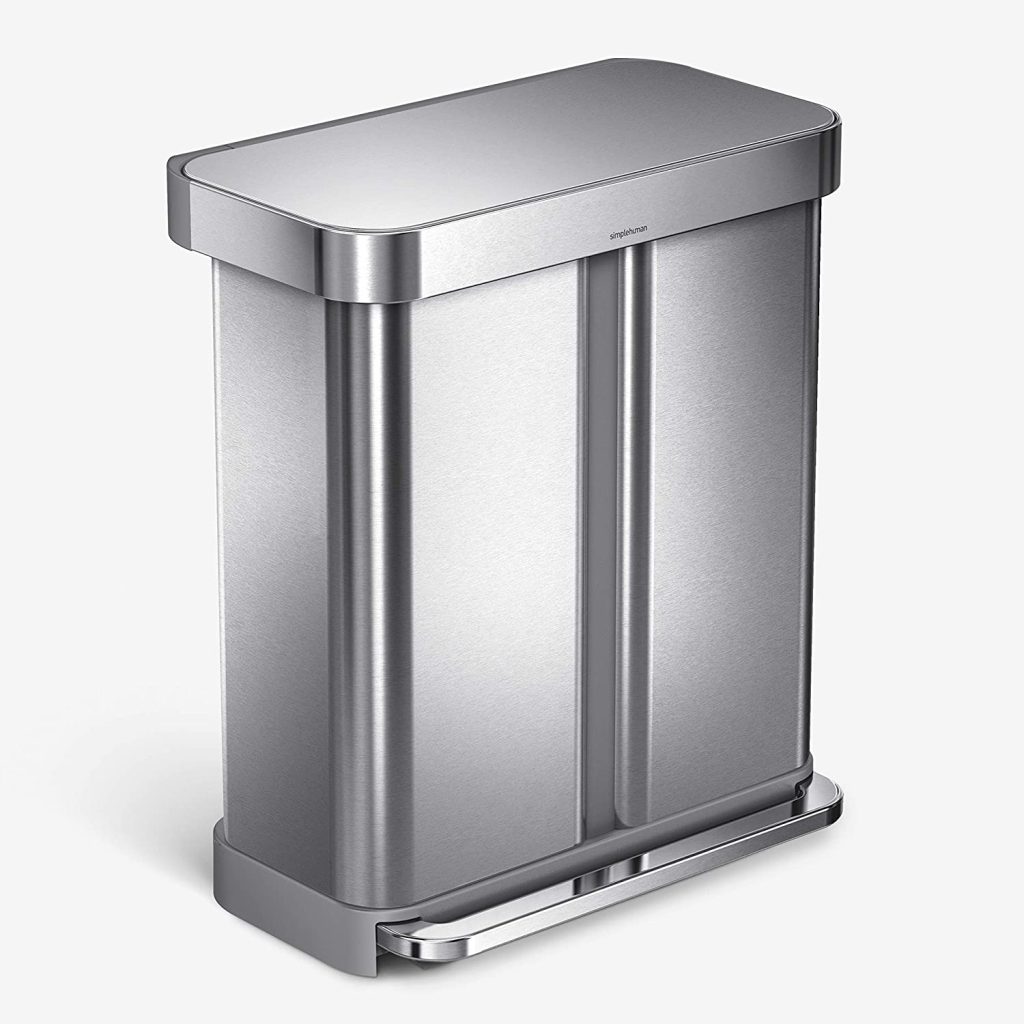 What's the point in having the best smart kitchen devices if your organization doesn't include a trouble-free method for getting rid of waste?
simplehuman creates a range of stainless steel brushed cans, and this one's exemplary. It has a clear nano-sliver coat that resists fingerprints and germs. The manufacturer says the wide pedal will last at least 150,000 uses.
The can has a silent close lid and dual compartments, so you can easily dispose of waste and recyclables. Its unique design includes a pocket behind the unit where you keep the liners—no need for unraveling or perforations. Simply dispense them one at a time from inside the unit for a neat, fast change.
Like all the other kitchen smart devices on this list, the simplehuman is going to make life easier as you go about managing meals, dishes, cups of joe, and all your other kitchen chores. You'll be getting greater joy from one of the most essential spaces in the house.
Ready to Upgrade Your Kitchen With Smart Kitchen Devices?
If you went through our top smart kitchen devices list you probably have an idea by now which you would like to add into your kitchen. Our recommendation is to consider looks, smart home integration and budget but the order of importance is up to you of course.