We reviewed 5 Smart locks that work with Ring Doorbell and concluded the Schlage Encode smart Wi-Fi deadbolt is the best overall.
If you own a bunch of keys, searching for the right key to your house becomes a hassle sometimes. But with smart locks, you would not experience these challenges as it lets you open doors remotely. 
Smart locks that work with Ring Doorbell make the house more secure and sophisticated. It also makes the house smarter while eliminating the need for a key. 
One major reason we picked the Schlage Encode smart Wi-Fi as our best overall is its ease of installation. It also supports Wi-Fi and has a design that defines the word sleek. If you are not a fan of Wi-Fi, this door lock gives you more options with its touchscreen feature and a normal keyhole. 
Although the Schlage Encode is our favorite, other smart lock Ring compatible on our list might be just right for your needs. For instance, while the Schlage Encode remains our number one, the Yale Assure Lock SL ranks best for key-free entry smart locks. 
Keep reading as we provide the top 5 smart locks that work with Ring Doorbell, their features, and how they differ. 
Review of the 5 Smart Locks That Work with Ring Doorbell
In this section, we will examine the top 5 smart locks that work with Ring, and why they might be just right for your door needs. We would provide you with information about the features that make them stand out to improve your decision-making.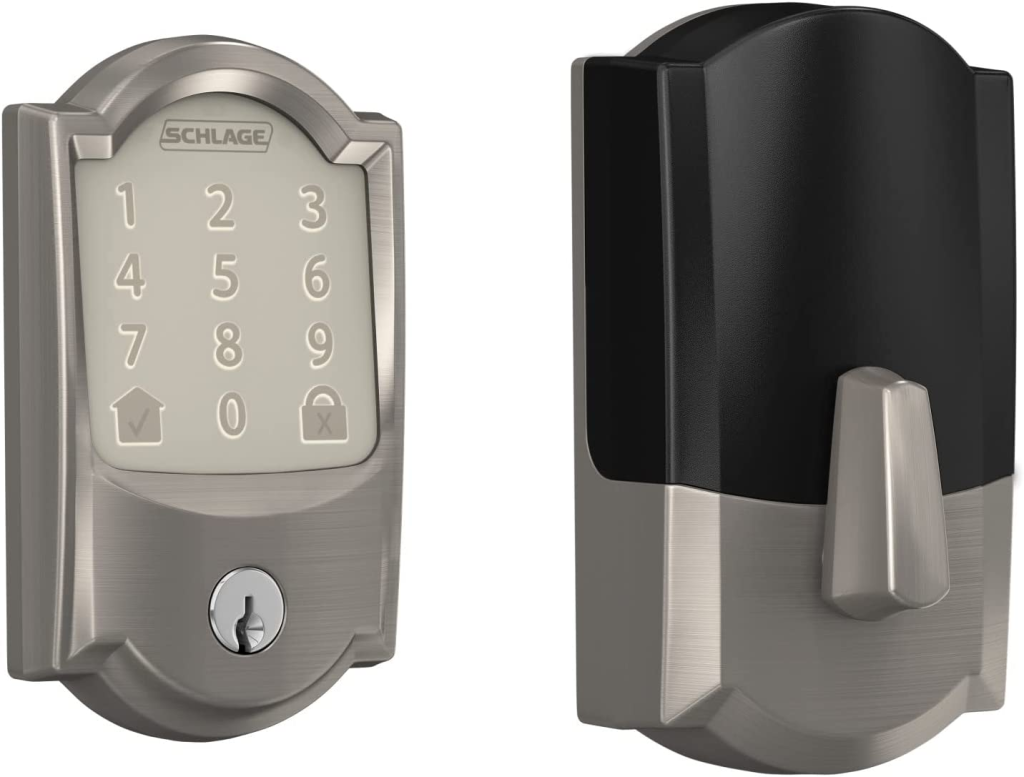 The Schlage Encode smart lock is one of the best smart locks that work with Ring Doorbell in the market currently. It features a built-in Wi-Fi system and an application allowing you to unlock your door from anywhere. The Wi-Fi system featured on this lock allows direct internet connection without needing third-party platforms like Amazon Alexa.
Do you use Google Assistant? That means you have multiple ways to lock and unlock your door, as this smart lock is compatible with google assistant. 
Do you want to grant a visitor access to your space temporarily? With the Schlage Home app or key app, you can create and manage over 100 access codes for family and friends you trust. The app also allows you to categorize access codes into recurring, permanent, and temporary access. 
Besides, installing this smart lock is quite easy, as it features a one-of-a-kind Snap 'n Stay technology that ensures the deadbolt latches firmly onto the door during installation. Why? Well, with this piece of tech, your hands become free during installation, allowing you to secure the lock in place with a screwdriver. 
If there is a potential security breach, the Schlage smart lock's alarm system alerts you on time. Also, a low battery indicator offers a warning, letting you know when your battery requires replacement. 
Additionally, locking and unlocking doors has never been easier with this lock system, as it provides multiple options. You can lock your door using its keyhole, voice control, home app, or touchscreen keypad. 
So, if you have many temporary visitors, the Schlage Encode is a good choice for you. It is also ideal if you are tired of keeping your key under the doormat for family and friends.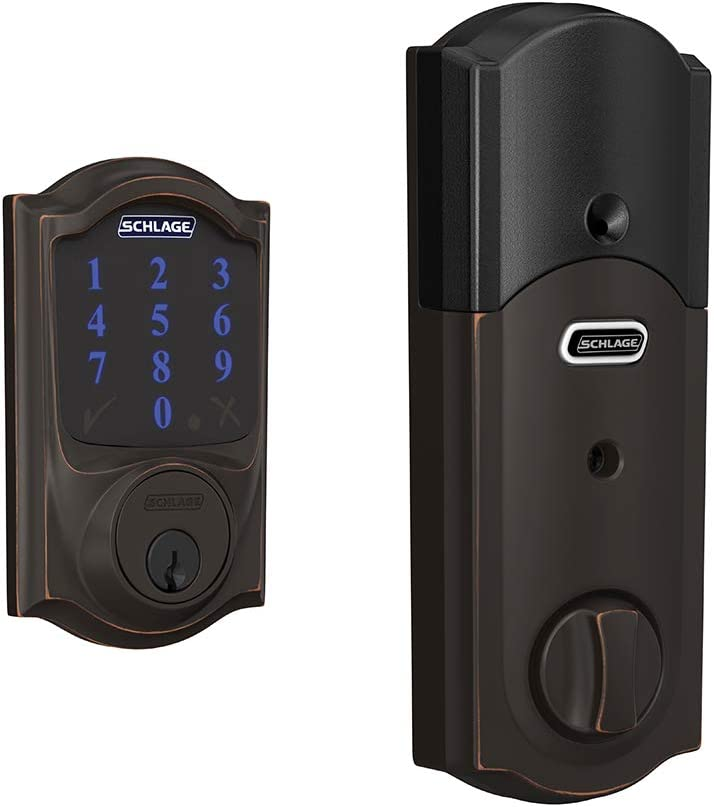 Made from bronze material, the Schlage BE469ZP connect smart deadbolt is a smart lock that works with Ring and Alexa. You can pair this device with various smart home systems, including Z Wave smart home, SmartThings, or Ring Alarm. Pairing with these devices increases the ease of locking and unlocking your home. 
Besides, the touchscreen featured on this smart lock is fingerprint resistant. This resistance helps prevent fingerprints, dirt, and smudges on the surface of your touchscreen, ensuring the screen always looks clean. Also, the Schlage BE469ZP allows the generation of up to 30 access codes! Why is this feature important? Well, it helps ensure you do not have to print a lot of keys, nor do you have to keep track of the number of spare keys you have. Also, with the unique access codes, it becomes easier to tell who accessed your house while you were away! With this feature, you would not get to use spare keys. 
Not sure you trust technology that much? The Schlage BE469ZP also features a key unlock with a single key for optimal home security. With its bronze build, this smart lock is quite durable. 
Installing this smart lock is also easy, although to ensure you get it right, you should measure your door's backset, thickness, and bore. 
When you buy this smart lock, the components include a user guide, backup key, installation guide, lockset, and 4 AA batteries. These batteries are of high quality and often last long before requiring replacement. 
If style interests you, then the Schlage BE469ZP might be the right fit for you, as it comes in an aged bronze finish that is both sleek and intuitive.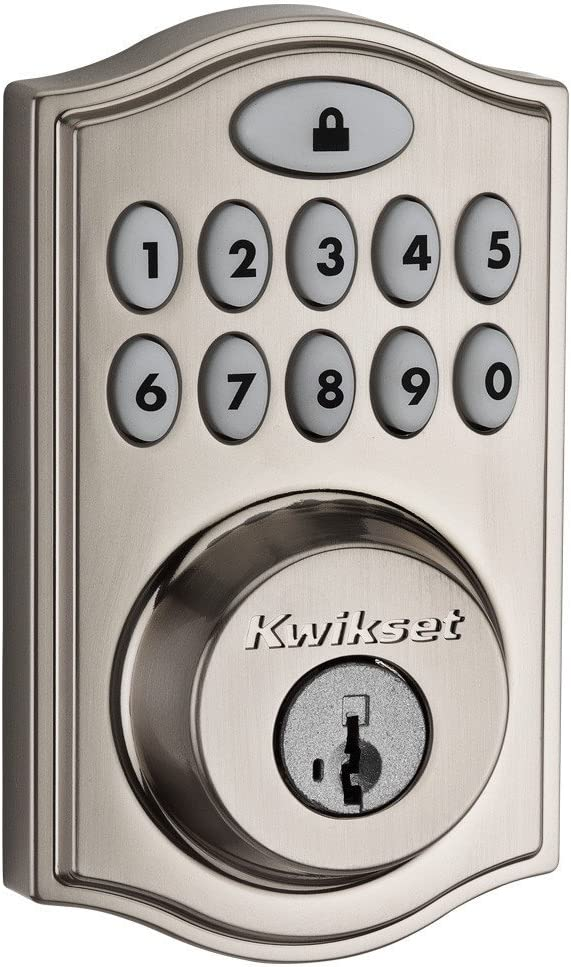 The Kwikset 99140 is one of the strongest smart locks that work with Ring in the market currently. It is a smart lock that has the appearance of traditional locks. This device is hack resistant due to its incorporation of Z-wave plus technology and full 128-bit encryption security. This smart lock is big on security, which is why it comes with SmartKey security that protects your property against advanced break-in techniques. This feature also allows you to rekey your lock in seconds. 
It is incompatible with ZigBee, Amazon Key, and Affinity, but it works well with Alexa for voice control. In other words, with this smart lock, you can lock or unlock your voice by giving a voice command via Alexa. 
One comparison between Schlage vs Kwikset that makes Kwikset standout is its optional automatic door-locking feature. With this feature, your door locks after 30 seconds. It also comes with a one-touch locking and SecureScreen technology unique to this brand. Made from metal, the Kwikset smart lock is very durable. It also comes in a satin Nickel color that does not fade. 
Besides, you can program up to 30 custom user access codes for friends and family With the Kwikset 99140 smart lock. You can also give unique access codes to your dog walkers and other people with access to your space. With these unique access codes, knowing who has entered your home becomes easier while eliminating the need for expensive spare keys. 
When you buy this smart lock, you get the following components; a deadbolt exterior and interior, two keys, a latch that works most doors, and an adapter ring. You also get mounting hardware, strike plate, smartkey learn the tool, user, and installation manual.
If you do not like touchscreen controls but prefer the traditional button system, this highly secure smart lock is just right for you. It is also easy to install with its adjustable backset latch.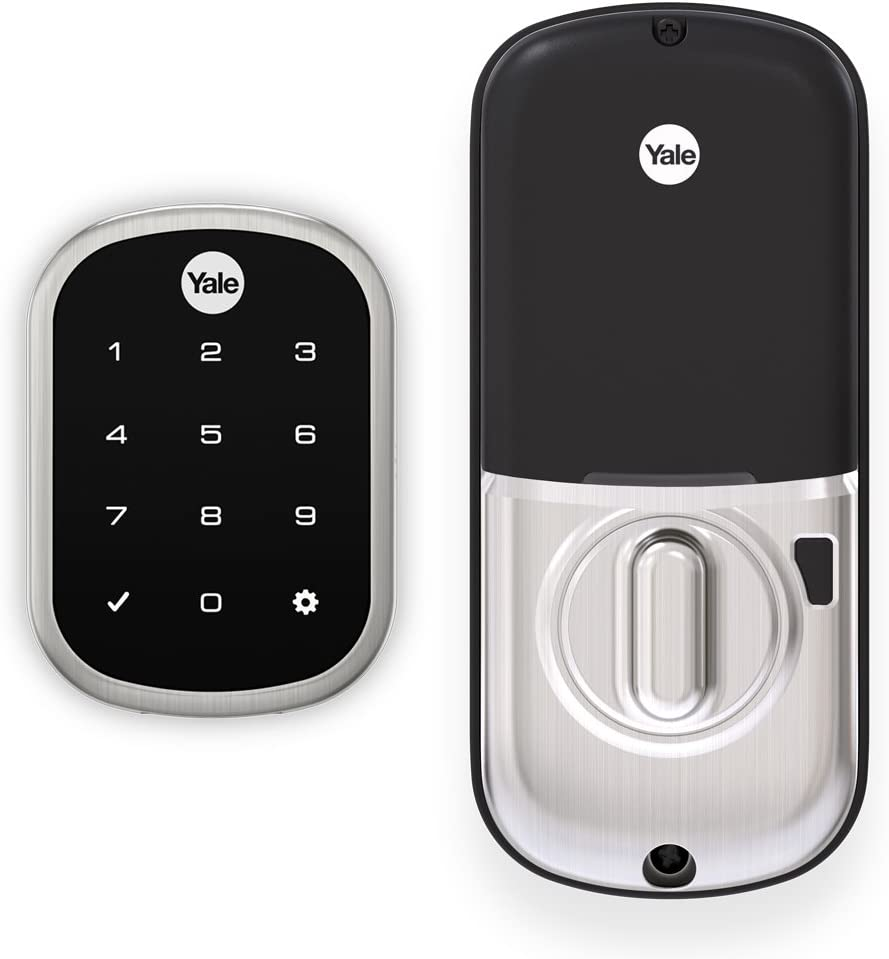 100% compatible with the Ring security system, you do not need another app to unlock the door when you have the Yale Assure Lock SL. It is one of the best smart locks that work with Alexa as well as a Wink, Ring doorbell, Ring alarm, SmartThings, and other smart home platforms after proper integration. With its wide range of compatibility, it becomes easier to lock and unlock your door.
The Yale Assure Lock SL is a key-free lock, which means it does not come with a Keyhole. Instead, it features a backlit keypad for easy visibility even in poor light. 
Do you have friends and family that often require access to your home? The Yale Assure Lock SL allows you to create multiple unique access codes for everybody. Additionally, its mobile app makes monitoring the distributed access codes easier. 
The Wi-Fi system featured on this smart lock gives it direct access to the internet. This is important because it makes regularly updating the software featured in this lock easier. Furthermore, this lock is easy to install on almost every thick door with the simple aid of a screwdriver. 
Made from stainless steel, this lock is quite durable and ideal for outdoor use where the environmental temperature ranges from 22F to 140F. Its brushed and satin nickel-colored finish also provides additional protection, keeping the lock mint fresh for a long time. 
When you buy a Yale Assure Lock SL, you get a Wave smart module, mounting hardware, installation manual, and door template. You also get 4 AA batteries that last a long time, often over 8 months before replacement. 
Are you tired of keys? Then the Yale Assure Lock SL with its key-free system, is probably just right for your needs. Its wide range of compatibility is also an advantage.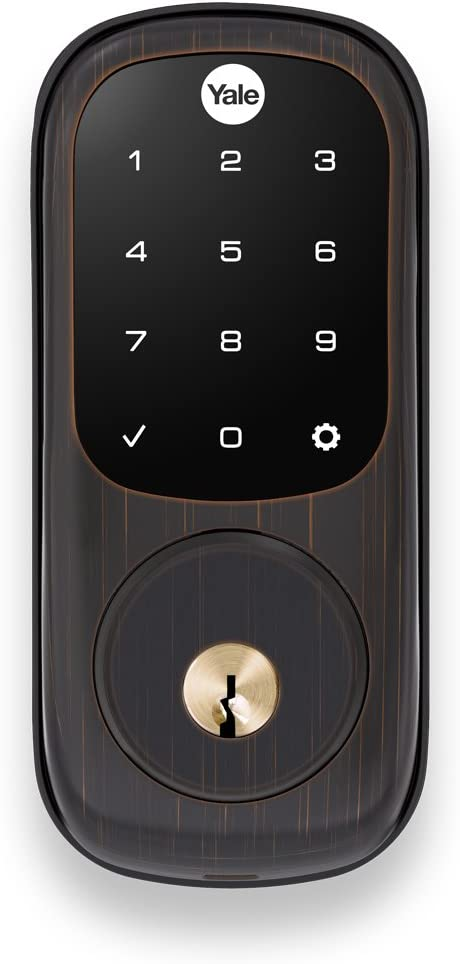 Do you often forget to lock your door on leaving home? Then it is probably time to get the Yale Security YRD226ZW20BP SmartLock. This device has an auto-lock feature that helps you lock your door every time. So no worries about when you go to bed at night or leave home for work in the morning without locking your door. 
With this smart lock, you get multiple door locking or unlocking options. For instance, the keyhole option allows you to lock or unlock your door manually. You can also decide to key in your entry code on the back-lit keypad or use your smartphone and a smart home system for locking and unlocking your doors. 
Are you tired of hiding your spare key under the foot mat for friends and family? The Yale security smart-lock is a better alternative with its access code-sharing system. This system lets you share unique codes with close friends while keeping your key private. 
The Yale Security YRD226Z W20BP, made from bronze, comes in an oil-rubbed bronze color. Its touchscreen is fingerprint resistant. It is also resistant to dirt, smudge, and other environmental influences. 
When you buy a Yale security lock, you get a deadbolt strike, 2 keys, a manual and door template, and AA batteries. And Touch screen.
So, how do you know the Yale Security YRD226Z model is for you? If you are looking for a smart lock that is both elegant and functional. 
Guide to Buying the Best Smart Locks That Work with Ring
Having discussed the top smart door locks that work with Ring Doorbell, let us examine the factors to consider when buying any. Considering these factors is one way to ensure that you buy the ideal smart lock for your needs. Below are factors to take into consideration when choosing a smart lock.
Connection Type
Different connection types are used with smart locks, as is often common with most smart home devices. While most smart locks will allow multiple connection options, checking the device before investing in it is always best. 
The most common connection type with smart locks is Bluetooth. Its popularity is due to its low power consumption compared to Wi-Fi and other connection types. However, it is best to note that Bluetooth has a short range. In other words, if you are not near your smart lock, you might find it impossible to lock or unlock it. But on the plus side, using a Bluetooth-type connection does not require a hub. 
Another common connection type is the Z-Wave. This connection type requires a separate hub to function optimally. It also connects to your Wi-Fi and has an optimal range of about 120 feet. This range extends considerably where there are several Z-Wave devices in sync. 
The final connection type is standard Wi-Fi. This type has the highest range. However, you might need to buy a separate component for connection to a power outlet. On the plus side, Wi-Fi allows you to control your door from about anywhere. This means if you are out on vacation, and you have friends that need access to your space, you can simply open it for them.
Source of Power
Most smart locks that work with Ring Doorbell would rely on electricity to function optimally since you would use them without Keys most of the time. So it is wise to consider how the lock will get this power. Notably, most smart locks compatible with Ring are battery-powered and you can recharge them. Some others are hardwired. 
Method of Access
This defines how you lock and unlock your doors. Would you like a door lock with a keypad or one that uses a passcode? Or would you prefer voice-controlled door locks or fingerprint-scanned locks? When choosing smart locks, it is best to think of convenience. Also, consider going for smart door locks with a keyhole so that if all else fails, you can always revert to inserting the key into its hole and accessing your space. 
Compatibility with existing hardware
You would not want to change your door because you bought the wrong smart lock, so it is best to consider the existing elements on your door. Things to examine include the door handle, door, and other hardware that exists on the door and would interact with the smart lock. 
Material Type
Another factor to consider when buying smart locks that work with Ring Doorbell is its material type. Various materials are used to make smart locks, but not all stand the test of time. Some materials start flaking after long exposure to sunlight, which could affect the home's aesthetics. Common materials for making smart locks include nickel, stainless steel, bronze, and other metals. The recommended material is nickel, as it is often more durable than other materials. 
Type of Door Lock
There are two common types of door locks; latch locks and deadbolts. Deadbolts are more secure than their counterparts, so when investing in a smart lock, consider smart deadbolts for optimal security.
Auto-Lock Feature
This is not a common feature on most smart locks, but it is an important one to consider. This feature allows doors to lock automatically after a specified period. With this feature, you worry less about locking your door, as the system automatically does that for you. 
Conclusion
Smart locks that work with Ring Doorbells make your home door smarter, making life easier. They are also more secure than conventional smart locks. The 5 smart locks that work Ring mentioned above are compatible with Ring and have great features to protect your home door from intruders. 
Are you looking to buy a smart lock that is Ring compatible? Then the Schlage Encode Smart Wi-Fi Deadbolt is your best bet, as it has features not found in other smart locks. It offers you multiple access systems, including a Keyhole. It also offers a Wi-Fi connection and 100 unique access codes, a number not yet seen on smart locks! Check out Schlage Encode Smart Wi-Fi Deadbolt availability here . 
FAQs
What mobile device is not compatible with Ring Doorbell?
Not all mobile devices are compatible with the Ring doorbell app. This is especially true for older mobile devices, as they do not have the internal features to run the app. If you find out your current device cannot run the Ring app, it is best to get one that is compatible.
Can I Connect my Yale Lock to Ring?
The Keyless Yale Assure Lock SL allows connection to Ring alarm security. It does this via Z-Wave, connecting seamlessly to your ring devices. 
How do you control a Schlage Lock with a Ring?
To control a Schlage lock with a Ring, you have to open the Ring app. Then tap the three lines on the upper-left side of the screen to open the side menu. Tap set up a device as well as Locks & Access controllers. Then tap Schlage Encode Lock and begin setup. 
Since you have a Ring account already, tap I have an account, and then connect your Schlage account to the Ring one. When asked if you will allow your Schlage app to connect to your Ring App, kindly tap I agree, and then enter your user ID as well as password to log in to your Schlage account. Configuring your Schlage device in your Schlage app allows you to do the same in the Ring app.