When considering a home security system a common comparison is vivint vs ring. two highly established brands.
This article will be comparing the Vivint and Ring home security systems in an effort to offer guidance on which product is best for you. 
Spoiler Alert! If you don't feel like reading through the whole review, we can tell you that Vivint is our chosen security system between the two.
When it comes to your home's security, you want the highest quality available at the most affordable price. No one wants a security system that's overly complicated, overpriced, or ineffective. After thorough research and comparison, we've learned the different advantages of each system and what type of customer would benefit from each product.
Let's dive in to see who wins in a Vivint vs Ring home security system matchup. 
Vivint vs Ring At a Glance
We selected Vivint as the overall winner for various reasons. Our research proved that Vivint is the more advanced home security system option due to its superior features and integrations and sleek and modern equipment. It's also easy to use despite its advanced technology. Overall, it's a system that you and your family can count on. 
So, which security system is best for you? 
It really depends on who you are, what your budget is, and what you prefer, but here's what we know:
Those who love to DIY and save money will appreciate the Ring system. At the same time, people with bigger budgets will gladly pay for the professional installation and advanced technology of the Vivint system. If you crave the latest and greatest technology, you'll probably fall in love with Vivint. But if you lean more towards the basics, you may be better off choosing Ring.
Keep reading to discover how Vivint and Ring compare when it comes to their installation, features and integrations, price, and equipment.
Vivint vs Ring Comparison
Installation 
Most homeowners cringe at the word "installation." You may have encountered frustrating and lengthy installations in the past when nothing seemed to go right. This can be a significant factor that can impact the product you choose to purchase in the end. Let's see how Vivint and Ring compare when it comes to installing them in your home. 
Vivint is designed for professional installation, which offers increased peace of mind with 24/7 professional monitoring and typically less hassle on the customer's end. At least with this option, you won't have to worry about messing something up! However, the installers will need to hardwire the doorbell camera in with your doorbell. 
The Ring is totally DIY, which has its advantages and drawbacks. If you're a more independent homeowner and trust your skills, you can opt to install Ring on your own. Other customers have stated that it's a relatively easy setup (and it's free, so that's another bonus). But again, sometimes the simplest things end up taking a giant chunk out of your day if something goes awry.
It really depends on your personal preferences and the type of person you are when it comes to installation. Do you take pride in doing things by yourself? Or are you more of a sit back and relax and let the pros handle it kind of person? Either way, we think Vivint takes the cake on this one because getting the installation right the first time will save more time down the road.
Features & Integrations 
When you buy a product, you want to know everything it can do. What's the point of buying something if it doesn't have the features you want? 
With Vivint, you can add a variety of features, from smart locks and doorbell cameras to smart lights and thermostats. You can also connect it with your Amazon Echo or Google Home device for additional control. It even has a convenient and highly-rated mobile app so you can monitor your home security on the go. 
Ring is a bit more limited on the smart home integrations and features, but you can use voice commands with your Amazon Alexa device and download a neighbors app that allows neighbors to share videos and alerts with you in real-time when you're not home. 
Both Vivint and Ring are wireless security systems that communicate using Wifi signals. Each offers remarkable functionality, using sensors to set off alarms in the event of suspicious activity. However, overall, we believe Vivint has the best features and integrations with its smart home capabilities. 
Price 
Affordability plays a significant role in whether or not you purchase a product or not. You don't want to break the bank, but you also don't want to compromise quality. It's all a balancing act in the end. Let's take a look at how prices vary between the Vivint and Ring systems.
Vivint comes with a heftier price tag, but then again, you get what you pay for, right? The professional installation alone will cost you around $250. You need to call or contact the Vivint team online to get a professional quote, as prices can differ depending on the devices you want to include in your security package. 
If you want Vivint's 24/7 home monitoring service, you can select from a Basic plan for $30/month or the Smart Home Plan for $40/month. In the end, it'll probably cost you close to $600 just to install the equipment and start using your home system. Fortunately, Vivint also offers a payment plan under contract, which can save you some money upfront. 
Ring is a cheaper home security system, which is part of what makes it so popular among various homeowners. Affordability is key in this day and age! Again, the total price depends on what type of devices and how many you'll be using. The bigger the package, the higher the price. 
Ring offers different protection plans, including a Basic Plan for $3/month (allows you to activate video recording for one device) or a Plus Plan for $10/month (allows the activation of video recording for all devices in your home and gives 24/7 professional monitoring). Or, you can purchase a doorbell by itself, starting at $59.99 for the most basic model. 
They also offer a variety of ring alarm kits, including:
The Ring, home security system, is the winner of this round, as it's a much more affordable option that any homeowner can buy. It also has many more pricing options, kits, and plans to choose from, making it a solid choice for people with various budgets.  
Equipment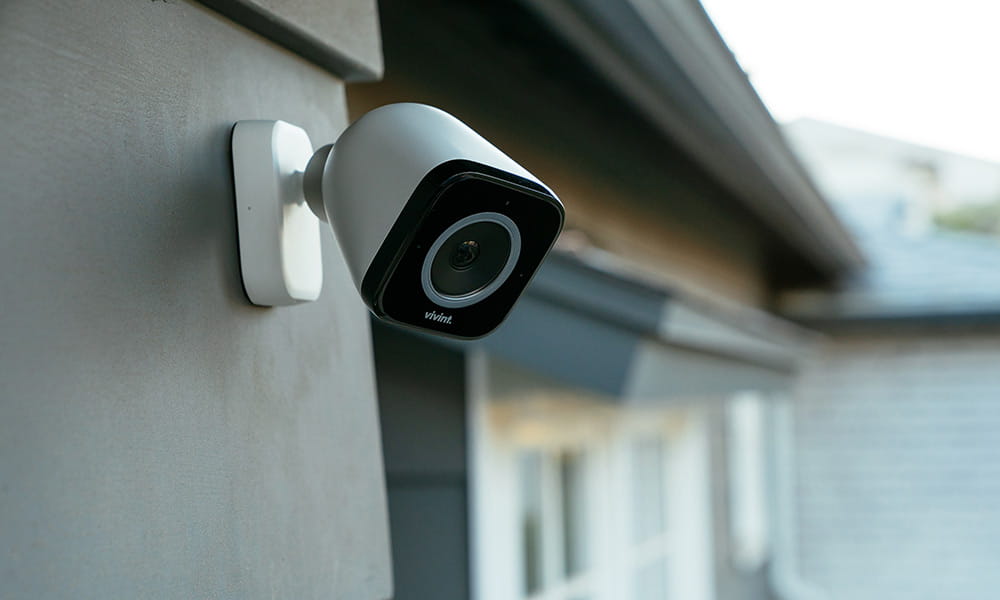 You probably want to have an idea of what type of equipment you'll be getting once you purchase a home security system. Do you just get a doorbell with a camera, or is there more to it than that? Let's look at the equipment you'll receive when you compare a Ring vs Vivint system. 
Keep in mind that you are in charge of choosing how much equipment you want, whether you buy a Vivint system or a Ring system. But here are the equipment possibilities for each product. You can easily purchase and customize your cameras, where you place the cameras, and how the cameras are set up. 
Each Vivint and Ring, home security system, comes with a base station, a keypad, and door/window sensors. However, the Vivint systems offer an assortment of innovative home products like garage door controllers, carbon monoxide detectors, deadbolts and locks, glass break detectors, and more. They also give customers a decent selection of cameras, but not as many as the Ring.  
Ring has several different types of doorbell cameras, a spotlight camera, indoor and outdoor cameras, and a unique peephole camera. They also provide countless security alarm kits, from 5-piece to 14-piece, depending on customer needs. It's safe to say you can find whatever your heart desires in their equipment selection. 
Vivint offers less equipment than the Ring, but the equipment it does provide is much more advanced and modern looking, which is why it wins this category. The keypad is a fancy 7" touchscreen. So if you're someone who pays close attention to your devices' style and technological capabilities, the Vivint system will most likely be perfect for you and your home. 
Vivint vs Ring: The Winner
Vivint and Ring are two reputable companies that offer high-quality home security systems. It's a tough decision between these competitors, as they both include various convenient safety features that can make any homeowner feel safe and secure all day, every day. 
It was a close call, but Vivint is our chosen champion. This beloved home security system offers exceptional, high-tech integration, a highly regarded mobile app, installation by a licensed specialist, and second-to-none quality that's sure to please any homeowner. 
If you're someone with a smaller budget, you might want to go with the Ring, as it's a much cheaper option. If you categorize yourself as a dedicated DIYer, the Ring is probably your best bet. 
On the other hand, if you'd rather have a pro install your system for you and not rely on your own skillset, you'll appreciate the Vivint home security system. And if you're okay with spending a little more for higher quality and signing a contract after purchase, Vivint is the way to go.
Vivint vs Ring: The Bottom Line 
Both Vivint and Ring are effective and reliable security systems, so you won't make a mistake in buying either of them. However, after considering all their features and weighing the pros and cons, we believe Vivint is the winner in the Ring vs Vivint matchup due to its professional installation, 24/7 monitoring, and advanced control unit and integration capabilities. 
Plus, having a mobile app is just so convenient. But remember, whatever system you decide to buy, the important thing is that you'll benefit from a safer home for you and your family. 
Has this article convinced you to purchase your very own home security system? Many people overlook the importance of home security until an event occurs, which by then, it's too late. 
You don't want to leave your home unprotected, especially when the people you love most are still inside. Installing a high-quality home security system like Ring or Vivint can help prevent burglary, theft, and unwanted intruders that can have devastating consequences to your emotional and financial health. 
Your home,  family, and belongings are far too precious to risk. Don't wait; secure your home and gain peace of mind by purchasing a Vivint or Ring system today!