We've reviewed five excellent smart fans and found the "Big Ass Fans Haiku L" stood out among the rest.
Smart ceiling fans are fans that you can control from any smart device or even with your voice. You can set hourly schedules for them, different spin speeds, and much more.
As our home drifts more and more towards an automated future, I've made it my business to review these products and find which ones make your home smarter, not dumber. In other words, some of these products can be complicated or inefficient, and I only review the top tier.
I want people out there to get the best innovative tool they can find. There are so many, and the average person doesn't have the time or the budget to test multiple products. Especially if you buy smart appliances as a gift for older relatives, you know how important it is to choose the right one.
When I first installed my Big Ass Fan, I was blown away. Not only is it incredibly intuitive, but it cools and functions better than your average ceiling fan. The controls are simple. Once you have it synced up to your devices, using it is a breeze.
Compared to the other fans on this list, the Big Ass fan matches all the criteria in our "What to Look for" section and hits a few other vital marks: style and efficiency. If you're looking to buy a smart ceiling fan, you can't go wrong with the Big Ass Fan.
The other fans on this list are great too. People are different, and there's no such thing as the perfect product for everybody. I broke the smart fans into separate "best for" categories to reach the full smart fan consumer spectrum.
As you browse through, think to yourself: "what is the smart fan for me?" The items and features you choose to prioritize can make a huge difference in your purchase. Remember that smart fans aren't a one-size-fits-all product, and you will have to plan around the layout in your home.
Without further ado, here is my top five list of the best smart ceiling fans to cool your home.
The Best Smart Ceiling Fans on the Market
Below you'll find my reviews of all the fans I tried.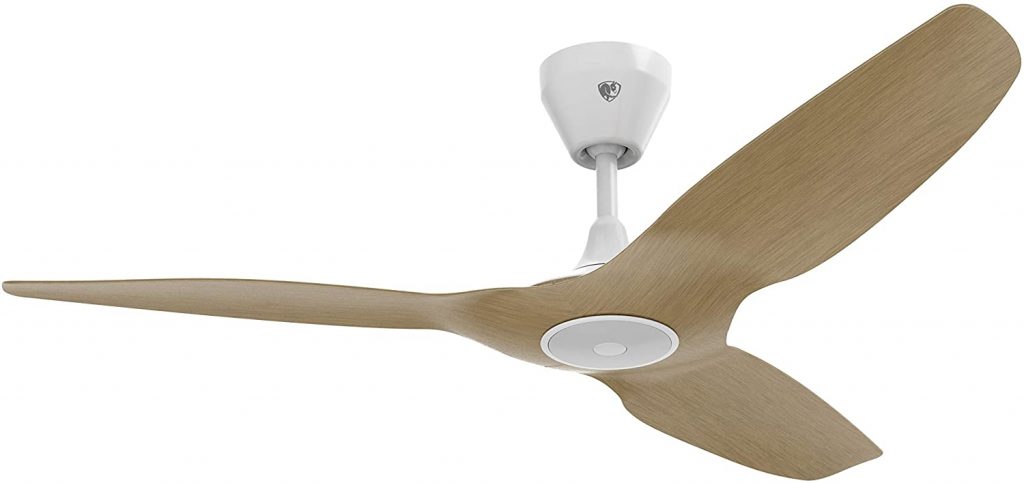 "A fan for every space" is the calling card of a company that's been producing high-performance ceiling fans since 1999. Their range of products justifies this statement. They manufacture everything from giant fans for warehouses to minimalist ceiling fans for your beachfront condo.
While it might be the most expensive on the list, the Big Ass Fan also has impressive features which I loved. I put it in my bedroom because I like to have a slight breeze while I fall asleep. The "Whoosh Mode" was perfect for this purpose.
It simulates a natural breeze, making it easier to fall asleep because you feel like you're getting blanketed by ocean winds or gently caressed in a gusty meadow. I was surprised when I saw the fan spinning slowly and irregularly, but I didn't have much time to think about it because it lulled me to sleep.
Don't you hate when your ceiling fan is making unwanted noise? The Haiku L is factory-balanced and sound tested to guarantee it will never rattle or clunk when spinning. The device is shockingly quiet. This silence was also important to me since I had it in the bedroom.
The real reason the Haiku made it to the top of my list is the light. As many ceiling fan enthusiasts know, the light that the ceiling fan gives off is almost as crucial as its spins. I've always had trouble with my fan's light being too bright. I was forced to turn on a side lamp for my mood lighting.
Not with the Haiku. The Haiku has a built-in LED light kit that has 16 different settings. That means you get it as bright or as dim as you need to set the mood. At its brightest, the Haiku gives off more light than a 60 watt light bulb.
While this fan comes with a remote, you'll experience its complete convenience when downloading the Big Ass Fan app to your smartphone. That means you don't have to find the remote every time you want to adjust the settings. Instead, just lie back and tap your screen.
If you don't have your phone, the wall mount for the Bluetooth remote works great. It will keep your remote in a memorable place. On my first day with this product, I lost the remote for a little bit. After that, I installed the wall mount and just controlled it from there.
The last thing I want to mention is that this is an Alexa ceiling fan. That means you can control it with your Alexa device as well. Once you hook it up, you will be able to control the fan with your voice like any other Alexa-compatible product. It's also compatible with Google Assistant.
Pros:
Reputable company
Whoosh mode
Quiet
LED Light
Convenient Controls
Alexa Ceiling Fan
Cons:
Morpheus III – Best Indoor Outdoor Smart Fan 

For people who want a smart ceiling fan for every room in the house, you can't go wrong with the Morpheus III. This fan will work just as well in your breezeway or sunroom as it will in your living room. It's the perfect fan for a set to decorate the interior and exterior of your home.
Modern Forms, the company responsible for the Morpheus, brags about its avant-garde style making their products pop. They specialize in smart fans specifically and have produced three different types (avant-garde, naturalistic, and minimalist) to fit any home decor.
As you can imagine, this is also one of the most stylish fans on our list. I bought one fan and tested it in both my living room and patio to stunning results. It shocked me how it instantly upgraded my ceiling's decorative appeal. Suddenly a plain space had a conversation-starter right in the center of it.
The next thing I wanted to verify was the high-speed setting outdoors. Sometimes you'll buy an indoor fan without even knowing until you place it outside and barely feel the strength of a baby's cough keeping you cool. The Morpheus stood the test of the great outdoors, even on its medium setting.
Since Modern Forms specializes in smart fans, they have one of the widest ranges of paired AI systems. Beyond Alexa and Google Assistant, you can pair it with Samsung Smart Things, Ecobee, Josh AI, and Control4. If you've already invested in making your home smart, you know how important it is to buy a product that already aligns with your AI.
One of the best features comes from downloading the Modern Forms app. The fan has "Adaptive Learning," which will allow it to learn your setting and adapt to your preferences. You can also control it from up to 150 feet away, so you can cool your house before coming inside from the BBQ.
Modern Forms stacks up well against ordinary fans as well. They advertise that their fan is 70% more efficient than regular fan products. I wanted to put this to the test, so I compared it to one of the old ceiling fans I have in my guest bedroom. To my delight, my living room cooled much faster with the Morpheus III.
The only problem I had with the Morpheus was its installation. There were so many wires, and holding them in place when mounting was not easy. If you're not a technical person, I recommend hiring a specialist to fit it in place. Otherwise, you'll break a sweat.
Pros:
indoors and Outdoors
Decorative Styles
Compatible with Many AIs
Adaptive Learning Feature
Cons: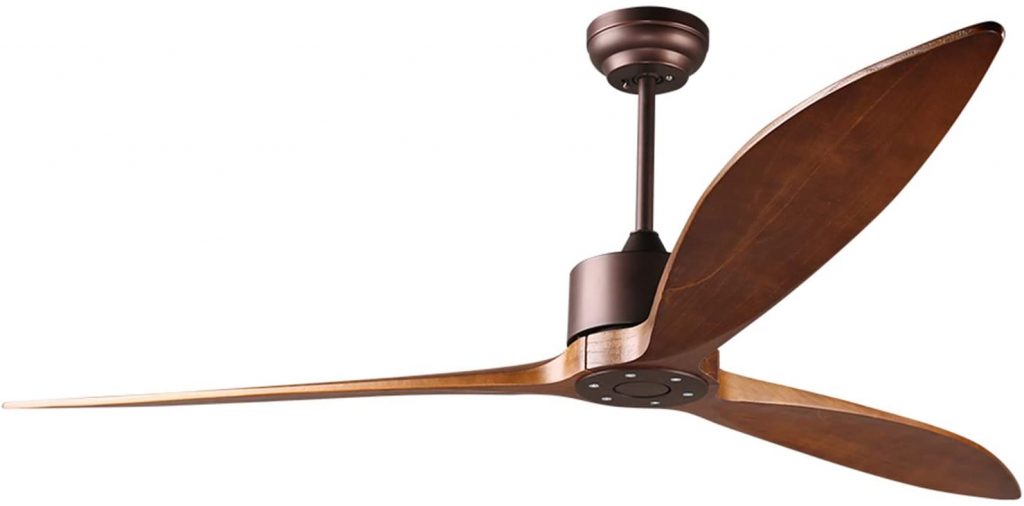 Sometimes innovative products are a little too fancy. If the manufacturer overdoes it with the bells and whistles, it can feel like your home is trying too hard. What was supposed to be about efficiency suddenly becomes a distracting object that's more trouble than it's worth.
For people who enjoy intelligent products but like to stay lowkey, the Reiga is the perfect product for you. When I was testing it out, some of my guests came over. They didn't even notice it was a smart fan! Then I took out my phone and started adjusting the settings. They were astonished.
Don't be fooled by the simple design. The wood material it's made out of still gives it a classy enough feel to blend into a downtown loft's interior. I also really liked the brown color because it matches just about any interior paint that isn't too creative or outlandish.
This is a Reiga product. That means it is fully compatible and developed by one of the leaders in the smart fan industry. They have an app that you can download for both Android and iPhone. You can use it to schedule fanning and reduce energy costs.
I loved the two way functionality. Most ceiling fans will only blow in one direction which can obstruct airflow. With the Reiga, you can adjust the setting, so you get a full current of fresh air in any direction you please. It's one of the few fans with this feature on this list.
This is also one of the easier fans to install that I tested. I didn't have to call my electrician friend to set it up because the instructions were incredibly clear and straightforward. It only took me about an hour to install and then I sat under it for a little while to feel the cool breeze.
I had one problem with this fan when trying to use Alexa. I tested it with Alexa and Echo, and I found that it got disconnected from Google Assistant pretty often. This can get frustrating pretty quickly, especially when you're yelling instructions to your fan from across the room only to find out it's disconnected.
Pros:
Brightness Adjustable with Order
Cons:
Gets Disconnected from Alexa
Mykonos – Best Budget Smart Fan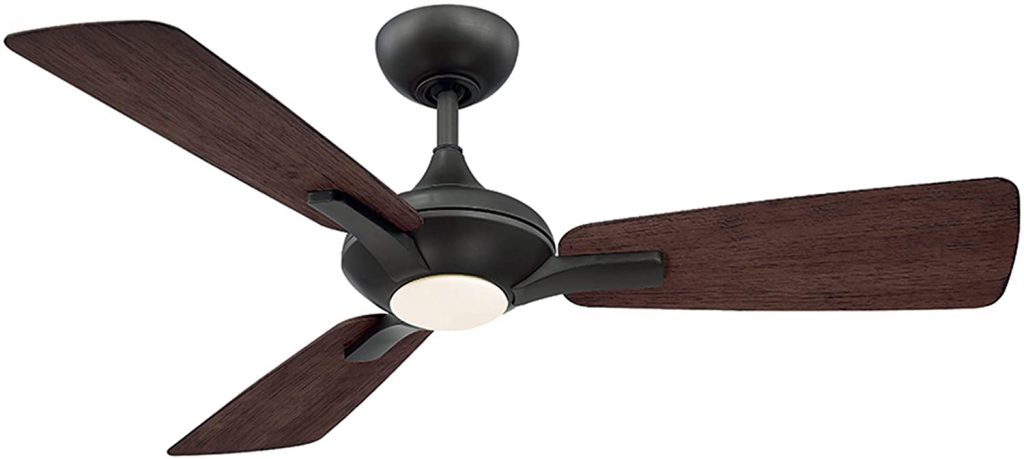 Smartening up your home no longer needs to be reserved for the wealthy. Companies like Modern Forms are bringing products to the market that are compatible with all budgets. This way, everyone can enjoy the convenience and energy efficiency that comes with a smart appliance.
I was so pleased when I tested the Mykonos because I was worried it wouldn't work as well as Modern Forms' other more expensive models. When I turned it on and instantly felt the room getting cooler and fresh air blowing in my face, I knew that smart fans could be in every home soon enough.
The best part is that you have all the features which make Modern Forms' great at about $100 cheaper than their other products. You have compatibility with more than five different AIs, the smartphone app, the battery-operated remote control, and an adjustable LED light.
I had a problem with some of the fans I tried from other companies because one of my ceilings is angled. It's a slight angle, but without proper mounting equipment, it's almost impossible to get a fan to fit it. The Mykonos not only works on ceilings with an angle up to 32 degrees, but also has a slope ceiling kit that will allow you to mount on up to 45 degrees.
While this fan might not have the fancy and intricate options of other models, I enjoyed the winter and summer settings. They don't have to correspond to the season. I found that the summer works better during the day while the winter helps circulate air at night and keep my bedroom cool.
The Mykonos Smart fan is Wi-Fi cloud-enabled. That means you can connect the fan to a Wi-Fi cloud system which allows you to control it from any distance. Let's say you're on your way home from work and you know someone was cooking in the kitchen. Turn on your fan from the car so you'll have fresh and cool air when you walk in the door.
The winter and summer settings are great, but the lack of additional modes and settings leaves this fan's intelligence unimpressive. It's nice if you're just interested in the long-distance and voice command features. However, I would recommend spending more money on a more diverse product.
Pros:
Budget-Friendly.
Modern Forms Best Features.
Fits on Sloped Ceilings.
Wi-Fi Cloud Enabled.
Winter and Summer Settings.
Cons:
SMAAIR 52" – Best Smart Fan for Alexa

Alexa is one of the most outstanding products for home automation. It's nice to control home appliances from your smartphone, but it's even better to use your voice. With Alexa, even people who aren't tech savvy can operate all their smart appliances with a simple sentence. It's a great gift to help parents and grandparents transition into the digital world.
I found that the SMAAIR paired quite well with Alexa. I was impressed with how easy it was to combine it with my Alexa device. It only disconnected like one time, and after that, I had no more problems. Alexa is even able to lower the speed if I give her the correct command.
The SMAAIR will also match your Alexa device and any other modern equipment you have in your home. It has a creative black geometric design that feels like the fan of the future. It's as much a beautiful piece of furniture to tie the room together as it is a helpful appliance.
This fan is made by SMAAIR and has all their key features. You need to know about motor efficiency to understand why their products are so amazing. Their DC motor is 75% more efficient than most AC motor fans on the market. It uses this same efficiency with its light, emitting more than 1800 lumens at its highest setting.
Ceiling fans are all about energy efficiency. Many people choose ceiling fans over air conditioners to save on their next energy bill. With the SMAAIR, you have all the energy efficiency you'll need. You can also use the app to schedule blow times for extra savings.
The problem I, and some other customers, had with this fan was related to its assembly. I found that many of the parts seemed to not fit perfectly, and I had some jams on the first couple of attempts. I think this one will require a specialist to install it as well.
Pros:
Cons:
Buying Guide
If you're still unsure what fan is right for you, check out our buying guide below.
What to Look for When Buying a Smart Fan
Here are some factors to be aware of before selecting your smart fan.
Energy Efficiency
As we mentioned earlier, people buy ceiling fans to lower their energy consumption. That's why you should always check the wattage on the fans you're buying. All the products we listed are in the 40-45 watt range, so this is a good starting point. Check with your energy provider to see which product is right for you.
Indoor or Outdoor
The location of your fan is paramount to which product you should buy. Outdoor fans need a much higher water resistance than indoor ones, and buying the wrong model will result in product failures. Buy either a fan specifically for outdoors or a hybrid model for any outdoor spaces.
AI Compatibility
Most people buy smart fans as additions to their smart house. Before buying, you need to ensure that your fan is compatible with your current system or alternatively, you can buy the system that runs with your smart fan. Just try to keep all your smart products compatible with the same system so you can run them more easily.
When to Use a Smart Fan
People who decide to purchase a smart fan should already be well versed in automated appliance technology. These devices pair well with other smart products but aren't great for starting a smart house. You need to understand how the app and AI pairing work before purchasing this product.
I would say that smart fans are great for people who understand the technology and want to save on house-cooling costs. These fans will keep the breeze flowing for a fraction of the price of an AC. With an intelligent product like this, mid-summer, depending on where you live.
Problems with Smart Fans
Here are some problems I found with these products.
Installation
As you can tell from my reviews, these products were not very easy to install. I had a lot of difficulty figuring out the wiring, and none of them came assembled. I would recommend learning a bit about the installation process before buying or keeping a handyperson on speed dial.
Pairing with AI
While automated appliance AI is revolutionary, the technology still isn't perfect. Disconnections happen all the time and the initial pairing process can be time-consuming. You can expect a couple of headaches and miscues when using this product for the first time.
If you have trouble pairing the product with the appropriate AI, try contacting the manufacturer or the helpline for your AI.
Conclusion
As you can tell, I'm in love with the Big Ass Fan Haiku. I feel it fills all the criteria I set when I began this reviewing process. It's truly an amazing product and the most versatile. It has all the advantages of the Modern Forms models with more features as well. I still have mine running in my bedroom.
If you want to buy a Haiku, you can get the product on Amazon today. You can also find all the other fans I reviewed there. Amazon can deliver you a new smart fan within days. Enjoy the week and stay cool!