A smart shower is something that every modern home should have. Trust us; after living with a smart shower, you'll wonder how you went so long without one!
Smart showers are digital systems that use smart home connectivity. Unlike a regular shower which is essentially a handle and spout, a smart shower combines a thermostatic valve (fixed temperature) and a digital shower (electronic controls). 
Users of the smart shower can set and program their preferred settings for optimal shower experience and comfort. The user can program the water temperature, flow rate, shower duration, outlet, and more!
A smart shower provides all the tools necessary to give you a unique and customized shower every day. Through the smart shower control display, users can connect through their smartphone app or a voice command system making the program hand-free for in-shower use.
Adding a smartshower system to your home's bathroom will elevate your everyday routine and make showering fun! In addition to the customizable features, a smart shower can also save you money! The duration setting lets users put a timer on shower time, saving your bank and the planet.
Benefits of a Smart Shower in Your Home
Homeowners find that there are several valuable benefits to installing a smart shower system in your home! Aside from the more pleasant shower experience, a smartshower will also provide:
Upgraded value to the home
Sleeker aesthetic look to the space
Save on water and hydro/electricity bills by reducing water usage
Precise and consistent water temperature while showering
Scald protection safety (great for kids learning to shower independently)
Customizable shower experience
Voice activation options
Speed up the morning routine
There are plenty of reasons to invest in an upgraded and innovative shower system for your home!
Our Smart Shower Research
As a shower expert, I've found that there are several product options for smart showers that stand out among the rest. After testing a range of smart showers, I've discovered Moen TS3302TB U by Moen to be the best option thanks to its high-quality system and easy installation process.
My experience as a shower expert began in hardware sales. I've seen the progression of technology for smart showerheads, hardware, and materials. Currently, smart showers provide users with the best possible option for material and quality products.
Smart showers simplify life and even bring down costs for homeowners. Over the years, I've had clients replace showerheads and shower installations 2-3 times during the stay in their homes. I've had happy clients with smart showers who do not need to replace the materials as the higher quality products are longer-lasting than previous options.
These smart shower system products listed below are chosen for their high-quality design, ease of installation, and user-friendly interface. We love these options for homeowners who are either tech-savvy and want the latest technology or want something simple and easy to use.
The technology of smart shower systems has come a long way in the last few years. The newest and best products combine digital thermostats with digital displays and smartphone connectivity to offer users the best possible experience.
Depending on your unique shower system needs, you may find that one product has more desirable features than another. Those features may be for water-saving, time management, temperature controls, or multiple programmable custom settings for larger families with varying shower habits!
Keep reading to discover why we chose the Moen device as the best overall pick for smart shower systems. We've also explained what you should look for while shopping for your ideal smart shower system for your home.
Product Reviews of the Best Smart Shower Systems
To help you pick the right smart shower system for your home, I've put together a list of five of the top options. Browse these products' pros and cons to determine which smart shower system fits your lifestyle, needs, and budget.
We've picked the MOEN Ts3302TB U by Moen model as the top tanking smart shower system. However, there are a few other high-quality products that we've added to the list. The eco-smart ECO 18, Marey ECO110 220V, WaterHawk Smart Shower Head, and the KOHLER K-558-1CP DTV will all save you time, money and enhance your daily shower experience. These are all excellent options. Find the one that fits your needs and budgets, and happy showering!

The Moen TS3302TB is our best overall pick for several reasons. Moen's high-quality smart shower system is great for those who want all the features with an easy-to-use system and installation. The Moen is, by far, the top design for smart shower devices available on the market at the moment. With the Moen, you're sure to have a great shower experience.
The Moen TS3302TB U by Moen comes equipped with a Smart Home digital connection bathroom controller. The device is wall-mounted and comes with two outlets for hot and cold water supply. The Moen device allows users to control their shower in three different ways: through wifi connectivity, app-driven controls with voice activation, or manually with the waterproof display and buttons.
The Moen innovative shower model comes in a sleek, modern style that is a neutral color of terra beige. The style and color will suit any bathroom decor or aesthetic. The Moen smart shower offers complete customization for your unique shower preferences. Want to change the temperature once you're already soaped up? Just use the high-tech voice activation system to adjust to the perfect temperature.
The display feature on the U by Moen is beautiful and has soft-touch buttons with a crisp and clear 5" screen and LCD touch buttons. Everyone in the family can get the most out of this smart shower device with up to twelve fully customizable options for warming and preset temperatures.
The Moen also offers connectivity options through Alexa, Google Home, and other smart home devices. Want to start the shower while you get the coffee going? Just ask Siri! The U by Moen also provides a planet-friendly water-saving feature that notifies you when the water has reached your ideal temperature and automatically pauses water flow after a pre-set time frame.
One of the best parts about the U by Moen is that the product is built to last and comes with a lifetime warranty – so you never need to worry about pouring money down your shower drain ever again!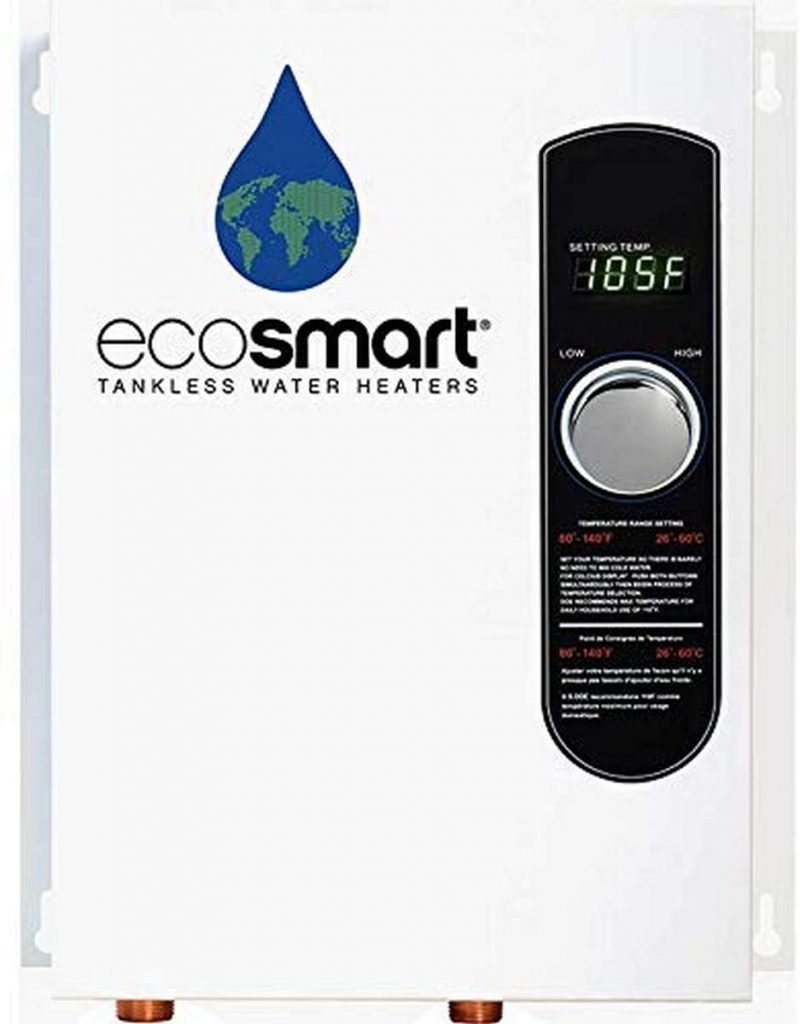 The Ecosmart ECO 18 comes in second place on our list thanks to its unique design and planet-friendly technology! The eco 18 is a smart shower marketed as a "tankless water heater." The "tankless" part of the description refers to the electronic control of the water in your shower.
Despite its earth-happy water-saving focus, the ECO is a powerful device with 18KW and 240 Volts. The EVO is a self-modulating smart shower device that offers users a high-quality design and lifetime warranty. The tankless system will also help you save space in your home or bathroom without the bulky traditional water heating tank!
With the ecosmart ECO 18 tankless water heater, eco-conscious homeowners can save up to 60% of water heating costs thanks to the self-modulating technology. Those savings are significant for your bank account and your impression on the planet! The ECO is rated high for its energy efficiency and temperature control features.
Are you feeling extra philanthropic with your eco tankless water heater? Ecosmart also works with some great non-profits and humanity-saving initiatives such as Habitat for Humanity – making your purchase of the ecosmart ECO 18 that much more impressive!
We also love this brand for its incredible tech support. For those who find it challenging to navigate a new device or technology, the ecosmart team is always a call away to help with program settings or the installation procedure.
Remember that age-old problem of the past: running out of hot water after the whole family takes their boiling hot morning showers one after another? Those days are long gone with the timer and water heating controls of the ECO 18 smart shower device. Installing eco-friendly tankless water heating is genuinely life-changing for many homeowners.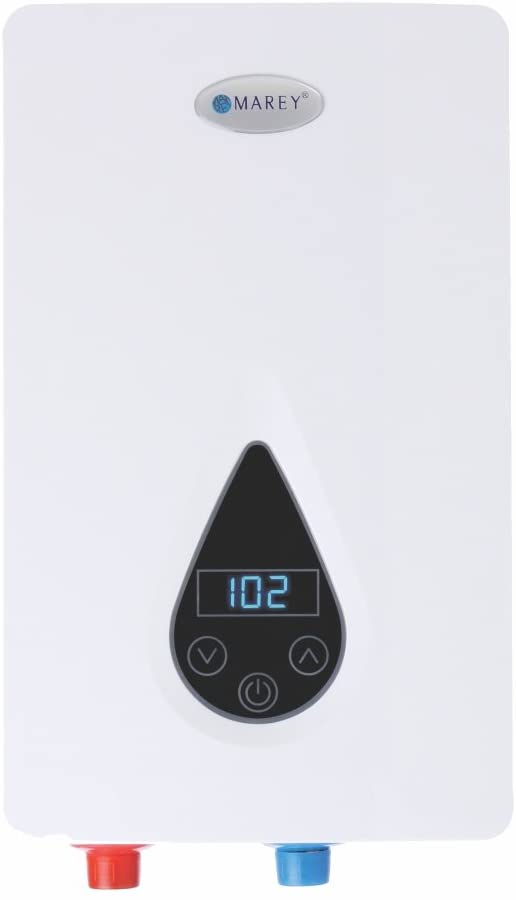 The Marey ECO110 is our third-place pick for its high-quality stainless steel design and self-modulating technology. The device uses220V and 11KW for powerful water heating capabilities. The Marey shower system is ideal for regions of the US with warmer (above 70 degrees Fahrenheit) incoming water temperatures. The Marey water system also has the capability for use in sinks at 1.3GMP (colder regions).
The Marey smart shower system is made from German-designed stainless steel. The water channel and heating chamber are built to last with extremely high-quality materials. The device features advanced SMART technology that is easy to manage for most users. The panel comes with easy-to-understand adjustments on the LCD screen panel, and users can program their desired shower settings.
The Marey is excellent for those who want to customize their shower experience down to the precise temperature. The system also allows for higher optimization of electricity consumption. Users can utilize the tankless water heater system to save a ton of energy and use up to 60% less than conventional tank heaters for water heating. The result is a more environmentally-friendly home and lifestyle.
Installation of the Marey ECO110 may require the services of a professional electrician or plumber to install a 60 Amp breaker. Hiring a professional for this job will ensure the safety and correct installation of the device.
The Marey ECO110 system gives users hot water on demand and an endless supply. Unlike tanks which can tap out after a few simultaneous or back-to-back showers, the tankless water heater system is good to go – shower after shower. The heating system is activated by the water pressure through the system as soon as the shower's faucet is opened automatically through the device app or voice activation.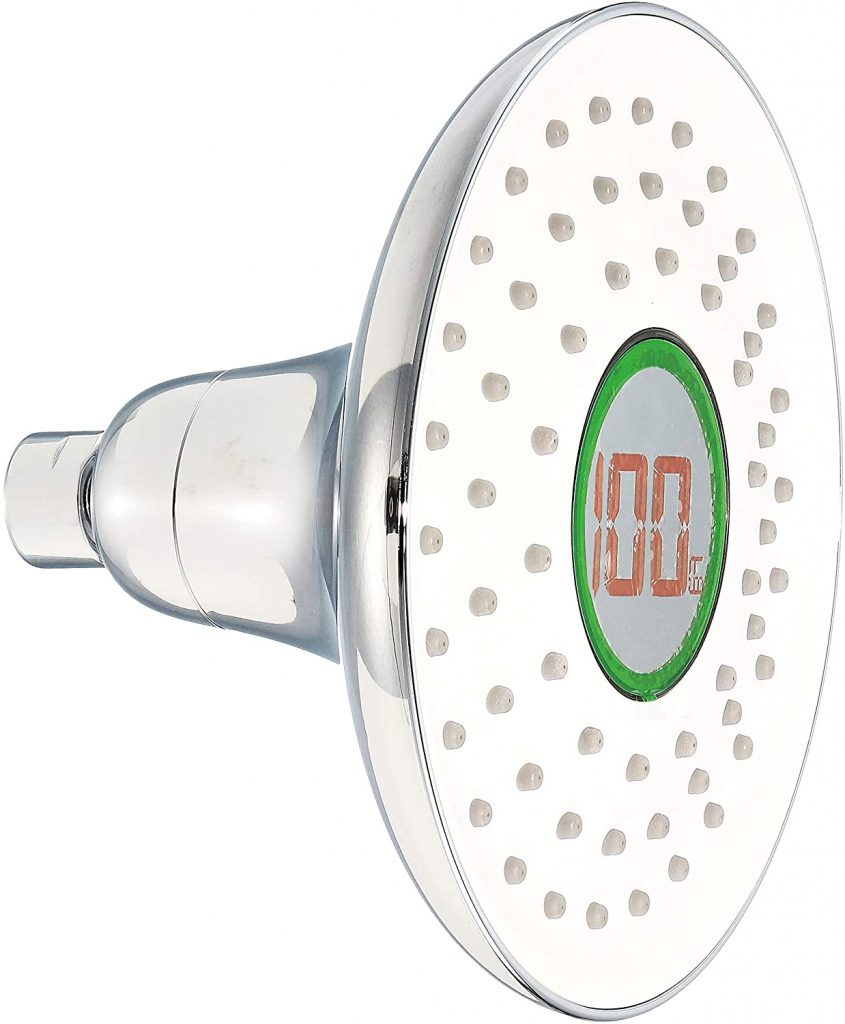 The WaterHawk Smart Shower Head is the fourth on the list for its water-saving technology and advanced design. The WaterHawk shower head provides the eco-friendly water conservation that every home and homeowner wants.
This smart shower functions a little differently than the other options on the list, as the display is right on the showerhead. The 6-inch showerhead displays the water temperature in real-time, allowing users to check before they step into their shower. The LED display lets users measure both temperature and time spent in the shower to help conserve water and energy.
Now you're thinking that with an LED display built into the showerhead, the device must require batteries. In fact, the smart shower head works with hydroelectric power, saving you even more in energy efficiency and planet-friendly home power. The hydroelectric power allows the LED light information to display through the flow of water from the showerhead.
Since the WaterHawk Smart Shower Head does not require an external power supply, the device operates completely sustainably through the power of the water from your shower. You'll love the rain shower effect of the large shower head and the experience of energy efficiency! What's not to love?
The great thing about this smart shower head is that it can be installed by anyone with the ability to read and understand a few simple and user-friendly instructions. The WaterHawk Smart Shower will not necessarily require the help of a professional electrician or plumber, saving both time and money on installation. The showerhead fits a standard ½ inch shower head and takes only minutes to install.

The Kohler comes in fifth place but is no means the bottom of the barrel when it comes to powerful and well-designed smart shower systems. The Kohler brand is known for its modern, quality designs, hardware, and home devices. We love the digital display with simple, straightforward buttons simple enough for even less-than-tech savvy users.
The Kohler K-558-1CP DTV is still the best of the best for intelligent shower design and innovative smart home technology. The device comes with a three-outlet digital interface that is easy to use and read. The piece itself is a high-quality, shiny chrome finish that looks great in any bathroom or home environment.
The display of the Kohler K-558-1CP DTV is easy to read thanks to the larger-than-average numbers and display screen. Users can easily manage and monitor the temperature and time of showers saving on energy efficiency.
Thanks to the raised, smooth design buttons, the Kohler smart shower systems allow users to accurately control their shower settings with intuitive control and operation from the smart device.
An excellent feature is a warm-up mode which allows you to pause the shower flow when the water is at the perfect desired temperature for your shower. The Kohler device will even let you know through an app notification that your shower is ready! You'll be conserving water without even realizing it!
Installation of the Kohler DTV smart shower system device requires a K-559 DTV Prompt Interface mountain bracket available through Kohler. Most homeowners will need the help of a licensed professional for the installation of the three-outlet digital thermostatic valve made specifically for the device. The valve comes with a twenty-foot hose that allows homeowners to extend their shower system to other water output areas such as sinks, laundry, and kitchen spaces.
Another tremendous upside to going with Kohler products is that the company offers a wide range of product lines to suit your aesthetic design or shower preferences. Users can choose to combine their smart shower device with a rain head shower head or a hand shower hose with multiple body spray modes. The customization possibilities are endless!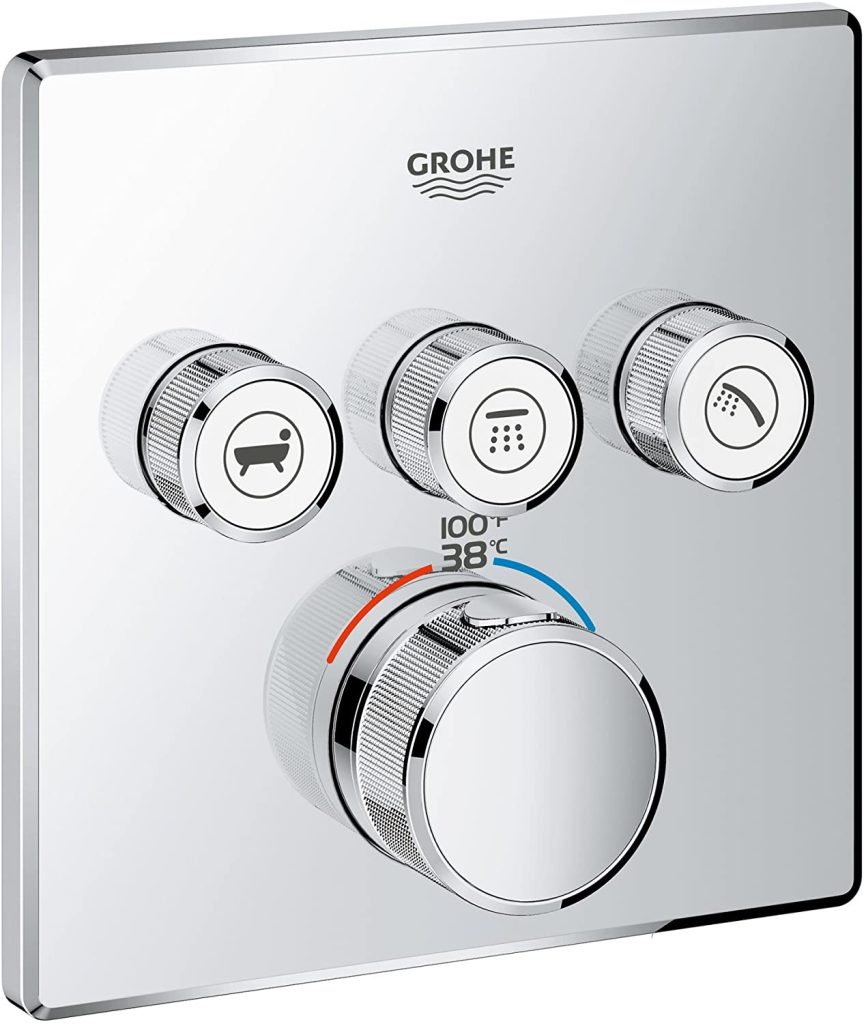 The GROHE 29142000 Grohtherm smart shower is a high-end shower system that incorporates advanced technology to provide a luxurious and personalized shower experience. It features a digital display that shows the current water temperature, water flow rate, and other settings.
One of the unique features of the Grohtherm smart shower is its ability to maintain a constant water temperature throughout the shower. This is achieved through GROHE's TurboStat technology, which ensures that the water temperature remains constant within 0.5 degrees Celsius, even if there are fluctuations in the water supply.
The Grohtherm smart shower also features GROHE CoolTouch technology, which ensures that the surface of the shower remains cool to the touch, even when the water temperature is set high. This helps to prevent accidental burns and makes the shower safer for all users.
In addition to its advanced temperature control features, the Grohtherm smart shower also offers a range of customizable settings. Users can adjust the water flow rate and pressure to their preferences and choose from several spray patterns, including rain, massage, and jet.
The Grohtherm smart shower can be controlled using the GROHE Ondus app, which allows users to create customized shower settings and adjust them remotely. The app also provides users with detailed information about their water usage, allowing them to monitor and reduce their water consumption.
Overall, the GROHE 29142000 Grohtherm smart shower is a premium shower system that offers advanced temperature control features, customizable settings, and remote control capabilities, making it an excellent choice for those who want a luxurious and personalized shower experience.
Buying Guide for Smart shower System Options
Before beginning your search for the proper smart shower, let's look at the four different kinds of showers that you can install in your home.
Regular Manual Shower – A standard shower is what most homes are equipped with. This basic model typically features a single handle or double knobs to adjust the water temperature and turn it on and off.
Thermostatic Shower – One step up from standard showers is the thermostatic valve shower. This features an internal thermostat to keep the water temperature constant and comfortable.
Digital Shower – Digital models of showers include a thermostatic valve and add a digital display for controlling the water temperature. Essentially, you control the shower through a button instead of a handle or knob.
Smart Shower – The latest and most advanced technology in shower models combines the best of all previous options. Smart showers use a digital thermostat to perfectly control the shower and water temperature while also allowing users to program their settings, keeping their shower time consistent and comfortable.
A smart shower also allows you to control your shower settings and programs through an app on your smartphone!
When looking for a smart shower system for your home, it's essential to consider your needs and how you plan to use the system. Are you interested in a customizable shower experience? Are you looking to save money on water use? Are you interested in controlling water pressure? These are all vital questions to ask yourself before buying and installing a smart shower for your home.
Here are a few things that you should keep in mind while looking for a smart shower product. Remember to consider the features, intended uses, and potential issues that may arise.
Features
When choosing a smart shower system, pay attention to the features available with each product. Not all shower systems are created equally. Some may offer a digital display, while others may work only from a smartphone app.
Many users appreciate certain features: the LED display, water usage monitor system, kinetic power source, waterproof screen, and sleek, lightweight design.
Uses
Depending on why you wish to upgrade to a smart shower system, you may consider these specific uses while shopping for your ideal model. Some of these options listed offer the best device for saving water, while others focus on user comfort. In the case of environmentally friendly options, we've included a couple of eco products that will help save on your water bill and your footprint!
Suppose you're looking for a spa-like experience with a high-quality digital display and a rainshower-style shower head. In that case, some products listed above will offer that whole experience you've always wanted.
Installation
When buying a smart shower, homeowners also have to consider the ease of installation. Since most smart showers are powered by electricity, the installation process becomes slightly more complicated than with a standard shower or thermostatic shower.
A smart shower will likely require the help of a licensed electrician or plumber (or both) for installation. The smart shower systems come equipped with two or more outlets that hook up to a hot and cold water tap in your bathroom.
Final Thoughts on the Best Smart Shower System
Overall, I've chosen the Moen TS3302TB U by Moen as the best smart shower system. It offers incredible quality and value. For homeowners looking for the best approach to elevate their shower experience, the Moen products are at the top of the line. It's worth the investment.
Smart showers are one of the first steps in the homes of the future! As more devices and appliances become integrated into smartphone connectivity, you will eventually control your entire home through either voice activation or an app. Imagine the potential!
The Moen TS3302TB U by Moen offers everything you need for a completely customized, unique shower programmed the way you want it. With the Moen smart shower system, you'll save water and ensure that a pleasant shower at the perfect temperature is part of your everyday morning routine.
The Moen TS3302TB U by Moen is available through Amazon. Shoppers can browse several different smart shower models here. For more information on smart shower technology, check out our blog and website.
FAQ
What is a smart shower?
A smart shower is a type of shower that incorporates technology to enhance the user's experience and offer more control and customization options. Typically, a smart shower allows the user to control the temperature, water flow, and pressure with a smartphone app or voice commands. Some smart showers also offer additional features such as music streaming, lighting control, and automatic water shut-off to save water and energy. Smart showers can be installed as part of a new bathroom or added as an upgrade to an existing shower. They are often designed to be eco-friendly and energy-efficient, helping users to save on their utility bills while reducing their environmental footprint.
What are some of the best shower brands?
There are several shower brands that are known for their quality, innovation, and design. Here are some of the best shower brands:
Kohler: Kohler is a well-known brand that offers a wide range of shower products, including showerheads, hand showers, body sprays, and shower systems. Kohler's products are known for their durability, performance, and stylish design.
Delta: Delta is another popular shower brand that is known for its high-quality products and innovative technology. Delta offers a range of showerheads, hand showers, and shower systems that are designed to provide a luxurious shower experience.
Moen: Moen is a leading shower brand that offers a range of shower products, including showerheads, hand showers, and shower systems. Moen's products are known for their durability, functionality, and modern design.
WaterHawk: The WaterHawk smart shower is a type of showerhead that incorporates technology to help users save water and energy while providing a personalized shower experience. It is designed to be easy to install and fits most standard shower arms.
Grohe: Grohe is a luxury shower brand that offers a range of shower products, including showerheads, hand showers, and shower systems. Grohe's products are known for their innovative technology, durability, and elegant design.