We reviewed 5 best smart water shut off valves and concluded that Flume 2 smart home water monitor is the best overall. 
Water leaks occur and cause damage mostly in your absence. If not checked, this leak could increase your water bill. However, with smart water shut-off valves, monitoring your water consumption and shutting off the supply when leakages occur becomes easier.
We recommend the Flume 2 smart home water monitor because it does not require plumbing to work optimally or a power source. You only need to download the app and strap the device onto your water meter. 
However, while the Flume 2 is our best overall, our list also includes other smart water shut-off valves that are best in their categories. For instance, the Moen 900-001 Flo smart monitor wins our best WiFi Water Shut-off Valve, while the EcoNet Controls shut-off valve wins our best in ease of installation. 
Keep reading as we provide the top 5 smart water shut off valves, their features, and what makes them stand out. 
Review of the Top 5 Smart Water Shut-Off Valves
Asides from water leaks increasing the water bill, it could cause electrical problems, structural damage, and mold growth. Installing a smart water shut-off valve in your home is one way to forestall these challenges. 
We will highlight the top 5 smart water shut off valves and who they are for so. This ensures you make a well-informed decision when choosing one for your needs.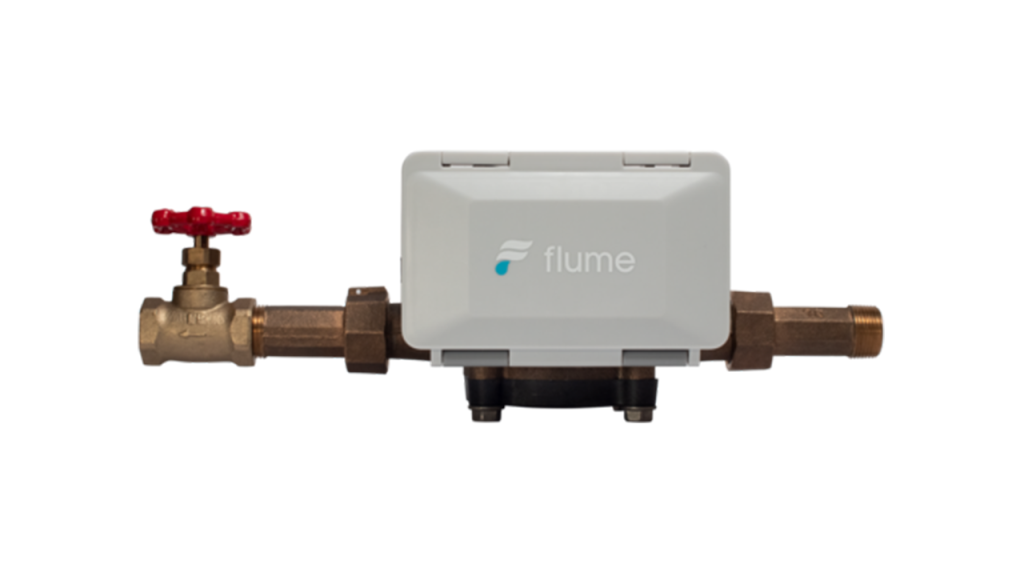 The Flume 2 smart home water monitor is one of the best smart water shut off valves on the market today. This water monitor has two major parts; WiFi Bridge and a water sensor. Other components are a pair of rubber gloves for installation and a tool for lifting the lid off the outdoor meter enclosure.
The sensor, packaged in an enclosure with an IP67 rating for water submersion, also has a thick rubber strap for easy attachment to a water meter. It comes with four preinstalled Lithium AA batteries that are quite easy to swap out, and they power it for up to a year or longer. The WiFi bridge on the other hand is powered by a mini USB AC power adapter and features a 2.4GHz WiFi radio. 
Flume 2 is one of the most versatile smart water shut off valves to save on your water bill. It measures the magnetic field created by the spinning magnetic discs featured in most water meters. After measurement, the sensor sends the data derived to the bridge via wireless technology. The bridge connected to your home's WiFi transmits this data to the cloud, thus making it easy for you to access the information from anywhere using your mobile app.
Besides, this smart water shut-off valve is a powerful device that can detect flow rates as low as 0.01 GPM (gallons per minute), allowing it to detect minute leaks in your system. 
With its mobile app, you can monitor your water usage using Flume 2 mobile app, available on Android and Apple smartphones, or via the web portal. The application interface contains different panels. For instance, the Today panel shows you the amount of water in gallons you've used in the current day, while the Water status panel tells you whether your water is running. Besides, it features a color gauge that shows your water usage, with red showing you've used over average and green showing under average. 
If you are looking for an easy way to monitor your water usage, then the Flume 2 is ideal. This system is highly sensitive, easy to use, and affordable. It does not require complex installation, or plumbing, consequently saving cost.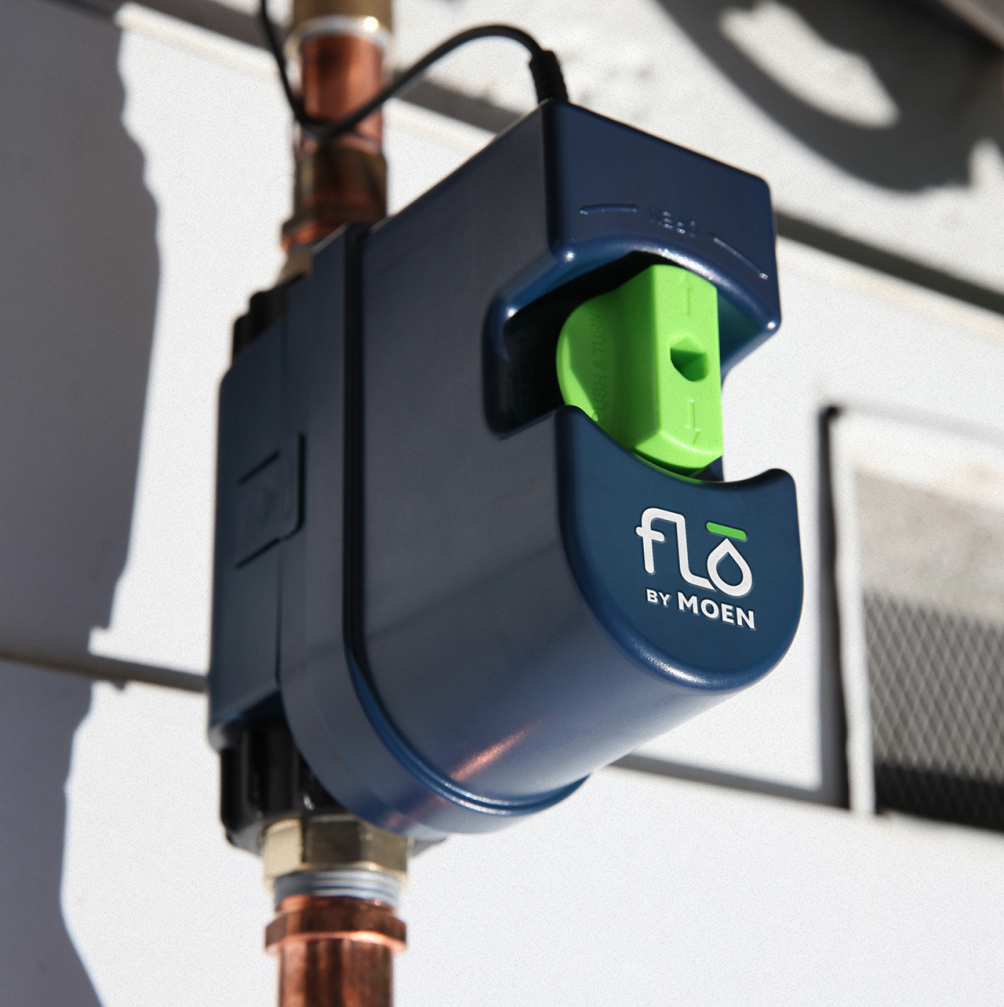 The Moen Flo water monitor comes in two major sizes, ideal for 3/4-inch or 1-1/4-inch water pipes. It features a green manual shut-off valve on top, a power jack, and two status LED lights for the system and valve. A green system status light shows the device has successfully connected to your network. On the other hand, a green valve status light shows that the valve is open and water is flowing, while a red light shows that the valve is closed.
Inside the Moen Flo water meter is a 2.4GHz WiFi radio with sensors that measure the water parameters of your home. The parameters measured include flow rate, temperature, and water pressure. The meter also features two O-rings, a manual shut-off hex key, an installation pacer, a power adapter, and two threaded brass connectors. 
So how does the Moen 900-001 Flo smart water monitor work?
The installation of the Flo meter occurs on a section of your main water pipe right after the water meter and pressure-reducing valve. As stated earlier, this meter measures the water temperature in Fahrenheit or Celsius, water pressure in psi, and flow rate in gallons per minute. If the Flo meter detects unusually high water usage, it automatically shuts off water from the entire home. However, you would get an automated phone call and an app alert before it does this. 
It is important to note that the Moen Flo smart valves do not start working immediately, as it requires a learning period of 7-10 days or 7-14 days if you subscribe to Flo Protect. Flo Protect is a service provided by Flo which monitors water usage down to the fixture level, with a monthly subscription fee of $5. Although this meter requires professional installation, it is quite easy to use. 
Are you looking for a water monitor that would protect your property by shutting off on its own? Then the Moen 900-001 is definitely for you. It also works with google voice and Alexa while also supporting IFTTT applets.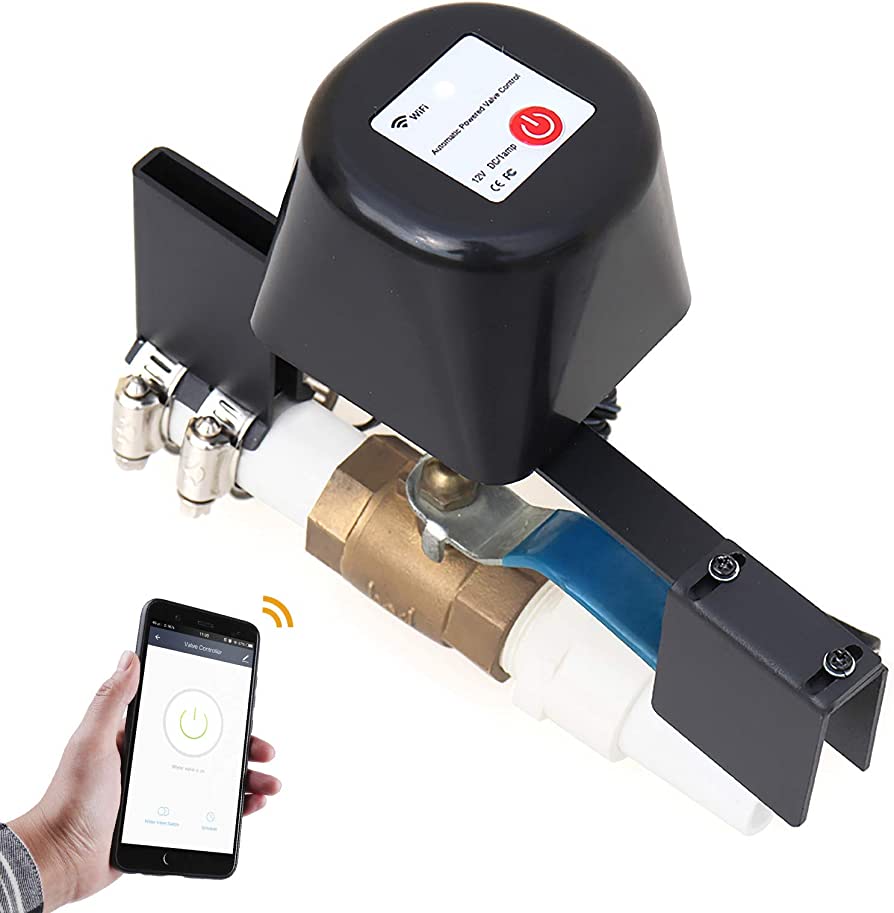 The Arcwares smart water shut-off valve differs from ordinary valves as it features a lengthened installation and control arm, making it a firmer installation on the ball valve. It is important to note that this arm only applies in ball valves of sizes 1″, 1/2″, and 3/4″. In other words, you cannot install this arm on a 1.5″ ball valve.
This automatic water shut off valve is quite easy to use, as it is compatible with voice control systems like Alexa and Google Assistant. You can use voice commands to turn the water on/off, thus making Arcwares smart water valve a convenient piece of technology. 
Aside from voice control, you can connect this smart water shut off valve to WiFi through the Tuya or smart Life apps for free, making it easy to open or close the valve when you are not home. The Arcwares smart water valve not only works in the home, but you can also install this valve on the farm too. This valve makes it easy to open and close farmland irrigation pipes and other water channels. 
Its timer control is one feature that makes the Arcwares smart water valve stand out. With this feature, you can open or close the smart water valve at a specified time by setting a timer on the app. The best part is that you do not have to be at home to use this feature, so don't worry about watering the flowers when you are on vacation. Besides, you can set an alarm clock on the mobile app to alert you of specific water needs. 
This smart water valve shut-off valve is compatible with standard 2.4GHz WiFi, prevalent in most smart homes. Its packaging features a power adapter, a WiFi controller, and an installation manual. Although there is an installation manual, it is often best to contact a professional for installation. 
Do you find yourself traveling often? Or being outside your home for extended periods? Then the Arcwares smart water valve might be your best bet as its timer control helps ensure water needs are met as at when due.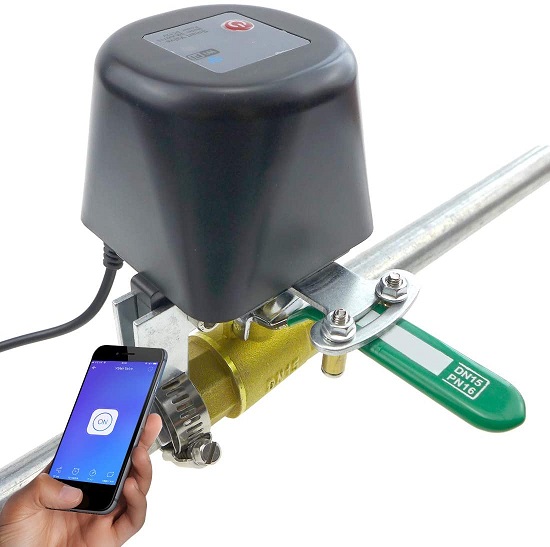 The Aubric smart water valve shut-off timer is compatible with various pipe sizes ranging from 1″, 1-1/2″ 1-1/4, 1/2″, and 3/4″. It is also compatible with water pipe ball valves, manual/electric control switches, and liquid/tap/natural gas valves, making it one of the most versatile shut-off timers on the market today. 
This smart water valve responds to voice control and is compatible with Google Assistant and Amazon Alexa. In other words, you can operate the water valve with your hands or voice. It also features a mobile app that works great on Android and Apple devices, making it easy to monitor water use. The Aubric smart WiFi water valve is easy to install and does not require additional plumbing. Installation involves fixing it over your existing ball valve with its specially designed metal clamping ring. 
The Aubric smart water valve also features a timer system, which allows you to set time schedules. In other words, with this water valve, you enjoy smart home automation like automatic garden irrigation. You can also time for water supply to your farm, stockyards, and farmland. Also, since you can install this valve on the gas pipe, it becomes easier to open/close it when leaving the house.
This device is ideal if you are looking for a water valve that features an App with a multi-user option. The multi-user option on the Aubric smart water valve allows you to share your schedule with family and friends. This comes in handy when you are often away for long periods.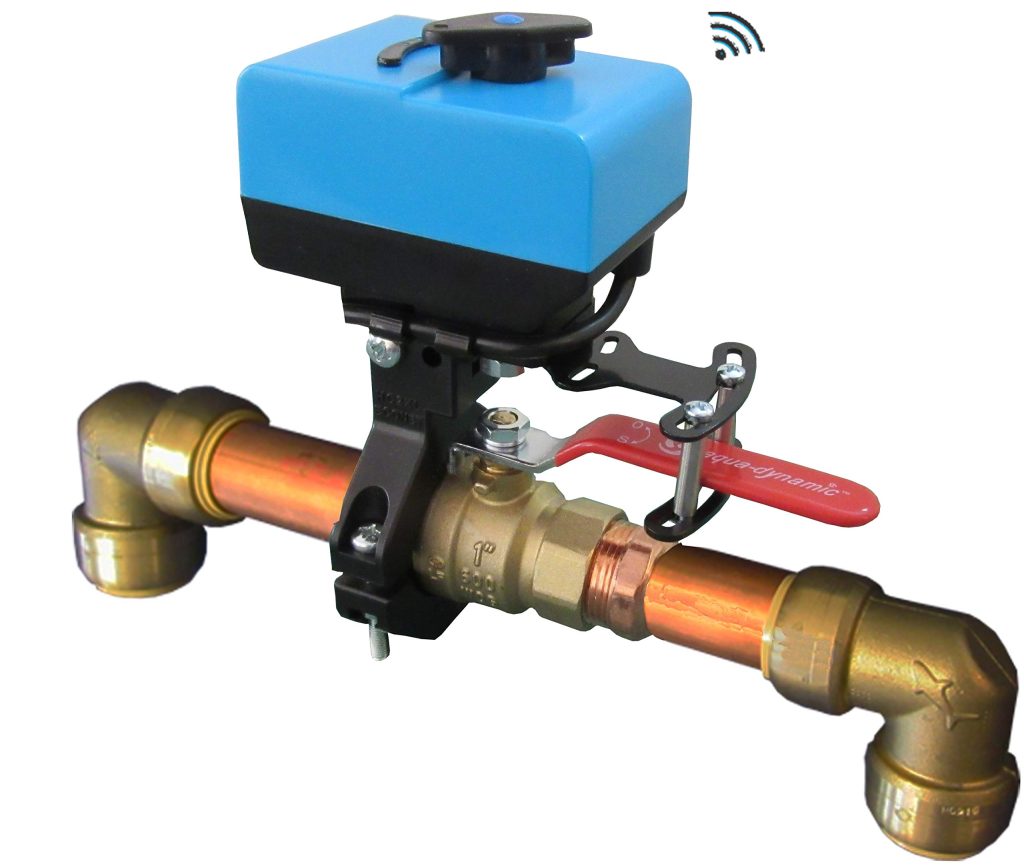 EcoNet controls water valve shut-off is one of the best in the market, featuring an intelligent stroke control that makes it the best for tough valves. It is compatible with a variety of valves, including; 1/2″, 3/4″, 1″, 1.25″, and 1.5″. It easily fits over the existing ball valve without additional plumbing or installation hacks. Besides, installing this water valve shut-off does not require special plumbing. Just fit it over the ball valve, connect it to a WiFi system, and use it!
Made from plastic, the EcoNet controls are quite durable, compact, and waterproof, with zero risk of rust. It is also weather resistant, meaning you can fit it outside the home with minimal cover, and it works just fine. 
The EcoNet controls water valve does not come with any dedicated app, which could be a downside. But not to worry, controlling it remotely would not be a challenge as it works with any smart hub device, including Nexia, SmartThings, Universal Devices, Honeywell, Control4, etc. 
This water valve shut-off is right for you if your water meter is outdoors, with direct exposure to weather elements. You can also use this device if you have a smart hub device and see no need for an app-controlled water valve shut-off system. 
Guide to Choosing the Best Smart Water Shut Off Valves
A smart water shut off valve would not only save you cost on water bills but could also save you cost on water damage to properties. However, before heading out to buy one for your home, here are some important factors to consider. 
Valve Coverage Area
It is important to consider the size of your home before buying smart water shut off valves. This is because the size of your home often determines the type of water valve that would suit it best. Also, ideally, one should get a system that protects the whole house, as it provides optimal protection. 
However, if you opt for limited protection due to budget constraints or some other reason, it is best to check out sensors that allow you to cover more areas of the house. 
Range of Detection
If the water valve you buy has a weak range of detection or insensitive detectors, it is a useless device, as leaks would still happen without your knowledge. Aside from the range of detection, another factor to consider is the number of detection points. 
For optimal protection, it is best to go for smart water valve models with detection ranges of between a hundred and one thousand feet. 
Installation
While it is Okay to contact a professional plumber for your water valve shut-off installation, it increases the cost of the whole process. So, it is best to choose shut off valve models like the Flume 2 that are easy to install. Modern systems feature a strap system that makes a connection to the ball valve and water meter a breeze without needing tools. 
Control Mechanism
Ease of control is another factor to consider when buying a water valve shut-off system. Questions to ask here are, does it have an app that allows control through your smartphone? Does it have indicators that show whether the smart valve water shut-off is open or closed? Is it compatible with voice command systems like Alexa and Google Assistant? Can you control it with your desktop computer?
Your answers to these questions would determine how easy it would be to control the water valve you want to buy. 
Sensor Connections and Communication
These days' asides from WiFi connections, there are other wireless connections like the Z-Wave or Zigbee. It is best to check the connection type of the water valve you want to buy before committing resources to it. 
Also, go for models that support more than one wireless connection system, as it gives you more flexibility while allowing proper integration with other appliances within the smart home. 
Valve Build
There are different materials used for making smart water shut off valves, including plastic, stainless steel, cast bronze, and cast brass. The material used often determines valve durability, as some materials wear out faster than others. 
When considering a valve to buy, using materials that can withstand harsh weather conditions is best. Do remember that valves spend most of their working life under direct contact with weather elements.
Additional Accessories
It is important you get a valve with the complete kit so you do not spend time and money buying spare parts at regular intervals. Also, some models offer additional detectors and sensors, which are often useful during emergencies. 
Average Response Time
The response time here is the time between the sensor sending the signal to the valve shutting off the water supply. For a water valve to work optimally, this response time has to be highly precise, as delays could be catastrophic. 
Also, it is best to go for systems that send you feedback or notification before shutting off the water supply so you are not left stranded. 
Conclusion
Tired of paying for more water than you use? Then smart water shut off valves might be the ideal solution for you. Aside from cutting down on the excessive water bill, these valves also protect the home and appliances. You do not want your house to get flooded due to a leak.
Although several smart water shut-off valves are on the market today, our top pick remains the Flume 2 smart home water monitor due to its functionality. Aside from functionality, this water valve is affordable and very easy to install. So why wait? Protect your home using Flume 2 today!
FAQs
Are smart water valves worth it?
Smart water valves are expensive, costing $500 and over, but they can prevent several thousands of dollars in water damage.
How does smart water shut off work?
A smart automatic water shut-off valve can either monitor pipe flow rates or look for water on the floor to determine the presence of water. Your home's water supply will be cut off by the valve if there is an uneven flow or moisture is found.
Can Flo By Moen be installed upside down?
The Flo Smart Water Monitor and Shut-off can be mounted vertically or horizontally. The apparatus has markings (arrows) that point in the direction that the water supply ought to be supplying the house. If you require assistance, please contact Flo Support or dial 844-Meet-Flo.
Automatic water shut off valve for washing machine, how does it work?
An automatic water shut off valve for a washing machine works by detecting changes in water pressure or flow within the machine's water supply line.
When the washing machine is in use, water flows through the supply line and into the machine. The automatic water shut off valve is installed in-line with the supply line and constantly monitors the water pressure and flow rate.
If the valve detects a sudden increase or decrease in water pressure or flow, which could indicate a burst hose or other issue, the valve will automatically shut off the water supply to the machine.
This prevents flooding and water damage, and can also help to conserve water by stopping any leaks or waste.
Some automatic water shut off valves for washing machines are connected to a smart home system or app, allowing you to monitor and control your water usage remotely.