We tested the ten most popular shower speakers available on the market and we came up with a conclusive result–the best speaker for singing in the shower is the WONDERBOOM 2. 
Sometimes it's doing the little things in life that make all the difference-and singing in the shower is certainly one of them. Whether you enjoy light background music in the shower or simply like to start the day singing loud and proud, shower speakers bring a lot of joy without a hefty price tag. Today, there are dozens of speakers to choose from: Which is the best?
We thought that we would take a deep dive into the world of shower speakers and share our in-depth reviews.
Over ten hours of research have gone into organizing this rundown. We reviewed dozens of products, made tests, and listened to the input of prior customers. In the end, we're confident that our reviews offer the most comprehensive summary of which speakers are worth an investment and which would better be left aside.
At a Glance
Among the ten best shower speakers, there's little doubt that the WONDERBOOM 2 from Ultimate Ears claims the top spot. It has a modern, rounded cylindrical body that feels pleasantly heavy and well-built. Add to the design its IP67 water resistance and you have a heavy-duty speaker with a user-friendly UI.
The sound quality also impressed us. It's not bassy or high on the treble–we would describe the sound profile as balanced. If you are looking for a bass-heavy sound, we have a few bigger, deeper-sounding speakers on our list that might suit you. 
Finally, this speaker doesn't communicate with voice assistants. It's a bit of a disappointment, but we think it's a compromise most people will be willing to take given its all-around high performance.
Of course, we're not only judging our ten products by the same criteria. 
Though some speakers are more expensive, they often come equipped with superior sound. Likewise, some speakers stand out because they hang well in the shower, or have voice control, a long battery, or simply come with an attractive price. 
With our variety of quality assessments covered, read on to discover our shower speaker top ten picks!
Product Mini-Reviews
We selected each of our picks with an eye on the strengths and features that make them stand out from the competition. So, although we do have an overall winner, you'll find something special in all of the speakers.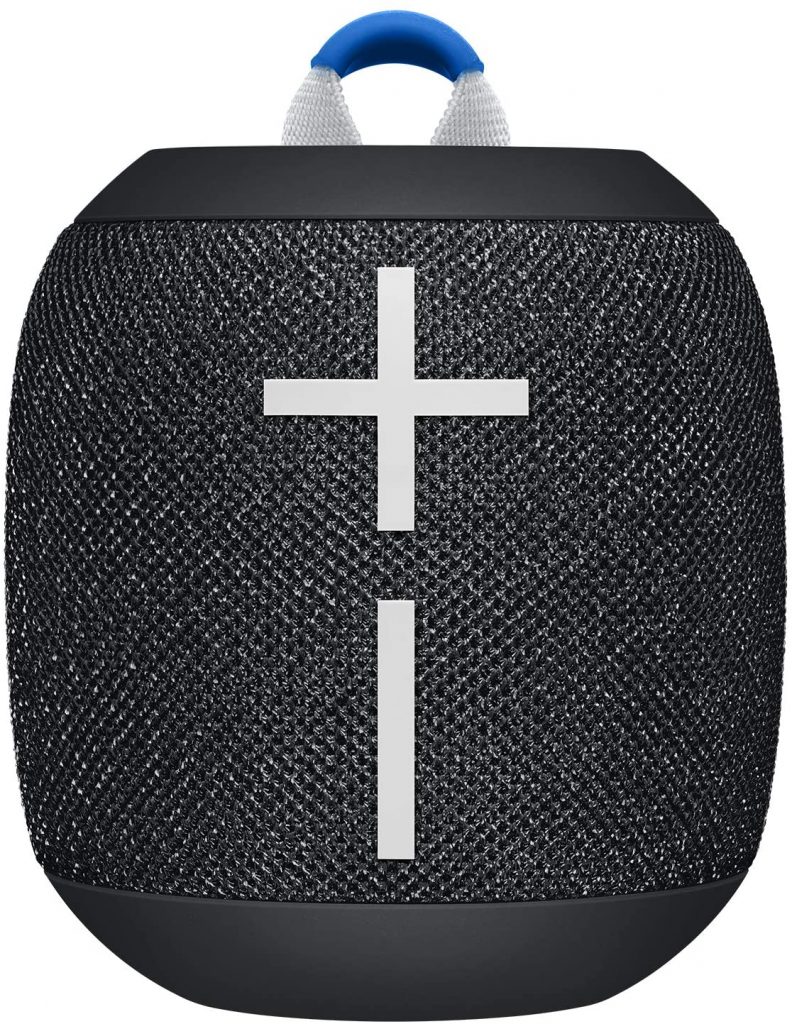 The WONDERBOOM 2 by Ultimate Ears tops our list of the best shower speakers. It has a well-balanced 360-degree soundstage that surprised us with its broad, room-filling tones. With an IP67 dust and water resistance rating, it's plenty strong and durable. 
One feature we enjoyed was its added EQ setting, Outdoor Mode. Yes, the speaker only has one customizable sound preset but Outdoor Mode makes a noticeable uptick in the bass. We would recommend this speaker to the general audience looking for an all-in-one solution. Since the battery lasts an impressive 13 hours, we could also see people using it outdoors or for long trips away from an outlet. 
The WONDERBOOM 2's one main issue is its connectivity to voice assistants–or rather, its lack of connectivity. It's somewhat of a letdown not to access the speaker from a distance, especially when inferior speakers do allow voice control. Still, this speaker makes up for this problem with superior sound, portability, and design.
Pros 
360-degree speaker output
Industry-leading dirt and water resistance
Includes an Outdoor Mode EQ
Cons
No voice assistant compatibility
Read our full review Ultimate Ears Wonderboom 2 vs JBL Clip 4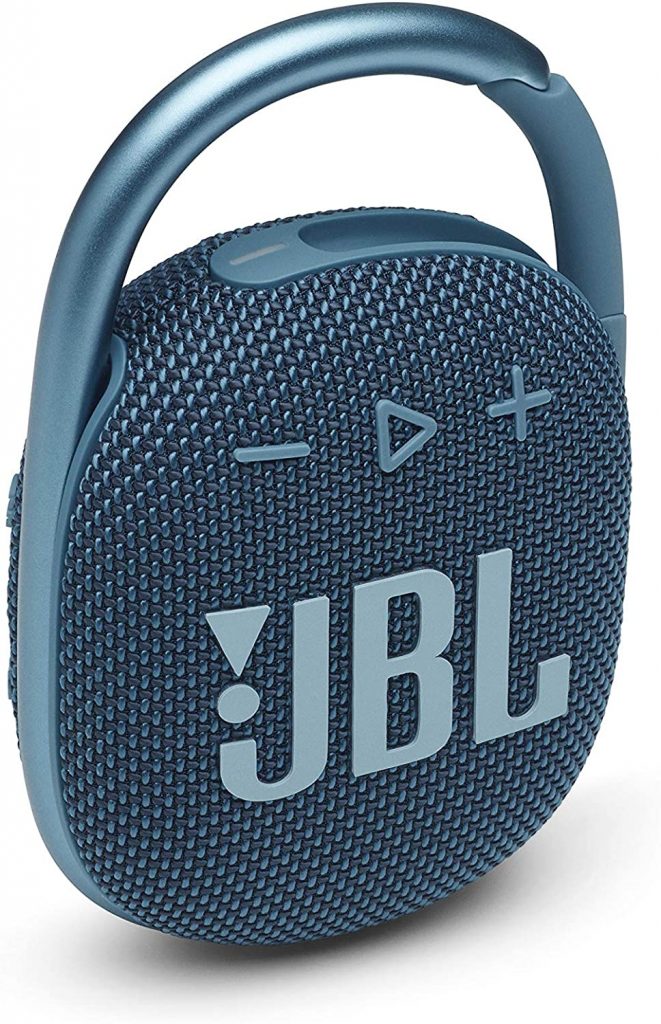 If portability and ease of use are your top criteria for a shower speaker to include, then the JBL Clip 4 ranks highest. Designed with lightweight materials and intuitive control buttons printed squarely on the front speaker, this unit is the no-nonsense, hardworking model that you've always wanted.
But the portable design (which comes in an assortment of color options) isn't the only thing speaking for it. A carabiner clip makes it the best shower speaker if you plan on attaching it to a variety of surfaces–shower or no shower. It's versatile enough to attach to a bag, backpack, or shower caddy. Plus, it has a USB-C cable to charge on the run.
We recommend the JBL Clip 4 to people on the go who need a long-lasting (it boasts a 10-hour battery) unit that's easy to transport without giving up sound quality. Yes, its 5V output won't be able to churn out a bassy, deep tone the way larger speakers will, but the soundstage is still plenty loud–loud enough to be clear and distinct in a shower.
Pros 
Many colorway choices for the speaker body
Multipurpose carabiner lock works on bags, purses, etc.
10-hour battery life
Cons
5V output limits bass and sound volume somewhat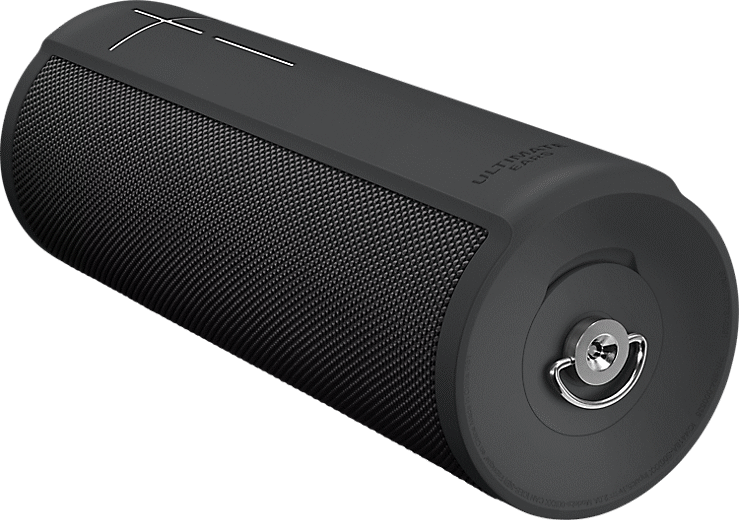 Our second Ultimate Ears selection on the list is different enough from the WONDERBOOM 2 to warrant a special spot. The MEGABLAST is our pick for the best shower speaker for audiophiles. 
It delivers a balanced sound profile out of the box, but in case you want to customize it, it has an EQ app. Just use a smart device to access its library of presets and navigate until you find the perfect tone for the shower or room.
Besides the companion app, the MEGABLAST adds more connectivity features. It has a reliable Bluetooth feature and compatible speech control with Alexa built-in. When we put together this model's sound customization features with Bluetooth and Alexa, we recommend it for music lovers. We even think you could use this speaker to fill a living room if necessary. 
 Pros 
Bluetooth and Alexa voice assistant compatible
In-built EQ app encourages customization
Best sound quality on our list
Cons
Lackluster 8-hour battery life limits outdoors use
Best For Outdoor Listening– AYL SoundFit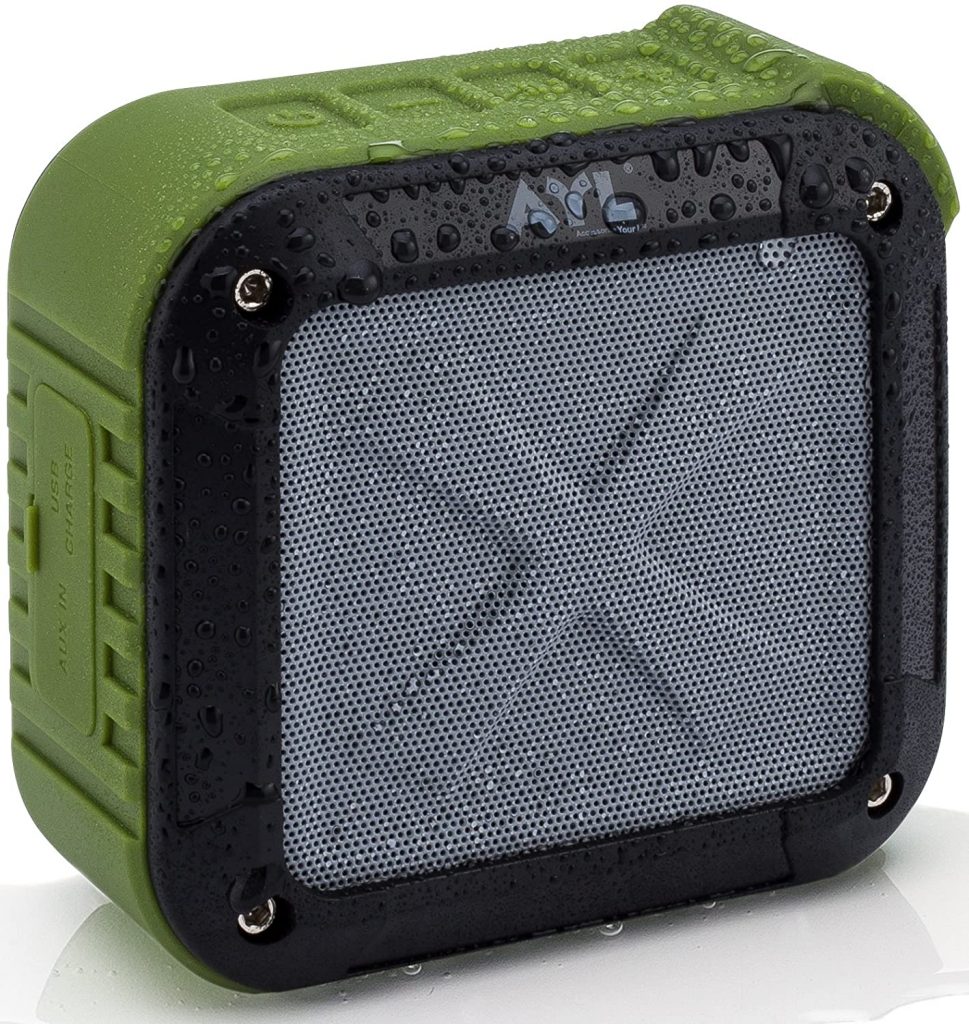 If you find yourself outdoors more than in, and your outdoor shower gets more use in the summers than the one inside, the AYL SoundFit may be the speaker for you. This unit will fit right into your backpacking or camping backpack. It comes with Bluetooth 5.0 support, a reliable 12-hour battery, and a water-resistant shell beefy enough to outlast splashes.
Usually, shower speakers with a Bluetooth 5.0 connection fall on the higher end of the price range. Yet the AYL SoundFit remains an uber-affordable speaker that will connect from up to 33 feet. The body is designed to endure drops, falls, and occasional contact with a lake or river. It isn't technically submersion-proof, but many users report that the waterproofing is strong enough to last underwater.
We recommend the AYL SoundFit for nature-lovers, people who like to share music outdoors. It has a green and black design that looks just right on the trail or campsite.
 Pros 
Bluetooth 5.0 connectivity
Fast device pairing with multiple users
Small enough to fit in a backpack with camping gear
Cons
Waterproof but not Submersion-proof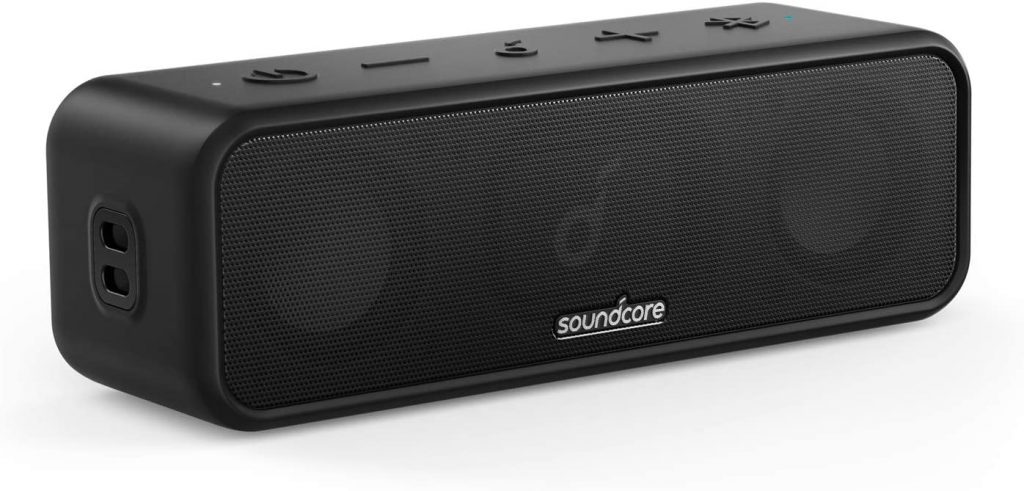 We tested many shower speakers whose prices make them great choices for people on a budget. The Anker Soundcore 3 stood out among them by a good margin. First, it boasts a remarkable IPX7 water resistance rating, indicating that it can survive a 30m total submersion for as long as 30 minutes. Many speakers costing 3x the Anker Soundcore 3 couldn't perform that well.
Secondly, it has a well-rounded sound profile that we would expect from much pricier units. Yes, it won't stand up to the deep bass and bright treble of premium speakers, but it delivers a good all-around sound. Add to that, it comes with a BassUp preset that gives a little boost.
We wouldn't recommend this shower speaker for people looking for quality sound performance in the shower. Instead, we think the Anker Soundcore 3 and its clear vocal and lead instrument tones would fit in with users who enjoy music but don't require excellence.
 Pros 
Comes with EQ customizer smartphone app
Delivers good mid-range sound
Unique horizontal design
Cons
May be hard to place in a smaller shower
Underperforming bass, as is expected in a smaller speaker
Runner-Up Best Shower Speaker–JBL Charge 4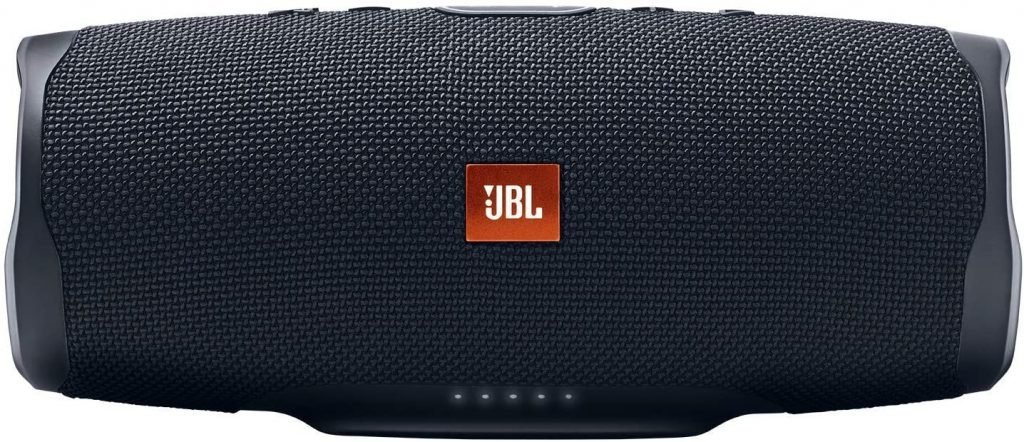 JBL has a long, winning reputation for producing long-lasting speakers that perform well consistently. With Charge 4, they found another success. This speaker has most of the key features in top-quality audio equipment, but this speaker's features are simply a little bit better. The battery can sustain a 4-hour charge for upwards of 20 hours. That's a figure hard to match. It also has splash-resistant waterproofing and a USB out port to charge a phone.
Long days on the beach or pool are ideal for Charge 4. Though it doesn't have voice control (a feature we wish it had), it is large enough to deliver a deep stereo sound. Lots of people will find this speaker has all the features they need. Yet we don't quite recommend using it in a shower. It's bulky and lacks a handle or clip to secure it to the shower stall.
The last feature we admired was its included mobile app, JBL Connect Plus. On a smartphone, users can easily play audio on other connected speakers, share smartphone access, and handoff control with one click. It's perfect for large gatherings.
Pros 
Powerful 7500mAH battery lasts 20 hours maximum
Connects to JBL Connect Plus for easy party sharing
 Produces deep, rich bass sound
Cons
No hook, strap or handle to secure it to a shower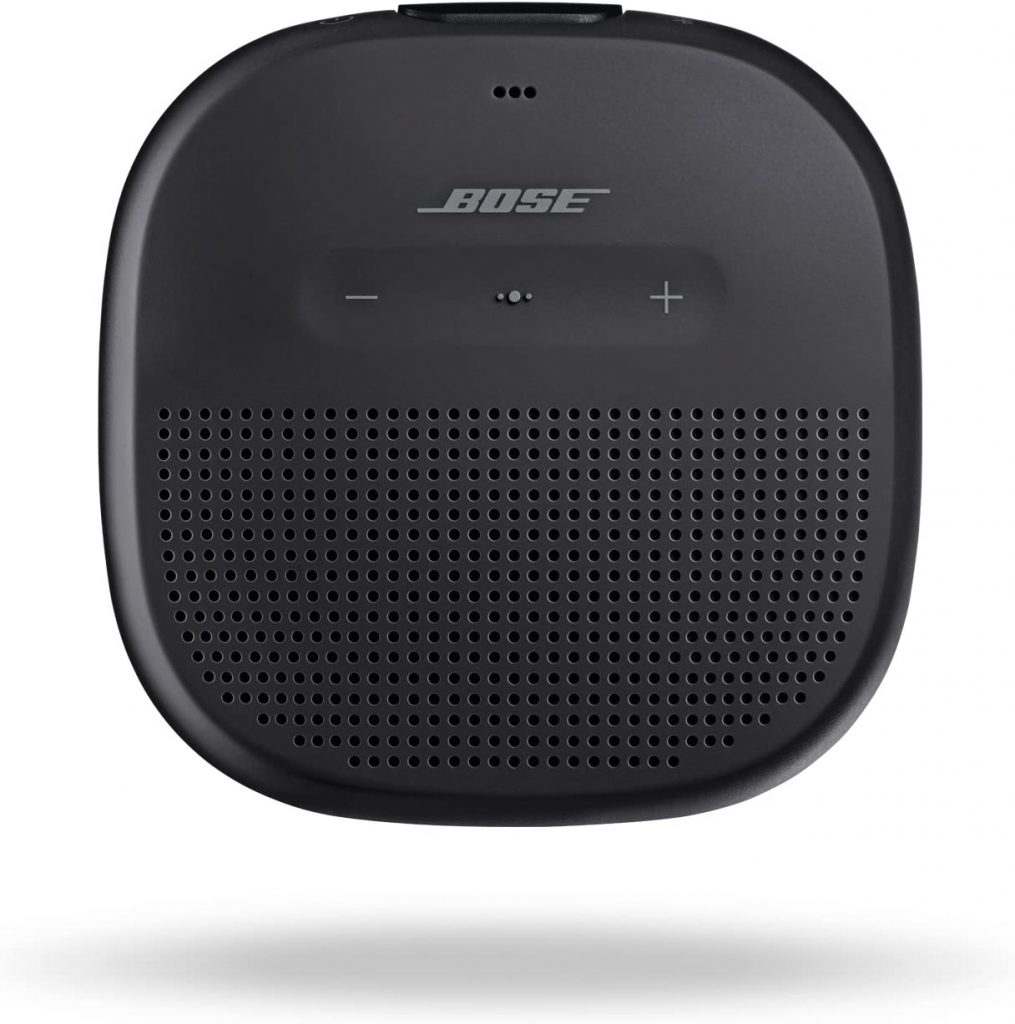 The Bose SoundLink Micro leads a special but popular category of shower speakers–the miniature-sized model. If you are looking for a waterproof speaker that's easy to carry and still puts out rich sound, this product is ideal. 
As might be expected, Bose has produced a stylish yet understated unit with the SoundLink Micro. It comes in three colors, weighs just over a ½ lb, and holds a 6-hour charge. It won't last for a long day at the beach or river, but a shower is exactly where it's designed to be.
You'll get Siri and Google voice assistance thanks to the Bose Connet app, included with purchase. Finally, we were intrigued by its Stereo and Party Modes. They offer users a small amount of EQ customization, but we didn't notice much difference with these modes. 
 Pros 
Small and light enough to carry in any bag or tote
IPX7 Water-resistant
Intuitive control panel
Cons
Voice assistance is spotty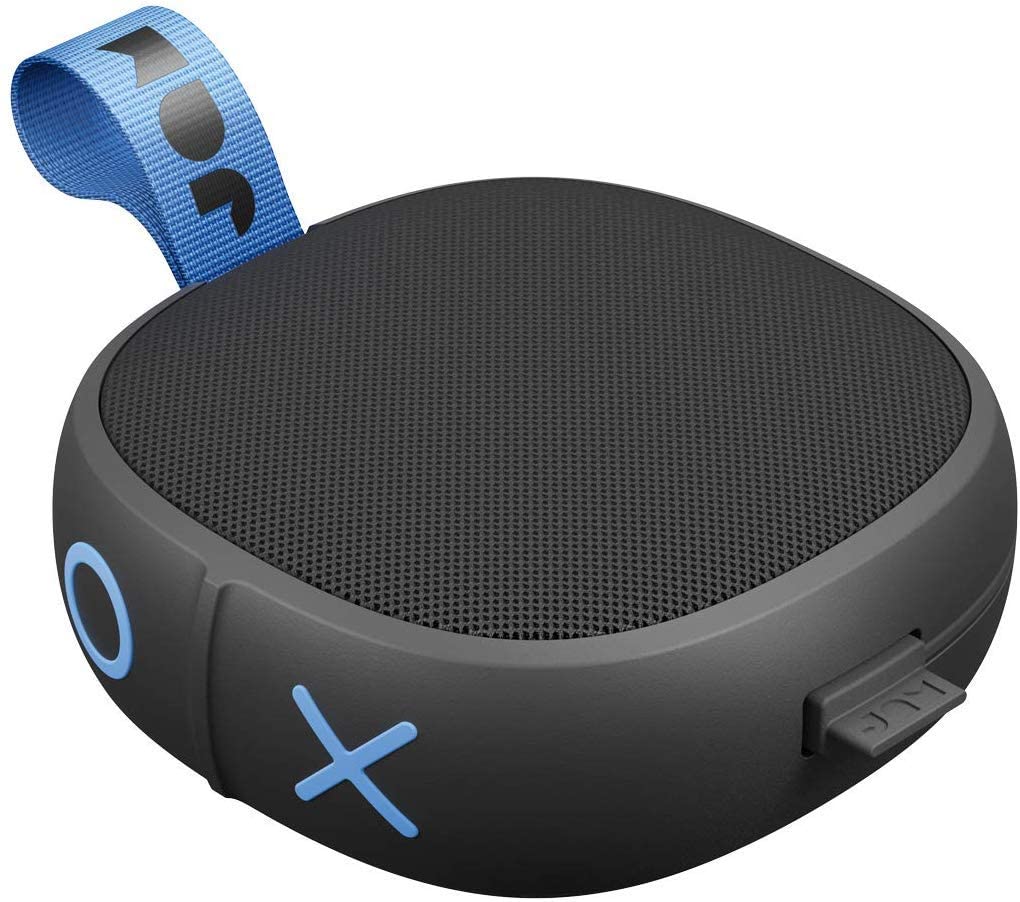 We named the Jam Hang Up our most unique design, and it's clear to see right away how much this speaker stands out. It's fashioned with an oversized and uber-useful strap, making it easy to hang on walls all over the home. Plus, it has a loud and colorful UI with six colorways available. With the simple and fun body shape, we would also recommend it as a perfect children's speaker.
But the design isn't everything, of course. Inside, it has an ordinary build. You'll get an eight-hour battery charge, Bluetooth connectivity, and a speakerphone (you can answer your phone without disconnecting from the speaker). The speaker also comes with a handy aux-in port that connects to a 3.5mm cable in case Bluetooth isn't an option.
Besides children, this speaker would also work as a statement piece in the shower. The sound quality isn't near the pricier models we've reviewed, but it has enough features to make it a stand-out bargain pick.
 Pros 
Comes with aux-in ports for an easy tradeoff between smartphones
IP67 water submersible rating
Very affordable
Cons
Visually-striking design may not suit all users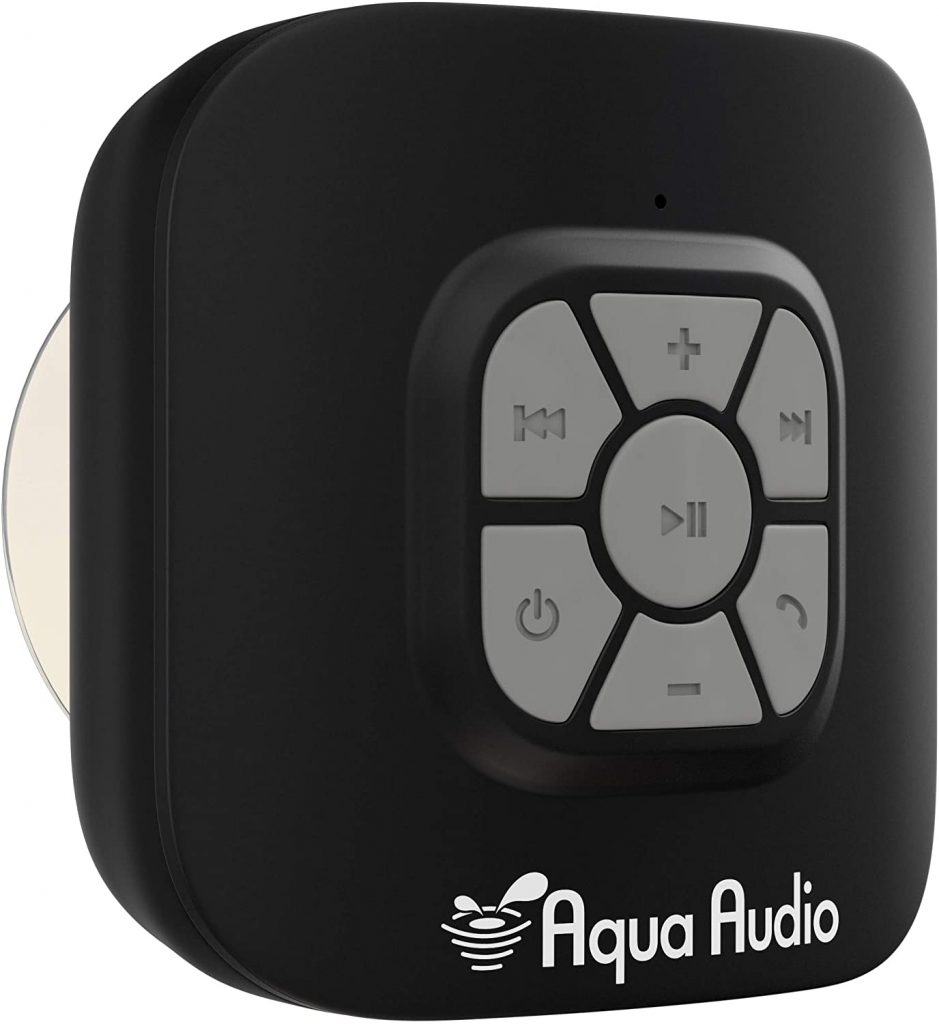 Not all inexpensive shower speakers are the same. Some sacrifice sound quality, while others forego Bluetooth or voice assistance. We picked the Gideon Aqua Audio Cubo Waterproof speaker because it makes very few sacrifices. Its stand-out features include a 50-foot Bluetooth range, 10hrs of battery life on only a 2.5hr charge, and a sturdy yet petite profile.
In a 3×3 inch frame, the Aqua Audio packs in quite a lot. It would be perfect for people taking day trips to the ocean or lake. Its small but robust design will survive splashes in the water and moderate dirt and dust. Unfortunately, the makers do not provide a waterproof rating so users should exercise caution.
It connects to surfaces with a suction cup back instead of a strap or lock design. Many users have found the suction cup easier to remove and replace on the go, but others report that the suction can loosen on tile. So, keep that in mind if your shower has tile walls.
 Pros 
50-foot Bluetooth range
10-hour battery outperforms speakers 3x its price
Small enough to stow in a coat pocket
Cons
Suction cup application has mixed results
Best Heavy-Duty Shower Speaker–FUGOO Tough 2.0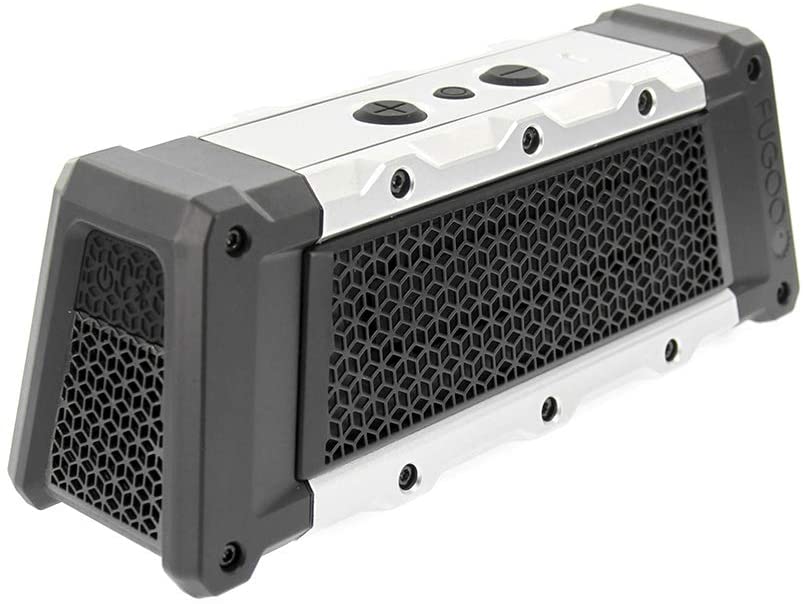 Just at first glance, the FUGOO Tough 2.0 gives off a rugged impression. And the makers were right to design this shower speaker like that. This unit tops our list of the best heavy-duty speakers. 
The FUGOO offers a 10-hour battery life–long enough for a lazy day on the beach, a whitewater ride, or a morning shower. The IP67 water rating confirms that it will outlast submersion as well as drops of 3 feet. Besides its super-strong shell, it also comes with Siri and Android voice control and speakerphone support.
We recommend the FUGOO Tough 2.0 for users who adventure and spend a lot of time in wild conditions. This speaker is the most durable on our list, but its sound quality isn't bad either. Reviewers note that the sound volume can be low, but the 40mm drivers and 32mm tweeters should still give you the premium sound you want.
Pros 
Virtually impenetrable with an IP67 for submersion, snow, dirt, and 3ft falls
Siri and Android Now compatible
Gives rich 360 degree sound
Cons
Buying Guide
When looking for a shower speaker that will fit right in with your lifestyle, home, and tastes, there are a few things to keep in mind. Every speaker has some benefits and some drawbacks, so it's a good idea to step back and outline the features you truly want.
Price 
Just because a shower speaker appears to have a budget price doesn't mean that it will underperform a competing model. Many times, the price of a shower speaker can multiply for reasons other than having premium sound equipment. Lots of people purchase costly shower speakers for their water resistance, EQ custom presets, or other personal reasons.
The budget speakers on our list don't, for the most part, have subpar audio components included. Manufacturers sometimes cut costs by using cheaper material for the body or foregoing expensive IP67 waterproof ratings. The best policy is to research why a model is cheaper than others. It could be cheaper audio but maybe for some other reason too.
Bluetooth and Voice Assist 
A little over half of our reviewed speakers came with Bluetooth or voice assist technology. In our review, we put a high value on these features. Why? Nearly everyone today has smart devices, and just as many use them to control hardware from a distance. 
A speaker without distant connection capabilities can be perfectly acceptable if you solely plan to use your speaker in the shower. But the minute you join a party near the water, you're bound to have friends and family asking you to bring your speaker. Then, you'll have to upload music beforehand. Without Bluetooth, it's just a little harder to control and play with music.
Water-resistance
Protecting your machine from moisture is perhaps the first feature to consider with shower speakers. Luckily, water and dust-proof product protection are easy to figure out. Products are ruled by their IP or Ingress Protection number. It's quite easy to learn what these figures mean.
In our review, we mentioned two IP ratings. These are the most common water-proofing figures you'll need to know. They are: 
IP67–Equipment (like speakers) with this rating have been tested to work for at least 30 minutes while under 15cm-1m or water. They're also 100% protected from dust, sand, and solid objects. 
IP47– These equipment are only water-proof against sprays or splashes of water from all directions.
How Does It Connect? 
The final shower speaker features we put a high value on are their way of attaching to surfaces. You'll find a wide variety of connection ports on water-proof speakers. No one connector is better than the other. You'll simply want to pay attention to where you're going to place your speaker.
Straps are versatile and can easily attach to showerheads, caddies, and any beam or pipe that emerges straight from a wall.
Suction cups were, at one time, the most popular connection method. Now they're less common. As long as the surface it's connected to remains wet, the suction will hold. But if your speaker will be in a dry shower, it's better to find another method.
The last method is with a clip. Speakers with these connectors are easy to see–they look like large locks. This method is perhaps the most secure, but clips can be hard to remove quickly or relocate frequently. Otherwise, clips are an excellent way to secure a shower speaker.
Recap: The Best Shower Speaker For Singing in the Shower
Now we are drawing our review to a close. We looked at dozens of speakers and narrowed it down to our favorite ten. Our goal was to inform as wide a group of interested buyers as possible. We did that by awarding a 'best of' rating to each of our top ten.
In the end, we decided to select the Ultimate Ears WONDERBOOM 2 as the best shower speaker on the market today. It combined a rich 360 degree sound performance with the best water resistance, a killer battery, and just enough EQ customization to make us thrilled. Yes, it lacked voice assistance. But we still agreed, the WONDERBOOM 2 was the best overall.
If you're interested in taking a closer look at any of the products included in our list, we'd love to help! For a more detailed description of each item, simply click on the product name or click one the speakers below. We hope that we helped give a basic outline of the best shower speakers! Good luck!
FAQ
Are shower speakers safe?
There is no evidence that shower speakers are unsafe, but it's always a good idea to be careful with any type of electronics near water. Because these speakers are usually small and portable, they may be more prone to getting wet and sparking than larger, more stationary models.
If you're worried about the safety of your shower speakers, it might be a good idea to unplug them when you're not using them, and to keep them out of the way of jets of water. And if you do notice any strange symptoms like sparks or changes in sound quality, discontinue use and contact the manufacturer.
What are the best shower speakers?
Are shower speakers worth it?
If you enjoy listening to music or audio books while you shower, then shower speakers can be a great addition to your bathroom. They can help you relax and unwind, and make the whole experience more enjoyable.