Finding the best pool automation system is challenging. Pool builders and service companies often want to upsell you on features you don't understand and might not even need. There are all kinds of DIY automation kits online, but can they do everything they say in the ads? Is it worth spending the extra money on adding automation controls to your pool?
Answering those questions depends on how you use your pool, your budget, and how savvy you are with your home network and electrical wiring.
Keep reading to get all the information you need to find the best pool automation system for you.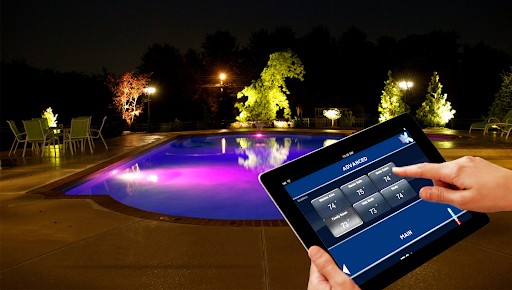 What Is Pool Automation?
A swimming pool automation system uses a wireless network to turn pool equipment on and off. Automation systems create a central location for your controls, so you do not have to worry about having an extensive control panel or confusing electrical wiring. 
These automated systems range from old-fashioned mechanical or electronic timers that control basic features to custom designs that automate all the functions of your pool from either a control panel, remote control, or a smartphone app. 
Some equipment will also connect to your home network hub that controls other smart devices in your home. 
Pool Automation: Old School 
Old school pool systems did not have a connection to the internet. Even in those ancient times, some setups allowed you to set your pump's operation with a timer. 
Often, those timers were just mechanical clocks that open and close the electrical circuit according to the times you set. They're still out there, so check out your equipment carefully. More advanced systems had electronic timers, programmable settings, and push-button controls.
But, these were far from modern smart automation systems. You certainly couldn't run the system from your phone. 
Some old school systems did have a remote control or an indoor control panel. But, they were often wildly expensive and still could only offer rudimentary controls. You couldn't access the heater from your office to get the pool warmer for the night's party.
And, the system was not intelligent enough to connect to other sources of information, like the weather forecast or your smart home hub.  New systems, especially the priciest ones, can do all of that. 
How Does Swimming Pool Automation Work?
Even the most basic swimming pool has a filter with a pump to move the water. In some setups, turning on the pump is as simple as flipping a light switch that controls the outlet for the pump. 
But going outside to turn the pump off and on is a hassle, and forgetting to run the filter might mean you come home to a filthy pool. If you fail to turn it off, you waste energy and money!
Enter automation systems – the ultimate tool for streamlining your pool controls, so you can spend more time lounging and less time messing with switches. With the proper setup, you can control your pool from anywhere. 
For example, if you know you have friends arriving later, you can turn the filter on from your desk. Or, if you forget to switch the pump off after getting out, turning it off is as easy as tapping your phone.
Pool Automation: Plug and Play
If you already have some experience setting up smart home systems, adding another device or two to take control of your pool equipment is fairly easy. All you need to do is add your new pool controllers to your existing network of devices. 
The simplest controls will allow you to take control of the outlet that powers the pump or another piece of equipment. They might be standalone, or they might work with a network hub. Make sure that everything you buy is compatible. The last thing you want to do is set up multiple networks, as that can make things frustrating and confusing. 
The big advantage of a hub is that you can add an array of devices that make your controls seamless. For instance, when you're heading out to the pool at night, you can access all your exterior and pool lighting through the hub and illuminate your entire property. 
If you want, when you get out to the water, you can turn some lights on and off to change the ambiance and give you some privacy. You might always want to control your other systems, like the alarm, cameras, and the pool heater. These are all things that can make your life easier through convenience. 
Do I Need Swimming Pool Automation?
Swimming pools can cost a lot of money to build and maintain. Owning one is an investment, and while you do not explicitly need an automation system, having that extra level of control can make enjoying your pool easier, more fun, and less expensive overall. 
Here are some examples that showcase why an automation system is a win-win. 
Maintenance
If your pool water does not circulate properly, the filter cannot clean it and make your sanitizing chemicals arbitrary. So, an automation system that starts the filter pump automatically is a beneficial asset for keeping your pool clean. Having one you can control remotely is an even more substantial advantage.
Cleaning a pool can be daunting, especially at the start of summer. Knowing you can press a button and let the filter do the work means less stress and more fun.
If you do not clean your pool regularly, you risk dirty, unsafe water. Plus, you could develop an algae bloom that turns the water green. If left unchecked for just a few days, the pool could become a nightmare to restore to a swimmable state. 
In addition to aiding proper circulation, you have the added convenience of starting other parts of your pool system without being near the filter pad or your control panel. Want to turn on your booster pump that powers your automatic vacuum? Open the app! 
You can control every electronic feature of your pool with a comprehensive automation system, including the heater, lights, and valves.
Automation for Your Next Swimming Soiree
If you host an evening party after work, you do not want to risk coming home to a cold spa or pool. With the tap of a button, you can turn the heater on from work or on the go. 
Some automation systems also work with voice assistants, like Alexa or Siri. Ask them to turn on the heater, and voila! 
These features are the kind of thing that can help you enjoy your pool more. Otherwise, you have to rush home to run the heater to get the water warm enough, and you still might not have enough time to get the water to the right temperature before your guests arrive and the party starts. 
Time Away
When you have a pool, going on vacation can be scary. You need to run the filter, but you cannot afford to leave it on while on your allegedly relaxing trip. 
Take the fear of coming home to a green pool by using an automation system to run the filter, cleaners, and pumps. Run the filter how you want to and when you want to. 
Some systems even allow you to control lights, valves, and more. This feature allows you to take command of all the qualities of your pool, even away from home. So, you can do things like:
Make it appear that you are still at home by turning the lights on periodically at night
Turn the heater on and off
Circulate the water to spas and waterfalls 
Run the automated pool vacuum
Some pool automation systems may even pair with a home network hub that controls other equipment, making it easy to manage your whole home. 
The Best Pool Automation Systems on the Market 
Are you ready to invest in a pool automation system? Before you splurge, check out the highest-quality models below.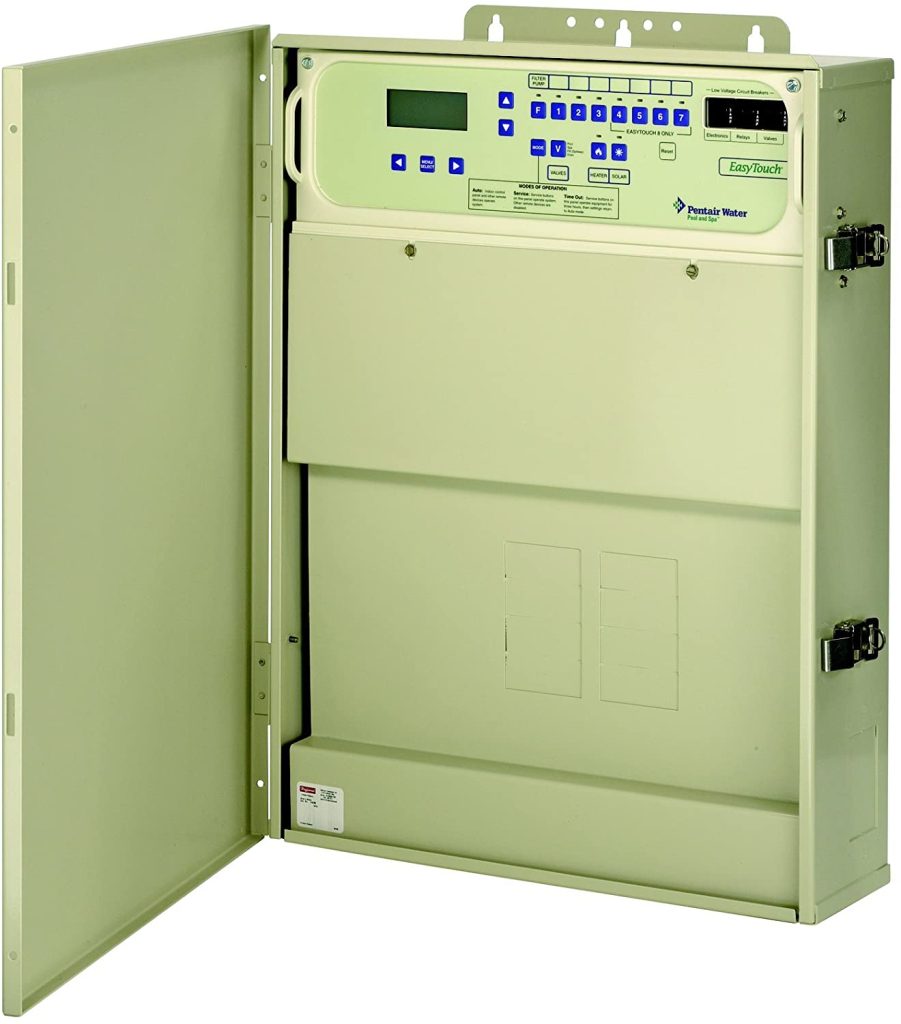 Pentair manufactures some of the most popular automation systems due to their affordability, various models, and user-friendly interface.
The EasyTouch system is their most approachable choice and comes in 4 and 8 function modalities. 
Another benefit of the Pentair EasyTouch is that it supports lighting, waterfalls, fountains, and heaters. The ScreenLogic2 application allows you to control your pool from any mobile device, and the system has a diagnostic tool for quick fixes.
Each EasyTouch model comes with a testing system, so technicians never need to enter your home. The Pentair automation systems have a 1-year warranty.
Like any product, though, the EasyTouch has its pitfalls (although the positives outweigh the negatives). 
Pros: 
More affordable than most models
Programmable LCD screen
Comprehensive system – no need to purchase additional parts
Cons: 
The system does not support as many devices as other Pentair models (such as the Intellitouch)
The Intellitouch is another excellent model from Pentair, but it is quite a bit pricier and requires multiple parts. 
2. Jandy AquaLink RS Pool Automation System – Best for Energy-Saving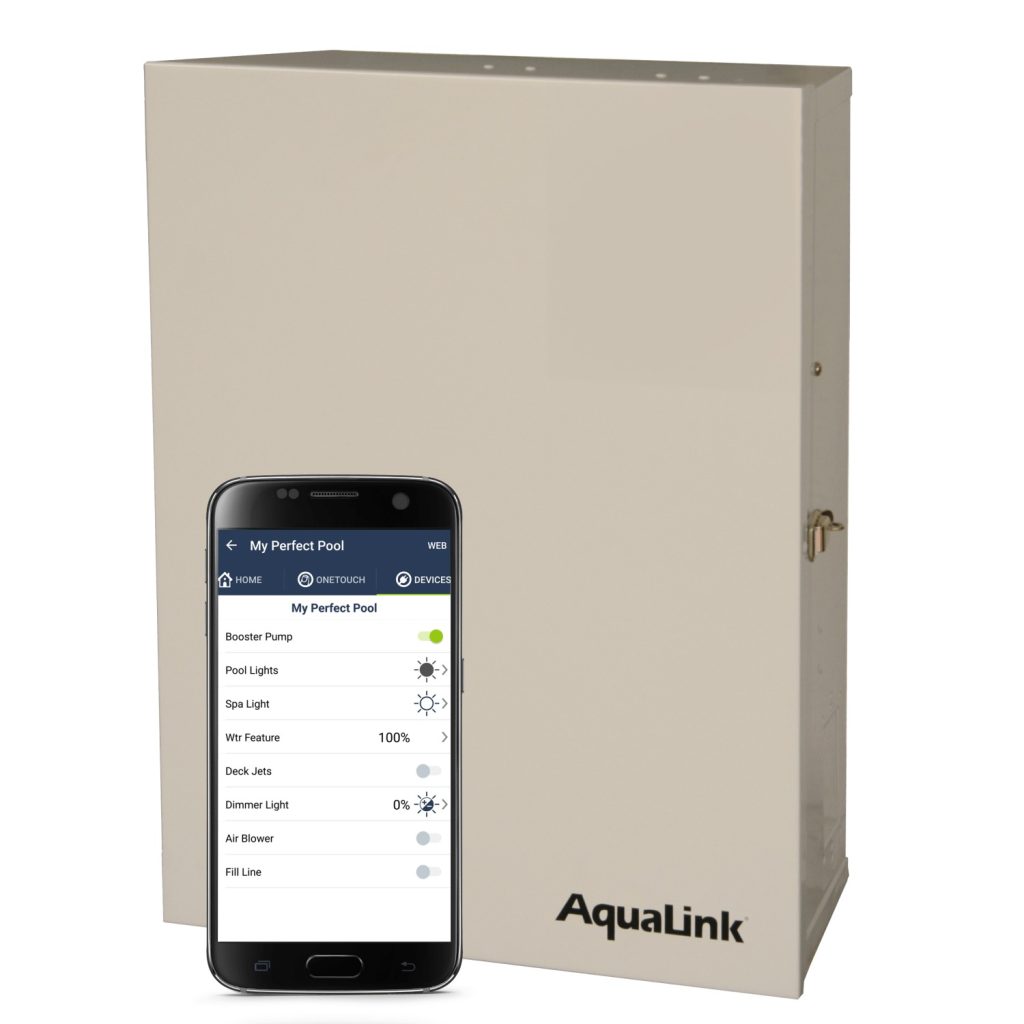 The Jandy AquaLink RS is ideal for reducing energy bills. Equipped with seasonal settings to keep your pool healthy year-round and manage up to 32 pool features, the AquaLink RS has your water ready for whenever you may decide to take a dip.
Sanitizing your pool is also a breeze with the AquaLink RS. You can adjust the amount of sanitizer you want in your water directly from your device and schedule cleanings. 
There are four variations of the AquaLink RS system. Below are details regarding each version. 
AquaLink RS OneTouch
The OneTouch is the slow cooker of pool automation in that you set the device and forget it. If you want something that blends with your decor, the OneTouch comes in several colors and is about the size of a thermostat.
AquaLink RS All Button
The All Button is the ultimate customizable system. Each button reflects the specific systems around your pool, so everything you need is in one place. 
This variation is slightly smaller than the OneTouch but still attaches to the wall. 
AquaLink Wireless Handheld Remote Control
Convenient, easy-to-use, and waterproof, the remote control AquaLink RS suits nearly every backyard spa or pool. It operates on batteries, so, no need to fret about running out of charge.
AquaLink RS Spa Side Control Panel
Hot tub owners, this is the model for you. This AquaLink attaches directly to the side of your spa so you can adjust the water temperature and jets to match your mood. 
All of the above AquaLink RS options are excellent systems that improve the overall experience of your pool, but they still have their pros and cons. 
Pros: 
Multiple options for a personalized experience
iAquaLink connects to your wireless network for easy maintenance and control
Can control sprinkler systems
Cons: 
One of the only negatives of the AquaLink RS product line is its price – however, the top-notch product will last a lifetime and is worth the investment.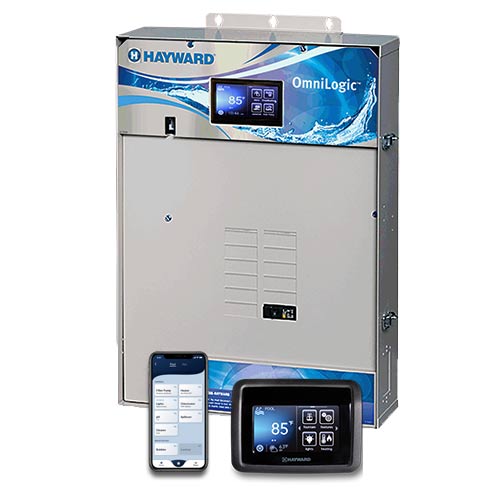 Labeled as a member of the Hayward expert line, this automation system is not for the inexperienced. Designed for new pools and spas, the Relay 4 continuously updates – so you never fall behind the latest technology. 
The Hayward Relay 4 is salt-compatible and works with almost every water type. Chlorinated pool owners can monitor levels on the go and control chemistry automation via the OmniLogic app. 
While the Relay 4 is a base model, it still packs a punch. You can rotate up to 16 valves, execute 25 control functions, and support up to 16 solar fixtures. And, if you need more relays in the future, you can upgrade to 20 relays on your Hayward OmniLogic system. 
There are some downsides to Relay 4, but the positives are borderline overwhelming. 
Pros: 
Automatically adjusts chemical levels upon application of a pool cover
Customizable and user-friendly interface
Compatible with Alexa and Siri voice control
Cons: 
Requires a professional for installation and is not available online
You may need to hire a contractor to install your Hayward OmniLogic, but the complex installation process is worth the effortless result.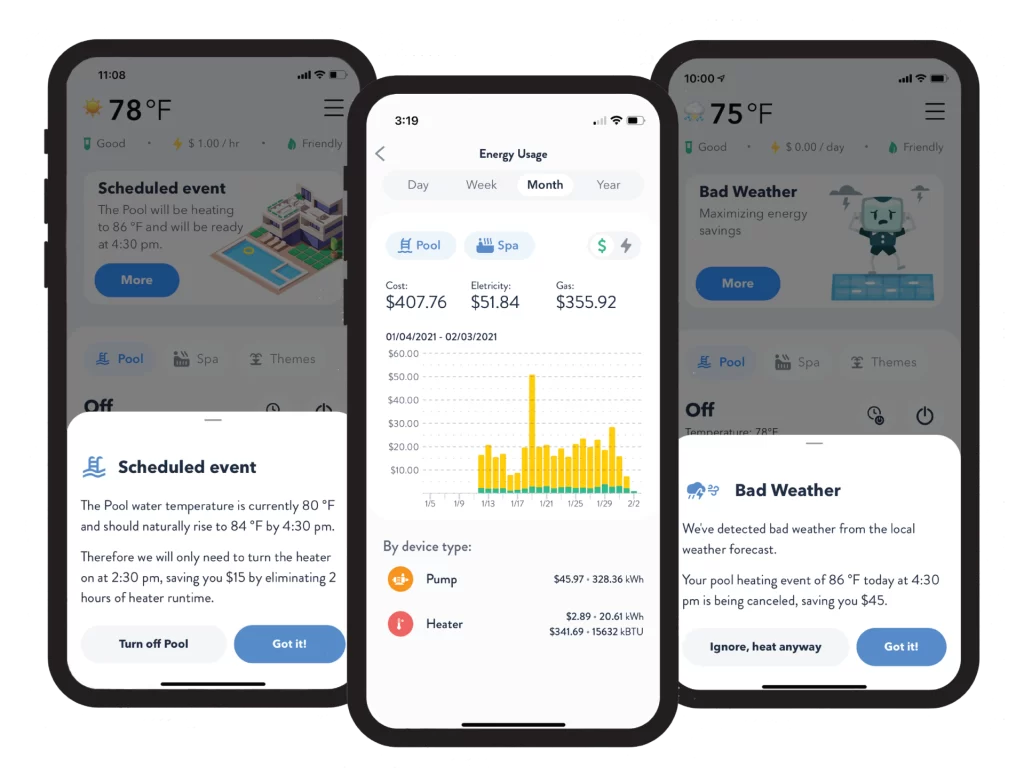 One of the more modern spins on a pool automation system, The Attendant from Poolside Tech, utilizes cloud technology to create an entirely new experience. 
The Attendant is one of the most attentive to chemical levels, energy usage, and scheduling. For example, if the system detects a storm on the horizon, it will cancel a scheduled heating period to avoid wasting energy. It plans routine maintenance during low-cost times and sanitizes automatically. 
If water quality is a concern, The Attendant is your best bet. The system sends you alerts and regularly measures differences in your water, excessive chlorine levels, and pH. And, if anything goes wrong, you receive a notification with a diagnosis and repair instructions.
However, the unique feature of The Attendant is that it is compatible with multiple vendors. Pool products usually only work if you use all of one brand for your automation system, control panel, and additional parts. The Attendant works with almost every pool device on the market to save you money and time.
Although negatives for The Attendant are few and far between, some downsides may not suit all pool owners.
Pros:
Captures water conditions in real-time
Environmentally friendly
The timer lets you know when your pool or spa will be ready for use
Cons: 
Not ideal for those that do not have experience with cloud-based systems
The Attendant is a practical choice if you have a general knowledge of the cloud. However, older or outdated systems may not be compatible with the updated technology of The Attendant.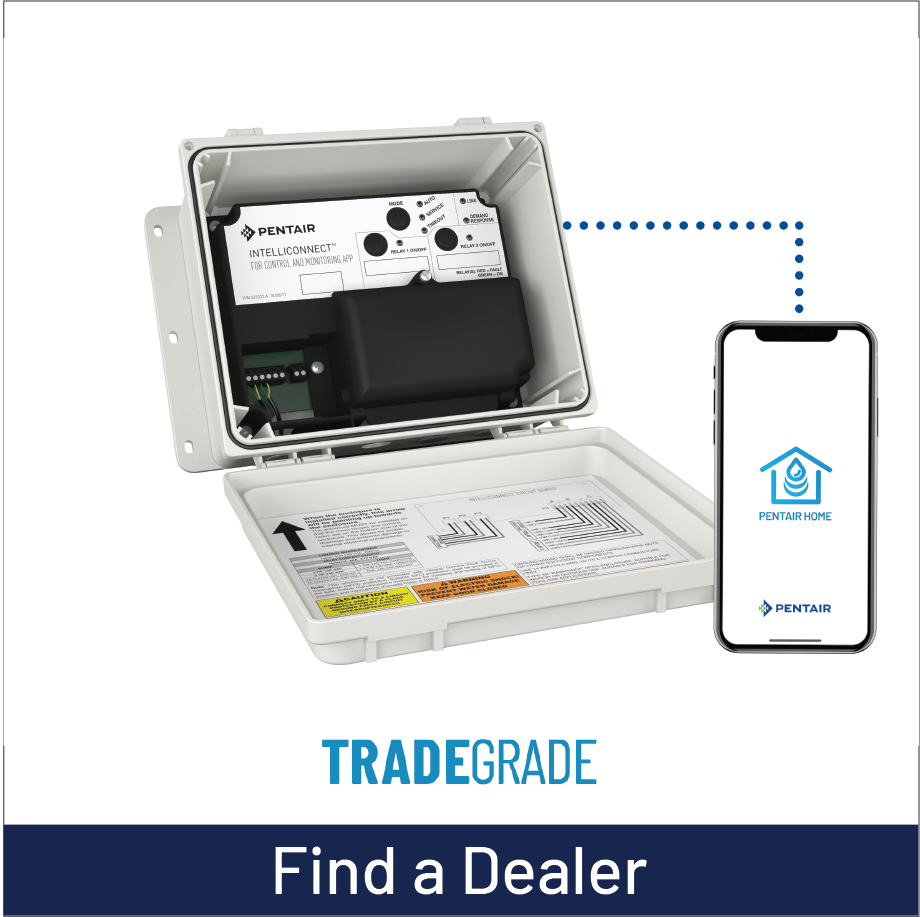 Another offering from pool legends Pentair, the IntelliConnect, is slightly more technological than the EasyTouch but just as straightforward. 
The IntelliConnect model controls up to 5 pool systems at once. It also monitors chlorine and chlorine salt levels and alerts you if anything goes awry. 
IntelliConnect relies heavily on the Pentair Home app and works best with Pentair pumps, heaters, lights, and operating systems. IntelliConnect is the quickest way to get your pool ready for fun in the sun if you already use a Pentair system. 
If you run into an issue with your IntelliConnect, the app allows you to find professional pool technicians in your area – getting your pool back to tip-top shape often takes no more than a few hours (or minutes). 
While the IntelliConnect is a tech-savvy pool automation system and operates smoothly, it has its ups and downs. 
Pros: 
Convenient and easy app 
Ideal for uncomplicated pool systems
Scheduling ensures your pool is ready when you need it 
Cons: 
Apps can glitch or malfunction
The system only works with 5 pool components
The IntelliConnect is a practical choice if you have a minimal pool setup and do not need a system that controls over 10 devices. However, applications can be unreliable, and without an internet connection, you may temporarily lose control over your pool. 
Installing a Pool System Automation System
There are a few ways you might consider adding an automation system to your pool. 
Smart Outlets
If you have an existing home automation hub and decent wireless connectivity at your pool pad, ensure you also replace old outlets. Consider that if your pool pump plugs into a new Smart outlet, you can now turn the pump on and off without going outside. You could even control things from the other side of the planet, as long as you can access your home hub. 
Add any other features with a plug-in outlet to your network, and you can control all of them too. 
But, more complicated pool systems don't have accessible outlets. Instead, the wiring is within a control panel. You won't be able to add Smart outlets to this setup. 
Smart homes, cars, and phones make our lives easier every day – and a Smart pool hub does the same for your pool system. For example, some pool pumps have their Wi-Fi access points built-in. All you need to do is install the pump in place of your old one, and it will appear on your home network. 
Note that pools are expensive. If you need updated features, you may want to go ahead and purchase an entirely new automation processing system for convenience and longevity. 
Pumps can run as much as $1,000 (not including installation). Complex, inground pools can have multiple pumps and a lot of other equipment, so replacing them all for added online control is not feasible. 
Network Hub for Automation
Some control systems are compatible with existing pool controllers. You need to figure out how to wire things together to have network access to the electrical connections in your swimming pool's control panel. 
These are the most effective pool automation systems, but they're also the most expensive. 
How Much Does a Pool Automation System Cost?
The simplest, standalone home controllers with smart outlets typically cost less than $50. They might only control one or two outlets, and you might need to use an app instead of a home hub. 
More advanced systems like a plug-and-play Smart pump cost hundreds of dollars. They typically have much better functionality than cheaper Smart outlets, but they might not work that well with a more extensive home hub system. 
System integration starts with a comprehensive home management hub. This single access point allows you to control all the smart devices in your home and usually works with at least one of the significant voice controllers (if not all three). 
The downside is that retrofitting your pool equipment with a comprehensive pool automation system can be complicated. You may have to install the new controller inside your pool control panel, and that might require a professional. 
Take Advantage of Automation: Setting Up Your System 
Even before you purchase the components of your automation system, you should consider how they will all fit together. There are a lot of options when it comes to programming, so it pays off to do a lot of planning to make sure things will work well together and in the way you want. 
Let's look at how automation systems can make your life easier and can make using your pool more fun.
Programs
If you're tired of trying to remember to turn your pool on and off, a simple program that starts the filter in the morning and shuts it off at night is your salvation. That's one simple way you can use automation to make things more convenient. 
It doesn't stop there, though. Maybe you're tired of paying the full price for electricity during the day, and you realize the rates are lower at night. Change your programming to run during the period when electricity is less expensive. With the cost of energy on the rise, these little tweaks can potentially add up to big savings over the course of a season. 
Plus, they can add to your enjoyment. You can set programs for many of your pool's features:
Heater or heat pump
Valves for water features, waterfalls, and spas
Pool lighting
Landscape lighting
Alarms and monitoring systems
Cameras and security systems
Entertainment devices
Sprinklers
Macro Commands
Some hubs allow you to design strings of commands. These macros let you combine multiple actions into a single command. For example, in our nighttime swimming example, if you create a 'Night Mode' macro command, you can turn on all the exterior lights, disable the alarms, and turn on the music all with one command. 
Combine these sorts of macro commands with a voice assistant, and things get much easier. Many of the automation systems currently on the market work with:
Amazon's Alexa
Apple's Siri
Google Home
IFTTT
'If this, then that' (IFTTT) commands are a different type of command string. Instead of creating a custom macro of multiple actions, you can use a triggering event to initiate actions. For example, you can tell your system that if it rains, you want the pool filter and automatic cleaners to turn on and the sprinklers to turn off for the day. 
You can use any electronic input or even online information to trigger an action. Your pool might have a thermometer built-in. Consider setting an IFTTT command to run the heater anytime the temperature drops below your preferred threshold. Or, use the predicted sunrise and sunset times to control your pool and landscape lighting accordingly. 
The possibilities are endless.
Feedback 
One of the most valuable aspects of an automation system is that it can send you information. Instead of just programming your system to start the heater anytime the water temperature drops below 75 degrees, you can also have it send you a text that tells you the heater is running. 
This will help you know when you might need to schedule a refill of your propane or natural gas tanks. If you also program other notifications into your smart home hub, you can keep yourself well-informed about what's going on at your home. 
Some common notifications for smart pool system users include:
Motion alerts when someone is near the pool 
High or low-temperature alerts 
Low water level 
Final Thoughts 
Swimming pool automation is the best way to take control of your pool so you can enjoy it to the fullest. Regardless of your pool type and complexity level, an automation system can work for your needs and budget. 
Whether you want something comprehensive with upwards of 20 relays or a simple application that controls your basic pool systems, automation ensures your pool stays healthy year-round.
FAQ
5 Best Pool Automation System
1. Pentair EasyTouch Pool.
2. Jandy AquaLink RS Pool Automation System.
3. Hayward OmniLogic 4 Relay Base Panel.
4. Poolside Tech (The Attendant).
5. Pentair IntelliConnect
How much does a pool automation system ?
Installing a pool automation system can definitely add convenience to your life, but it also comes at a cost. These systems can vary in price depending on the features you want and the size of your pool, but typically they range from $1,000 to $3,000. while this may seem like a lot, keep in mind that these systems can last for 10 years or more with proper maintenance. In addition, many pool automation systems come with handy features like remote access and automatic chemicals dispensing which can save you time and money in the long run. So if you're looking for a way to make your swimming experience more enjoyable and low-maintenance, be sure to consider investing in a pool automation system!