My search for the best automatic pool covers had me looking at all kinds of options. After looking at five popular options on the market, I decided that the Solar Lakes Cover Reel was the best choice.
The idea of an automatic inground pool cover always appealed to me, and I knew it would help keep my pool warmer in cool weather and that it would help cut down on leaves and other debris in the water as well. But I thought I would have to spend many thousands of dollars on a complicated system that required digging and electrical work. 
The cost of an automatic pool cover seems prohibitive. But then I decided to look again when I saw a simple version of a cover reel, with an automatic roller, at a friend's house. It turned out that I was looking at a model from Solar Lake.
The best part about this option for an automatic pool cover was that it was a simple add-on. I didn't need to get involved in a complicated retrofit, digging up my pool's coping to accommodate the storage of the reel and running electrical power underground. 
Other automatic pool covers may work better for you and your pool. So, it's essential to understand all the differences, particularly when it comes to automatic pool cover price. 
Let's look more carefully at a few models so you can see why I decided that the Solar Lake Solar Reel is the best automatic pool cover that works with all budgets. 
Automatic Pool Covers for Any Budget Reviewed
All five of these automatic cover systems are for inground pools.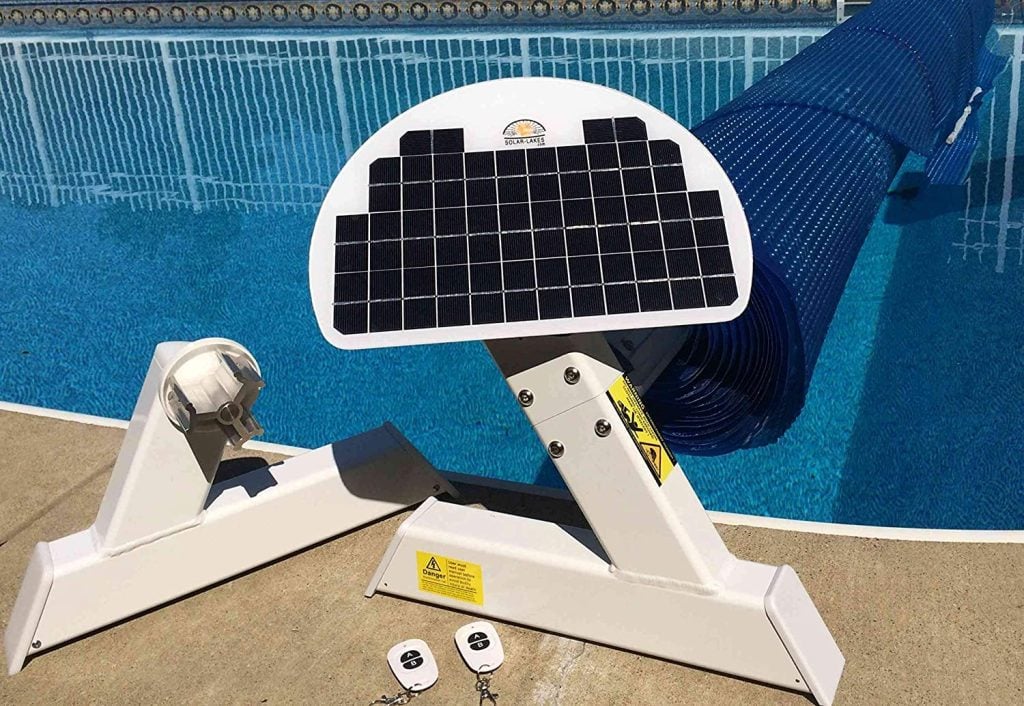 This system is our top choice for budget-friendly automatic pool covers. It accommodates pools up to 20 x 40-feet while automating the operation of a solar cover, deploying and retracting it at the push of a button. This system has a solar panel and rechargeable battery, negating the need for installing an electrical hookup at the edge of your pool. 
Since water and electricity in close proximity are a hazard, this cover offers a simple add-on solution for pool owners who want to use their solar cover but are tired of the hassle of manually rolling and unrolling it. 
One thing that makes this unit stand out from many others, including the other system from Solar-Lakes, is that it has a broad, low-slung base. This setup should work with most pools and offers a sturdy posture for the reel system. 
This kit makes use of an existing roller's tubes and cover, so it's not very expensive, but you must have a pre-existing cover and roller with tubes or enough room in your budget to buy them separately. 
Features
Works with covers up to ¼" thick
Solar-charged, battery-powered
Separate battery charger and conditioner unit
Remote controlled operation
Works with pools up to 20' x 40' 
No roller tubes or cover included (Use existing or purchase separately)
One-year warranty from the manufacturer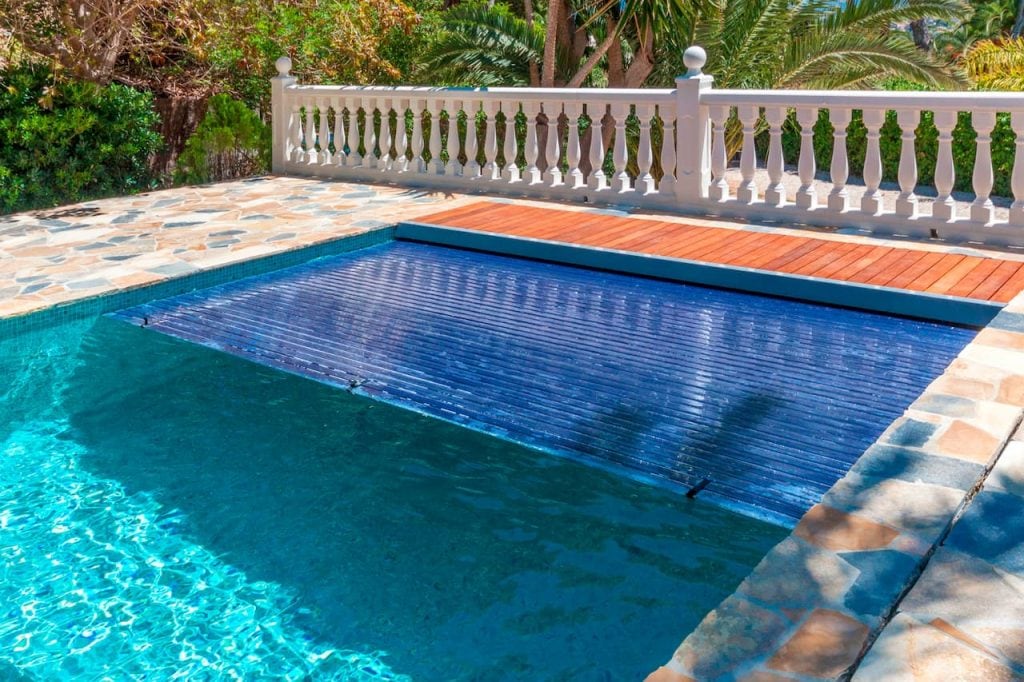 This product is number two on our list of automatic pool covers. It's quite similar to the other offering from Solar-Lakes, but it is taller, so it might be better for you if your pool has a high lip or another obstacle at the edge. 
In addition to being a bit taller than the other Solar-Lakes kit, it also has two other differences. The solar panel is not quite as good, so it's more likely you will have to bring the battery inside and charge it during the season. 
The final difference is that the stand for this roller system is a bit more industrial-looking. It won't fool anyone into thinking it is anything more than an add-on. The more expensive kit from Solar-Lakes has better solar charging, less height, and a much more integrated look. 
Features
Works with covers up to ¼" thick
Solar-charged, battery-powered
Separate battery charger and conditioner unit
Remote controlled operation
Works with pools up to 20' x 40' 
No roller tubes or cover included (Use existing or purchase separately)
One-year warranty from the manufacturer
Less expensive than other Solar-Lakes options, but solar charging is not as good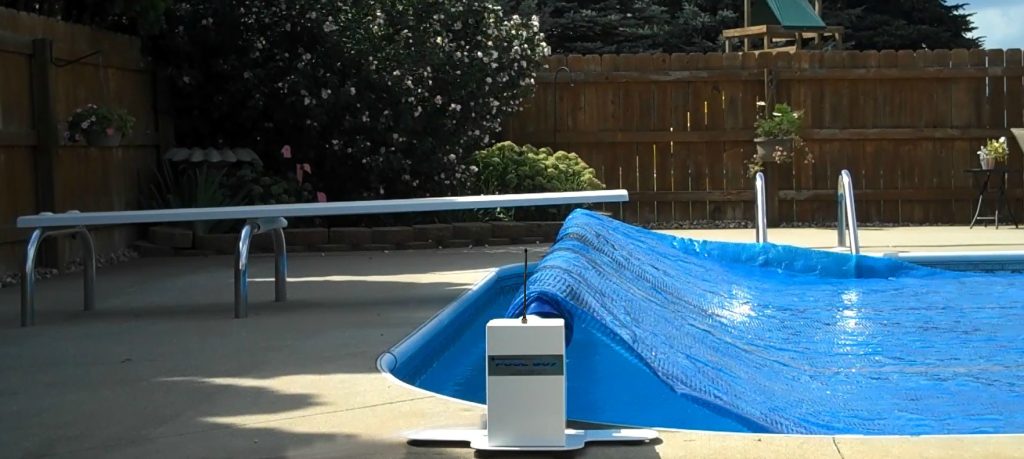 This automatic cover system from Pool Boy eliminates the need for hand cranking or rolling up your existing solar cover. Unlike the Solar-Lakes models, this kit does not have a solar panel to recharge its battery. Instead, you have to bring the battery to a charging station. 
That is a little bit of a hassle, but you should only have to charge the battery for a few minutes once a month with typical usage. This powered reel is perfect for a yard with a shady pool, where you wouldn't get the benefit of enough sunlight to charge a solar system anyway.
And, it's about half the price of solar-charged systems. 
You'll also receive everything but the cover itself. The roller tubes come with the reel kit. 
Features
Requires 115-volt GFCI outlet nearby
12-Volt rechargeable battery and charging station
Handheld remote for the system
Solar cover and straps not included
Use with pools up to 20' x 40'
Tube kit and tethers included
Needs separate cover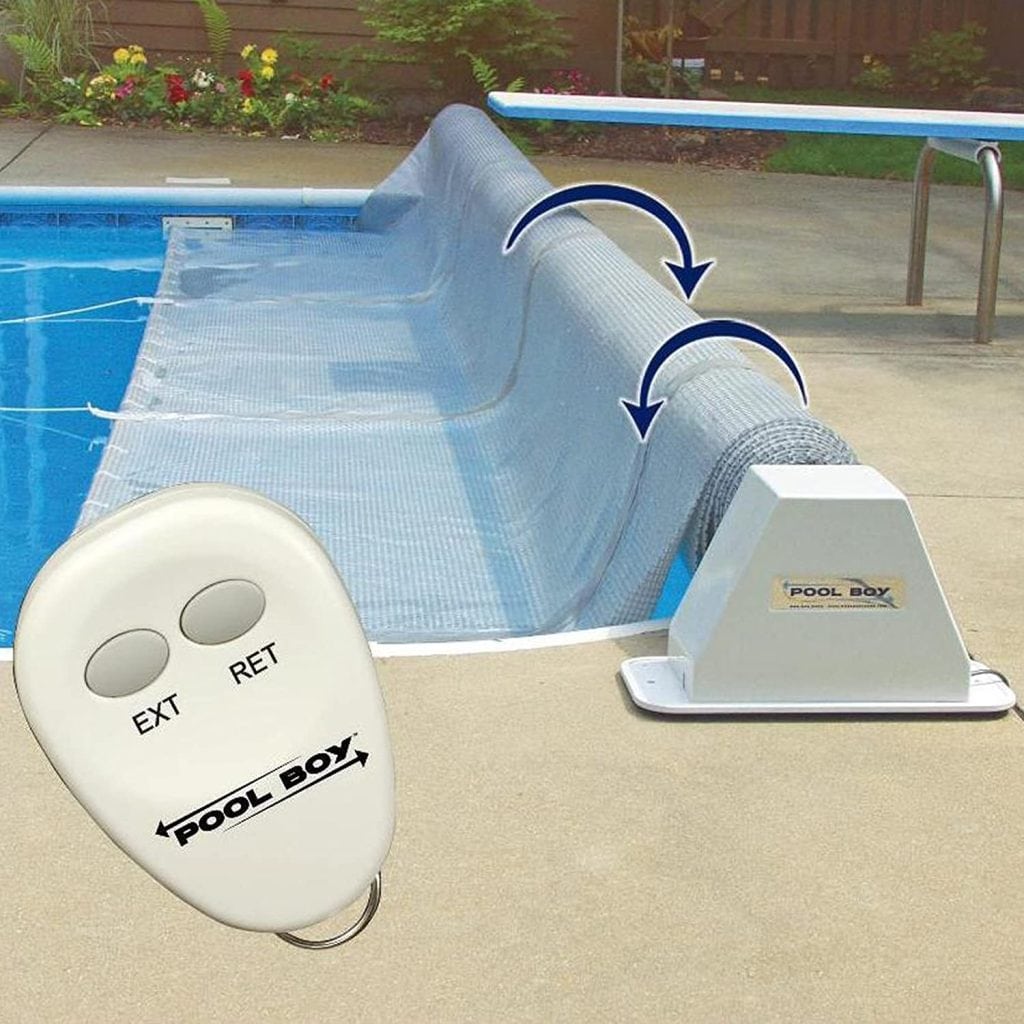 This powered reel automatic cover system from Pool Boy needs to be plugged into a 115 VAC outlet with a Ground Fault Circuit Interrupter (GFCI) outlet. There is a forty-foot cable that leads from the motorized stand to a transformer. The transformer has a short cord to plug into your outlet.  
While it doesn't come with a solar cover or the straps needed to mount the cover to a reel, the roller tubes do come with this powered cover reel. 
If you have an existing cover mounted on a reel and your pool is up to twenty feet wide, this is the perfect setup for you. 
Features
Needs 115-volt GFCI outlet nearby
40' power cable for low voltage transformer power
Waterproof remote to operate the system
Solar cover and straps not included
Great for pools up to 20' x 40'
Adjustable roller height
3-year warranty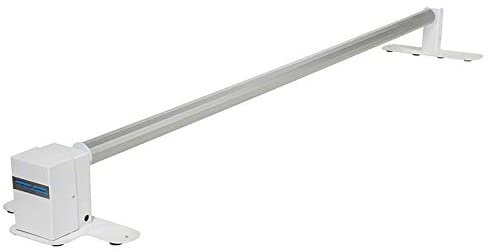 Similar to the previous model above, you need to plug this Pool Boy automatic cover system into a 115 VAC outlet. However, a big difference between the two models is that this one is not height-adjustable. 
Yet it comes with the reel tubes. So, you'll only need to mount your existing or separately purchased solar cover with tethers to the automatic system. If you already have a manually operated cover system, you're probably able to swap the ropes and cover right over to this automated system. 
Features
Must have a 115-volt GFCI outlet nearby
Power cable for low voltage transformer power measures 40'
Handheld and floating remote for system operation
Solar cover and tether not included
Tubes for reel included
Ideal for pools up to 20' x 40'
Non-adjustable roller height
3-year warranty 
Automatic Pool Cover Buying Guide
There are two distinct types of automatic pool covers. If you're looking for the absolute best automatic pool covers regardless of budget, you might be interested in one that installs under the coping. But, that is the kind of thing you need to set up as part of your new pool build or a significant remodel. 
Let's look at the differences between above-ground versions in this review and the below-the-coping cover systems you might have heard about. Then we'll talk more about automatic pool covers in general. 
Just to make sure we're on the same page, these systems sit above-ground, but they are not intended for use with an above-ground pool unless there is a deck built around it at the same height. 
Automatic Pool Covers with Above Ground Reels
These systems are easy add-ons to an existing pool, and they have a relatively affordable price tag. They're easily installed, with some owners opting to permanently mount them to their pool deck. 
Other owners leave them on their stand or even add locking wheels so that they can lock in place during use and then get put away when it's time for a party or the pool is closed up for the winter. 
Advantages
Automatic pool covers that sit above ground can be added to an existing pool easily. Some models are adjustable, and none require permanent installation.
That means that there's also likely no need for electrical work, and there isn't any work needed to renovate an existing pool to add a cover reel. That cuts down on costs, and these systems are relatively inexpensive.
This type of system is also perfect if you're thinking about an automatic pool cover DIY. 
Disadvantages
There are some things about above-ground automatic pool covers that you might not like. For instance, their power supplies are not as robust as hardwired systems, they are only for use with very lightweight solar covers, and they're visible when in use, unlike a buried system. 
The biggest problem is that water and debris accumulate on top, requiring pumping and cleaning before you can put away the cover. This is true of buried systems as well. 
Automatic Pool Covers Built-in
A built-in automatic pool cover is a system that sits underneath your pool's coping, making it largely invisible. While stowed, all you usually see is the very end of the cover and the tracks on the edge of the pool that guide it. 
When you activate the cover system, usually by pressing and holding a switch, the system deploys the cover from its storage area, rolling it out over the surface of the pool. The cover then sits suspended on a track that ensures it rolls out smoothly and holds it over the surface when fully deployed. 
Since this style of automatic pool cover requires integration into your pool, it's quite expensive as a retrofit. You could easily spend $20,000 on the installation and parts. You would need the system itself, an electrical contractor to run power to the roller system, and a pool contractor to excavate one end of your pool's coping to install the submerged roller. 
Then, the pool contractor would have to dig up all the coping and install the track guides that run the length of the pool's side. This project might even require redoing your tile line, having to empty and refill the pool, and more. 
The numbers can get huge very quickly, making built-in pool covers unfeasible for most budgets. 
Advantages
Built-in systems have excellent power supplies, and their covers are quite stronger than lightweight solar options. They're invisible with the cover stowed, and they're not difficult to add to a planned pool build. Doing so cuts down on the total cost of installation instead of adding them on after construction. 
They also keep almost all debris off the surface of the pool.
Disadvantages
You cannot easily add built-in covers to an existing pool, and they're not adjustable. They require permanent installation, electrical work, and extensive renovations to an existing pool.
They're also costly, and water and debris still accumulate on the cover, which will require cleaning and pumping before opening the cover.
Controls
The most basic way to cover a pool is to drag it out yourself manually. Some homeowners opt for a manual reel to help them do this task. When wet, the covers can be pretty heavy, and they're hard to hang up. 
So a reel with a hand crank makes sense, as it helps with the heavy lifting and keeps the unused cover neat and tidy. 
But even that isn't an automatic solution. The automated systems in this review have motorized reels controlled by remote control, adding a level of convenience that you don't have with a hand crank system. 
Since they're more powerful, high-end built-in systems usually have a switch that must be pressed and held while the cover opens and closes to make sure no one gets pinched or hurt by the movement of the cover. 
A waterproof automatic pool cover keypad that fits in the palm of your hand makes life much easier. 
Electrical Power
All automatic pool covers require power. Different models get that power from a variety of sources. 
Your automatic pool cover price will largely depend on its power source. Let's look at some options. 
Line Voltage
Covers that use line voltage tend to be permanently installed and are very expensive. These systems are built-in, integrated into the pool, and hardwired by an electrician. Built-in automatic pool covers are pretty costly. 
Transformer Power
Some automatic cover systems use a transformer to condition line voltage before it reaches the motor. Typically, there is a long wire running from the system's reel and motor to a transformer. 
The transformer has a shorter wire that plugs into an outlet with line voltage. That outlet needs to be a GFCI outlet to keep everyone safe. If you don't already have one, you may need an electrician to run a new line. 
These systems are much less expensive than a permanent built-in, line voltage automatic pool cover. But they are a bit unsightly. 
Rechargeable Batteries
Rechargeable batteries make the installation of an automatic pool cover system pretty easy. There's no need to run wires or contact an electrician for anything. But, you will need to recharge the batteries periodically. 
That can be a bit of a nuisance, especially if you use the system a lot and have to do so often. You might even have to recharge the batteries before you can use your pool if it's covered and the battery is dead. 
These systems cost just a bit more than transformer systems, but you don't have to look at any wires. So that might be appealing enough to spend the extra money. 
Solar Rechargeable Batteries
Automatic pool covers with solar rechargeable batteries need less frequent charging. They have a small solar panel that uses energy from the sun to recharge the batteries. But, when it's cloudy for a long time or the system is put away for the winter, the battery will still need manual recharging. 
Sometimes, these systems require you to condition the battery to keep it working well. They also tend to be quite a bit more expensive than plug-in or manually recharge models. But, they are the most convenient and simple to install. So, spending a few dollars more for the added convenience is often worth it. 
Automatic Pool Cover Price
The most expensive automatic pool covers in this review have integrated solar panels and rechargeable batteries. These features eliminate the daily hassle of recharging batteries or plugging in wires. 
But, if you don't use your pool year-round, like in the Northeast, where pools usually get closed for the winter due to freezing temperatures, your reel's battery will die. So, even though your system may have a solar charger, you will need to periodically put the battery in a charger. 
The Bright Side of Automatic Pool Covers 
Automatic pool covers are a big help for keeping debris from falling into the pool and sinking to the bottom. When using a solar cover, they can even keep the water pretty warm without requiring you to run a heater or heat pump system. 
Since pool heaters use a lot of energy, they're expensive to use. Even a very efficient heat pump system could cost around $2,000 to run for just one relatively short swimming season. 
Combined with saving you some time vacuuming the pool or paying for a service company to do it for you, a cover makes a lot of sense. Connecting a solar cover with an automatic cover system makes even more sense. 
Potential Problems with Automatic Pool Covers
Solid pool covers usually float on top of the pool's surface or sit in a track just over the water. Solar covers are no exception. When there is heavy rain, sometimes the cover will lose its buoyancy due to the weight of water on top. 
Some debris on top of the cover is bound to mix with the cleaner water below, making things even more annoying.
When you activate your automatic pool cover system to reel in the cover, too much water on top will make the motor work too hard. So, it's always a good idea to pump excess water off the top of the cover before moving it. 
It's also a good idea to use a leaf rake to skim the debris off the top of the cover before you move it. Doing so will minimize the amount of dirt that mixes with your clean water. It will also prevent you from rolling up leaves or debris with your cover, keeping it clean and free of potential tearing hazards. 
Automatic Pool Covers: Closing Down
The best automatic pool covers for any budget tend to be pretty straightforward. You can pay a bit more for a rechargeable battery or even one with a solar charging system to make them even easier to use. 
These budget-friendly models aren't as fancy as permanently installed built-in cover systems, but not everyone has the luxury of a huge budget. 
If you already have a solar cover and you're using a manual reel, don't hesitate to add an automatic pool cover system to your pool. The Solar-Lakes Automatic Cover Reel is our top choice. 
FAQ
How much do automatic pool covers cost?
The cost of an automatic pool cover can vary widely depending on several factors, including the size and shape of the pool, the type and quality of the cover material, and the complexity of the installation.
As a rough estimate, you can expect to pay anywhere from $2000 to $20,000 or more for an automatic pool cover, including installation. However, prices can range significantly higher or lower than this depending on the specific factors mentioned above.
Can I Adjust the Height of the Roller? 
That depends on the system. You cannot adjust built-in rollers, like the Pool Boy 2. However, you can change the height of the original Pool Boy model and some others.
What If My Pool Isn't a Rectangle Shape? 
If your pool is free-form or oval-shaped, a standard rectangular cover won't work without modification. But, the good news is that you can easily trim a solar cover to fit your pool with a pair of household scissors. Here's a good demonstration video.
What's the Difference Between a Solar Blanket and a Solar Cover?
The two terms are interchangeable, and there is no difference.
Are Automatic Pool Covers Safe?
So long as they are installed and operated correctly, an automatic pool cover system is very safe. Of course, you have to comply with the electrical code, and you need to run the system according to all the manufacturer's instructions. 
You also have to remember that a temporary solar cover isn't the same as a winter or safety cover. Safety covers are much more robust and can support hundreds of pounds without falling into the water when appropriately installed. 
One safety cover manufacturer even advertises their products as safe enough for an elephant to walk on when installed over a pool the right way.
How Do You Keep an Automatic Pool Cover Clean?
Most covers can be hosed-off, brushed with a soft-bristled pool brush, or even washed with a power washer. It's a good idea to clean your cover lightly often, as opposed to rarely cleaning it and then having to scrub it and blast it with high-pressure water. 
If you ever have to store your cover, make sure to put it away dry and protect it from any rodents, insects, or other critters that could potentially damage it.