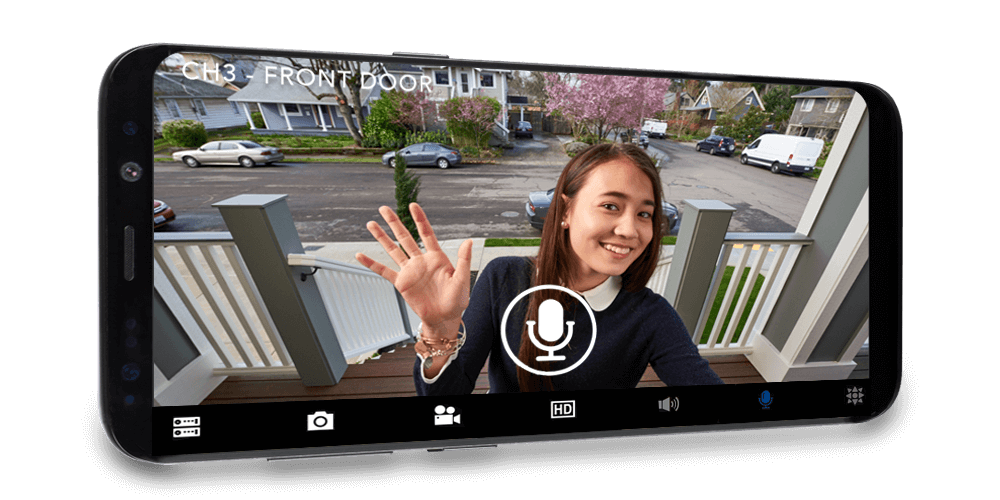 We recently wrote about 10 Best Video Doorbell Without Subscription but we wanted to take it 1 step further and find out which is the best Alexa compatible doorbell. You see smart voice assistant like Alexa are increasing in popularity in smart home integration. The ability to control home devices with your voice is definitely enticing.
Why Alexa Compatible Doorbell?
My research into the best Alexa smart doorbells started after my wife and I opened our new home business. We set up an office in the basement. This meant we were downstairs for most of the day and, since we were aspiring entrepreneurs, doing some serious late nights.
The arrangement made answering the doorbell something of a task. And that doorbell rang all the time. We were getting a lot of packages, prospective clients were coming by, friends and family, etc. 
I thought an Alexa-compatible doorbell was the way to go. So I put my engineering degree to work and explored the world of video doorbells.
I narrowed it down to five devices (out of about two dozen) that top the field in the Alexa compatible doorbell category. I looked at the cost versus the ROI on features, ease of use, ease of installation, battery life, etc., and came up with these top five.
Alexa Friendliness Was a Consideration
What was so important about Alexa? Well, I have four devices in my home. While all of the devices on my list certainly work with virtual platforms like Google Assistant, IFTTT, and Apple HomeKit, I needed one that fit the profile of Alexa.
The Best of the Best
I went with the Ring 2 for the best bang for my buck. You're going to find it on many "best of" lists. The Nest Hello comes in close, but the Ring delivers. It has tons of privacy features, motion zoning, 1080p imaging, extremely affordable storage capability, and Alexa friendliness.
Ring 2 is easy to install. Yes, I know it's a little expensive, but as you'll see in the first of my five reviews, the Ring 2 is more than worth the investment. 
Criteria for Choosing the Best of the Best
A video doorbell has only one job: to notify me when someone comes to the door. Anything it does beyond that is a bonus. But, being human (which I am), I want the bells and whistles. I like the idea of answering the door when I'm not even home. I want to record so I get an idea of what's going on outside my doors. I love the idea of facial recognition and using smart devices in conjunction with the doorbell.
But I also have to be smart. Selecting a video doorbell should be as smart as any other electronic device. The wrong features and I've wasted my money. And breaking the bank isn't necessarily the way to go either. So, I carefully considered not just the best features but the best cams at the best price for any budget. 
Enough suspense. Let's get right to my reviews of the top five Alexa compatible doorbells.
As I said, the Ring 2 is my choice for the best of the best in video security doorbells.
Features
Video in 1080p HD.
Exceptional motion detection sensors.
Live View capability.
Works with iOS and Android.
Good Wi-Fi Connected.
Choice of finishes: Venetian and satin nickel.
Connection to a wired doorbell is optional.
One-year limited warranty on parts, lifetime theft protection.
You're going to find the Ring 2 on many top smart doorbell lists. And it's no wonder. I find it a great resource for security and convenience. There's the two-way talkie feature. It gives you the option to communicate with your visitor even if you're not home.
The camera will automatically record anyone that nears your house. If the motion sensor's activated, you'll get an alert before the chime reaches your phone. You get a field of view that covers 160 degrees. Water-resistant, the Ring 2 functions in a broad range of temperatures safely.
Unfortunately, the Ring Doorbell 2 is kind of bulky. It's best installed alongside the doorframe unless your structures can accommodate the Ring's size. 
If your house has a traditional hardwired doorbell, just replace it with the Ring. If you're not interested in dealing with rewiring, there's a wireless option as well. 
For the eco-conscious, the Ring offers (for an additional expense) a solar panel option. The tech greatly increases the battery's longevity. The option might be worth it as the logistics of the cam's recharging can be sketchy. 
I did go with another accessory: a ring chime alert to inform you there's someone at the door if your phone isn't nearby or you're looking away from it. It comes in handy if you're busy and your phone isn't nearby.
The last thing I think's really cool about this device is if the doorbell gets stolen, the manufacturer will replace it if they receive a copy of the police report. 
Alexa Friendliness
Your Alexa can assist you with the Ring 2 operation in a number of ways. You'll be able to see, hear, and speak to visitors at your front door through your Echo Spot or Show devices. Alexa also gives you full control of the Ring feed. Lastly, Alexa lets you view the most recent Ring video with the push of a button.
Pros
You can use it as a nanny cam.
There's two-way communication.
You have motion detection.
It works with a seamless, user-friendly app.
The device has cloud capability.
It's easy to install.
An excellent home security provider.
Cons
It requires a strong Wi-Fi connection.
You cannot schedule the motion detector.
The Ring doesn't come with two-way video.
The battery life not so great.
Final Verdict
The high-res sensor, wireless option, and nice security features make the Ring 2 quite the catch. Despite a few setbacks, like no two-way video and a disappointing power source, the Ring 2 remains a top-tier choice in its field.
If you're on the prowl for a reasonably priced smart video doorbell, you want to take a closer look at the Vuebell Doorbell Camera. 
Features
It's Wi-Fi enabled.
The video intercom system meets varying security needs.
There's convenient access control with a mobile device connection.
You have real-time audio and video communications.
The device easily replaces outdated doorbell or intercom systems.
The Vuebell noticeably enhances security and safety.
The Vuebell has the latest advancements in smart video tech. You have two-way audio communication, video recording, motion sensor detection, and more. The camera has a vertical view of a field of 120 degrees and a 185 horizontal field of view. 
Wi-Fi will be strong as long as the doorbell is within 100 meters of your Wi-Fi connectivity. Thanks to the Vuebell's sensors, one of the nicer features is the ability to change from day to night vision automatically, saving you the trouble of having to remember or set a timer.
Proportionally, the VueBell is thicker than comparable doorbells. In comparison to other bells in these reviews, the device looks more 80s old skool than modern and sleek. But that almost retro feel gives the device a nice distinctive design.
As the least expensive option on the list, it shouldn't surprise anyone the VueBell doesn't match up with the others here when it comes to functionality. Still, the device manages to give homeowners reliable security. There's easy communication with visitors and, with a subscription, there's continuous recording, motion recording, and ring alerts. 
The Vuebell device only comes hardwired, so if you have a doorbell, you can swap them out. 
Alexa Friendliness
The VueBell is compatible with traditional devices and the Echo Show (for checking out live streams from the doorbell cam). You can have Echo both show you the front door to see what's going on and capture images. If there's a smart lock, let Alexa open the door for your visitors, or let deliveries get dropped in the front room, or let expected guests in without interrupting your activities.
Pros
Flexible options for installation.
Includes power supply and chime.
Impressive wide-angle viewing.
Two-way communication.
Strong Wi-Fi connection within 100 meters.
Exceptional range of view.
Very affordable.
Cons
Device has a low water-resistant level.
Only takes 30 fps at 720p.
Companion apps are confusing with too many icons for third-party promotion.
Only comes in a hardwired version.
Final Verdict
While lacking features you get with more expensive models, I think the VueBell still stacks the deck with its affordability and solid rate of return. You may not get the quality of higher-priced doorbells, but you still get Alexa compatibility, free storage, night vision, motion detection, and more. The Vuebell is a video doorbell that will make for a great upgrade to your home. 
I found the Skybell to be a surprisingly solid option for protection and home comfort.
Features
You get free video recording.
Multiple users can receive alerts for answering the door.
There's two-way audio and the ability to review activity history.
The night vision feature is in full color.
Turn on quiet mode when you don't want to be disturbed.
Capture a pic of visitors with the simple touch of a button.
Theft guarantee – if stolen, the manufacturer will replace the device.
The first thing you're going to notice about the Skybell Video Doorbell is its shape. Unlike the majority of competitive devices, it's not rectangular. That means it's not necessarily going to go into any of the traditional places you put a doorbell, like a doorframe.
Still, the design is appealing, unique, and will make an attractive add-on. You can listen, speak, and see anyone on your doorstep from your mobile device. 
It functions well in all weather conditions and is water-resistant. It has a 180-degree field of vision which means you get a nice capture of the entire front area. Motion detection can be set for one of three sensitivity levels.
The Skybell has a silent mode, quality HD video, a five-times zoom, and smartphone controls. There are also home automation integrations, allowing you to synch Skybell with all your other home smart designs in one place.
Pros
The Skybell is a feature-rich device.
1080p HD resolution.
Full-color infrared night vision.
No ongoing costs.
Smart home integrations.
Cons 
Hardwire only, no wireless option.
Upfront costs can be steep.
Limited models available.
Alexa Friendliness
When you combine the Skybell video doorbell with Alexa, you easily broaden all your communication capabilities. You'll be able to tell Skybell to turn off features, when to take a snapshot, and to start and stop recording video, and, of course, answer your door without reaching for the phone.
Final Verdict
Unlike a lot of devices in this category, one of Skybell's nicest features I think is the lack of a fee to capture and store video. Night video is pretty well-defined for a doorbell cam and offers full color to boot. Considering all this, the Skybell HD Video Doorbell is a solid, affordable choice from a respected manufacturer.
Google's Nest Hello is a little on the expensive side but when it comes to smart doorbells, you likely won't do better.
Features
You have a solid video resolution of 1600 x 1200 pixels.
The field of vision is 160 degrees.
It has a high dynamic range, eliminating limits on brightness and color.
You get infrared night vision.
For clarification, you can zoom in eight times.
You have two-way communication.
There are live streaming and doorbell ring notifications.
You have both motion and person alerts.
To begin, Nest comes with a complete video streaming feed. Along with that, you'll have the ability to produce pre-recorded audio responses. With the audio interface, you can prerecord three different messages. They play when you're unable to answer the bell. You can also make use of facial recognition, a high-tech advancement utilized by some of the biggest companies in the world.
The Nest Hello is compact, and its design makes it compatible with almost any environment. There's night vision functionality and a 160-degree diagonal view field. I like that it sends both phone and email alerts with snapshots of the viewable event. This is a convenient feature as it doesn't force you to check your feed with every alert.
The Nest's motion sensor is exceptionally crisp. I found you were only notified if an actual person approached the camera. No car, squirrels, cats, or the like set off the sensor. I just got a snapshot of the person going straight to my phone.
An optional feature for the device is Nest Aware. It adds cool things like package tracking, familiar face alerts, and activity zones to your doorbell's functionality. Nest Aware enhances Hello's regular face recognition. But Aware gives you the option of giving a face a name. With this feature, whenever that individual comes a-calling, Hello will tell you they're at the door. This is great if you have remote security features. If you have smart locks, this is beneficial if someone's forgotten their key.
Alexa Friendliness
With the Nest enabled on Alexa Spot or Echo, you have that live feed along with all the other stuff the Nest can do.
Pros
Has a nifty and reliable mobile app.
Can zoom in at eight times normal size.
Plenty of smart features.
Nest Aware pumps up the value of the doorbell.
Infrared night vision.
Wide-angle view and high dynamic range.
Cons 
The Nest Hello only comes hardwired.
Many of its best smart features require a subscription or additional expense.
No local storage or free cloud option, which is unusual for the Nest brand.
Final Verdict
The hardwiring is going to make installation a chore. You may have to hire an installer to streamline the process, especially if wiring isn't your forte. There could also be costs for access to what are Nest's more promising features. Still, at the end of the decision, I won't deny the investment will be worth it as the Nest Hello serves its purpose and more. It easily belongs on this review of the top doorbell camera.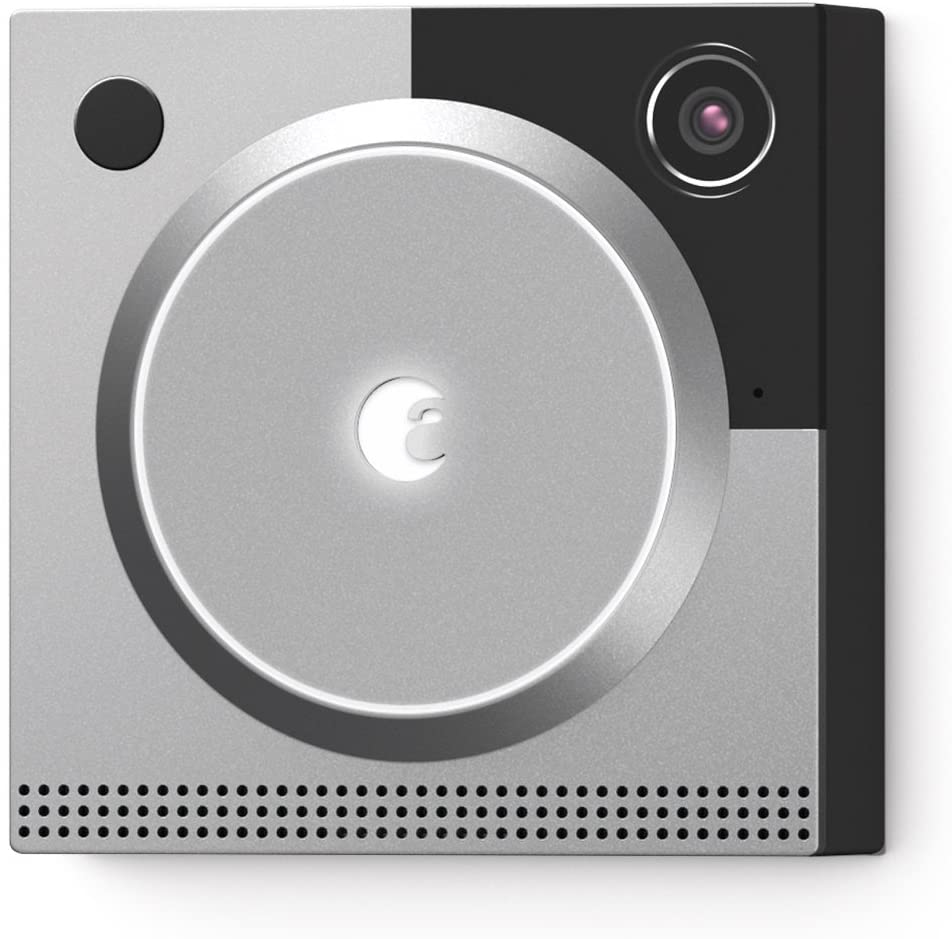 I think the August Doorbell camera makes home safety easy and affordable. It has great features for the cost and conveniently lets you know who's at the door.
Features
Always know who's at your door, even if you're away, with instant alerts.
The doorbell intelligently detects motion.
A one-way camera lets you see from your smartphone while ensuring privacy.
There's a free video recording plan.
Go back and view visitor recordings.
Utilize audio and video replay through the August app.
Remotely control your smart locks.
You get full-color HD night vision.
August's doorbell cam comes with three-ring options, a 120-degree field of view, and straightforward instructions for installing the hardwired device. Unfortunately, its square design may not work with the majority of doorframes.
The August Doorbell Cam has Smart Lock integration, meaning it works harmoniously with brands that let you control the safety and security of your property. 
The camera's detection comes from an infrared sensor with a sensitivity setting. A feature called "Hindsight" buffers a few seconds of video when triggered. Hindsight captures several seconds of video before and after its activation.
While I wasn't too thrilled about the August cam's portrait mode view, it's still a sharp image. (I prefer the widescreen view for greater visibility on all sides.) 
You have several power options. Swap out your current wired bell, implement a conventional CCTV power supply, connect to any existing alarm, or power the VueBell with a 12 to 24 AC power wall adapter. Not many manufacturers offer such a power source versatility. It lets you adopt the power source that fits your situation.
This device can't boast the high-tech other video doorbells can. It still covers the basics like quality video, two-way audio, night vision in hi-def, a good field of few, a free video recording plan, and on-demand live video. It does cost about the same as a Ring which, unfortunately for August, has more features and higher video quality.
Pros
960p by 1280p HD video resolution.
24 hours of free high-def video storage.
Solid Wi-Fi support.
Free trial of the video recording subscription.
Low-light monitoring with built-in floodlight.
HindSight provides retroactive motion event recording.
Two-way audio communication.
Chime, mobile app, or old mechanical ring options.
Variety of ways to keep the cam running.
Cons
Needs a cloud subscription for recording and playing back videos.
No infrared night vision capability.
Does not come with a weather-proof rating.
Bulky design.
Alexa Friendliness
August has a line of home security products that effectively make greatly enhance Alexa as the best security you can have. You can connect the doorbell to pretty much any August product and fortify home safety and comfort via your Alexa.
Final Verdict
I find the August Doorbell Cam to be a fine performer. It comes with a set of features that you want in a smart doorbell. While I do take some issue with the significantly high price for storage capability, I'm happy to recommend the August Cam to anyone looking for a well-designed video bell with solid features.
Buyer's Guide for Finding the Best Alexa Compatible Doorbell
There are many reasons to buy a smart doorbell. But there are precise reasons for choosing the right video doorbell. I've taken a look at dozens of these solutions and put them through their paces. I used the data to create a list of what you want to look for when buying one. 
What follows are what I think are the most important features and considerations you should take into account when you're prowling the market for a good doorbell camera.
Features
Here's what you want to look at when choosing a video doorbell.
Resolution
Currently, tech has doorbell cams maxing out at 1080p. If you're on a budget, you can get a device with a dpi as low as 480. Now, if you get a camera that doesn't adjust to varying light levels well, resolution won't make a difference.
Night Vision
A doorbell camera can be comforting on cold nights and when night falls sooner during the winter. But you'll want to enhance your vision capabilities with features that let you see clearly even when it's dark out. Otherwise, you'll have to et up and go to the door anyway.
Field of Vision
You can get a lens with varying peripherals. That determines how wide of field you'll see on your devices. The max is a 180-degree view. It lets you see everything in front of the camera. The field of vision gets smaller as the peripheral of the lens gets smaller.
Motion Detection
Some devices come with motion sensors. The doorbell will alert you whenever someone approaches or leaves the front door, whether or not they ring the bell. Depending on your needs, get an Alexa-compatible doorbell camera that can monitor specific zones. These are ideal for houses on busy streets. With specific zones set up, you won't get an alert anytime a neighbor walks by or a car comes through.
Power Source
Doorbell cams are either hardwired or use batteries. Hardwiring connect the doorbell into the wiring of your existing doorbell. If you plan to keep your traditional doorbell, go with a battery-powered doorbell.
Audio Capability
While seeing who's at the door is a benefit, the capacity to communicate will be invaluable. It can save you time and even stop you from going to the door unnecessarily. With two-way audio, you can talk to the person at the door. You can tell delivery persons to leave the package or send salespersons on their way.
Cloud Storage
Some consumers like the added layer of security cloud support offer. Store footage of motion alerts for up to 30 days. If there is an unfortunate incident, including stealing or vandalizing, you can turn to your stored video.
While storing videos are a great benefit, it's a tricky field with video doorbell cams. Some manufacturers offer a limited free service alongside paid upgrades. Others, like Vuebell, offer a nice storage service. You'll likely end up paying for a service to get the best possible use of storage, including time-set on video (a minimum of 30 days) and continuous recording.
App Support
App support, including Alexa, comes with a lot of smart doorbells. You want fast connectivity to see who's at the door even when you're not home, the opportunity to snap a pic if necessary or to review video activity taking place at your door.
Strong Wi-Fi Connection
Your doorbell camera is going to need a consistent, strong Wi-Fi signal if you expect to get the best out of it. Remember, the device is going outside of the home. You'll need a strong network connection. It will need to be able to get through any walls or doors between your doorbell and the router. The best doorbells need a download speed of no less than two megabytes per second. 
Do remember that speed is independent of what household occupants will use. If you expect to get fast downloads from your Alexa compatible doorbell, you will need excellent speeds so that playing games, streaming, and other internet activity doesn't slow your doorbell functionality. If the reach of your Wi-Fi is bad at the front door, consider a Wi-Fi range extender.
Face Recognition
The more sophisticated device, such as the Nest Hello, can read and recognize faces. The technology is growing fast in the private sector after its growth in the commercial market. Homeowners are using the tech for family and friends that visit frequently. You'll get an alert telling you who's at the door. If you have the tech, you can let them in if they don't have a key.
Other Considerations
To get the best UX out of your Alexa doorbell, use the following criteria for choosing the perfect device for your needs.
What Existing Doorbell Are You Using
Note that some doorbells need an existing hardwired doorbell to work. If you can't modify your current doorbell, go with a battery-powered cam. And if you can't remove the bell, you'll need to deactivate the old one, or having the video cam will be a moot point.
Curb Appeal
Consider that the smallest detail can impact the all-important curb appeal of your home. Homeowners are not interested in anything that negatively impact resale value. The doorbell might seem an insignificant detail, but a realtor will tell you it all matters. 
Upgrades enhance the appearance and value of your property. The wrong bell can unintentionally disrupt the look of your entryway. Manufacturers design doorbells to be appealing but that doesn't all will match an aesthetic you want to maintain.
When looking at models and sizes, try to fit their design with your doors. For example, avoid cams that are too square for narrow door strips.
Conclusion
My bottom line is the Ring Video Doorbell 2. It's a rechargeable, battery-powered, easy to install, smart doorbell. You can hardwire it if you prefer. The device's app has excellent videos to work your doorbell.
If you're in the market for a video doorbell, the Ring 2 should be a consideration. My wife and I found it to be the perfect complement to our work and personal lives.
I hope you found this article useful. Any of the models here will be a great addition to your home. If you have any questions or comments, feel free to leave them. Otherwise, use this guide to buy the best video doorbell camera your money can get.