After reviewing the 10 Best Video Doorbell Without Subscription we found the Eufy Doorbell 2K to be the best video doorbell without a subscription.
We've considered customer reviews, the durability of the products, ease of use, and other factors that make these products the best on the market. I understand that in these times especially, making a monthly financial commitment isn't easy to do.
As times change, almost everything requires a monthly subscription. There are video doorbells available that don't require a fee every month, but they may come with fewer features. 
The Eufy Doorbell 2K is the best overall doorbell camera because it has all of the most convenient features, crisp camera clarity (2560×1920), additional security products available for purchase, and it comes with a reasonable price tag. 
You can choose between the battery-powered or the wired option, which makes this video doorbell very versatile. It offers smart detection zones to distinguish between people and animals, quick facial snapshots to your phone, excellent two-way audio, and more.
Of course, there are different needs when it comes to selecting a video doorbell. Therefore, we have something to suit the needs of everyone. Perhaps you need a video doorbell that has a high-resolution camera or one that's wireless. 
Maybe you don't have the capability for wireless, and you need a quality wired doorbell. Whatever the case may be, we're sure you'll find something that works for your home. There's also a buyer's guide to point you in the right direction when it comes to choosing a video doorbell. 
The guide breaks down the features, functioning, and potential problems that people encounter. Additionally, we'll answer other commonly asked questions regarding video doorbells without a subscription. 
Please keep reading for more information on the best video doorbell without a subscription and a buyer's guide to help guide your purchase.
What is a Smart Doorbell? 
A video doorbell is also known as a doorbell camera. Essentially, it's a camera that you put on your front door. The system can get integrated into a doorbell setup you already have, or it can be battery-powered. 
You connect these doorbell cameras to your home through a WiFi network. They usually come equipped with motion sensors and video surveillance whenever a person gets within range of your property. 
One of the main differences between modern cameras and those of times past is the resolution and the color aspect. Instead of black and white video, you get high-definition footage in color. Furthermore, many video doorbells also have night vision capabilities, allowing you to record incidents of theft or burglary with clarity. 
With technological advances, we can also use our doorbell cameras alongside Apple and Android devices. Connect your video doorbell to your tablet or smartphone and enjoy full access to the apps that come with the product. 
For example, if a visitor triggers the doorbell, you'll get a notification on your app immediately. This feature gives you a live stream of what's happening, and you may even be able to respond to them and have a conversation whether you're inside the home or not. 
Why Do Video Doorbells Require a Subscription? 
You may be wondering why a monthly subscription is required at all. Well, you're paying for the cost to store your video footage on the cloud platform. There are a few benefits to having access to cloud storage, but it's not entirely necessary.
Some may even argue that it's safer to store your videos locally. For those that feel this way, we've compiled a selection of doorbell cameras that offer both options or strictly local storage. The next question is, how do you store videos locally?
Let's first delineate the cloud storage option. This breakdown will help you understand what you may be missing with local storage. 
The Cloud platform excels in the category of convenience. You're also protected in the instance that someone steals your doorbell camera because they know they're getting recorded. They may have taken the device, but they can't retrieve the actual footage. 
The downside to this option is that these storage services are more prone to security breaches. This problem is especially true for brands that aren't as well known because they probably haven't been tested as thoroughly as more popular brands. 
Now on to the local storage; this can be as simple as having a memory card within the doorbell device. This option is how a lot of subscription services work. Some companies may offer an alternative base station that protects the video footage by storing them inside the house. 
Since this storage base isn't within direct reach of the intruder and shouldn't be easy to find within the house, it's not too far off from cloud storage in that regard. 
How do Doorbells Without a Subscription Work? 
Again, doorbell camera systems don't have to utilize a subscription service. You'll still be able to enjoy all of the many features that come with the video doorbell itself. That includes motion-sensitive alerts, real-time video streaming, lifetime security, and two-way communication. 
Some of the best doorbell cameras on the market don't have a ton of memory built-in; this makes you rely on the cloud subscription for perks like reviewing your video footage. If you don't have a subscription, then you'd use the local storage for this function. That guarantees any recordings you have got sent to your computer for safe storage. 
There are also different power sources that you can use for the doorbell. That could be a rechargeable battery pack, or it can get integrated into your pre-existing doorbell system.
Other cool features to use with your doorbell without a subscription can be pairing with other smart home devices to control garage doors, lights, and even a thermostat. You can read more about these features below in the buyer's guide. The main point is that you can use a video doorbell without a subscription and still receive many of the same benefits as if you pay monthly. 
Best Video Doorbell without Subscription: Reviews 
We've taken the liberty of compiling a list of what we found to be the best ten video doorbells without subscription on the market for your convenience. These products will vary in quality and price range, but they will all be great buys for anyone looking for a video doorbell!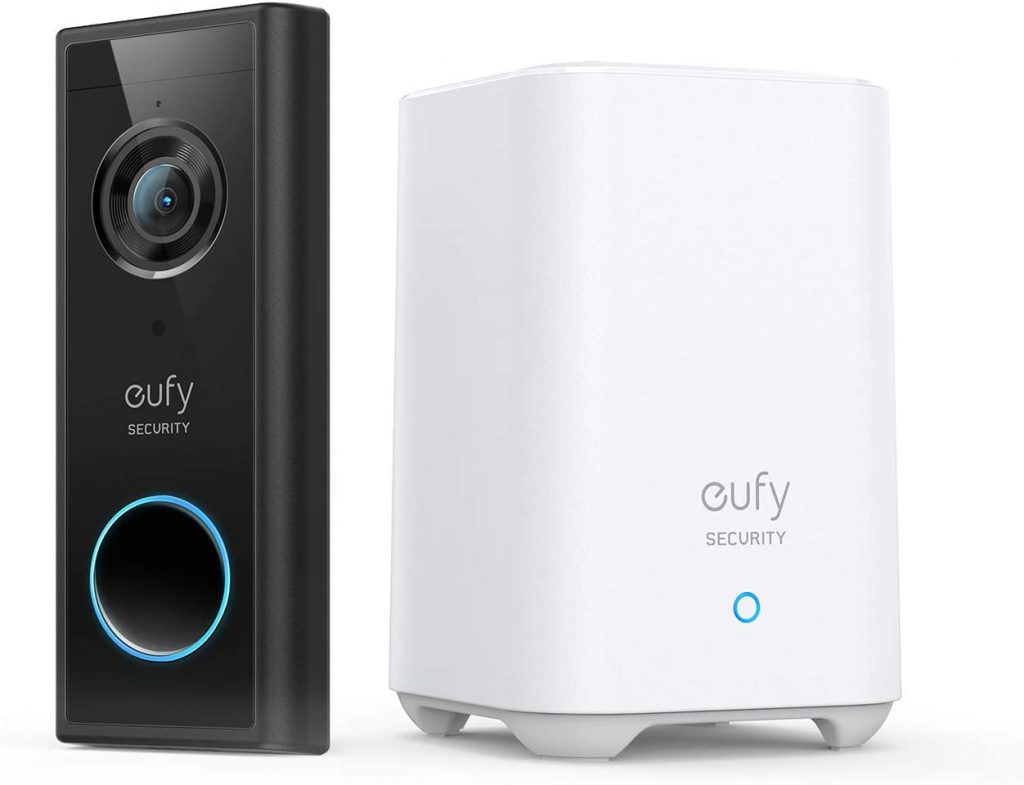 The Eufy Doorbell 2K has topped our list of video doorbells because the smart features are comprehensive and convenient. What's more, this video doorbell has both battery power and wired options, giving the user much-needed flexibility to choose which choice is best for them! 
Moreover, the Eufy Doorbell 2k offers an excellent app, giving the user unmatched control over doorbell configuration and smart features. However, navigating said app can prove to be a bit difficult.
Furthermore, because Eufy has a larger vision of being a smart home security system, there are a host of quality cameras and sensors that tie into the configuration of the doorbell camera. Since this doorbell comes with their Homebase 2 product, you can add these additional security products at a later date to better fortify your home.
The Eufy Doorbell 2K has hardware that is second to none. The camera quality is the best there is on this list when it comes to pure image quality. Buyers should be mindful that your camera quality will depend on the quality and strength of your WiFi connection. Slower connections will force the camera to produce an image of lesser quality.
Pros:
✔️ Has both battery power and wired options
✔️ Eufy's app gives the user great control over doorbell configuration and smart features
✔️ Can add extra security measure in the future
✔️ Crystal clear camera quality
Cons:
❌ Reports that the battery doesn't last as long as advertised
❌ It only offers 16GB of memory which could be a problem for people wanting to save footage with multiple cameras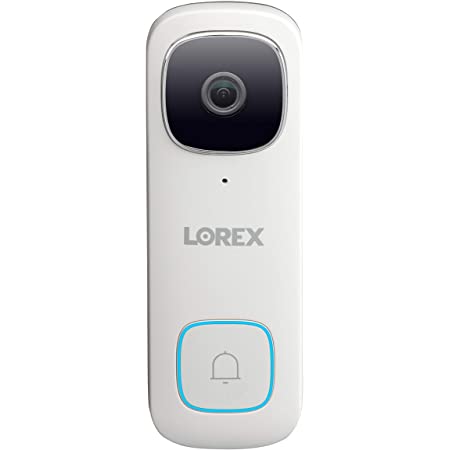 The Lorex is a wired-only model, and as is the case with all models of this kind, it's sleek, making it less awkward to install than the battery models.
The Lorex is another model of doorbell cameras that offers better coverage of the front door because of its 2K 4:3 aspect ratio. The traditional cameras with a 16:9 aspect ratio struggle to give you the best view of your front door. 
The Lorex video doorbell features full-HDR and color night vision. This capability is a rare feature among doorbell cameras. This unit also has some additional features when it comes to nighttime. It has an LED night light on the bottom edge of the camera, used to light up the step or serve as a deterrent to burglars.
The Lorex has an informal Micro SD card, and one comes with the doorbell to get you started. Moreover, if storage is more important, important for you, it can be upgraded to 128 GB. With this much storage, you don't have to deal with remote chimes or separate base stations.
Pros:
✔️ The wired-only model has a sleeker design than battery-powered models
✔️ Has 2K aspect ratio for better coverage of the front door
✔️ Features full HDR and color night vision
✔️ Features LED lights to illuminate the steps or deter potential threats 
Cons:
❌ If the doorbell gets stolen, the memory of the recordings can get lost
❌ Is not the sturdiest camera may be subject to falling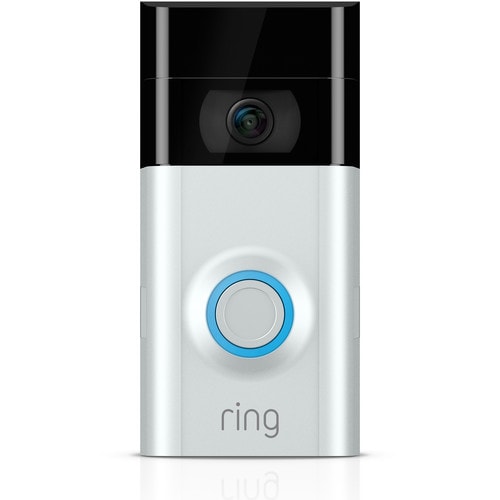 Let's face it, when trying to surveil your own home it can be challenging to stay in one central control room. Moreover, you may not have the luxury of being at home to properly review the footage that had been recorded throughout the day and continues to get recorded as the day wanes. Luckily, with Ring best video doorbell, you can easily and conveniently access your feeds from many devices at the touch of a finger
Moreover, the Ring best video doorbell has an image quality of 1080p HD which gives the user the ability to clearly track, talk, and react to people. You can do all of this from the convenience of your computer, handheld screen, and even your phone.
Interestingly enough, you're able to connect Alexa to your doorbell system to receive notifications. Alexa can get fully integrated into your system. For example, you can ask Alexa to communicate directly with your front entrance from safety, away from any potential threats at your door.
Finally, whenever the system detects motion, you will receive a warning notification to help you better patrol your home!
Pros:
✔️ Has 1080 HD image quality
✔️ You can access the system from multiple devices
✔️ Compatible with Alexa
✔️ Sends warning to you when motion is detected
Cons:
❌ It is a bit pricey
❌ Night vision is not the clearest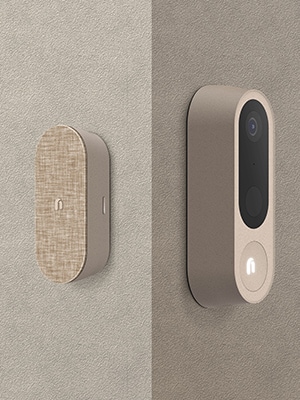 The Nooie was so high on our list because it is the best wireless model based doorbell camera. This wireless-only model comes with a whopping 10,000mAh removable battery and its very own USB-C port for charging. Moreover, the battery connects to the chime base station that houses the Micro SD card for video storage as well (Chime base station comes included).
The Nooie is outfitted with a 2K camera that uses a 4:3 aspect ratio which allows the camera to cover more ground vertically in front of the door instead of capturing the sides. The Nooie even comes with an optional mounting plate allowing you to angle the camera slightly. 
This doorbell camera comes with a tamper alarm meant to deter burglars and vandals from breaking into your home. If the camera's contact with the mounting plate gets disrupted, the alarm will sound directly from the doorbell.
The Nooie has a chime base station that includes a wired Ethernet port and a dual-band WIFI. This feature gives the user a way to address WiFi problems.
Pros:
✔️ It has a whopping 10,000mAh removable battery which contains its very own USB-C port for charging
✔️It has a 2K camera
✔️ Records on 4:3 aspect ratio for better coverage of the door
✔️ It has a tamper alarm to ward off vandals
Cons:
❌ The setting up process can be a difficult 
❌ The Nooie must be removed from the mount to charge the battery and the charge time is relatively long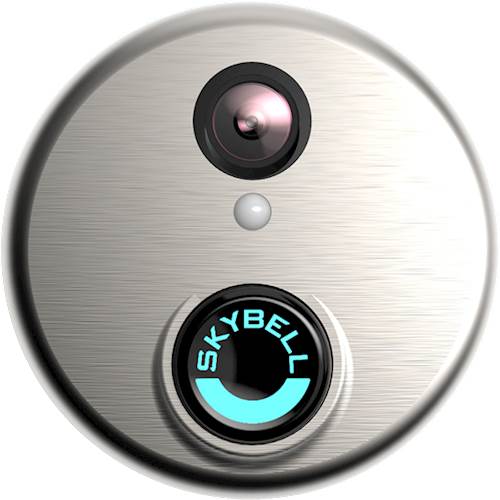 The SkyBell SH02300SL HD WiFi Video Doorbell creates quality videos. This camera has a 5x zoom feature that aids you when setting up the right camera frame to view your yard.
The Skybell HD does very well in nighttime scenarios. The night vision of the doorbell allows the unit to capture nighttime videos on par with some of the best doorbell units. Skybell is great at capturing the details, so if you need a bit of clarity in your videos, then this is the brand for you.
The Skybell SH02300SL HD WiFi Video Doorbell is available for Android and iOS. This device is easy to use, and it is organized to better facilitate its utility with convenience. Additional features allow you to monitor alerts, adjust movement resistance, change the color of the LED lights, and more!
Pros:
✔️ Unit is weather tolerant
✔️ Was rated one of the best doorbells in 2016 and 2017 by CNET Best Mobile
✔️ Has 5x zoom camera feature
✔️ Compatible with iOS and Android
Cons:
❌ If your chime is digital, then you have to install a digital house phone
❌ Battery life doesn't last as long as advertised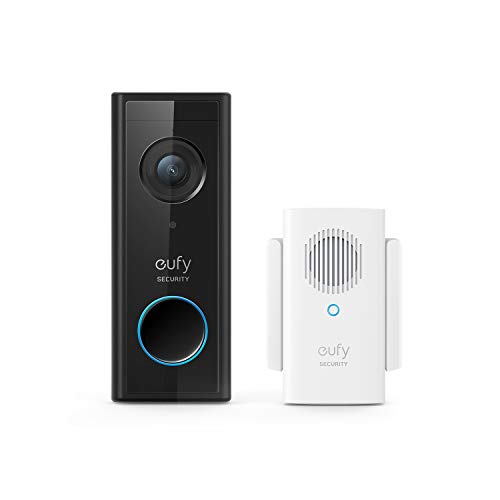 There's a 1080 version of the Eufy model of doorbell cameras that took the number one spot on the list. This model comes with nearly the same feature as the 2K version of the Eufy, which happens to be more expensive. 
The main difference between the two Eufy models is lower 1080p camera resolution. However, this doorbell has a 4:3 aspect ratio to make for better views of the front door.  Additionally, the camera has a wide dynamic range to compensate for backlighting and shadows.
The other difference between this Eufy and the 2K model is the mini Homebase that it has to be synced with. Furthermore, the chime connects to the doorbell and houses the SD card, which captures the recorded video. This setup is for avoiding running full WiFi on the doorbell to extend the camera's battery life.
This model will score you access to the Eufy apps smart features; however, if you are looking to extend your security options using the Homebase product, you'll have to buy another base station. Unlike the Eufy 2K version, this model is not compatible with the additional security features.
Pros:
✔️ Has 4:3 aspect ratio for a better view of the door
✔️ Access to the comprehensive Eufy app
✔️ The camera has a wide dynamic range to compensate for backlighting and shadows
✔️ Has most of the features of the 2K Eufy model that made 1st place on our list
Cons:
❌May be some issues with the chime connectivity.
❌It is not compatible with Eufy's additional security package.

The RemoBell hits the ground running with its square aspect ratio that happens to be way above standard HD. Such camera quality serves as more than enough firepower for doorbell use; this doorbell camera has a 180-degree fisheye lens designed to give you wide coverage and a larger view of the area outside the door. 
The camera has features whereby you can adjust the sensitivity and motion zones, which is much different than similar models with subscription-free offers. The camera system stores its video data in RemoBell's very own cloud free of charge, giving you a 3-day repository. That's more than enough for typical doorbell use.
With this model, there's no chime provided. However, through your existing wiring, a litany of digital and mechanical can be supported by your wiring.
Pros:
✔️ It has an HD aspect ratio which is above standard
✔️ This doorbell camera has a 180-degree fisheye lens for a larger view of the front door
✔️ The camera has adjustable sensitivity and motion zone controls
✔️ RemoBell stores video on its very own cloud
Cons:
❌ The fisheye lens may distort the true image of the front door
❌ The night vision is very limited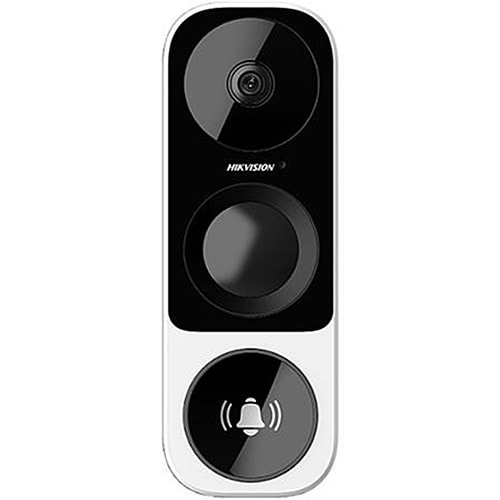 The Hikvision SD-HD1 2K doorbell comes with a respectable 2K 4:3 camera with a  180 fisheye lens. This series has two-way talk and custom motion zones. An added feature that the SD-HD1 2K doorbell provides is ONVIF support. This feature offers the ability to connect to a DVR/NVR used for your CCTV system as a place for your recordings to be stored.
This setup allows you to continuously record as well as having the doorbell functions at your disposal. This kind of freedom to record is a plus for most people looking to better secure their homes. 
However, if this is not something that you're interested in, then you can store a maximum of 128GB on a Micro SD card which is stored inside of the device. This amount of memory is considered to be plenty for most people.
The Hikvision SD-HD1 2K doorbell, is capable of triggering mechanical chimes as they do not offer any remote chimes. Some controls dictate the length of time the bell does and does not ring which is a rare but desirable feature for most video doorbells on the market. Moreover, it has optional faceplates which come in white, silver, and black.
Pros:
✔️ Features a 2K 4:3 aspect ratio camera for a better view of the front door
✔️ Has two-way talk features and custom zones
✔️ Has ONVIF supports  to connect to a DVR/NVR to act as storage space for your videos
✔️ Can store up to 128GB on a Micro SD card which is stored inside of the device of the ONVIF option doesn't suit you
Con:
❌ Basic unit and lacks the smart features of the other models
❌ Has no HDR or exposure controls to help with potential lighting problems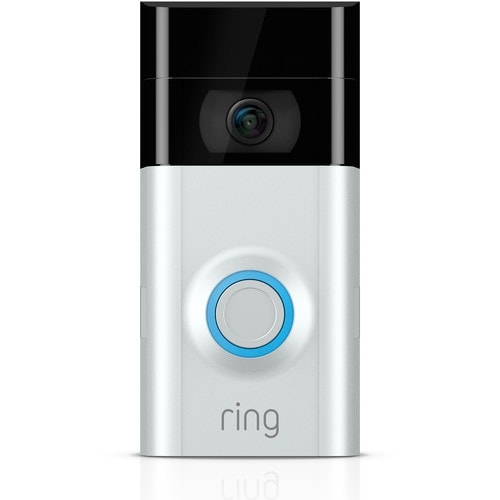 The Ring 3 Plus can be an awesome addition to your home. This unit boasts a 5GHz double media channel. 
Sometimes installing these doorbell units can be difficult no matter the brand, but the Ring 3 Plus comes equipped with wedges which enables you to get the best angle that suits the layout of your home.
The Ring 3 Plus comes with the option of either being used as a battery-operated device or a wired one, depending on your preference. Moreover, this camera's night vision function performs well at night. So you don't have to worry about the quality of your video being compromised by the dark.
With the Ring 3 Plus you do not have to wade through countless hours of video recordings just to finally come across an event where someone may have or may have not attempted to breach your security. 
This unit allows you to stitch together all of the necessary video recordings in which your system was alerted. As you can imagine this saves you tons of time by simply cutting to the chase. This is the perfect security gadget that will allow you and your family to feel safer.
Pros:
✔️ Has the option of hardwired or battery operated
✔️ Has quality video, audio, and night vision
✔️ Has 5 GHZ compatibility
✔️ Offer wedges to position your camera at the perfect angle
Cons:
❌ Doesn't offer free storage
❌ Camera quality can be lackluster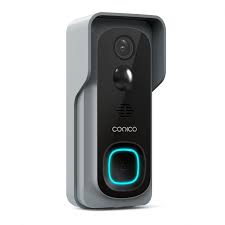 The Conico is a budget-friendly option that happens to be a mass-market Chinese device sold under many different names such as Legion, GeeKee, XTU, and more. All of these brands are identical outside of the label. This is a great option for people on a budget and yet it is quality enough to get the job done!
The Conico is a standard budget-friendly camera with an acceptable 1080p sensor without HDR. The Conico uses 18650 Lithium-Ion batteries which are standard and won't be at all difficult to replace. Furthermore, this doorbell unit allows you to recharge the battery in place using a micro USB port on the bottom of it. The unit also comes with an option for doorbell wiring if you want to side-step charging the camera altogether.
When it comes to video storage, the storage is located on the internal Micro SD card located inside the battery compartment for added security. Moreover, the unit comes with a 32GB card and you choose to increase this up to 128GB if necessary. Lastly, the mounting bracket is made with surprising quality and performs better than some of the higher-end models.
Pros:
✔️ Quality budget-friendly camera
✔️ The Conico uses standard 18650 Lithium-Ion batteries which are easy to replace
✔️ Can charge the unit in place without removing it, through USB port
✔️ Comes equipped with a 32GB card with a capacity of 128GB
Cons:
❌ It being Chinese manufactured there's not much offered in the way of support
❌ The 4 monthly battery life guarantee is overstated
Buying Guide
The price that you pay for the video doorbell may determine how many features it comes packed with. Nonetheless, you'll still get a lot of add-ons that will be better than a traditional doorbell system. 
Believe you'll find different features to take into consideration when purchasing a video doorbell. Based on your specific needs, you'll know what you absolutely need and what you can do without. 
Hopefully, this makes it a little easier to distinguish between some of our suggestions.
Resolution and Angles 
When considering the specs, know that a wider viewing angle will cover more square footage, but it'll come with a smaller number of pixels. You can try to get the best of both worlds and choose a higher resolution, but you have to pay attention to the resolution numbers. 
For example, "2K" is a term that's misleading in the sense that it depends on the aspect ratios. The further away from 16:9 that the camera gets, the clarity starts to get compromised. As a standard 1080p cameras have 1920X1080, 16:9 resolution. However, a camera could get advertised as 2K and it can come with various resolutions. 
This comes down to preference; where are you going to put your doorbell and how many areas do you need to be covered? If you just want to view your porch then a narrow-angle is the way to go. Get a wide-angle if you want to see the whole porch. 
Don't forget to test out the quality and clarity of the night vision feature if your video doorbell comes equipped with that function. 
Battery-Powered or Wired
This feature is heavily dependent on your climate and if you're using a doorbell system that you already had. 
There are, for the most part, several voltages that can get delivered via the doorbell. Doorbell cameras normally support these vintage levels, but you should always check to be sure. 
The less-involved option is the hard-wired power source because you don't have to consider the battery life. Even if you don't have the wiring available your batteries should last for at least a month or longer. Outside of really cold weather, you shouldn't have any problems. 
The most common type of battery used in these types of products is lithium-ion. This material is very susceptible to harsh weather and cold climates. The battery life gets significantly reduced in cold temperatures. Therefore, we recommend going with a wired option. 
There are a few cases when you can exchange the batteries (rechargeable) for a fresh pair if you have a spare set lying around. However, most of the time the battery is built into the product, so it's not easy to swap it out. 
Consider purchasing a video doorbell that integrates with your smart home. The benefits with this type of setup may be slightly limited, however, because you will only be able to answer your doorbell with a smart display. Your smart speakers will have to serve as the chimes for the doorbell, and you may get to use the video doorbell motion sensors to alert the automation system. 
If you so happen not to have the smart display, then you're kind of already losing one benefit. The other benefits might not mean much to you since you'll need to have the company's app on your phone or tablet for them to work. In this case, we probably suggest that you get a better doorbell over the doorbell that is easier to integrate, but it's your call! We're just presenting the options for your review. 
Durability
Your video doorbell has to be durable enough to withstand weather conditions since it'll be exposed to the elements at all times. Manufacturers of the doorbell have usually considered that, and the doorbell should function anywhere from extended lows like -4°F, to 122°F (-20°C – 50° C). 
Always look over the weather capability of your doorbell to ensure that it'll be safe and continue to work throughout the year. 
Audio System
The two-way communication feature is undoubtedly one of our favorites. This feature is made possible through the microphone and speaker system. The best video doorbell without a subscription will have an excellent audio system in place to promote the best experience. 
That doesn't mean it has to be expensive, just quality sound with adjustable volume and no pause. You should hear should from every side clearly and without any static noise when someone speaks. 
Motion Sensors
This feature comes with nearly every video doorbell, but we're including it just to inform those who aren't familiar with the structure of a doorbell camera. Additionally, the quality of the system may come down to a precise and accurate motion sensor system.
Usually, a video doorbell is placed at the homeowner's or business owner's main entrance. The best motion sensor can distinguish between animals and people. This discernment yields only relevant alerts to your devices. 
Overall, it should be highly efficient at giving you the necessary notifications. The range of the motion detection element is also important. Lastly, your doorbell should send alerts to your phone when someone is within range of the motion detector but doesn't ring the doorbell. This added layer of security is immensely helpful and makes you feel safer. 
Footage Accessibility
You'll need to know how to access the footage that your doorbell captures. 
If you don't purchase a subscription, your videos get saved locally on the model's built-in storage, or on storage that you installed, like a memory card. The more memory that you have, the greater capacity you have to store the videos over time. 
With local storage, you can watch these videos by using a USB cord, a smartphone app, or a card reader. Again, these are connected to your doorbell model's memory. 
Five Benefits of Purchasing a Video Doorbell Even if You Don't Have a Subscription
There are a lot of benefits to having a video doorbell, even if you don't have a subscription. As we mentioned before, for the most part, you're just paying for storage on a separate platform like the cloud storage system. Here are five benefits that make purchasing a video doorbell worth:
See who's at your door 
The most obvious benefit is that you can see who's at your front door whether you're home or not. Do away with the peephole and try to sneak a look at who's on the other side. You don't have to stop what you're doing or get interrupted if you don't want to. See who is there, and determine if you want to answer the door from the comfort of your bed. 
Converse with visitors from inside your home or away
Not only can you see who's at your door, but you can also converse with them; even if you're not home! This is not only convenient but also serves as an added security feature. 
If a stranger is at your door, you can ask them why they're there without opening your door to them. If you have the smartphone app communication enabled then you can be in an entirely different location and have a full conversation through the built-in microphone. 
This is also a great feature because there's a lower chance of theft when the person doesn't know that you aren't actually inside the home. You can address someone's needs without telling them that you're away at the moment. 
See who came to your home while you weren't present
If by chance, you miss a call, you have the choice to set up your camera to take a picture of the individual with the date and time stamp. This option helps you to know who was on your property while you were away. 
Video surveillance at night
Many cameras that don't require a subscription still come with cool features like night vision. This function allows you to monitor your property throughout the night, and the resolution is still excellent despite the absence of sunlight. 
Extra home security for your safety
If you have a home security system already in place, this is a wonderful addition to your arsenal. You can keep solicitors at bay, check on packages left at your door, and monitor any activity that takes place on your property, whether you're home or away running errands or working. 
Frequently Asked Questions
1. Do you need an electrician to install a ring doorbell?
There's no need to hire an electrician to install your video doorbell. You can install it easily on your own by following the instructions included in the package. It seems to be easiest when you use the pre-existing wiring that you had before. A couple of screws, and you should be good to go.  
2. Do doorbell cameras record all the time?
Usually, doorbell cameras don't record all the time. They typically start recording when someone comes within range, and it detects motion. It will record a few clips lasting seconds. 
Conclusion
As we stated, the Eufy 2K is at the top of our list for best video doorbell without subscription, but any one of the other selections would be an awesome addition to your home. 
Whether you're searching for the best wireless option, the best battery-powered option, or the best camera resolution, we have something to suit your needs. For extra security, convenience, and peace of mind, consider getting a video doorbell without the hassle of a monthly membership fee. 
Check out the Eufy Doorbell 2K on Amazon to purchase it for your home today!