We've reviewed six alarm systems and found that the Ring Security system is the best alarm company without a contract.
We know firsthand how vital alarm systems can be to give families an extra layer of safety and peace of mind. However, these systems don't need to break the bank. Many companies provide no-contract options that are far more flexible for customers because of their benefits and lack of financial obligation.
The best no-contract company is Ring, thanks to its numerous features and incredibly low subscriptions. Of course, other companies also have great perks, like financing equipment and automation. 
What security system does not require a contract?
Best Alarm Companies that Don't Require a Contract
Getting an alarm system without a contract gives you the flexibility to stop using the service without having to pay upfront fees. You can also try a better alarm system that may work for you and your family or even use the service without a subscription.
Learn about the best alarm companies that don't require a contract below.
Ring – Best Overall Option for No Contract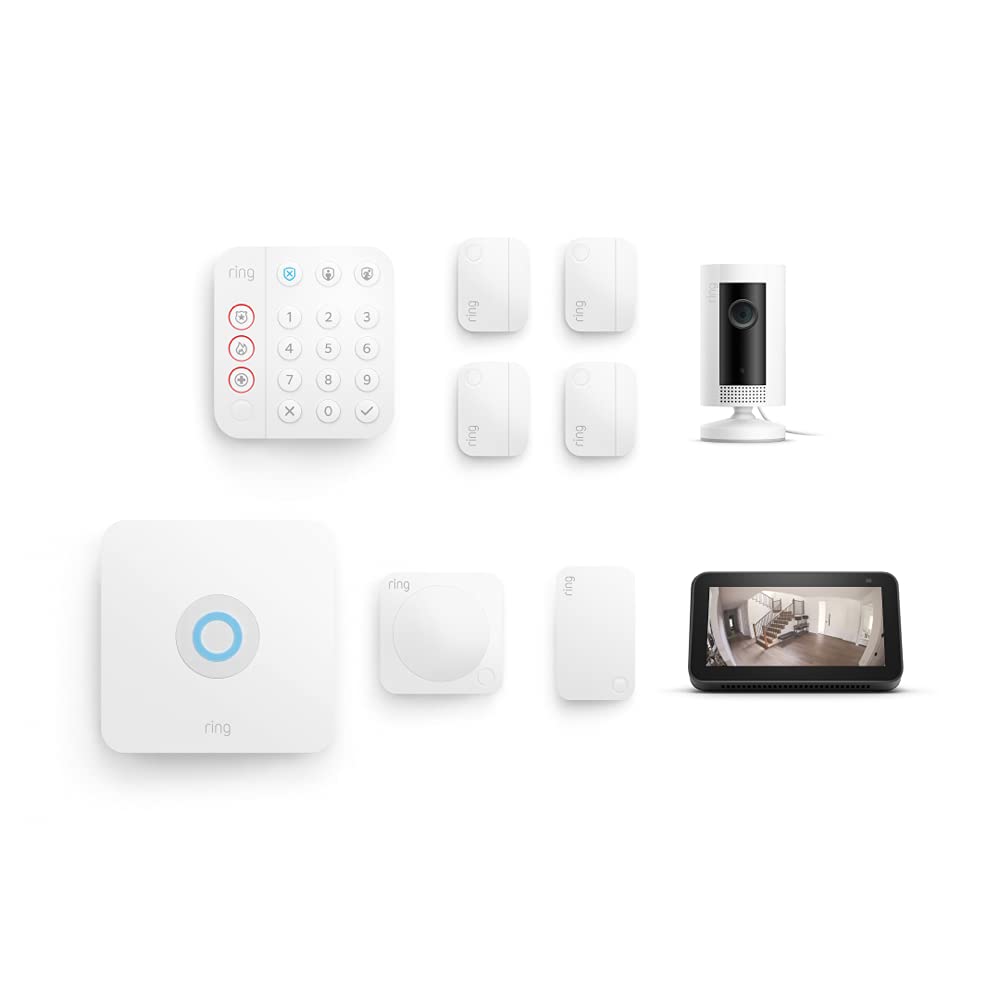 The Ring alarm company is one of the best no-contract alarm systems because of all the features it gives to its customers without a monthly subscription. Customers can use the live view feature, a live stream directly from the Ring device. Motion alerts, two-way talk, and snapshot capture are also available without a subscription.
Customers can protect their homes for as little as $139 for the equipment. Another great feature of the Ring alarm system is that customers can have up to 10 devices at one address. If they choose to get a subscription, all devices are under that one subscription.
Ring offers three different protection plans. The basic subscription is $3 per month and features 60 days of video history, video-sharing and saving, snapshot capture, person alerts, and rich notifications.
The Ring Protect Plus plan is $10 per month and includes an extended warranty on equipment as well as a 10% discount off of select products purchased through the ring.com or amazon.com websites. 
The Ring Protect Pro Plan is $20 per month and includes 24/7 professional monitoring, cellular backup, in-app SOS button and duress code, 24/7 backup internet, Alexa guard plus, and Eero secure. 
Eero is an exciting feature because it keeps the Ring devices running in the case of a power outage due to a storm or power outage.
The Ring device is for customers who want to protect their homes but not commit to a monthly subscription. Since you can purchase the equipment for under $150, there isn't much risk involved in trying it out to see if it will work for them and their family.
Individuals who try out the Ring alarm system without a contract have the time and space to do all of their monitoring manually and on the spot. However, they cannot save the video without having a subscription.
Abode – Best for Automations
Abode is one of the best alarm systems without a contract because of its automation options. Abode lets you automate your lights and locks to protect your home and give you more control. It works with Alexa, Google, Sonos, Bose, Apple Homekit, and Hue, just to name a few.
Abode is also very affordable. You can purchase the Smart Security kit that includes one of the following: motion sensor, key fob, secured by abode sticker, mini d/w sensor, and gateway. You get all of this for only $229.
And if you choose to try Abode without signing up for a monthly subscription, you still have access to the app, mobile notifications, and self-monitoring. While home automation support is not available on their basic free plan, you still have the opportunity to take the software for a test drive to see if it works for you and your family.
The standard plan with Abode is $6 a month or $60 a year. It includes self-monitoring with on-demand Pro monitoring as well as home automation support. Their Pro Plan is $20 a month or $200 a year and has everything from the standard plan as well as professional monitoring. 
No matter which option you choose with Abode, you can still upgrade or cancel your subscription without additional fees. The Abode security system is for tech-savvy families who like to automate simple tasks such as locking and unlocking the door and turning on lights at a fair price.
Abode lets you create your own automation using their cue system. For example, using the mobile app, you can set a trigger that results in a reaction that you set up. You can set Abode to turn on the lights 30 minutes after sunset. 
Another possible automation is having the lights turn on for 10 minutes each time the door or window opens after sunset. All of this is available on the Abode security system without a contract and for free. 
Cove – Best For Financing Equipment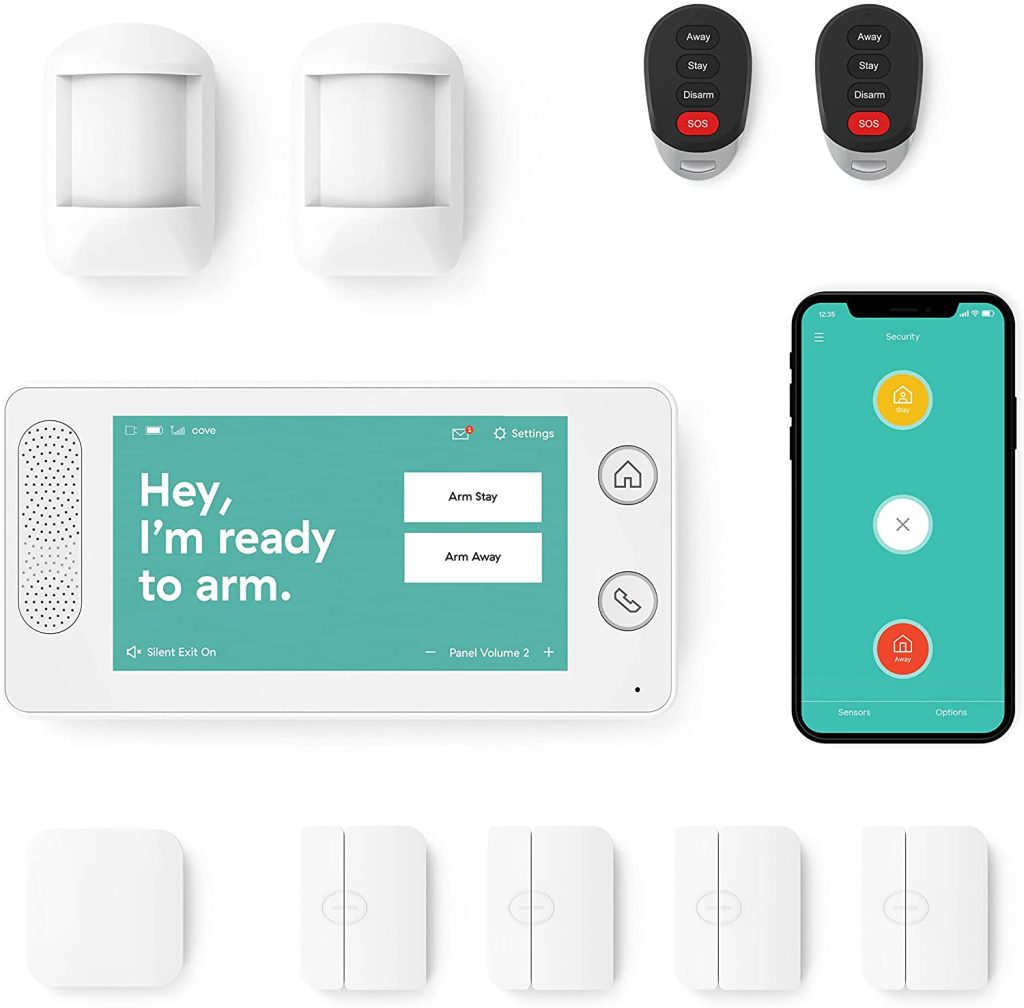 Cove is another alarm system with no contract. One of the best features of this alarm system company is that you can pay off your equipment over 36 months. Cove gives you the flexibility to not have to pay hundreds of dollars upfront. 
They also give you a 60-day risk-free trial with their equipment. If you decide that it doesn't work for you and your family, you can return the equipment and receive a refund for the money you already paid into the software. They even pay for shipping.
When you sign up for a Cove alarm system, you're not obligated to choose systems already set up. A short questionnaire creates an equipment package with the items you will need based on your answers. 
One feature to appreciate about the Cove alarm system with no contract is its control panel. The control panel is a touchscreen that communicates with all equipment. In the case that something happens and the company can't reach you via text, you will receive a call through the control panel. 
Unfortunately, Cove customers have to choose a subscription plan. Their basic plan is $0.50 a day or $14 a month. It includes the following: 24/7 live alarm and environmental monitoring, triple touch communications, live assist, smash and grab protection, 100% 80 T 4G LTE connection, hourly automated system check, 24-hour backup battery, and one-year equipment warranty. 
The Cove plus plan includes everything in the basic plan as well as lifetime equipment warranty, camera integration, smartphone control, Alexa and Google Home voice control, and a $5 per month equipment reward. The plus plan costs 83 cents per day or $25 a month. 
The Cove alarm system is for families that want to try out an alarm system without a contract that provides all the pieces they know that they will need, plus user ability and an easy 30-minute installation.
SimpliSafe – Best for Professional Monitoring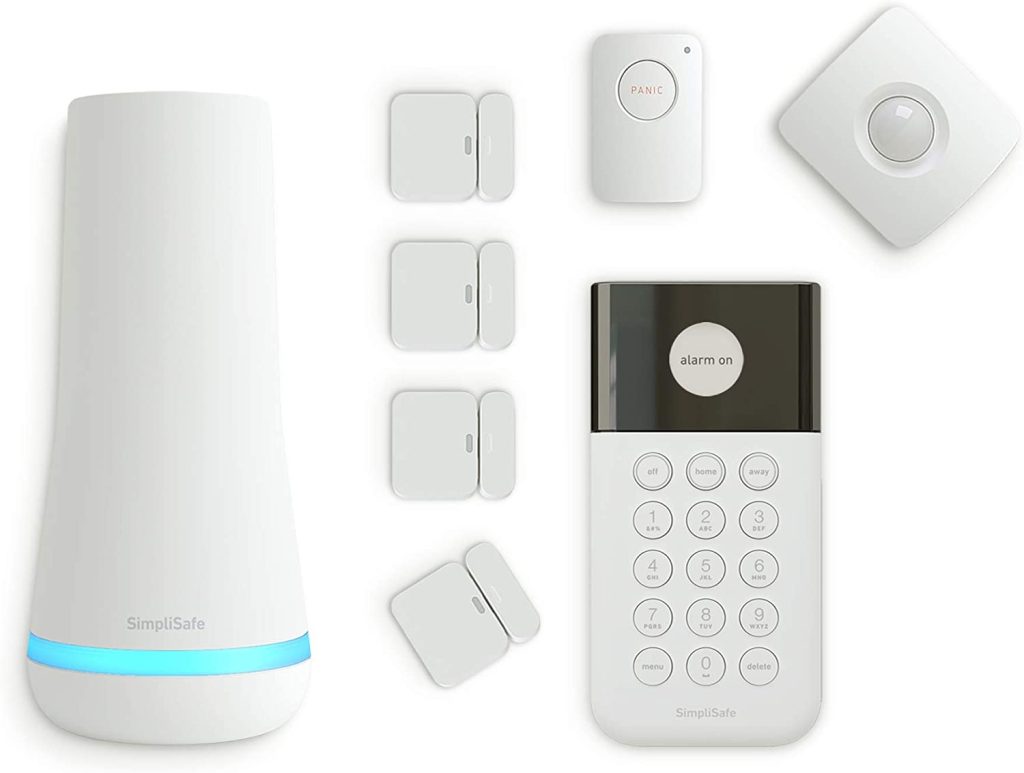 Simplisafe is the best alarm company without a contract for professional monitoring. SimpliSafe offers two subscription options, standard and Interactive. All plans come with 24/7 professional monitoring.
If the alarm is triggered, the SimpliSafe monitoring system will call you to ensure that it was a false alarm and that you are okay. If they don't get an answer, they send law enforcement to double-check. 
The great thing about the 24/7 professional monitoring feature is that you can opt out of it. If you choose to opt-out, you won't receive a call, nor will the police be summoned. 
SimpliSafe's standard plan is $14.99 per month and offers 24/7 professional and environmental monitoring, including smoke and flood. Their interactive plan is $24.99 a month and offers, in addition, mobile app access, smart home integration, text or email alerts, and secret alerts.
SimpliSafe offers five different equipment packages that range between $137 to $293.The foundation equipment package gives you everything you need to secure your home for only $137.  
These options give customers more flexibility to test out the system. You can even choose used and refurbished SimpliSafe systems to save money on your purchase. 
The SimpliSafe no-contract security system for homes is an excellent option for families willing to purchase their interactive plan. It doesn't seem worth it to buy the standard plan unless 24/7 professional monitoring is the only thing of importance. 
Unfortunately, without the interactive plan, you won't be able to access the system via cell phone, nor will you receive text or email alerts. 
Scout – Best for RFID Capability Control
Scout is the best alarm company without a contract because it offers RFID stickers. Scout offers four equipment packs, and each one comes with an RFID sticker. Unfortunately, none of the Scout packs come with a keypad. However, you can purchase one separately at an additional cost.
Here the RFID sticker comes into play. You can disarm the system via the app on your mobile phone, a key fob, or the RFID sticker. You can put the sticker on anything you choose, whether it be a picture frame, a keychain, or anything you have easy access to.
To disarm the system, all you have to do is hold the object up to the door panel to arm and disarm the Scout security system. It can also save your family money if you choose not to buy a keypad or extra key fobs.
Scout offers two subscriptions, always on and always on plus. The always-on subscription is their standard package. It's $9.99 per month or $107 per year. The subscription only offers mobile app access to Scout's alarm system. 
The always-on plus subscription is $19.99 a month or $215 per year. This plan offers mobile app access, camera cloud storage, and 24/7 professional monitoring. 
Scout also offers a 12-month contract which gifts its customers a 10% discount. If you choose to cancel the contract before the 12-month period is up, they will still give you a prorated refund. 
The Scout alarm company with no contract is excellent for families who want to save money on their equipment. The RFID sticker gives everyone in the household the ability to arm and disarm the system by simply holding up the sticker in front of the sensor. 
Vivint – Best for Professional Installation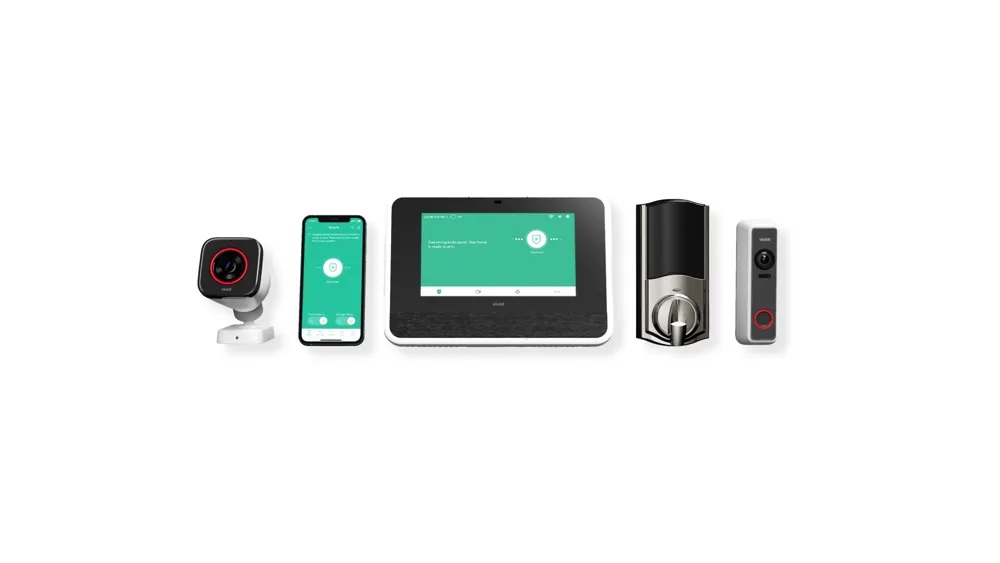 Vivint is one of the few home alarm systems without a contract that offers professional installation. You're only eligible for their non-contract option if you pay for the equipment up front. Vivint's equipment packages start at $600. 
Read our most recent review Vivint vs Ring-Which Home Security System is Best For You?
Don't worry if you can't afford to shell out $600 for an alarm system. You can still take out a 5-year loan through Vivint to pay for the equipment. The contract option lets you cancel your contract at any time without any extra fees or penalties. 
However, please understand, the cancellation takes 30 days to take effect. You will receive a final bill for your subscription at that time.  
Vivint offers its customers three subscription options: Smart security, smart home, and smart home video. The smart security subscription is their basic plan of $29.99 per month. Customers who opt for this plan get 24/7 professional monitoring, mobile app access, and text and email alert.
The smart home subscription is $39.99 per month. In addition to the features offered on the smart security plan, customers also get smart home integration and environmental monitoring on things such as smoke, leaks, and floods.
The smart home video subscription is $49.99 per month. It includes security camera support in addition to the features of the smart home subscription.
The Vivint alarm company with no contract is best for families looking to stick with them for years to come. If they choose to cancel their subscription, they may still be liable for the equipment price. In fact, Vivint may use the price of the equipment as a cancellation fee. They must also be okay with higher subscription and Equipment prices.
Buying Guide
The best alarm companies with no contract will give you the features you want and need for your family to enjoy and feel safe. Though not having a contract adds a high level of flexibility and gives you more control over your finances, it is still important not to settle for a security system that doesn't meet your needs.  
With that said, you should still understand that you will have to pay for the best features. Let's talk about the main features that one should look for when buying an alarm system. 
What Features to Look for
Here are some of the best features to look for when purchasing a no-contract alarm system for your home. 
24/7 Monitoring
24/7 monitoring is one of the best features customers should look for when purchasing an alarm system. This essential feature takes the guesswork out of securing your home and protecting your family.
Around-the-clock professional monitoring protects your house when you are home, at work, or traveling. Plus, this constant monitoring can safeguard children and the elderly at home.
If the alarm is triggered, the system will attempt to contact whoever is at home to make sure they are okay. If they don't receive a response, they automatically send out the authorities to ensure that the family and home are safe.
The same happens if the homeowners are not home. They will receive a call to inform them that something has triggered their alarm. Even if you choose not to pay for this service, it is crucial to have the option if you need it. 
Mobile App Access
Mobile app access makes it easier to access and control your alarm system from your phone. The app will send instant notifications if the alarm is triggered. Not to mention, the app lets you check in on your home at any time just to make sure your family is okay. 
Video Backup
Video backup is another crucial feature to consider before buying an alarm without a contract. While this is a paid feature in most cases, it benefits the family by recording and saving live stream footage.  
In the case of an incident, the system saves the footage that can help the authorities apprehend the assailant. You can then watch the footage at any time. One can even check it to see how their furry companion manages being alone throughout the day. 
User-Friendly Keypad
A user-friendly keypad makes it easy to arm and disarm your security system. It also gives everyone in the home the ability to speak to the alarm company should an incident occur. While having mobile access is essential, one may not have access to their phone. Or, the one person who has mobile access isn't home.  
Live Stream
Live stream lets you see the video footage in the home in real-time. It's perfect for knowing who is at your door before you open it and lets you check in on your family while you aren't home. There is no need to wait until the alarm is triggered to make sure your home is safe. 
A Few Potential Problems to Consider
In addition to critical features, you should consider some issues that may arise after purchasing. 
Price
Of course, the price might be the first thing you look at when shopping for alarms. However, what may seem like a manageable monthly price before purchasing may just end up being too much after a few months. 
The whole point of going with an alarm company without a contract is to save money. Be sure to look at the equipment costs and monthly plan options, comparing them closely to your budget. You don't want to have to stop your plan just a few months after you invested in it. 
Installation
Installation is a big problem that customers have to deal with, and some may not be aware of all the work that often goes into installing an alarm system.  
Be sure to research or ask about installation methods. If you don't want holes in your walls, make sure the company has other options. Consider opting for a simple installation process that takes under 30 minutes.
Trial Options
Trial options should be a regular thing for alarm companies without a contract. However, they aren't always the norm. 
If you are interested in trying an alarm system but aren't yet sold on the idea, look for a company that offers trial periods. They will install the system, let you try it out, and then uninstall it if you don't like it. 
Why You Need an Alarm with No Contract
Before purchasing an alarm system, consider why you want one – and more specifically, why you want to go with a company that doesn't require contracts. 
Save Money on Home Insurance
Of course, one of the most significant reasons for getting a security system is that you can save money on your homeowner's insurance. Many people save up to 10% on their home insurance each year.
Babysitting
Another reason to consider an alarm is if you have someone regularly visit your home. For example, if you have a nanny or babysitter come to your house to watch the children, you might consider an alarm with a live stream to quickly check in on them while you're out.
Traveling
Many families travel regularly. Being able to pop into your alarm company's mobile app to check in on the home is ideal. Plus, you'll receive an instant call if there is an incident. An alarm can give you peace of mind knowing that authorities have checked out your house and made sure it was safe for you upon your return.
Elderly in the Home
If you have your parents or grandparents living with you, a security system can provide an extra level of protection. Or, if you want to get an alarm system for an elderly person living alone, consider security options that come with pendant jewelry as an easy way to ring for help.
Wrapping Up
Buying an alarm system from an alarm company without a contract gives families the flexibility they need to see if the alarm system is something they want to continue using. The best overall alarm company without a contract is Ring.  
They offer the most features without a subscription which gives families the ability to try before buying. Their equipment is among the cheapest. However, the company that a family chooses for their alarm system service will depend on their needs and preference regarding price, features, and subscription options.
Protecting your home should no longer be an inconvenience. It's not fair for families to have to choose between protecting their homes and saving money. If you're ready to purchase an alarm with no contract, learn more about Ring or any of the options listed above.