In my house, chaos reigns. The last thing I have time for is fiddling with the thermostat. I've found the GoControl Thermostat to be the best Z wave Thermostat for my two-story smart home. This thermostat maintains a comfortable environment all year-round.
When we first moved into our current house, the odd temperature dips in the afternoon were a source of continual frustration.
With kids and dogs constantly running in and out throughout the day, the temperature inside fluctuates dramatically. I finally took the "smart home" plunge, and the purchase I made was a Z wave thermostat. 
After shopping around and doing some basic research, I realized I needed a device that could make the most of what I had already, that's why I invested in a smart system with a Z wave hub. 
The GoControl Thermostat doesn't come with extra frills, but it does what I need it to do. Essentially, this Z wave thermostat works seamlessly with my other Z wave devices. On a low-frequency wavelength it travels throughout the house without interruption. 
For me, the critical feature is how efficiently it responds to any adjustments I make through the app on my smartphone. Not needing to pay for any extras I was not going to use, was also a key feature.
Of course, depending on the families and lifestyles, different Z wave thermostats might make more sense. Certain Z wave thermostats offer better specific functionality. For instance, some can detect and regulate humidity. Others include WiFi connectivity. 
The Z wave thermostat that works best for you will depend on matching up these features with the specific needs of your home.
That said, there are a lot of Z wave compatible options out there to choose from, so it can be hard to know where to start. Based on the key features and utility of the top Z wave thermostats on the market, this list should help give you a great place to begin your search.
Each of these Z wave thermostats brings something a little different to the table in terms of combining efficiency, cost, and utility. Your decision to buy a thermostat will be determined by the setup of your house. You'll want to carefully consider which features will bring the most added value to your home.
Which thermostats are Z-Wave compatible?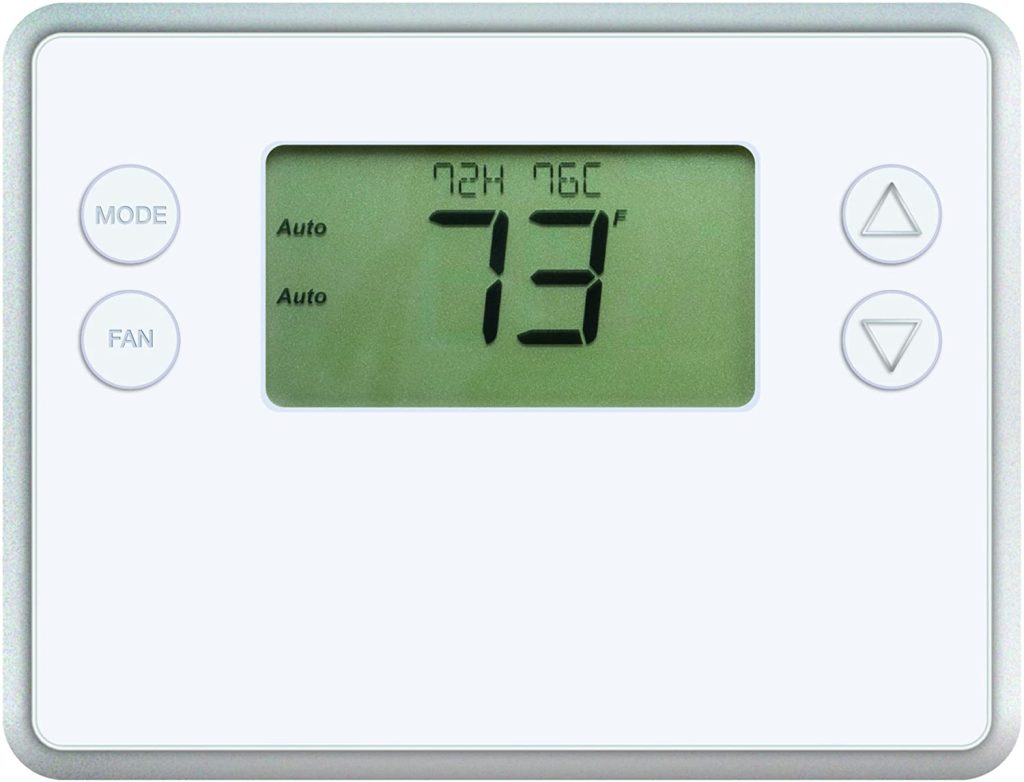 Anyone on a budget should consider the GoControl, which offers solid performance and a strong connection with your Z controller. 
A Z wave thermostat is an investment in the future of energy efficiency and the comfort of your home. However, you don't necessarily require a luxury-grade device to give you the performance you need. 
Although there are several cheaper options, the GoControl strikes a good balance between quality and expense.
The display screen is simple and, while not a touch screen, the buttons to either side are low profile and clearly indicate functions. This screen works well for anyone who is most comfortable using a traditional thermostat since it can still be easily regulated by adjusting the settings on the device.
For instance, after its success in my house, I installed a second GoControl in my mother's condo with a wall mount. She loves the simplicity of the display. When our family travels, I can monitor the temperature and adjust it for her as necessary.
My own GoControl connects to my Alexa, providing complete voice control. The GoControl works with most HVAC systems, even those with heat pumps. 
One of the best selling points of GoControl is the option to perform as a battery-powered thermostat. This means that it isn't subject to power failure the way some other systems can be.
The 1-year warranty isn't quite as competitive as other coverage options on other Z wave thermostats. However, it's long enough to determine whether the GoControl will work well with your home and your heating and cooling systems. 
Perhaps the only drawback to the latest GoControl thermostat is that it is not Z wave plus compatible. For most homes, the regular Z wave is more than sufficient.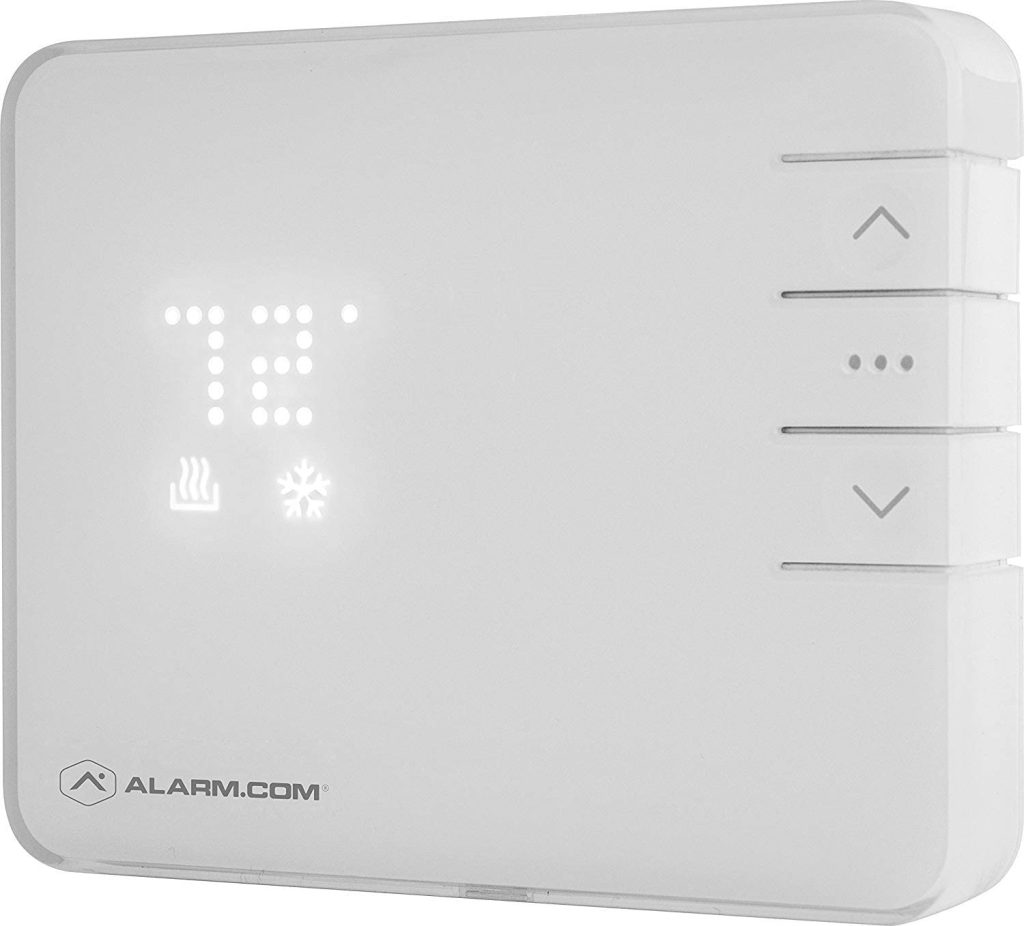 The Alarm.com Z wave thermostat is one of the most attractive designs currently available in smart thermostats. Unsurprisingly, the Alarm.com smart thermostat is compatible with the brand's security systems, allowing you to seamlessly control everything from safety to comfort.
Because the Alarm.com thermostat supports Z wave plus technology, you can use and program the thermostat with any Z wave controller. The Alarm.com Z wave thermostat also accommodates voice control and can be controlled either directly from the display or through a smartphone app.
For anyone shopping around for a security system upgrade or who already uses an Alarm.com system, this Z wave thermostat is a great choice. However, it's worth noting that the Alarm.com smart thermostat requires an Alarm.com security system and account subscription.
With Z wave thermostats, the adage "you get what you pay for" holds true. Subscription-based brands can offer more features and better links to other home systems. 
With the Alarm.com smart thermostat, you can choose between battery power or connecting your thermostat directly through a C-wire. Combined with the ability to customize your system and schedule through the app, these options easily make Alarm.com the most versatile option on this list.
Stelpro Ki STZW – Best for Line-Voltage Connection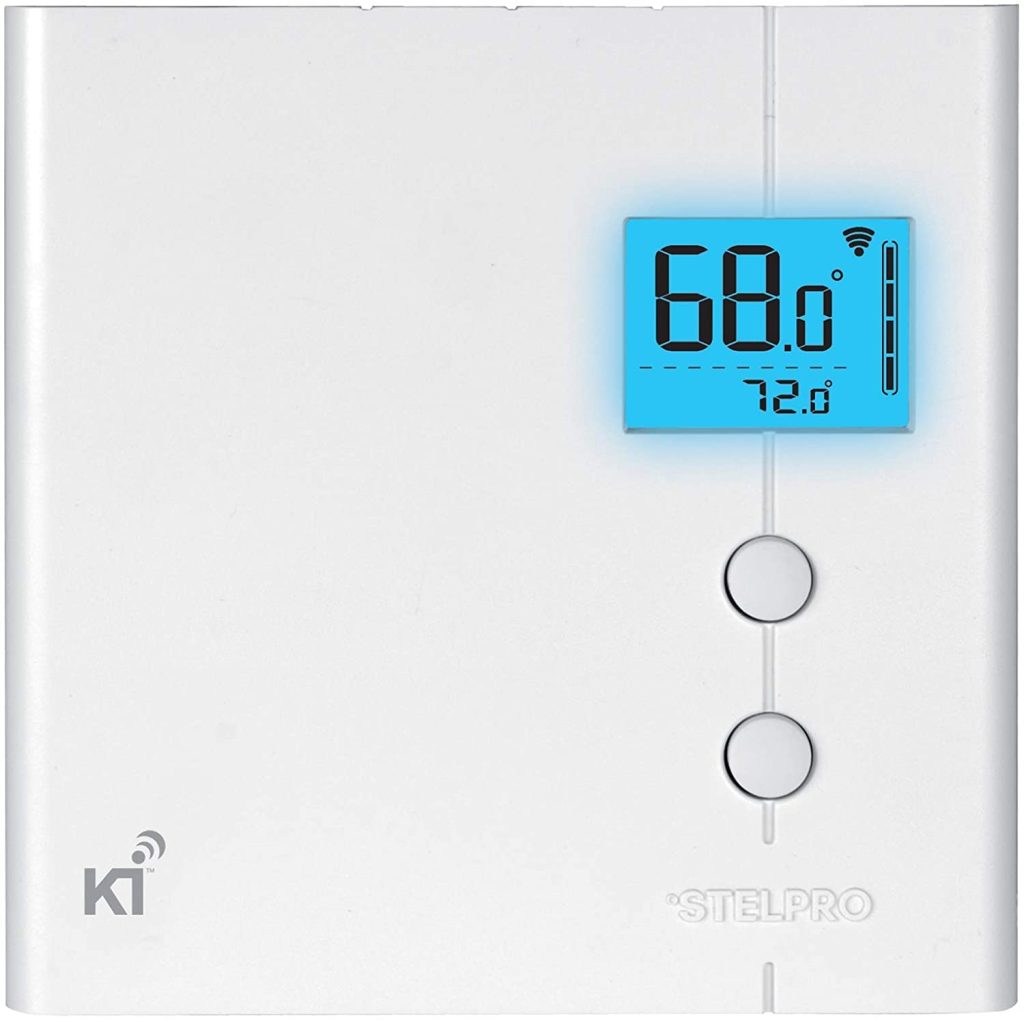 Many Z wave thermostats are limited to HVAC systems, but the Stelpro allows you to connect your electric baseboards and other convection heaters. You can safely wire your thermostat directly to your heater and follow step-by-step instructions to easily program your preferences.
Unlike some smart thermostats currently available, the Stelpro doesn't require a paid account to operate. Once connected, you can control and monitor your heating and cooling systems entirely through a mobile app. The Stelpro will also integrate with most smart home systems.
In fact, Stelpro offers several smart thermostat options. Another model also includes the ability to control fan heaters. The Ki STZW Z wave connection gives you the ability to activate preset "scenes" that include lighting, temperature, safety, and entertainment systems, too. 
This feature is particularly nice for anyone with a busy schedule since you can control your entire home through your phone. Rushing out the door with coffee already in hand? Checking that your teenager remembered to lock the door? Stelpro has you covered.
However, the scene feature is, in my book, more of a bonus accessory. After all, most Z wave controllers equip you with the same ability to activate programmed settings. 
What sets the Ki STZW apart from competitors is its compatibility with homes with baseboard heaters and other non-central environmental control systems. These older systems are often challenging to connect to smart home systems otherwise, so the Stelpro is a welcome addition to the lineup.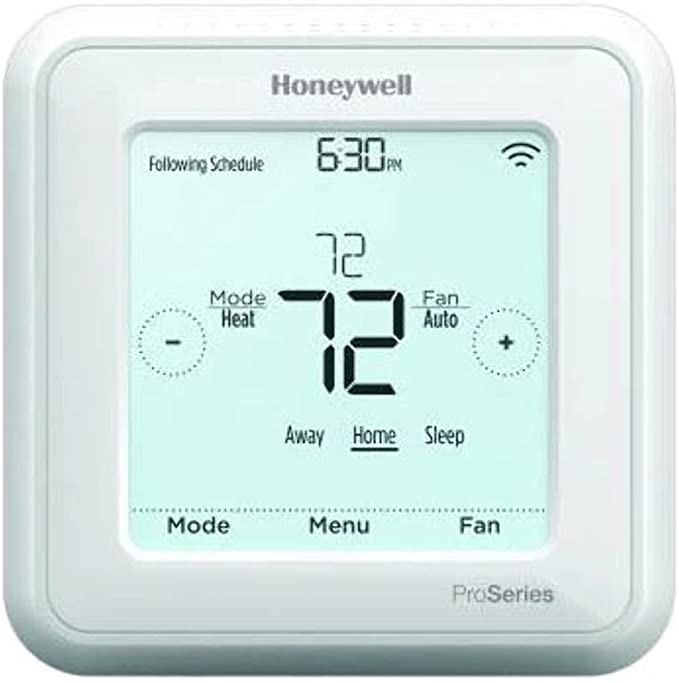 Of all the best Z wave thermostats currently available, the Honeywell is notable for providing consistent performance with no extra frills. This smart thermostat does exactly as it claims, providing an intuitive interface for controlling the temperature of your home. Plus you probably won't have any issues on how to program your z wave thermostat.
As indicated by its name, this Honeywell Z wave thermostat includes a basic 10-inch touchscreen on the monitor itself. You can program the thermostat to alert you to unexpected changes in room temperatures and filter changes, and also to easily override your preferred settings. 
That said, the touchscreen is simple, utilitarian, and not particularly elegant. If you want simple functionality and don't care much about how the thermostat will look on your wall, the Honeywell is a great option.
Unfortunately, unlike many newer smart thermostat models, the Honeywell does not include the option to connect to WiFi networks, though it does have an optional C-wire connection. 
This means that the Honeywell thermostat requires a separate Z wave controller that connects to the internet if you want to control your home's temperature remotely. 
Regular users also report that the Honeywell Z-Wave should be connected to a Z wave hub to optimize its efficiency and energy savings potential.
The Honeywell is one of the best options for anyone transitioning from a traditional thermostat or who doesn't regularly use a smartphone. However, the lack of voice control options may make it lose out when selecting the best option for older users or those with limited mobility.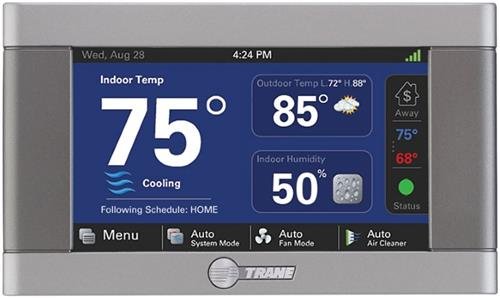 Last on our list, but not least, is TRANE's Z wave thermostat, which is priced to match its luxury performance. This TRANE model might well be one of the best-performing Z wave thermostats. It definitely comes with the most bells and whistles.
The one major downside to this Z wave thermostat is that it is only compatible with Nexia Home Intelligence, which is a paid subscription service. 
However, if you do have a Nexia system, the built-in Nexia Bridge in the XL824 allows you to control the rest of your home's smart devices through your thermostat or any WiFi-enabled device. 
For an added fee, you can connect your thermostat directly to a high-speed WiFi router for weekly weather forecasts and radar through your thermostat display.
In terms of appearance, the TRANE is probably the sleekest option on this list. The low-profile touchscreen, unlike most, has full high definition color and accommodates more specific functions and schedules than most smart thermostats.
The TRANE offers automatic temperature control that pauses your HVAC system as necessary, with the ability to coordinate between systems such as heat pumps and dual fuel forced air. The SmartSensor also helps balance the environment throughout your home. 
If the TRANE XL824 included voice control and the ability to connect with other smart home ecosystems, I would call it the perfect Z wave thermostat.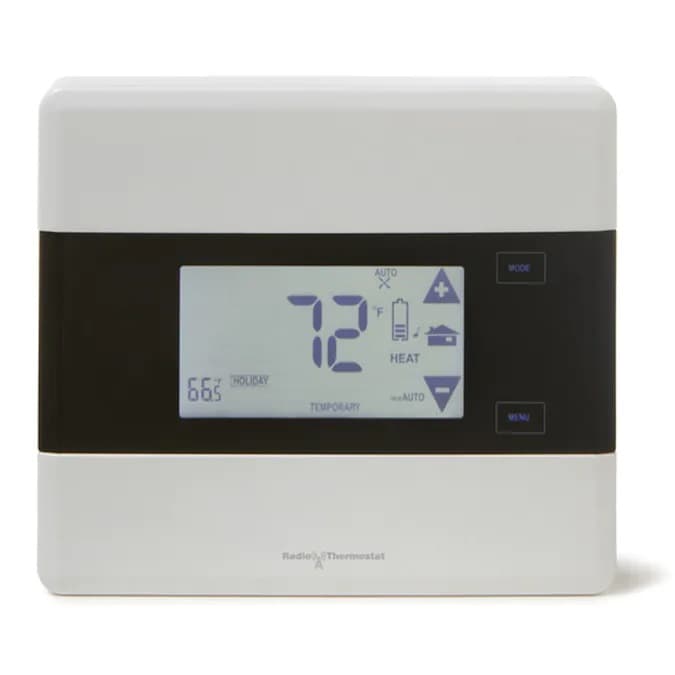 If you're looking for a Z wave thermostat on a tight budget, look no further. Despite being priced at about half of what most other Z wave thermostats cost, and well under the cost of higher-end options, the IRIS performs well.
That said, the IRIS Z wave thermostat is pretty basic. The home screen gives you a clear, programmable display that shows the time, temperature, target temperature and automatic settings, humidity, and the strength of the radio signal. But that's about it. 
The IRIS is perfect if you want to keep things simple and the best Z wave thermostat for anyone with a hard budget, but it's definitely not the most elegant or versatile device out there.
That said, the IRIS thermostat does particularly well when connected to multiple Z wave devices through a hub. This is largely because Z wave devices are designed to connect with one another on the same frequency and pass along messages in a relay until the appropriate device is reached. 
The more devices available to pass on messages, the better the entire Z wave network functions within your home. For a simple Z wave thermostat like the IRIS, you will get better performance if you have a smaller home or multiple Z wave devices all networked together and controlled by a single hub.
Buying Guide
When you begin looking for a Z wave thermostat, it's a good idea to understand exactly what you are purchasing and why different features and functionality matter. It can be especially tricky to match up to older heating and cooling systems with the appropriate Z wave thermostat. 
Taking this time beforehand, however, will help ensure that you optimize the energy efficiency of your home.
Finding the best Z wave smart thermostat for you and your home also means understanding how Z wave devices work and interact. Try to determine which features are absolute musts, and identify potential issues that may pop up with installation or your daily use of your Z wave thermostat.
Keep in mind that not all Z wave thermostats are created equal. Some offer more versatility in how they can be connected to your smart home system or other Z wave devices, for instance. Some are more user-friendly for the already tech-savvy. Others incorporate voice control.
Depending on your price range, a simpler thermostat might make more sense, particularly if you already use a Z wave hub to control multiple devices within your home. 
If you can afford it, however, the higher-end Z wave thermostats enable you to control more than just temperature, all through your mobile device.
What Exactly Is a Z Wave Thermostat?
Z wave is, quite literally, a particular set of radio wave frequencies. Z wave devices communicate with other Z wave-compatible devices using these frequencies. 
The specific frequency of a Z wave depends on the country where you are using your device, so be sure to confirm your device is compatible with your region. In the U.S., for instance, our Z wave devices operate at 908.4, 908.42, and 916 megahertz. 
In smart thermostats, Z waves enables the main thermostat controller to communicate with your home's heating and cooling elements. It may also allow you to use a mobile app to control a particular device directly.
Companies providing smart home ecosystem services can join the Z-wave Alliance, essentially agreeing to create devices with shared Z wave compatibility that meet certain standards. This way, competing or unconnected brands can provide services and devices which can communicate.
As just a sample of the systems connected through Z wave technology, a range of security, entertainment, lighting, accessibility, and environmental control devices all use Z wave. That said, not all smart thermostats include Z wave or Z wave plus compatibility. 
Z Wave Plus
The latest advance in Z wave technology is something called Z wave plus. Basically, Z wave plus is an improvement of the original Z wave, which first allowed smart thermostats from different companies and manufacturers to easily interact with one another. 
The basic Z wave requires a slightly higher frequency wireless radio signal, which is subject to some interruptions depending on your location. For this reason, Z wave plus provides stronger, more consistent connections between Z wave devices throughout even larger homes with thick walls and floors.
Unfortunately, not all Z wave thermostats are compatible with Z wave plus, even those with the capacity to download system upgrades. However, most newer models are Z wave plus compatible. 
Z Wave Controllers
Before purchasing a Z wave thermostat, it's important to confirm that all the systems you wish to connect to your device can be connected to that particular Z wave control system. Certain smart Z wave thermostats, for instance, require a direct C-line connection. 
Most people who use multiple Z wave devices make use of a Z wave controller, also called a hub, to allow them to manage their entire home environment from a single location (as well as virtually). However, this term can be misleading. 
In fact, Z wave devices all connect to one another in what is called a mesh network. What this means for you is that each device doesn't need to connect to the internet as long as the central controlling device does. 
From there, the signal can jump via Z wave to the devices on the network that includes repeaters. Some devices may only be able to communicate with your controller or hub, as in the case of some of the less expensive Z wave thermostats.
Key Features
If you're worried about how to program a Z wave thermostat, it's much simpler than you might guess. Whether you use battery power or a C-line connection, each of these Z wave thermostats comes with clear instructions for linking your device to your HVAC or other environmental control systems. 
One of the clear benefits of Z wave devices is that their operating frequency range (800-900MHz) doesn't overlap and causes interference complications with WiFi signals. 
That said, Z wave and Z wave plus operate at slightly different frequencies. Z wave plus was introduced to address minor interference issues, but not all Z wave thermostats currently on the market include Z wave plus yet.
When looking for the best Z wave thermostat, consider how it will connect to your system, the type of heating and cooling elements it will need to control, and the importance of remote access. For people who travel infrequently, a smartphone app might be a less critical consideration.
Potential Problems
Z wave plus has improved the technology and all but eliminated connectivity issues. For larger homes or those with thick walls, using a Z wave hub is one of the most effective troubleshooting methods.
Specifically, since Z wave devices are designed to interact and pass on messages you input into the primary hub, the more Z wave devices you add to your hub, the further the communication channel stretches. 
One of the most significant hurdles that Z wave brands will need to overcome in the next several years is upgrading their devices to fully support Z wave plus and long-range Z wave. Currently, some Z wave devices have this capacity, while others do not.
Similarly, you may discover that your home's heating and cooling systems require a particular type of connection to your Z wave thermostat. Some smart thermostats are compatible with C-lines, while others are battery-powered. A few of the thermostats on this list are even WiFi compatible, too.
Best Z Wave Thermostat-Bottom Line
As an overall best pick, the GoControl thermostat offers what I consider to be the best blend of cost, versatility, and performance. If you're looking for a simple, one-stop solution to maintaining your home's indoor environment, check the GoControl out here.
With the appropriate devices to connect to any of these Z wave thermostats, you should find that setup is straightforward. A service representative can generally help you sort out any connection issues, too. 
Look forward to eliminating time lost to setting and resetting your HVAC or heating systems with a Z wave thermostat!