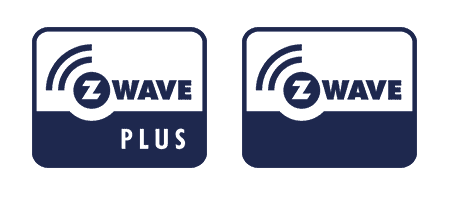 As home automation protocols go, Z-Wave is a popular choice for manufacturers of home technology products in a wide array of devices and products. Z-Wave Plus is an extension of the original Z-Wave, but a remarkable one.
While both the Z-Wave and Z-Wave Plus are comparable, the certified Gen 5 compatibilities of the Z-Wave Plus are significant. Easier installation, improved range, extended battery life, and enhanced diagnostics make the Z-Wave Plus worth the upgrade.
As we take a look at Z-Wave and Z-Wave Plus, you will see why future-proofing your home automation with Z-Wave Plus is a fantastic investment in home security and automation.
The Original Z-Wave
Z-Wave originated in Denmark with the purpose of becoming the backbone protocol system for home security and automation. For more than a decade, Z-Wave has worked with and across leading smart home product brands to create highly adaptive yet simple technological home possible.
Z-Wave features a wireless protocol with low power, which creates a formidable mesh network ideal for both security and automation of the home or office. This mesh network of devices repeats and verifies signals to ensure every device linked obtains the message or command. The repeated signals from the other devices reach other devices that may be outside the hub's range.
Z-Wave can create and maintain a networking system to accommodate small or large areas. Devices can receive signals from each other up to the distance of just over 100 yards, which is the size of a football field. Capable of supporting up to 119 devices, a Z-Wave system can create a mesh of signals covering over 21,000 yards.
Z-Wave will not interfere with Wi-Fi or other wireless networks. Every device on the network has its own ID. Set up, configuration, and security with Z-Wave is easy and safe.
As long as you access the internet, you can use Z-Wave. A Wi-Fi router connects Z-Wave to the internet. There is also a simple-to-use app on your smartphone or tablet. This app allows you to check in on your Z-Wave network 24/7 from anywhere in the world.
You can set Z-Wave up to mimic your habits, too. Your home can look as if you are in residence, even closing the curtains and turning on the TV, while you are on the well-deserved beach vacation. 
Did your son forget his keys once again? Unlock the door for him while you are at work, then lock it back because he forgot.
Save energy by controlling the thermostat to have the house warmed or cooled just before you arrive.
The New, Improved Z-Wave Plus
Z-Wave Plus is designed to support the new Gen 5 devices. Products with the Z-Wave Plus certification feature enhancements to their functionality and improve your automation and security experience. Faster speeds, easy installation, and the ability to support new and upcoming technology, Z-Wave Plus offered flexibility in mesh networking.
With extended capacity, Z-Wave Plus has expanded range and extensive battery life. With Over The Air (OTA) upgrading of software, firmware, and data to mobile devices in addition to RF channels, Z-Wave Plus can still connect with all your current Z-Wave products and add more advanced Gen 5 products along the way. 
The upgraded self-healing, longer-lasting battery, more robust device profiles, and quicker installation, all technological advancements of the Z-Wave Plus, offer extraordinary perks to tech-friendly homes and offices.
The Differences Between Z-Wave and Z-Wave Plus
Although Z-Wave and Z-Wave Plus are similar, Z-Wave Plus surpasses Z-Wave with multiple improvements, most notably in battery, range, installation, bandwidth, diagnostics, and channels. 
Battery
The battery life of Z-Wave Plus devices is 50% longer than Z-Wave's already impressive 12-18 months for devices that do not plug in. Not only does this save energy, it also saves you the cost of replacement batteries.
Range
Z-Wave's range is comparable to a football field, which is impressive. However, the extended range of Z-Wave Plus adds another field to the total. That's 200 yards of coverage. 
Installation
With the original Z-Wave connecting devices required a few simple steps. Z-Wave Plus made that easier by allowing new devices to connect to the network automatically.
Bandwidth
The amount of devices connected will impact the amount of bandwidth needed to move data along the network. Z-Wave Plus can handle 250% more data than the original Z-Wave.
Diagnostics
The new Explorer Frame feature of the Z-Wave Plus lets devices address issues on their own to maximize peak efficiency. Because of its self-healing capabilities, if one device on the network goes down, other devices reestablish connections with each other quickly. So no holes in your security network.
Channels
Z-Wave Plus has three new F Channels to enhance bandwidth and strengthen device connections.  
Noise Immunity
One of the best features of Z-Wave Plus is the improved noise immunity to foreign electrical signals. This immunity limits the possibility of disruptions in the network, and means better security overall.
Same But Different
From the basic level, both Z-Wave and Z-Wave Plus are very similar. The Z-Wave Plus system offers an assortment of improvements. All Z-Wave Plus devices can be used in conjunction with Fibaro, Google Assistant, and Amazon Alexa hubs.
Third-Party Monitoring with Z-Wave Plus
A significant enhancement with Z-Wave Plus is the ability to command and control more smart home apps and devices with a third-party monitoring feature. No more switching between apps to control lighting or locks, at least for the vast majority of your devices. Nearly all of those features are accessible through one powerful app.
Improved Home Security
Many home security monitoring firms use Z-Wave Plus devices as their mesh network protocol of choice. Z-Wave and Z-Wave Plus use the same encryption technology systems and protocols as online banking platforms. 
If you are in the market for a monitoring service with professional installation, 24/7 monitoring, you will find the top-rated companies have devices that are Z-Wave Plus certified. Knowing this is what the pros use gives additional confidence in the Z-Wave company and Z-Wave Plus devices.
Compatible With More Major Brands and Products
Nine out of ten manufacturers develop products that are compatible with Z-Wave Plus. Over 100 million Z-Wave Plus certified devices are used in homes worldwide.
You can easily mix and match products and devices across brands to find the perfect blend of form and functionality, opening a world of possibilities.
How to Upgrade to Z-Wave Plus
If you already have Z-Wave devices, there is really no reason to switch everything over to the Z-Wave Plus. Investing in Z-Wave Plus devices, especially if you're looking to add more to your system, would be a smart idea for your smart home devices. 
If you are just starting out, a Z-Wave Plus kit is the way to go. It is the easiest and fastest way to get all of your devices set up. Make sure the devices you purchase are Z-Wave Plus certified. You can find device models that are a little older on sites like Facebook Marketplace or eBay to save on some of the expense of upgrading devices.
Slowly begin to automate your home by adding new Z-Wave Plus devices to your system using the next-gen protocol. Remember, Z-Wave Plus does still support existing Z-Wave devices. Those older but still functional models are more affordable than the latest and greatest. You can still build your smart home without breaking the bank.
Looking to the Future of Z-Wave
Still compatible with the 100 series devices that were first released way back in 2002, Z-Wave Plus continues to grow and advance for future smart device technology.
The Z-Wave company continues to progress toward new features and tests to ensure every device works better and is totally interoperable with all other Z-Wave devices and products available in the marketplace.
If you have the ability, purchase devices with the latest technology. These newer devices go through meticulous testing. They use the most current chipset, allowing for improved RF range and the latest algorithms for mesh network routing.
Trust Z-Wave Devices
The biggest names in smart home technology use Z-Wave and Z-Wave Plus in their devices and products. Proven to be number one in the home automation solution market, the reliability of Z-Wave and Z-Wave Plus is unmatched.
Despite being a bit more costly, Z-Wave Plus products and devices are definitely worth the investment. Using the 500 series chips, Z-Wave Plus devices run on the most up-to-date RF firmware and technology.
The Z-Wave Alliance Certification program is rigorous. Devices with this certification are considered the best on the market.
Since devices that worked on the original Z-Wave protocol will still work with Z-Wave Plus, you have not lost any of your investment in those devices. Upgrading your mesh network to Z-Wave Plus allows you to use those same devices and increases your smart home's capacity to integrate more powerful devices in the future.
Rest easy knowing Z-Wave will still meet and exceed your smart home or office features and securities with the latest technology. No matter where you happen to be.
FAQ
what is z wave plus
Z-Wave Plus is the latest iteration of the Z-Wave standard, which was first introduced in 2004. It's a wireless communication protocol used for home automation and security applications.
Z-Wave Plus offers a number of enhancements over the original Z-Wave standard, including longer range, better battery life, and more reliable communications. It's also backwards compatible with older Z-Wave devices.
So z wave or z wave plus?
There is no simple answer to this question, as there are pros and cons to each type of Z-Wave technology. Ultimately, the best option for you will depend on your specific needs and priorities. Here is a brief overview of each option to help you make a decision:
Z-Wave: Z-Wave is the original Z-Wave technology, and it has been around since 2001. It is a very reliable technology with a long track record. However, it has a limited range (usually around 30 feet) and it does not support mesh networking. That means that if your home is large or has multiple floors, you may need multiple Z-Wave hubs to cover the entire area.
Z-Wave Plus is an enhanced version of the original Z-Wave with better and in the long run it is probably the smarter choice if you're using zwave protocols.