Roborock Vacuum Comparison Table
| Model | S7 | S6 | Q5 | E5 | S5 | Q7 |
| --- | --- | --- | --- | --- | --- | --- |
| Mapping and Navigation | Yes (LiDAR + Sonic) | Yes (LiDAR) | Yes (LiDAR) | Yes (Gyro + Optical) | Yes (Gyro + Optical) | Yes (Gyro + Optical) |
| Carpet Boost | Yes | Yes | No | No | Yes | No |
| Mopping Function | Yes (Vibrating mop) | Yes (Removable mop) | No | No | Yes (Removable mop) | No |
| Water Tank Capacity | 300ml | 180ml | N/A | N/A | 140ml | N/A |
| Suction Power | 2500Pa | 2000Pa | 2000Pa | 2000Pa | 2000Pa | 2000Pa |
| Battery Capacity | 5200mAh | 5200mAh | 3200mAh | 5200mAh | 5200mAh | 5200mAh |
| Run Time | Up to 180 mins | Up to 150 mins | Up to 110 mins | Up to 150 mins | Up to 150 mins | Up to 150 mins |
| Auto Recharge & Resume | Yes | Yes | Yes | Yes | Yes | Yes |
| Zone Cleaning | Yes | Yes | No | No | Yes | Yes |
| Multi-Floor Mapping | Yes | Yes | No | No | Yes | Yes |
| App Control | Yes (Roborock App) | Yes (Roborock App) | Yes (Roborock App) | Yes (Mi Home App) | Yes (Mi Home App) | Yes (Mi Home App) |
| Voice Assistant Compatibility | Yes (Alexa, Google Assistant) | Yes (Alexa, Google Assistant) | Yes (Alexa, Google Assistant) | Yes (Alexa) | Yes (Alexa) | Yes (Alexa) |
| Current Price | Check | Check | Check | Check | Check | Check |
We reviewed 8 Roborock smart vacuums and found the Roborock S7 to be the best vacuum-mop combo for the average buyer.
We took many things into account when we reviewed these Roborock vacuums. Each home has different needs that your robot vacuum needs to meet. You need a vacuum that is the best at what it does and fits within your budget. Roborock vacuums come in a wide variety of models with unique features. So how do we narrow it down to find the top models for your home?
While doing our Roborock vacuum review, we compared highest-caliber and lowest-caliber options while considering many other features users may look for. For example, some vacuums only sweep, while others can mop on top of sweeping. 
Robot vacuums need mapping systems to clean your home efficiently, and some models have better mapping than others. Some vacuums can even sense where to avoid mopping, like on carpets and rugs. On top of all of that, there's the issue of budget. 
The Roborock S7 is the best model if you're looking to get the best bang for your buck. If you have a decent amount of money to spend on your robot vacuum, this model is a great hybrid option if your home needs sweeping and mopping. In addition, the S7 has the most well-rounded array of features for the price it is offered at. 
But it's not the only good Roborock vacuum out there. Some are better for vacuuming, some are better for mopping, and others are more affordable than the rest. But whatever it is you're looking for, Roborock likely has a vacuum to suit your needs.
Keep reading to learn more about our Roborock vacuum review. We'll look at what makes each vacuum unique and determine which one is best for you.
Roborock Models
Roborock has many vacuums that are ideal for various home and cleaning types. Here are our picks for best overall, best on a budget, and best for advanced features, among others.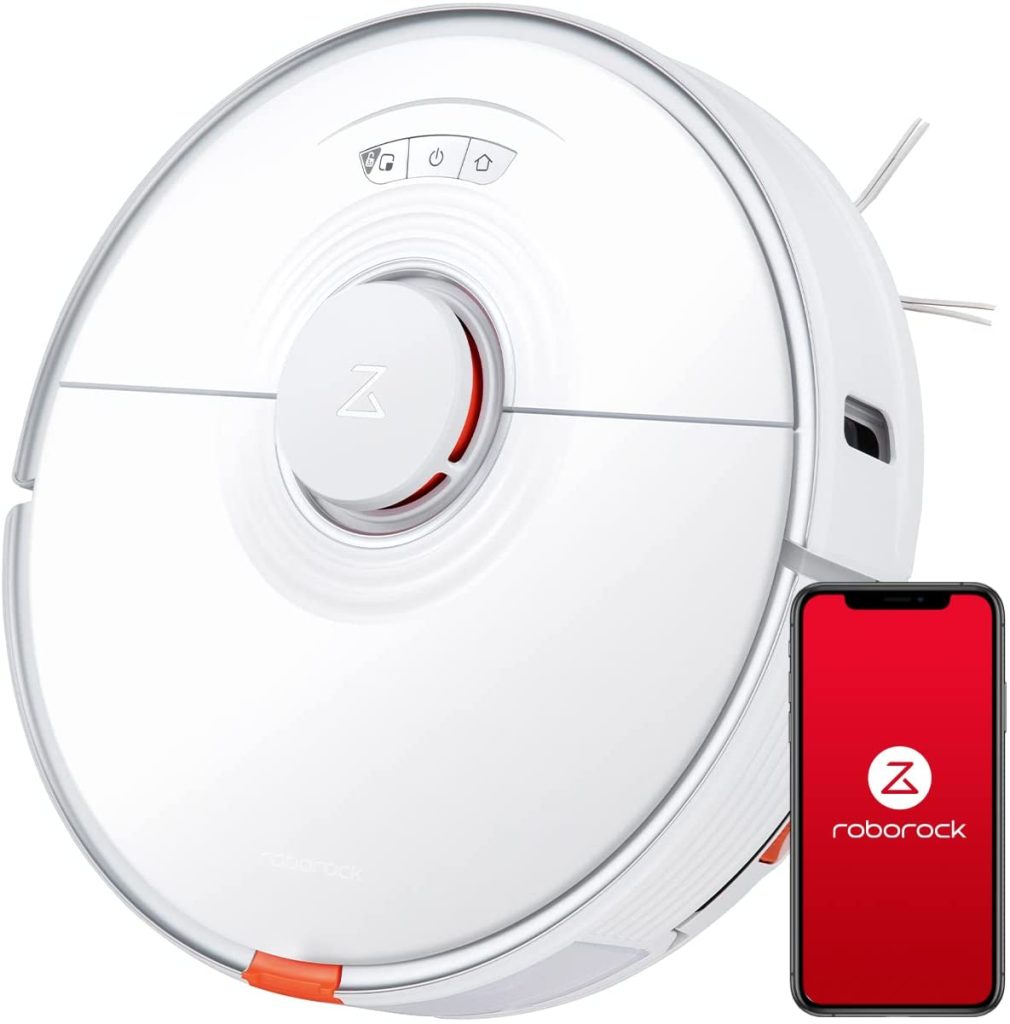 The Roborock S7 is the company's most well-rounded product. It serves as both a vacuum and a mop, and it uses sonic technology to scrub your floors more than 3,000 times a minute. Altogether, the S7 is excellent for removing anything from pet hair to coffee stains.
The S7 is equipped with the company's first auto-lifting mop and an all-rubber brush, leading to a very efficient and deeper clean. 
Standard bristle brushes tend to get tangled when they pick up hair, which the rubber brush avoids easily. It is also more durable than bristle brushes and agitates carpet more efficiently as it deep cleans. 
To top it off, the S7 comes with an upgraded brush system that keeps the brush closer to the ground for a deeper clean than your average vacuum, even on uneven surfaces.
One of the most significant selling points of the S7 is its Carpet Recognition software that allows you to mop your hard floors and vacuum your carpets all in the same cleaning cycle. 
Though it sounds too good to be true, the Roborock's intelligent mop senses the change in flooring and lifts or lowers its mop head accordingly. So you don't have to worry about wet carpets while your vacuum is cleaning the floor.
With the Roborock App, you can also see everything your vacuum sees. Adjust mopping and vacuuming routes, adjust suction power, or even set No-Go Zones with just the tap of a finger. The S7 is even compatible with voice control options like Alexa, Google Home, and Siri so that you can start a cleaning cycle with a simple voice command.
The S7 can run for up to three hours on a single charge and clean up to 2,150 square feet in a single cleaning cycle. In addition, its dustbin can hold up to 470 mL of dush, and its 300 mL water tank is more than capable of giving your entire home a deep clean on one charge.
With over 15 Best of CES 2021 Awards, it's no wonder why the Roborock S7 is a solid choice for a robot vacuum. If you have the money to invest in a quality vacuum, the S7 is an excellent choice for its overall features.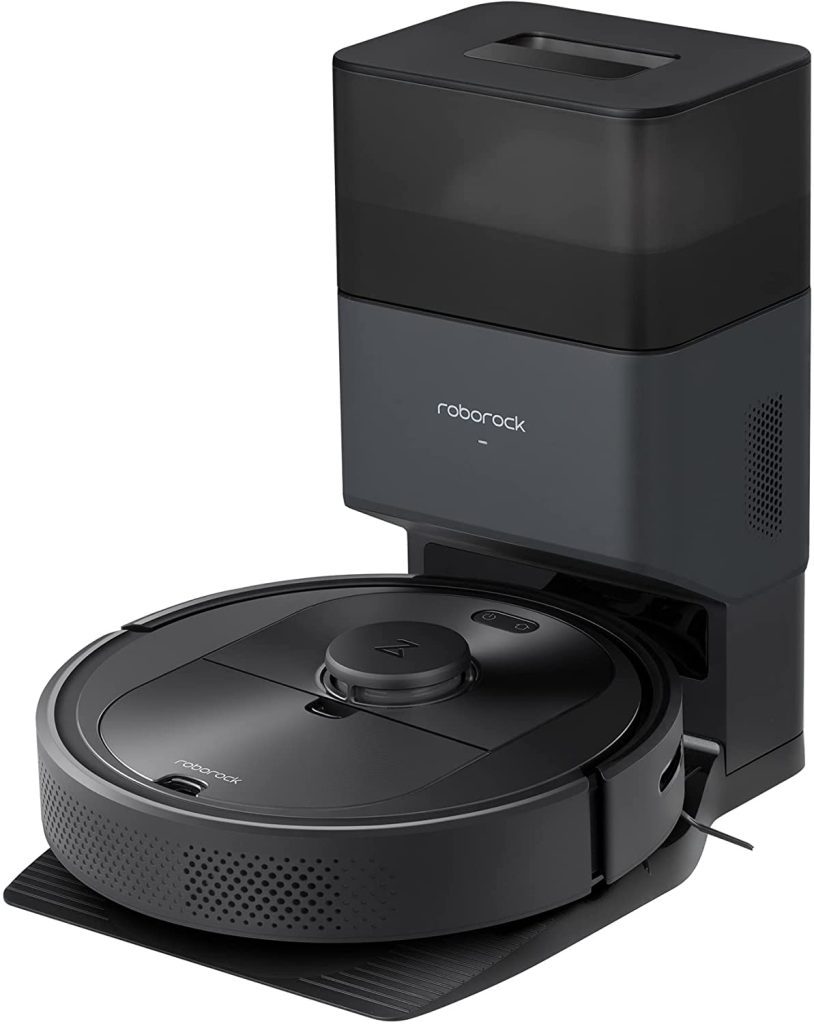 What if your home doesn't need a lot of mopping? Or perhaps your carpets don't need a deep clean every time you start a cleaning cycle. The Roborock Q5 is a top-of-the-line choice even without the bells and whistles of more advanced vacuums.
Perhaps its most appealing feature is its Auto-Empty Dock Pure, which makes clean-up much more effortless. It has a 2.5L dust bag, which keeps dust out of the air and holds up to 7 weeks of dirt. 
The vacuum will automatically return to the dock, which then automatically empties the vacuum's dustbin. So you won't have to worry about cleaning until the dock's dust bag is full.
The Q5 boasts a powerful suction of 2700 Pa, which easily lifts dirt from floors and pulls it out of carpets. Its floating main brush sits close to the ground, making for a deep clean on all floor surfaces. It's also compatible with Roborock's all-rubber brush, which is resistant to hair tangles but is sold separately.
Another great feature of the Q5 is its Roborock's PreciSense Precision LiDAR navigation. You can use the app to see how the vacuum creates a 3D map of your home. You can even use the app to specify different floor types and a map of your furniture. 
You can also create custom routes on the map and set the vacuum to run at specific times if you need extra cleaning in certain areas of your home. If your home has multiple floors, the Q5 can still retain maps for each floor, so it's ready to work once you manually move it to the floor you need to clean. 
Whether you have one dock or multiple, the Q5 is well equipped to provide efficient cleaning to every room and floor in your home.
Like the S7, the Q5 also lets you set No-Go Zones and Invisible Walls on each level of your home to keep the vacuum out of areas you don't want or need to be cleaned. This vacuum can also connect to your Amazon Alexa, Google Home, or Apple Siri to use voice commands that leave your cleaning cycle hands-free. 
The Q5 can run for up to 180 minutes on a single charge, and it can cover up to 3,230 square feet, making it an efficient vacuum capable of cleaning your entire home in one cycle.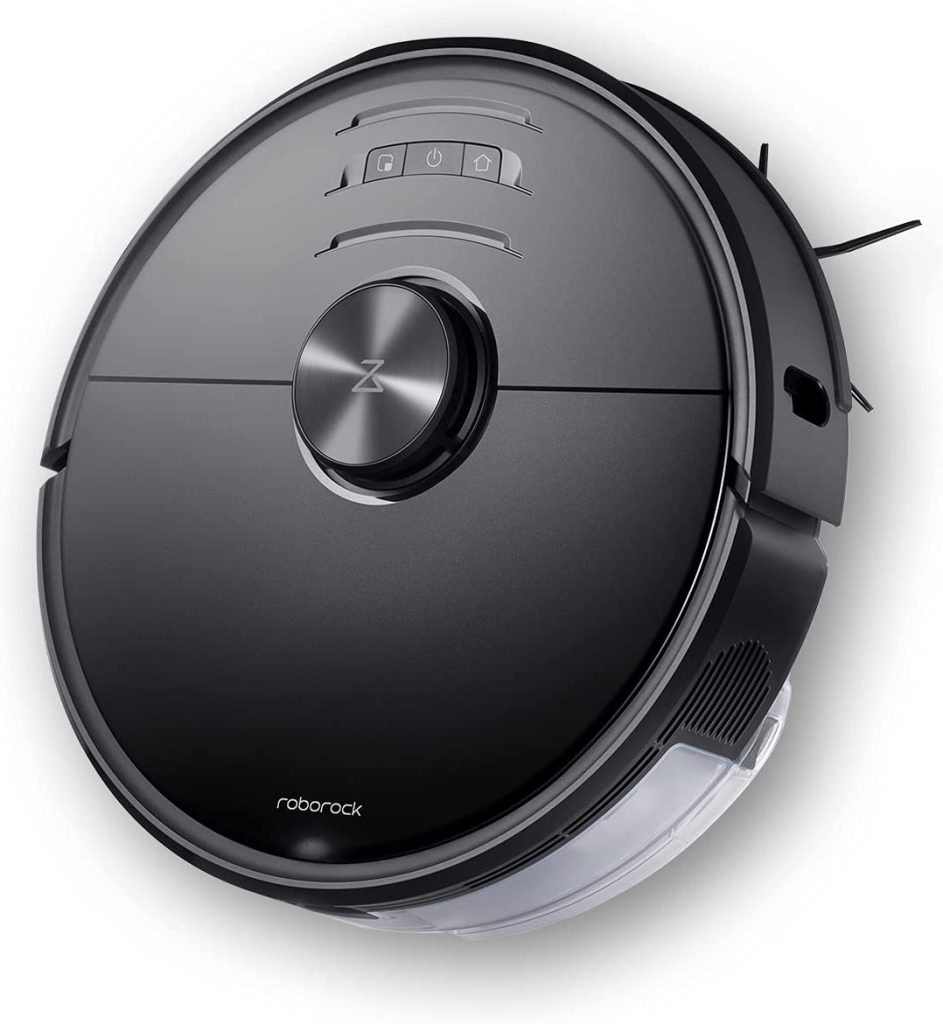 The Roborock S6 MaxV is an excellent mid-range vacuum that provides quality cleaning for a reasonable price. The S6 MaxV comes with advanced navigation, customizable cleaning settings, and a powerful clean, all for a mid-range price. And, as a T3 Awards 2020 winner, you can trust that the S6 MaxV is a high-quality vacuum for its price.
The S6 MaxV uses dual cameras to accurately perceive its location and reroute itself when needed. The cameras also come with infrared imaging, letting the vacuum see in the dark as well. 
Combine this with Roborock's PreciSense LiDAR navigation system, and the S6 MaxV has incredible home navigation that is efficient no matter the day or time. And, since two cameras mean better depth perception, this vacuum can safely bypass any object set in its path, be it cables, toys, or dog poop. So, if your home is busy or prone to messiness, then the S6 MaxV is a great fit.
The PreciSense LiDar also presents a multi-level mapping system, so your vacuum can recognize which floor it's on and clean appropriately. Like other vacuums in this lineup, you can open up the Roborock app and set up No-Go Zones, Invisible Walls, and No-Mop Zones, ensuring that your home is as clean as you need it to be in the areas that need it the most. 
And with the Remote Viewing feature, you can even see through your vacuum's cameras to check in on your home and reassure yourself that everything is as you left it.
The S6 MaxV also comes with a high-functioning fan that maxes out suction at 2500Pa and can vacuum 240 square meters of floor space. With a runtime of up to 180 minutes per cleaning cycle, this vacuum is capable of cleaning your home of the most liquid and dry messes.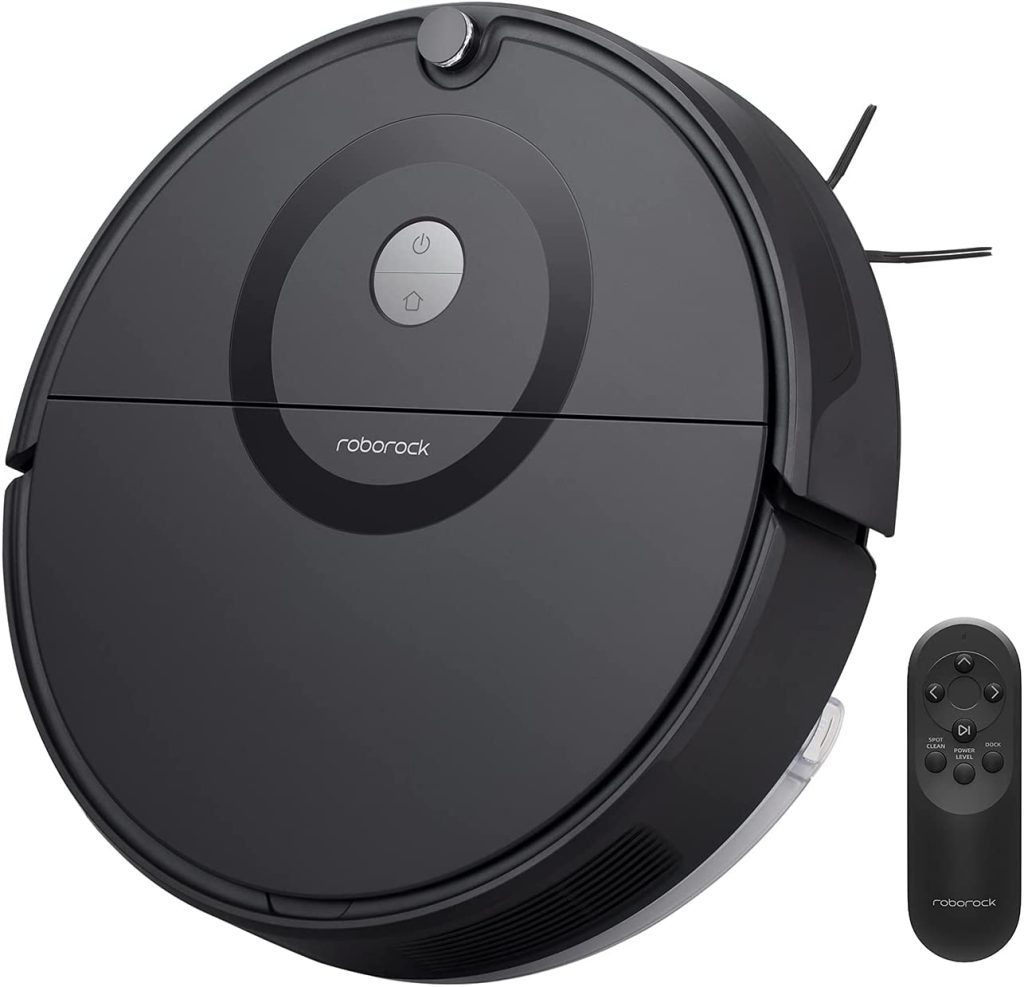 The Roborock E5 provides a methodical and efficient clean for a fraction of the price of the company's more expensive options. With a logical tracking system, the E5 can easily track the areas it has left to clean without needing a 3D mapping system. 
Though it's not as advanced as some of Roborock's high-tech vacuums, the E5 can still provide a deep clean for larger homes with wide-open spaces.
With dual gyroscopes, internal mapping, and bumpers, the E5 efficiently tracks where the vacuum has already cleaned and still needs to clean. So rather than bouncing around your home and overcompensating, this vacuum makes adjustments as needed based on the objects it senses around it. 
You can also keep the vacuum's MagBase remote control on hand to track your robot's movements in real-time and easily control where it goes during its cleaning cycle.
Perhaps its most appealing feature is the E5's powerful suction. With 2500 Pa suction, this vacuum can give your home the deep clean it needs, from floors to carpets. 
And, you have the option to purchase mopping attachments, making it easy to vacuum and mop your home simultaneously. With the mopping extensions, the E5 can mop over 1600 square feet and clean up dirt that the vacuum alone can't handle.
If you're concerned about any carpets in your home, the E5 has you covered. The vacuum can detect when it encounters a carpet or rug, using its Automatic Carpet Boost to increase the vacuum's suction power, ensuring that your carpets receive just as deep of a clean as your floors. 
In addition, the E5 has a 2cm climbing ability, allowing it to traverse your entire home even if you have carpets, thresholds, or sills.
On top of all of this, the E5's large battery gives you up to 200 minutes of cleaning time. This vacuum is perfect for larger homes with its 640 ml dustbin and washable filters. So if you need an efficient cleaning in a single cleaning cycle, the Roborock E5 is the perfect vacuum for your home.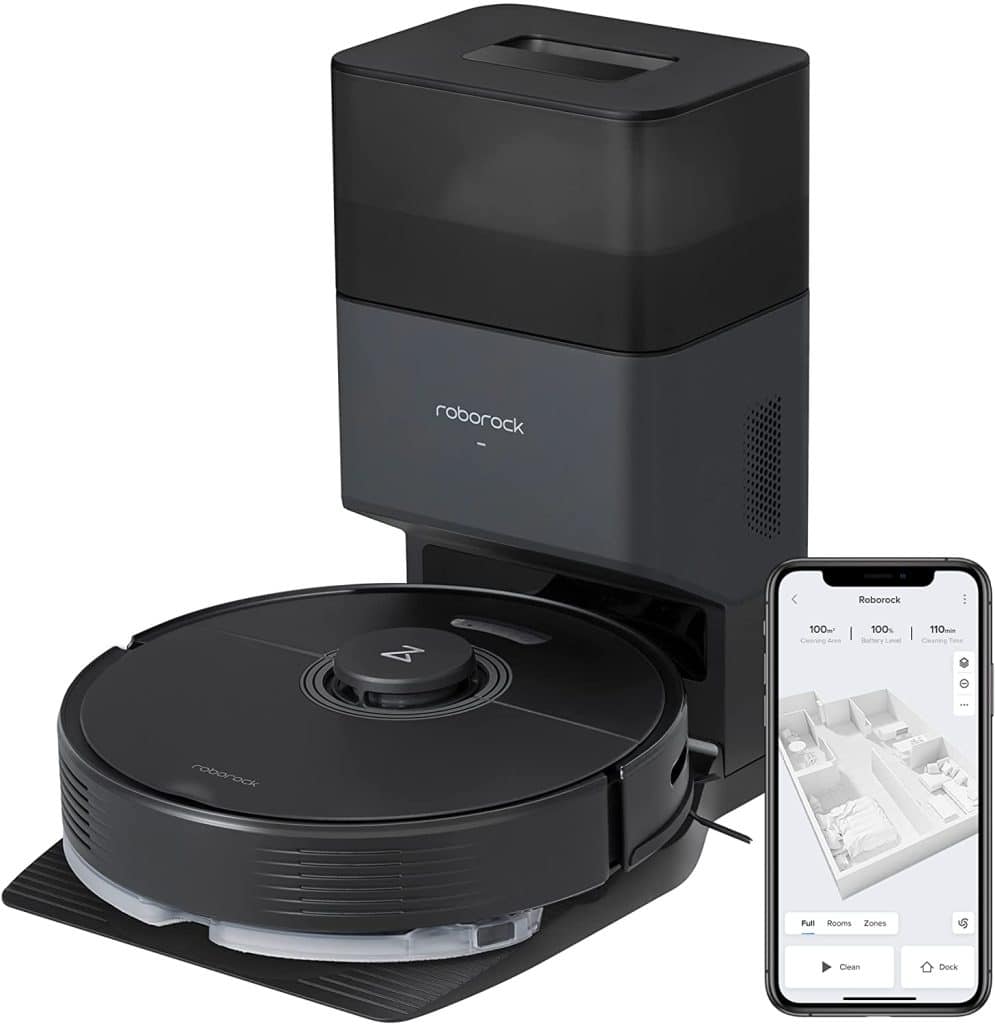 The Roborock Q7 Max+ is the perfect combo of other models in the company's catalog. If you don't need a lot of extra features but still want a quality vacuum, this model is a great option. As the RedDot winner of 2022, you can count on the Q7 Max+'s combination of features to make cleaning your home as simple and efficient as possible.
Unlike other vacuums outside of the Roborock's S Series, the Q7 Max+ runs on PreciSense LiDAR, making it easy to stay on top of your vacuum's mapping and routines, so its cleaning cycle works for your home's unique needs. 
With the Roborock app, you can set up No-Go zones, invisible walls, custom cleaning routines, and more. And, you can easily set up the vacuum's Child Lock to keep your kids and pets from accidentally starting the vacuum with a push of a button.
The Q7 Max+ has a maximum suction power of 4200 Pa and an all-rubber brush that resists hair tangles and effectively cleans up grime that sticks close to the ground. Combine this with the vacuum's auto-emptying dock, and the Q7 Max+ makes maintenance easy and worry-free. 
The Auto-Empty Dock Pure's dust bag holds up to 2.5 L of dirt, which translates to 7 weeks without needing to empty your vacuum's dock. It also functions as an effective air filter, which keeps the air in your home clean if you worry about allergens and dirt particles.
The Q7 Max+ makes it easy to vacuum and mop simultaneously, combining its dustbin and water tank into one unit to increase its individual capacities. Aside from its powerful suction, this robot puts constant mop pressure on the grime it comes across. It also has 30 different water flow levels to suit your home's floor types and preferences. 
The vacuum's large battery can cover about 3220 square feet in a single cleaning cycle of up to 3 hours. As a result, you can feel secure in your vacuum's ability to vacuum and mop your entire home in one cycle.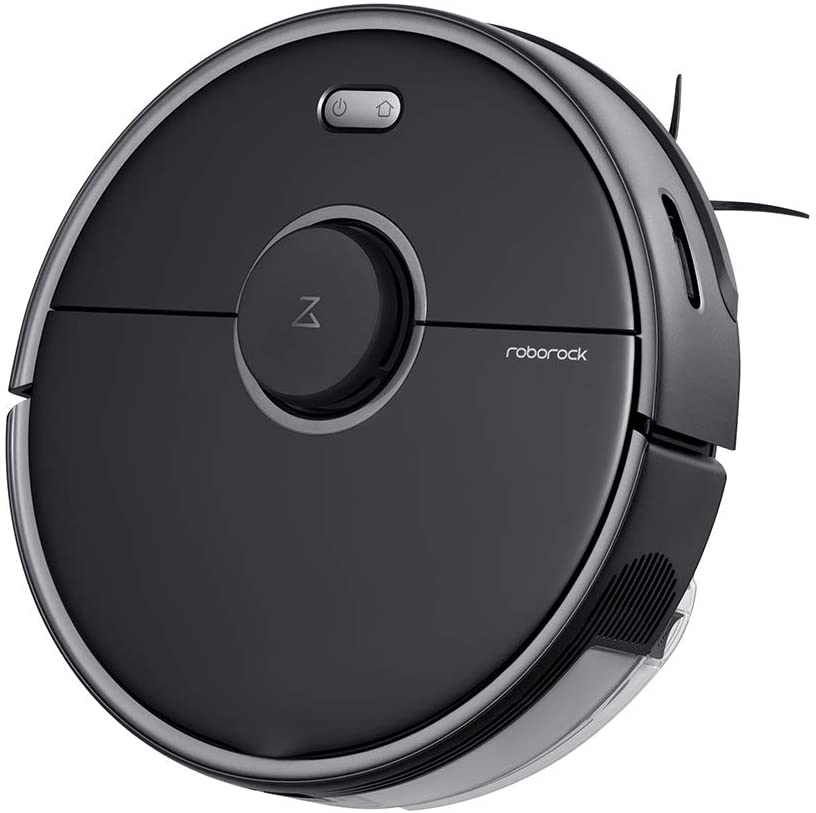 Roborock's S Series is built with the most advanced features, so it's no surprise that these vacuums are more intuitive than vacuums in other series. The S5 Max is probably the most intelligent on this side of their catalog while coming with a reasonable price tag. 
Though it doesn't come with extra accessories, you really won't miss them because of this vacuum's features. And with recognition from the CES Innovation Awards 2020 and iF Design Awards 2020, you can trust that the S5 Max is worth every cent.
The S5 Max comes with total app control, so you can pre-set everything you need from the comfort of your sofa. Even if you don't pre-set many of your vacuum's settings, the S7 Max intuitively checks itself, so it cleans your home as effectively as possible. 
For example, it keeps itself from running into obstacles or falling from heights, engages powerful suction where it needs it, and controls how much water it uses to mop certain types of floors.
If you like to have your home as clean as possible, the S5 Max has got you covered with its huge water tank. Its 290 ml water tank is more than enough to cover 2600 square feet in one cleaning cycle, with very precise water control that only starts when the vacuum reaches areas it hasn't mopped yet. 
If you aren't worried about mopping, you can remove the S5 Max's mop unit so it has free rein to vacuum your home across hard floors and carpets. With its specialized fan, it spins at 15000 RPM to pick up even the toughest dirt that has gotten stuck in your carpets.
By far, the S5 Max's most appealing feature is its highly intelligent 32-bit quad-core processor. Instead of just mapping a room, this vacuum learns each room's shape and unique obstacles to calculate the most efficient route for it to take. 
So even if your home is spread out over several floors, the S5 Max won't miss a beat and will automatically recognize which floor it's on. Whether you activate this vacuum with a voice assistant or through the app, the Roborock S5 Max is an excellent addition to your cleaning routine.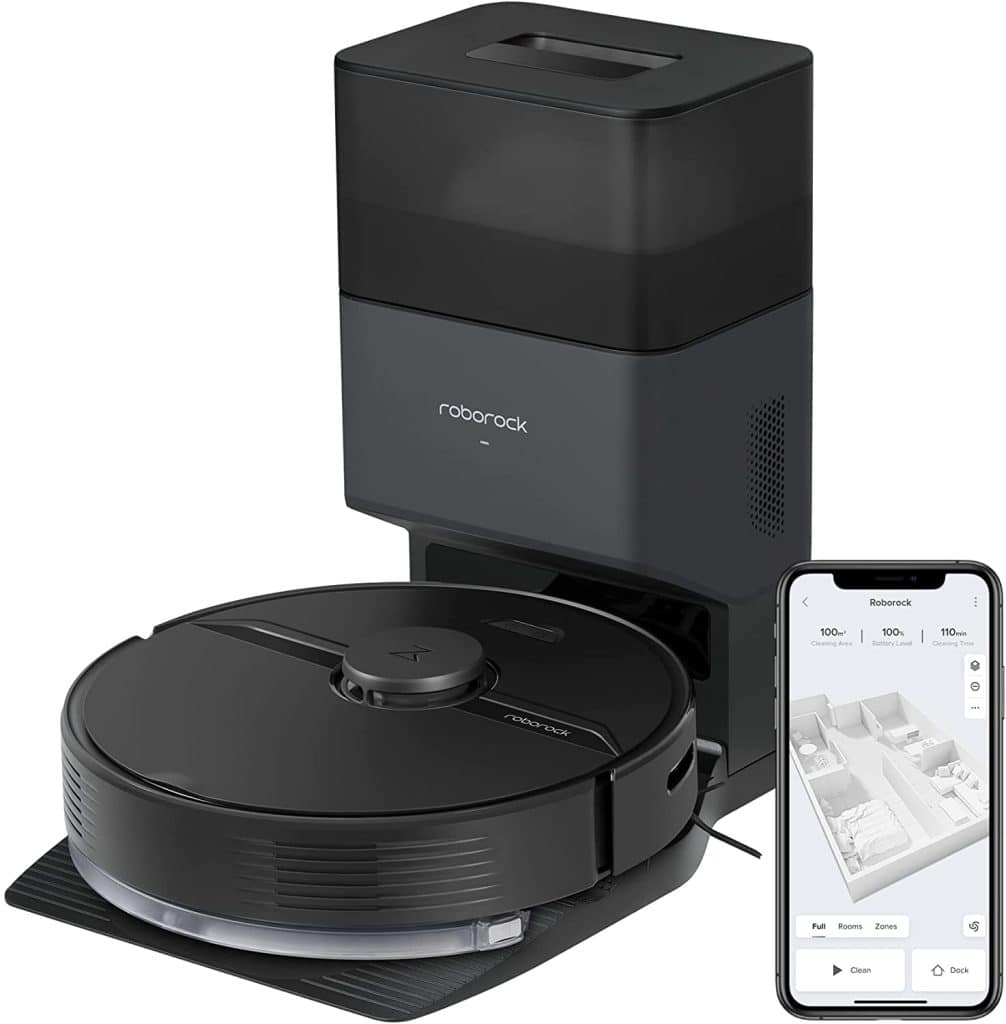 Not to be confused with the Q7 Max+, the Q7+ is perfect if your home has plenty of carpeted areas that need a regular deep clean. This vacuum also comes with Roborock's LiDAR technology, making for an easily manageable clean that you can customize for your home's needs. 
Even if your home is primarily covered in carpet, the Q7+ proves to be efficient at cleaning any floor type it comes across.
With a maximum suction power of 2700 Pa, this vacuum can easily lift dust from your floors. It also comes with an automatic carpet boost to clean carpets as effectively as it cleans hard floors. The vacuum's all-rubber brush powerfully disturbs carpets to remove as much dirt as possible while also resisting hair tangles.
The Q7+ pairs well with Roborock's LiDAR technology in their app, giving you all of the benefits we've previously detailed and illustrating your home's floor materials. Have a carpet in your family room that tends to get dirty often? You can tell your vacuum as much, so it provides a more powerful clean in areas like this, keeping your most-used areas clean regularly. You can also give your Q7+ routines or schedules to follow, so it works when you aren't prone to bumping into it.
This vacuum's maximum range reaches 3230 square feet, for a maximum runtime of 3 hours that covers most homes. Because this vacuum can climb 2 cm obstacles, it's also more than capable of climbing onto carpets so long as they are around that threshold. 
Much like the Q7 Max+, the Q7+ also comes with an auto-emptying dock with similar capacities that make maintenance worry-free. With a dustbin capacity of 750 ml and a water tank capacity of 180 ml, you can trust the Q7+ to get a deep clean the first time on any cleaning cycle.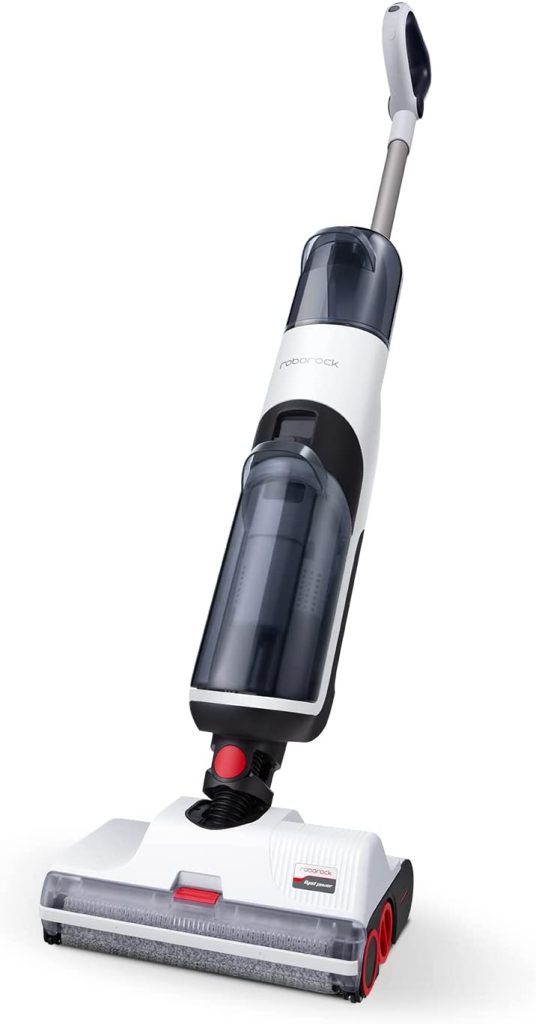 The Roborock Dyad is a solid choice if you prefer doing your clean-up yourself. Though the Dyad isn't a robot vacuum itself, its intelligent features and self-cleaning technology make it just as useful as an automatic vacuum offered by Roborock. 
If your home is prone to wet and dry messes, this multi-functional machine can tackle them while cleaning itself. It's boasted as "​​the only dual roller motor, multi-roller wet/dry vacuum in the world." 
The Dyad's innovative technology cleans the rollers while you clean up messes, ensuring that you don't track dirty water across your floors while you mop. Rather than using brushes, this vacuum uses rollers that suck the moisture up and off of the floor for an excellent clean. 
You can also clean your rollers with the touch of a button, and the Dyad will separate any dirty water from the solid dirt that it has picked up. All that's left for you to do is empty the tank!
Roborock's technology allows the Dyad to sense how dirty your floors are to adjust the suction and water levels accordingly. It comes with an on-screen indicator that tells you how dirty your floor is, so you can focus your attention on areas that need the most cleaning than other areas. 
And if you have areas in your home that don't need a deep clean, the Dyad has a Floor Drying mode that can help mop up water, which is incredibly helpful for cleaning your bathroom floor if it is still wet after a shower.
With a tank of 850 mL for clean water or 620 mL for dirty water, the Dyad can clean up to 3,000 square feet on a single charge or go for up to 35 minutes. While it isn't a robot vacuum, this handheld vacuum gives you the standard vacuum style with amazing modern upgrades.
Buying Guide
With its extensive catalog of products, Roborock has something for everyone. With all of these options available to you, as well as each vacuum's unique features, how do you find the right vacuum for your home? 
It's essential to make sure you have a good idea of what to look for as you figure out which vacuum is best for you, so here are some tips for when you're looking for the ideal vacuum.
Features
Are there any features that are especially important to you? For example:
What does your budget look like?
How big is your home? (i.e., one floor, two floors, etc.)
How busy is your home? (Are your floors usually neat or messy?)
Do you need a vacuum that can mop and vacuum efficiently?
Do you want a vacuum with a self-emptying bin?
What sort of a cleaning schedule do you want your vacuum to follow?
Do you want a vacuum that can set different room cycles?
Do you want to be able to track your vacuum's movements?
Depending on your answers to these questions, you can easily narrow your choices down to one of Roborock's series of vacuums. The company's series will reduce the number of features each vacuum has as you go from the S series to the Q series, though the quality remains outstanding across all of their products. 
Although more features are fun to play with, it's smarter to choose a vacuum that not only fits your budget but also fits your home's needs.
Roborock's S series is their most advanced line of robot vacuums. These vacuums work with Lidar, making these robots have smoother navigation and accurate mapping. This series of robot vacuums allow you to guide the vacuum to clean how you need it to. 
Things like being able to set no-go (or no-mop) zones, invisible walls, and multi-floor maps can be attributed to Roborock's S series of vacuums. If your home is cluttered or busy, the S Series is perfect for accommodating your needs.
Roborock's E Series is a more affordable line of vacuums, though it lacks many of the S series' advanced features. These robots don't have interactive maps, and their maps aren't as accurate, but they navigate better than vacuums that bounce around your home. This line of robot vacuums is perfect if you need efficient cleaning on a budget.
Roborock's Q Series is the most affordable series of vacuums, though they lack many advanced features of the more advanced series. This series includes self-emptying bases, making maintenance hassle-free for these specific models. The Q Series is also a great selection if your home has big, open spaces that don't need a lot of particular maintenance.
Use Cases
The use cases for your vacuum go hand-in-hand with the features you want to have in your vacuum. If you're unfamiliar, use cases indicate specific situations where you could use a product or feature. 
So if your home has lots of big, open spaces, you might not need a vacuum with lots of advanced features like the S Series.
On the other hand, if your home supports a family that leaves behind clutter and messes, the S Series might be the best selection for your needs.
Problems
Roborock prides itself on being one of the top robot vacuum manufacturers on the market. But when it comes to technology and its advanced features, you should always anticipate bugs and errors. If you ever encounter problems with your device, Roborock's customer service team is there to help.
A page on the company's website provides a searchable list of articles to help solve various common problems users may face. If you can't find what you're looking for there, you can contact Roborock's 24/7 customer support line at 1-855-960-4321 or email them at [email protected].
FAQ
Here are some commonly asked questions regarding the Roborock vacuums. 
Can Roborock vacuum and mop at the same time?
Yes, Roborock vacuums can vacuum and mop simultaneously. It first vacuums any debris in the area it is cleaning, and then it proceeds to mop right behind it. The sensors in the vacuum can detect the change in floor type, so it will retract the mop feature when entering carpeted areas. 
Which Roborock should I buy?
The Roborock you buy will depend on which features you find the most important for your specific home. For example, if your home has more carpet than hardwood or tile, you'll be safe with the Roborock Q5 or Q7+, depending on your budget.
If you have varied floor types in your home or have children and pets that create many messes, the Roborock S6 MaxV or Dyad might be your best options.
Roborock Vacuum Comparison- Conclusion
Overall, the Roborock S7 is the most well-rounded option. It's a smart device that can mop and vacuum, you can adjust the vacuum's settings easily from the Roborock app, and its sonic technology gives your home the deep clean it needs. 
If you have the money available, the S7 is the best option for cleaning your home as efficiently as possible for a reasonable price tag.
We understand, however, that no home has the same needs as the next. Therefore, depending on your home's specific needs, any of the options listed above are also great choices. There's much to love about each vacuum we detailed earlier based on their features, price range, and cleaning efficiency.
To learn more about the vacuums they offer, visit Roborock's website. There is sure to be the perfect selection for your home in their catalog, whether you're satisfied with our suggestions or not.
FAQ
Who makes roborock?
Roborock is a brand of robotic vacuum cleaners and other smart home devices. It is manufactured by a company called Roborock Technology Co. Ltd. Roborock Technology is a Chinese company headquartered in Beijing, China. They specialize in developing and producing high-quality robot vacuum cleaners with advanced features such as mapping and navigation, mopping capabilities, and intelligent control options. Roborock has gained popularity for its innovative products and is recognized as a leading brand in the robotic cleaning industry.
Which roborock is the best?
Roborock S7: The S7 is the latest flagship model, featuring advanced LiDAR navigation, simultaneous vacuuming and mopping capabilities, intelligent sonic mopping, carpet recognition, and strong suction power.