This article compares the SkyBell and Ring video doorbells in an effort to find the best video doorbell.
A video doorbell is a handy security precaution that is a must-have item for any home in our opinion. With this small and inconspicuous device, you can do everything from check who's at your door to record a video of the visitor and many other helpful features. Once you realize how much it can protect you and your home, you'll be eager to purchase one.
When you buy a video doorbell, you want something high-quality and reliable. After all, it's the security of your home and family that's at stake. We've researched each of these products thoroughly and considered the many pros and cons. This led us to discover which is the best option for specific customers and the best overall.
Let's see who wins in the matchup, SkyBell vs Ring doorbell.
SkyBell vs Ring At a Glance
We chose the Ring video doorbell as the overall winner after looking through each video doorbell's different features and benefits. Although the Ring and SkyBell have many similarities, like easy installation, motion detection, 1080p video streaming and recording, and a mobile app, the Ring still takes the cake.
The Ring video doorbell is the champion for many reasons. One of these is because it offers a variety of doorbell options with different features, which can be helpful for a wide range of users. It offers more design options, home automation capabilities, is easy to use, is simple to install, and offers more equipment choices.

If you're a homeowner who craves the latest and greatest technology and is willing to pay a pretty penny for it, then you'll absolutely love the Ring video doorbell system. It's also the perfect option if you enjoy having plenty of doorbell options and accessories, appreciate aesthetics, want more features, and need professional installation.
If you're a homeowner that's looking for something more affordable with similar features and a wider field of view, you'd be wise to select the SkyBell video doorbell system for your home.


Keep reading below to learn more about the differences and similarities between the SkyBell vs Ring doorbell systems.
Skybell vs ring Comparison
You need to know what features you're getting before you buy a product. You definitely don't want to waste money on something that has extra and unnecessary features or one that doesn't have enough. So, let's dive into the differences between the Ring and SkyBell video doorbells and see how they compare.
Design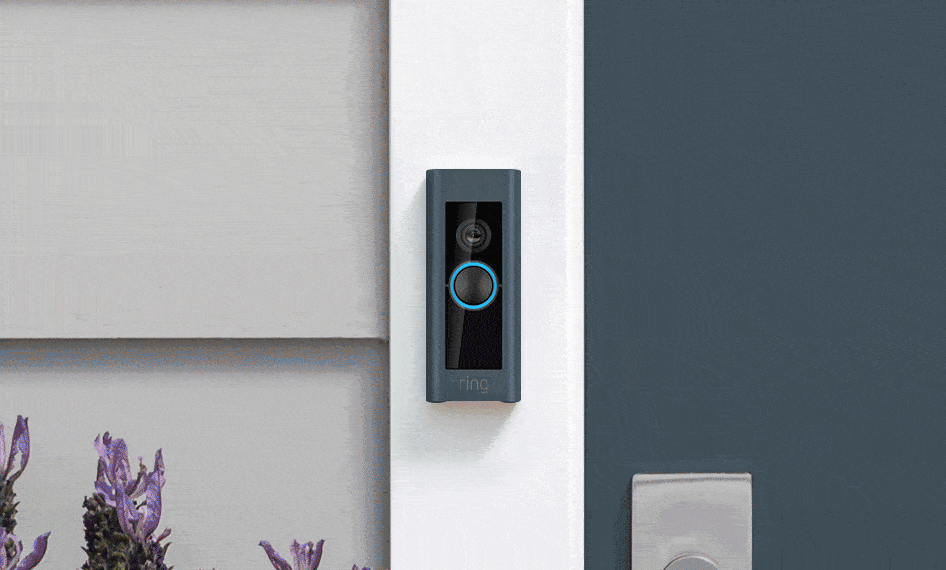 The design of a doorbell may seem insignificant to some, but sometimes it can be a dealbreaker. Most people don't want a chunky doorbell or one that sticks out super far from the wall. And most people also don't prefer something that doesn't match their home, as it can become an irritating eyesore.
Both the Ring and SkyBell doorbells have a sleek and modern look, which tends to please most customers. However, the Ring is a bit smaller and doesn't protrude as much from your home's exterior.
The Ring comes with a change of colors, including nickel, pearl, black, and Venetian, to match the specific style of your house. This is a tremendous benefit for those who want to avoid a color clash. However, with the SkyBell, you get fewer options, including silver, black, and bronze.
When it comes down to overall design, we're choosing the Ring as the most stylish option. This may be the determining factor when it comes time to purchase your video doorbell. If not, it should still be a consideration.
Ease of Use
One of the worst things that can happen after you buy something is discovering that whatever you bought is challenging to use. This can be incredibly frustrating if it's something you use all the time. When it comes to your home's security, you need something simple to use and easy to understand. Let's see which video doorbell is the easiest to use.
Both video doorbells are reasonably easy to use, and most people get the hang of them pretty quickly, especially while using their mobile apps. But there are a few things that can be hard to handle.
Although the app is generally easy to navigate and manage, some customers have had trouble connecting to their Wi-Fi network using the SkyBell, and others have noted video lagging video streaming. The Ring's highly-rated mobile app makes things super simple with superior settings and controls. That's why we've selected the Ring as our favorite regarding ease of use.
Features
It's important to compare all the different features of your next video doorbell with other competitors, as you want to end up with the best doorbell for you. You might not need certain features, and therefore would rather not pay for them. And on the other hand, there may be features that are on your list of must-haves. Which video doorbell system has the best features?
Both doorbells have excellent, high-quality speakers and microphones that enable efficient and crystal clear two-way communication between you and your visitors. Neither of them requires you to sign a contract and allow you to purchase all the equipment at the start. Both also have mobile apps that send security alerts to your phone and will enable you to control security settings on the go.
The Ring provides 24/7 professional plans (Protect Plus Plan for $10/month) as well as the option to self-monitor. With this plan, you get custom motion detection, immediate alerts, an extended warranty, and a 10% discount on other Ring products. It also offers customizable motion detection zones and a desktop app. SkyBell doesn't offer anything like that.
Each video doorbell is compatible with smart home devices such as Alexa and Google Home. However, the Ring can show video using integrations with Alexa or Google Home and connect to other brands, while SkyBell cannot.
After seeing the many differences in features, we've decided that the Ring wins this one. You can't deny its service offerings and home automation features. SkyBell just doesn't measure up in this area.
Equipment
When you're searching for a video doorbell or other types of home security products, you need to know what equipment you'll be getting and how many options are available. Generally, the more options, the better, as you'll be able to browse through the products and find the one that best suits your individual needs. What's the difference between the Ring and the SkyBell's equipment?
Each company provides high-quality, high-tech equipment at a reasonable price. However, there are a few things to consider before going all-in on one of these products. The SkyBell has two camera options with different designs. One of them is round, and the other one is a rectangle. That's pretty much it as far as equipment goes with this product.
On the other hand, the Ring offers special entryway sensors, a control panel, and motion detection technology. You can also buy additional items to connect to your Ring, such as alarms, cameras, and other helpful security devices.
The Ring easily wins the equipment competition, as it's often considered an effective home security system, even without the other bells and whistles. The SkyBell is much more limited in its equipment selection.
Price
The price is one of the most critical things to consider before buying any product. You need to ensure that you can afford your video doorbell and that it makes financial sense to go for it. How do the Ring and SkyBell doorbells compare when we start talking about price?
Keep in mind that the cost of each product can vary based on the type of product and the accessories you purchase.
The Ring video doorbell comes in a variety of options, including wired and battery-operated products. The Video Doorbell Wired will cost you around $59.99, the Video Doorbell Pro costs $169.99, the Video Doorbell Pro 2 is $249.99, and the Video Doorbell Elite is $349.99. You can also choose from various doorbell camera bundles. It all comes down to your preferences.
You can also pay $3/month on their Protect Plan to get a maximum of 60 days of cloud storage, video sharing capabilities, and Snapshot Capture, where you can take pictures whenever you see fit.
The SkyBell is definitely the cheaper option here, coming in at $199 for the SkyBell HD Wi-Fi video doorbell and the same amount for the SkyBell Trim Plus. And if you need to, you can also purchase other accessories, such as wall mounts, adapters, and hardware kits, at an extra (but still minimal) expense. It also provides free cloud storage, which is always a nice bonus.
The SkyBell wins this round, as you can get remarkable video quality and similar features for a lower price. Those with lower budgets will appreciate the value they can get for their money with the SkyBell video doorbell system.
Installation
There's nothing worse than a complicated installation process that takes forever and a day to do, especially when it's a DIY project. It's so much better when you can get your product up and running with minimal time and effort. So, let's find out which doorbell has a more seamless installation process.
Both doorbells have relatively easy installation processes, include detailed help guides, and have supportive customer service. Each doorbell comes with the option to install it yourself.
The Ring gives you more options when it comes to installation. You can either do it yourself or get a professional to handle it for you. Unfortunately, the SkyBell system is entirely DIY.
The Ring also gives you more powering choices such as battery-powered, outlet power, and hardwired. You also have the opportunity to purchase a Ring plug-in adapter if you'd prefer a non-wired install.
It's safe to say that the Ring comes out on top in this round, as it offers customers more power and installation options. Let's be honest; relying on a professional can eliminate a lot of stress and save time. So, having this option is a huge bonus.
Field of View
A video doorbell system is worthless if you can't see anything from it. You want to see as much as possible because you can't prepare for what you can't see. The best video doorbells offer a wide field of view so you can see well beyond just your porch. Let's see who takes the title of Best Field of View.
The video quality of both video doorbell systems is impeccably sharp and clear, giving you incredible 1080 p HD visuals. They also each offer zoom capabilities that allow you to zoom in as needed. However, there is one concern with the Ring.
The SkyBell offers an exceptionally wide field of view so you can see your yard, porch, and the surrounding areas. Unfortunately, the Ring has a smaller field of view, which can limit your ability to see past a particular area.
Since the SkyBell gives you more visibility, we've selected it as the winner for this round. The Ring is still a great video doorbell with high-def video quality, but you need to see as much as possible when it comes down to security.
SkyBell vs Ring: The Winner
Our winner as you may have guessed already is the Ring video doorbell. There were just too many benefits and pros of this system, and they couldn't be ignored.
Homeowners with higher budgets who appreciate an assortment of options and have a love for technology would benefit from a Ring video doorbell system. The Ring is also better suited for people who'd appreciate a professional installation option. Alternatively, people (DIYers) who are looking for something more affordable and something with more visibility should probably lean more towards the SkyBell.
Neither is perfect, but the Ring definitely proved its dominance when compared to its worthy opponent, the SkyBell system.
The Bottom Line
At the end of the day, both the SkyBell and Ring products are great video doorbells that can benefit any customer. However, after diving into their respective features and deliberating between their advantages and disadvantages, we've decided that the Ring is the winner in the epic battle of SkyBell vs Ring.
The Ring just can't be beaten with its abundance of features, easy installation, and range of high-quality video doorbell options. Still, it's important to remember that no matter which doorbell you choose, you're still making a great decision by protecting your home, your family, and your friends.
Are you considering buying a video doorbell of your own? Video doorbells enable you to live with more peace of mind whether you're at home, away on vacation, or out running errands. These small but mighty devices allow you to see who is at the door, speak to visitors without opening the door, track the visitors who swung by while you were gone, and can even be used alongside your home security system.
In this day and age, you can't just open the door for anyone. A video doorbell lets you see who's coming so you can assess if it's safe or not and allows you the time to make the wisest decision. With this added safety measure, you can enjoy a safer, more secure way of living with less worry and stress.
Highly-rated video doorbells like the Ring or SkyBell should be part of your home essentials. Don't wait for something to happen before taking the necessary action steps to safeguard your home and family; learn more about the Ring and SkyBell, or purchase one of these video doorbells today by visiting their websites.
How long do ring batteries last?
The battery life of a Ring doorbell can vary depending on various factors such as usage, settings, and environmental conditions. The standard Ring doorbell models, such as the Ring Video Doorbell and Ring Video Doorbell 2, typically have a battery life ranging from six months to one year.
Newer models, such as the Ring Video Doorbell 3 and Ring Video Doorbell 4, are designed with improved power efficiency and may offer longer battery life. These models can last anywhere from six months to one year on a single charge, again depending on usage patterns.
It's important to note that continuous use of features such as live video streaming, motion detection, and recording can drain the battery more quickly. If your doorbell is in a high-traffic area with frequent motion events, the battery may need to be recharged more frequently.
To maximize battery life, you can optimize the settings of your Ring doorbell. For example, you can adjust the motion sensitivity, reduce the duration of recorded clips, and disable features like the live video stream when not needed.
Remember that these estimates are based on typical usage scenarios, and actual battery life can vary. It's a good idea to monitor your battery level through the Ring app and charge it as needed to ensure uninterrupted operation.
Is ring doorbell always recording?
No, Ring doorbells are not always recording by default. They are designed to start recording when triggered by certain events, such as motion detection or someone pressing the doorbell button. When these events occur, the Ring doorbell begins recording a video clip and sends a notification to the owner's smartphone or other connected devices. The recorded video clips are typically stored in the cloud for a certain period of time, depending on the owner's subscription plan.
It's worth noting that while Ring doorbells are not always recording, some models may have a feature called "Live View," which allows users to manually activate the camera feed and view a live stream from their doorbell at any time. However, this live stream is not recorded unless the user specifically chooses to do so using the appropriate settings or features within the Ring app.