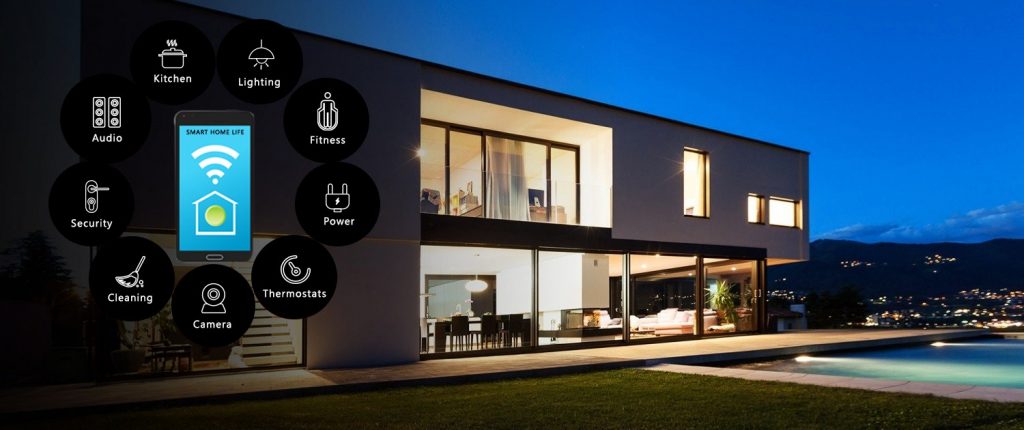 Absence from home, either it is a short visit to the store on the corner or going to work every day, usually leads to the question of whether we left everything in order behind us. The confirmation that the oven is not left on, or the door is locked while the house alarm is activated, can be very reassuring.
Today, the applicability of modern technologies in the home environment, widely known as smart home, allows us not to worry about these or similar things and enables us to have all the necessary information about our houses in real-time. Hopefully this beginners home automation guide will show you how to create more time and comfort through home automation.
What is a smart home?
In the beginning, it is very important to realize that any home device that uses electricity can be placed in your home network, and then can be accessed appropriately and enabled to respond to a given command. Typically, each of these devices answers on the command, whether the command is given by voice, remote control, or an application installed on tablets or smartphones that can be located anywhere.
Expressed by a simplified definition, the smart home is a house or any other form of the one-family private building, equipped with automated, digitized, and connected home assets and appliances, which can be controlled and managed.
The functionality of the smart home concept is enabled by the communication technologies that represent its basis. The availability of wireless technologies at a reasonable price nowadays is recognized as the dominant catalyst for their wide applicability in many different IoT scenarios and smart homes as the most popular IoT use-case.
Why smart home?
With the rapid development of the modern market, the main question of our civilization is no longer about the digitization of human activity in all of its shapes, but how to update to the permanent changes and adapt to evolving technologies that are changing our lives.
Not so long ago, smart homes were considered exclusively part of a luxurious lifestyle. Fortunately, things have changed today, and they are becoming a segment of everyday life, where more and more families recognize the benefits of living in a smart home.
It is important to notice that smart homes' popularity is connected with the Millennials, as a dominant age group between the homeowners. Compared to other traditional generations of homeowners, the Millennials have grown up simultaneously with technology prosperity. They are capable to recognize the technology's potential for a myriad of different smart home solutions, its applicability in everyday life, or acceptance of its further development and novel services.
Some of the most important benefits of smart home applicability are:
Efficiency – mobile application, one-touch button, or voice are just some of the available models to transfer the commands and manage smart electronic systems, gadgets, and other appliances within your home.  Settings of cooling or heating systems, and turning the lights on or off were never so exciting like in smart homes today.
User-friendly and effective manipulation of smart home systems introduces the possibility to control all of the working parameters, directly from one place within your house or any other location in the world connected to the Internet. Drawing the shadows, turning on the lights, and monitoring the security are just some of the available options, interesting enough to consider implementing a smart home.
Maximizing life quality and improvement of entertainment – smart homes make everyday life more simple and comfortable. There is no need to visit different parts of the house to manage electronic systems. Instead, all operations within a smart home are connected to the appropriate applications, and accessible for example, from the kitchen or the bed. Moreover, if we take into account connected speakers, the activation of entertainment content is just one click away. These systems are typically combined with AI-based digital assistants, capable to provide music lists, offer news and favorite sports happenings or films.  
Home security performances are extremely increased within the smart home platforms. Deployment of different kinds of sensors, motion detectors, automated door locks, or surveillance cameras is widely supported by the smart home concept. Even more, the home security is not endangered during the short-term or somewhat longer absence of the tenants. Among many novel services, the receiving of security alerts or real-time monitoring is available via the Internet 24h per day worldwide, without any location limitations.
Customization – smart homes enable the specific tailoring of available system parameters, so all details and timing could be set in compliance with the specific user needs. This is very important if we take into account the possibility to set different types of lights intensity or thermostat settings, sound volumes, alerts intensity and periods of activity, or other adjustments of many available parameters.
Effective energy consumption is easily reachable within the smart home concept and smart heating, air conditioning, or lighting systems. This ensures the establishment of optimal electricity consumption, reduces water or gas wastes, and finally reduces the bills.
Foundation – The Hub – Smart Home Platform
Smart hub is the foundation of the smart home concept. It represents the brain of the complex system responsible for the connectivity of different devices, subsystems, and data processing.  Smart hub combines separate solutions into a single comprehensive software application capable of managing the smart home.   Some available smart home hub solutions are Amazon Echo, Google Home, Insteon Hub Pro, Samsung SmartThings, Wink Hub, etc.
The need for a smart hub is correlated with the types of deployed smart components and their number. For example, an Insteon hub is used to control many Insteon devices within the smart home and make them work together. Furthermore, Insteon hubs are compatible with Logitech Harmony remotes, Tesla vehicles, Sonos music systems, and Google Assistant and Amazon Alexa voice commands.
For a smart home hub, it is very important to support different wireless communication protocols. One of the most comprehensive smart home hubs is the Wink Hub 2. It is enriched by Bluetooth Low Energy, Lutron Clear Connect (lighting), and Kidde (smoke and CO alarm) wireless protocols, over the existing ZigBee, Z-Wave, and dual-band Wi-Fi standards. Moreover, Wink Hub 2, presented in Figure 1, is compatible with Alexa voice commands and IFTTT (IF This Than That) applications. It supports a wide palette of smart devices from numerous manufacturers such as Honeywell, Ecobee, Nest, General Electric, Yale, Philips Hue, Ring, Chamberlain, etc.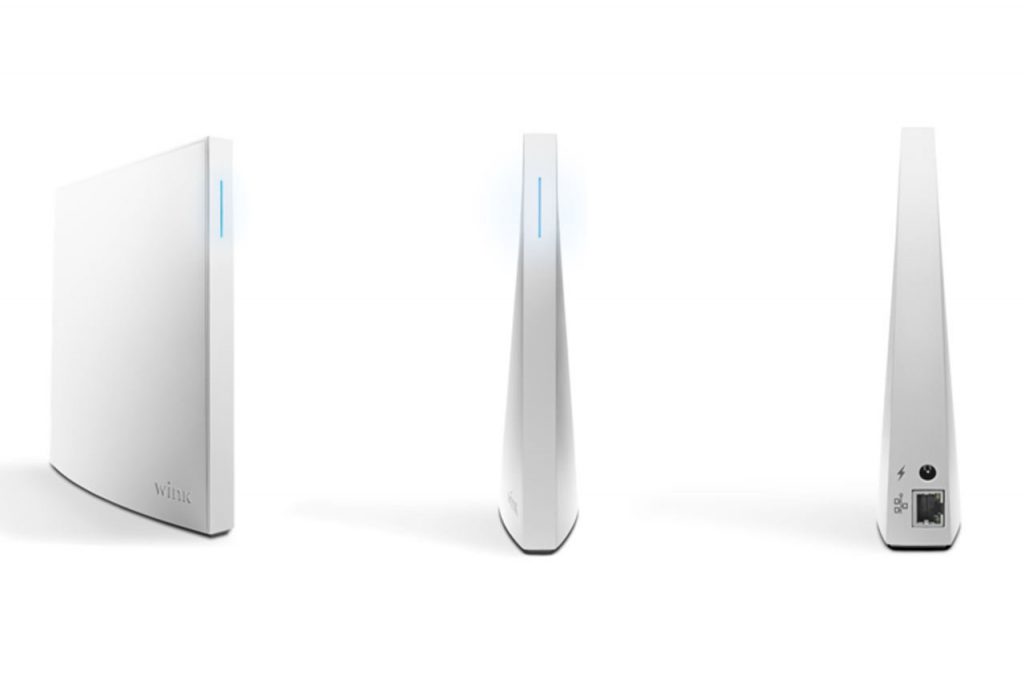 It is worth mentioning the Samsung SmartThings Hub, presented in Figure 2, as another representative solution. It supports Wi-Fi, Z-Wave, and ZigBee wireless communications protocols and is compatible with smart devices made by Samsung, Ecobee, Philips Hue, Honeywell, Schlage, Ringand, Yale, and Kwikset. Of course, it can be controlled with Amazon Alexa and Google Assistant voice commands as well.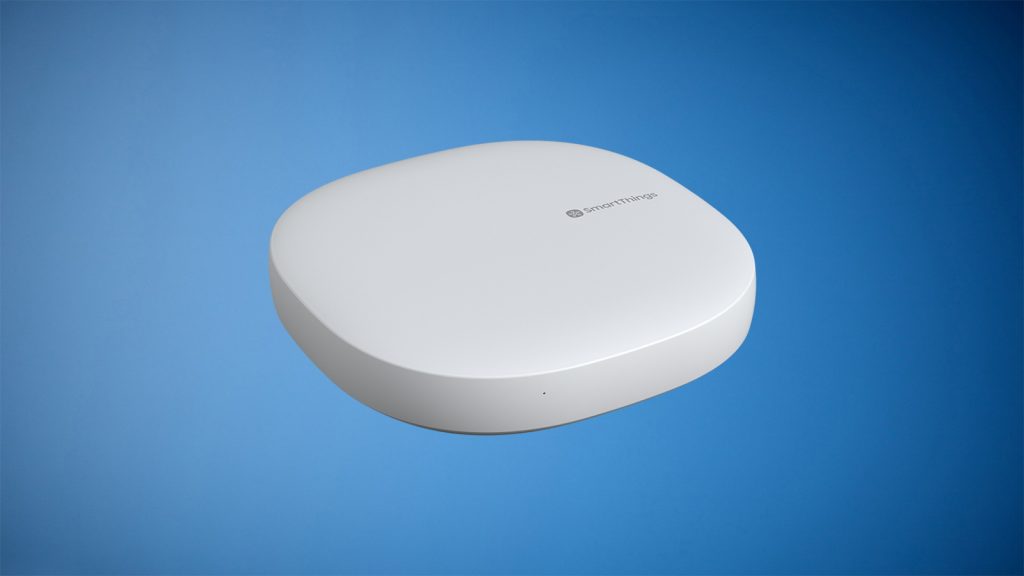 There are other interesting solutions with dual functions available in the market, such as TP-Link Deco M9 Plus. It is a mesh Wi-Fi system that exploits the nodes in the wireless network to extend its range. Simultaneously, it provides connectivity via Bluetooth and ZigBee wireless protocols for smart devices within a home, including door locks, door sensors, lighting systems, motion sensors, and smart plugs.
Other interesting solutions are Abode Home Security Starter Kit and Vivint Smart Home System. Abode Home Security Starter Kit provides wireless connectivity via different protocols such as Wi-Fi, Z-Wave, and ZigBee, but also supports a cellular radio technology to enable back-up Internet connectivity, IFTTT applications, Alexa, and Google Assistant voice commands. In parallel, the Vivint Smart Home System supports the management and control of door locks, lights, and thermostats via smartphone or tablet. It is important to notice that, some smart speakers also include hubs, like Amazon's Echo Show 10 or Apple Home-Pod speakers.
Besides, some sophisticated technology solutions like Artificial intelligence (AI) and Augmented Reality (AR) are implemented in smart homes, too. There are embedded virtual assistants in voice-activated systems such as Amazon Echo, Google Home illustrated in Figure 3, or Apple Siri. They are designed to learn and accept tenant's behavior, and specifically tailor the offered content in compliance with user needs.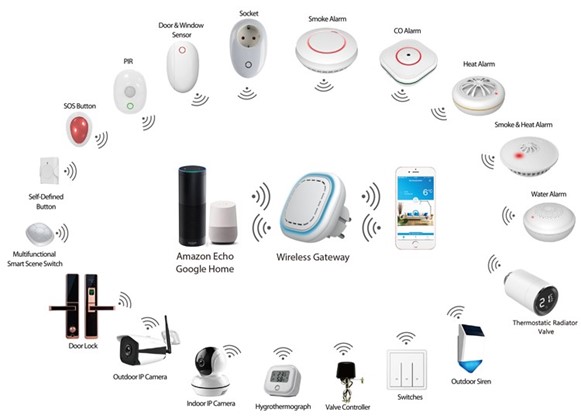 How to choose what to automate in my home?
Since home automation is a sensitive process, it is necessary to think carefully beforehand and consider the real needs to avoid stressful scenarios and beginner's mistakes that may not be necessary. There are myriads of ways to automate the home, which makes things even more complicated in terms of choosing unnecessary smart devices. Because of this, it is always better to initiate evolution to the smart home with a dose of caution and choose 1 or 2 smart devices to start with.
Since home automation is a sensitive process, it is necessary to think carefully beforehand and consider the real needs to avoid stressful scenarios and beginner's mistakes that may not be necessary. There are myriads of ways to automate the home, which makes things even more complicated in terms of choosing unnecessary smart devices. Because of this, it is always better to initiate evolution to the smart home with a dose of caution and choose 1 or 2 smart devices to start with.
Some recommendations for beginner's choice of user-friendly and cost-effective smart home products would be, for example:
Smart speaker – as the best solution to start home automation. It can play music and podcasts, and support voice commands. Some models, such as Amazon Echo Dot (4th Gen) or the Google Nest Mini, can even control dozens of other smart devices in a home (smart locks, bulbs, or thermostats).
Smart TV is a great start for home automation because it generally supports different IoT video streaming devices and content from Netflix, Hulu, and Amazon, etc. These smart products can be integrated with smart speakers or smart hubs. Some significant representatives of smart TVs would be, for example, LG CX OLED, Sony A8H OLED, or Samsung Q950TS QLED.
Smart light bulbs – such as Philips Hue smart light bulbs, are one of the most effective ways to start with. They are cost-effective, their installation is simple and manipulation is typically by voice commands or via the application. Moreover, they can be paired with smart speakers, video doorbells, or garage door openers.
Smart plugs are not expensive, but they are capable to transform any electronic into a smart device. Commonly, they are managed by applications, such as Wemo Mini smart plugs, to set timers or schedule lights. Furthermore, they can be connected to smart speakers, smart thermostats, or smart light switches.
Smart thermostats, such as Nest Learning Thermostat, can be an interesting option as a starting point for home automation. It is a dominant choice for people who are sensitive to temperature changes and can be paired with smart plugs, temperature sensors, smoke or CO detectors, etc. Moreover, they can learn the behavior of tenants and automatically tune themselves to desired values during different periods of day or night.
Video doorbells are very important for many homes, as they are security cameras that allow tenants to see and speak with visitors without door opening – for example, Ring Video Doorbell. They are typically connected with smart locks and smart lights.
Smart locks are very interesting for beginners in home automation. They can arm or disarm a security system in the smart home, track the entrance and the exit of the guests, enable the remote door locking or unlocking such as Schlage Encode smart locks, etc. These smart devices are generally paired with security systems, garage door openers, smart lighting systems, etc.
Smart security camera is a very attractive choice for beginners in home automation. Its main function is to monitor and record video streaming from home, but can have additional features and act as a video interphone as well. An example is Arlo Pro 4. They are typically paired with different sensors, smart speakers, alert systems, smart light systems, etc.  
Before the final decision is made about the smart appliance type and model, it is recommended to consider some of the most important details related to it, such as:
Price – that has comply with the available budget.
Installation procedures – always have to fit with the technical skill set of users.
Individual end-user needs have to be satisfied. It is important to notice that if a product is adapted to someone's lifestyle, the situation is not necessarily the same for another person.
Research the comments, customer opinions, problems and independent reviews before buying the smart device.
How to Control It All/Create routines and automations
Generally, there are two models of making smart devices working together, and control the smart homes – routines and automations.
Routines represent a group of smart device functions shaped within a single command. Some vendors recognized them as scenes or shortcuts. Routines enable changes of complex settings by one click and skip the multiple adjustments of individual parameters via the application from the smartphone or the smart speaker.  Typically, routines enable to manage of multiple settings on a single device (for example, adjusting the brightness level and the color of the bulbs while reading the interesting book) or to manage multiple settings across a group of devices (for example, adjusting the optimal light brightness and temperature in the living room as preparation for yoga lessons).
Although there may be some differences from case to case, it is good to know some highlights for routines creation:
Detecting the method of how routine creation is supported by an application. 
Creating the optimal pattern of controlled devices.
Tuning the devices' parameters in compliance with the user needs.
Logical naming of created routine is very useful, especially if there are multiple routines set or their activation is realized by a smart speaker. 
Final test of created routine and its additional adjustment, if necessary.
Automations apply the cause/effect method and support automatic reaction if conditions in the home are changed. Compared to routines, automations have more complex settings, but truly release the benefits and comfort of smart homes into tenant's everyday life. Generally, automation settings have two phases – first, recognizing what activates the system and second, determination of the actions that can be called and mixed in smartest home platforms.
For example, schedule settings activate the system, and it behaves in compliance with predefined actions. This is very useful for routine activities during the day, like waking up or going to bed. The same is with voice or application commands that can change the brightness levels in the kitchen when necessary, or turn off the lights during the nighttime and turn them on in the morning. When thinking about security, automations are of crucial importance for smart homes – for example, if sensors detect some new conditions in the home they can send real-time alerts.
Final Thoughts
Hopefully your are more educated about smart homes after reading this home automation guide. There are many reasons why smart homes are so important today. They increase the quality of everyday life by enhancing the digital experience and tenants' satisfaction. Moreover, smart homes enable energy conservation, simplify maintenance, and improve the comfort of home activities and security of residents and owners. For sure, they should be tailored according to families' specific requests, and it is always good to know that there are many solutions available in the market, which meet everyone's specific needs.