If you're old enough to remember the days when teachers had chalkboards than we're here to tell you these days are long gone. Why use a chalk where you can use your hand to write and display anything on a screen. Smart boards are entering classrooms, conference rooms, businesses and homes. And chances are you too are looking for one.
First thing first, What is a smart board?
Smart boards are a recent digital innovation that attempts to increase productivity and engagement at work, school, or your own home. 
They look like traditional whiteboards but have built-in digital technology allowing users to run apps and draw on them. With the correct implementation, you will find that interactive boards give you extra options and convenience, whether you are a manager or a teacher.
But what are the best smart boards, and how much does a smart board cost? We will answer that and more as we dissect what smart boards are best for each person's needs.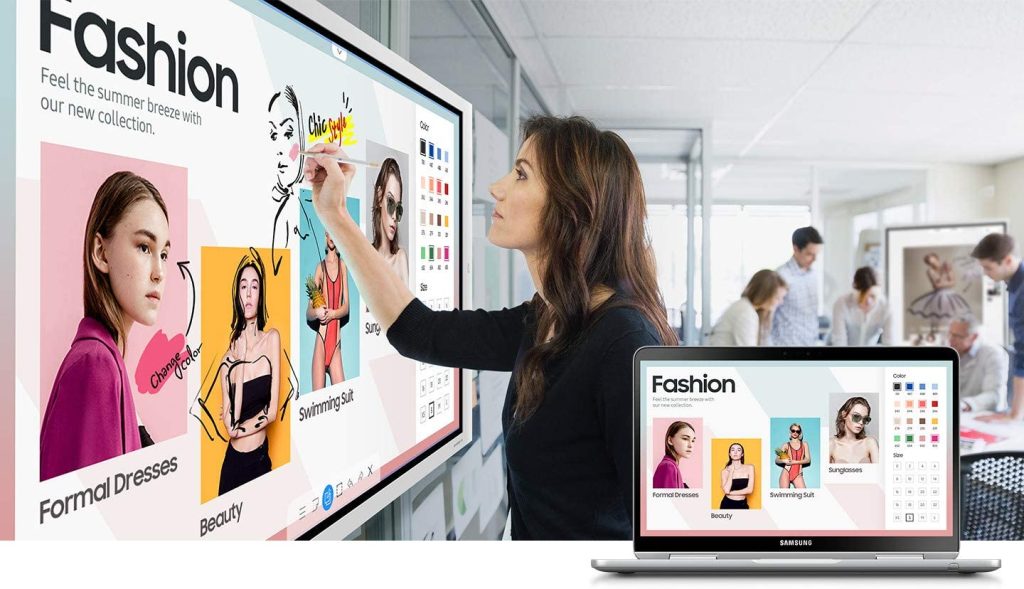 It's hard to think of an electronic product that Samsung isn't manufacturing. While you may know the Korean company for its smartphones and washing machines, it has also manufactures several acclaimed interactive whiteboards or IWB. 
The best and most popular of these smart boards is the Samsung Flip 2, available in 65-inch and 85-inch models. We believe this to be the best smart board on the market today and perfect for any application.
One of the most critical aspects of buying a whiteboard is having it feel natural for writing. The stylus pen should easily glide across the board, and you should feel as though you are writing on a standard dry-erase board. This board has the brand of quality you expect from a company like Samsung, and you will feel like you are writing physically rather than digitally during use.
The picture quality is also gorgeous on the Flip 2, regardless of the model you choose. 
The board displays images in 4K with a resolution of 3840 x 2160 pixels. If you are not as technically inclined, this resolution means you will get the sharpest images possible, and a 60-hertz refresh rate means it will display video at 60 frames per second. If you have heard the term ultra-HD, this board displays images in UHD.
When purchasing a smart board, you should always analyze the ways you can connect to it. All the best technology in the world does not matter if you cannot get it running. The more options you have when connecting, the better. Luckily for any purchaser, Samsung knew this would be a vital aspect of the board and gave users several connection options. 
The 65-inch model comes with an HDMI and USB port for connection. If you want a wireless connection, you can connect your computer to the board with NFC or Wi-Fi to share your screen. If you purchase the 85-inch model, you will have the previously mentioned options and a DisplayPort, DP, and OPS I/F display port.
So what are some smart board uses for this model from Samsung? You can set up the board as a community calendar or note board in an office. You can allow your team to add important details to the board or permit it to stand as a quick indicator of where every team member will be throughout the day. You can send information to and from the board to quickly communicate with the team and understand every member's assignments. 
In a classroom, you will find this product is suitable for getting students to work together on art projects. The board easily becomes a canvas for all your students to draw on together and create fun memories. Of course, you can also use this product as a modern replacement for projectors and whiteboards, giving you a more streamlined and impressive lesson plan.
Whether you are looking for the best smart board for a business or the best smart board for a classroom, the Samsung Flip 2 is the best in the show. The only drawback of these models is the high cost. While you pay a premium, you will get your money's worth with this product.
Pros
4K resolution
Responsive drawing options
Suitable for offices and classrooms
Several connection options
Cons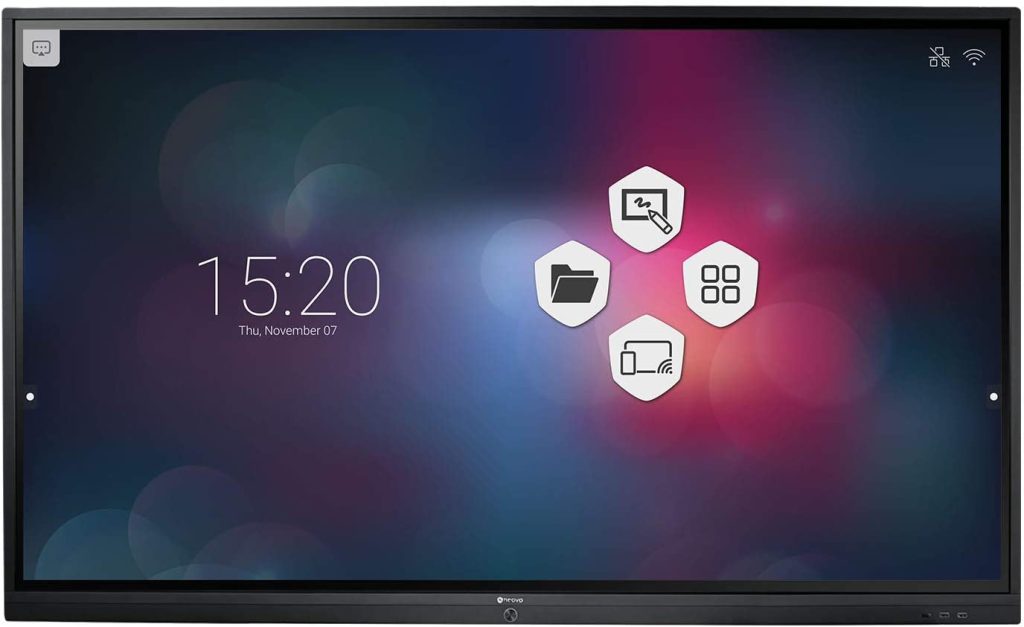 If you have a larger office or are trying to increase participation amongst team members at work, you should look into the AG Neovo IFP-6502. We think this is the best smart board for businesses and assists you in getting employees up to the board and contributing in a group session.
So what sets this product apart from others on the list? AG Neovo designed this board with a 20-point touchscreen. A 20-point touch screen allows the board to process up to twenty people using a stylus or a finger to interact with the board. By allowing more of your team to interact with the board simultaneously, you will see increased engagement, and it allows for a more natural flow of conversation and the development of ideas.
Instead of allowing just one person to speak and use the smart board at a time, the IFP-6502 allows authentic dialogue in the workplace. Your entire team will be able to add their input and thoughts to the board simultaneously, allowing better participation and a better flow of ideas.
This item is not just one gimmick: it provides all the basics you should expect when purchasing an expensive product like an interactive whiteboard or IWB. This item supports 4K Ultra HD resolution, and you can connect to it using standard methods such as HDMI, VGA, Ethernet, USB, Wi-Fi, or Bluetooth. Team leaders may mirror the screen's display to their computer and use it to directly add information as well.
The screen is 65 inches, putting it in a welcome sweet spot. The IFP-6502 is not so massive as to be prohibitively expensive, but it is still large enough that an entire group should have no issues seeing it. The screen has a refresh rate of only 50 hertz, meaning you will not have the same smooth display as the Samsung models.
AG Neovo says it designed the board for meetings with 6-8 members. You can also use it for video conferences through Zoom or Google Meets.
There are a few drawbacks to the IFP-6502. The product is quite heavy, weighing nearly 90 pounds. This weight makes it difficult to relocate if moving to a new office or reorganizing your current workspace. The company also does not sell this product to consumers or small businesses. However, if you have a larger business and need an interactive whiteboard, the AG Neovo IFP-6502 is a safe bet.
Pros
4K Display
20-point touch screen
Various connection options
Cons
Weighty
No support for small businesses
50-hertz display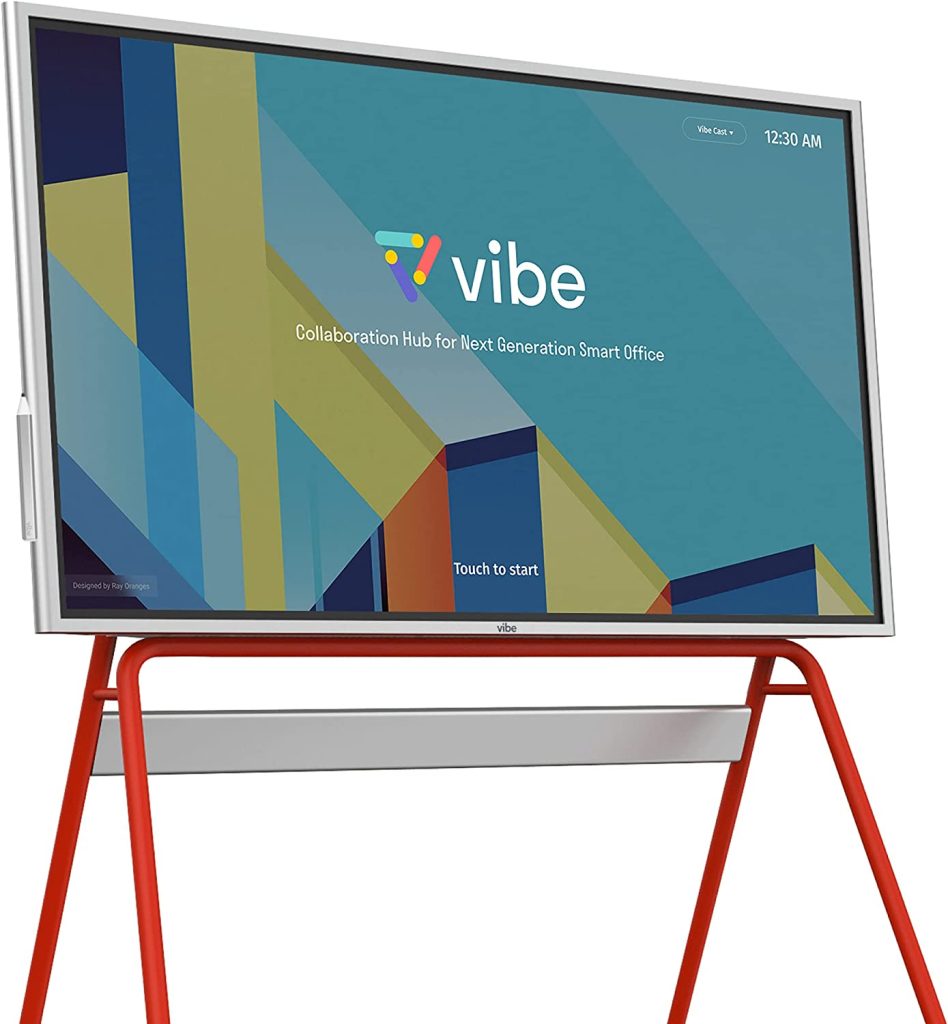 Sometimes the best ability of a piece of educational technology is its flexibility. The ability to relocate around a classroom or into a different space on the fly is often necessary. While most smart boards are mounted on walls and stuck there, the Vibe S1 is portable, and you can set it up in minutes thanks to its design. One of the best classroom smart boards in our opinion.
Of all the items on the list, the S1 from Vibe is the simplest to set up. You do not need to hire a team to install the system and give you the rundown on how every aspect works with this product, as it is nearly a plug-and-play affair. 
The other primary benefit this board has over others is the stand you can purchase. With the stand, you can pick up and move the board to another location. Want to take the board to the back of the room where you have pillows set up for your class to sit on? This board is perfect for that scenario. Or, you can take the board to an entirely different room for teaching in the auditorium or gymnasium.
This flexibility gives this board a sizable advantage in the always-changing environment that education provides. If you understand how to use this product's strengths, you will find it the best smart board for classrooms. 
Adaptability is not the only aspect that makes the Vibe S1 worth a purchase, as it has most of the features you expect from a smart board in this price range. The touch screen has a 10-point touch capability. While this screen is not as open to multiple inputs as the AG Neovo IFP-6502, it still allows multiple students or teachers to interact with the board at the same time. 
The display for this product is 4K UHD capable, which is generally the standard for modern smart boards. The screen itself has an eight ms response time, meaning you will find it to be almost as natural as writing on a physical whiteboard. This product is a high-quality smart board with extra benefits like portability.
This item also allows for up to four people to share files and stream their screen simultaneously to the big screen. Allowing multiple users to control the board from their seats is useful for older students who may be less marveled by the novelty of writing on a smart board.
While the Vibe S1 is an incredible smart board for classrooms, it is not a perfect product. We wish the stand were included, as it is perhaps the best feature of the product. The board is also light on connection options, with just HDMI, USB, Wi-Fi, and Ethernet. The size of the display may also be too minuscule for larger classrooms.
Pros
Portable stand
10-point touch screen
Plentiful sharing opportunities
Cons
Stand not included
Lack of input ports
The screen may be too small
When looking for an interactive whiteboard for home, you need to consider the size. You likely will waste your money with a giant 65-inch screen that only you are looking at. Larger smart boards are also incredibly expensive for home use. But if you have a yen for a smart board in your domicile, the DTEN ME is the perfect compromise between size, quality, and price. 
The ME from DTEN is the smallest smart board on our list, clocking in at 27 inches. 27 inches may be the size of the monitor you are currently reading this article on, so it is not colossal by any means. The product also does not feature a 4K screen, instead being locked to 1080p, which you may know more colloquially as high-definition. 
While the smaller screen may have its share of drawbacks, it is also this model's greatest asset. It is small and lightweight, perfect for taking around the house and moving around to video conferences in different rooms. But the screen is still large enough that you can easily use it as an additional computer monitor or a pad to write notes on.
Despite the small stature, the screen on the DTEN ME is responsive and perfect for drawing with a stylus or your finger. This model is also one of the cheapest options available, with a price tag under $1,000. While this is still expensive enough to be a luxury item, it is not so expensive that you will not be able to afford it for your house.
Other than the 1080p display, the other primary drawback of this product is its lack of ports, with only Ethernet or HDMI available. You can use Wi-Fi to display screens as well, but it is safe to say it is not the most versatile product on the market.
Pros
Tiny and perfect for a home workspace
Responsive screen
Inexpensive
Cons
1080p display
Lacking ports
Small screen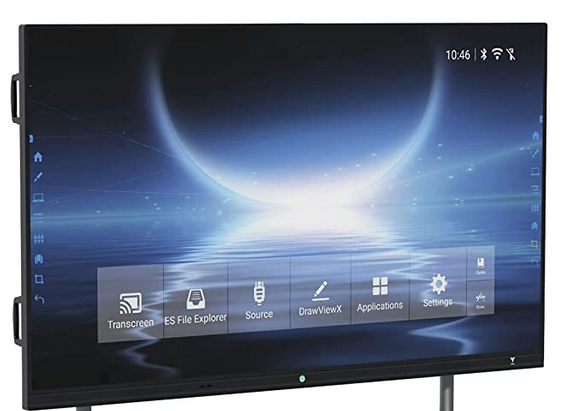 The Tiburn 75-inch Interactive Whiteboard is a versatile and feature-rich interactive display designed for educational and collaborative purposes. This large-sized whiteboard offers a high-definition touch-sensitive surface, allowing users to interact with content using their fingers or a stylus. It provides an immersive experience for presentations, brainstorming sessions, and interactive learning. The whiteboard supports multi-touch functionality and offers smooth and responsive performance. It also includes built-in speakers and connectivity options for seamless integration with other devices and software applications.
Pros:
Large Interactive Display: The 75-inch size provides ample space for engaging presentations, collaboration, and interactive learning experiences.
High Definition and Touch-Sensitive Surface: The whiteboard offers crisp visuals and a responsive touch interface, enhancing user interaction and content visibility.
Multi-Touch Support: It allows multiple users to simultaneously interact with the whiteboard, promoting collaboration and group participation.
Seamless Connectivity: The whiteboard offers various connectivity options, enabling integration with different devices and software applications for versatile usage.
Built-in Speakers: The inclusion of speakers eliminates the need for external audio devices, enhancing the multimedia experience during presentations or lessons.
Cons:
Size and Space Requirements: The large size of the whiteboard may pose challenges for installation in smaller rooms or spaces with limited wall space.
Cost: The Tiburn 75-inch Interactive Whiteboard tends to be higher priced compared to smaller and less feature-rich interactive displays, making it a more significant investment.
Maintenance: As with any interactive display, regular maintenance, such as cleaning the surface and ensuring software updates, is necessary to maintain optimal performance and longevity.
Learning Curve: Users unfamiliar with interactive whiteboards may require some time to adjust and fully utilize all the features and functionalities available.
Overall, the Tiburn 75-inch Interactive Whiteboard offers a high-quality and immersive interactive experience, making it an excellent choice for educational institutions, collaborative workspaces, and professional presentations. While it comes with a few considerations, its large size, touch-sensitive surface, and connectivity options make it a valuable tool for interactive engagement and knowledge sharing.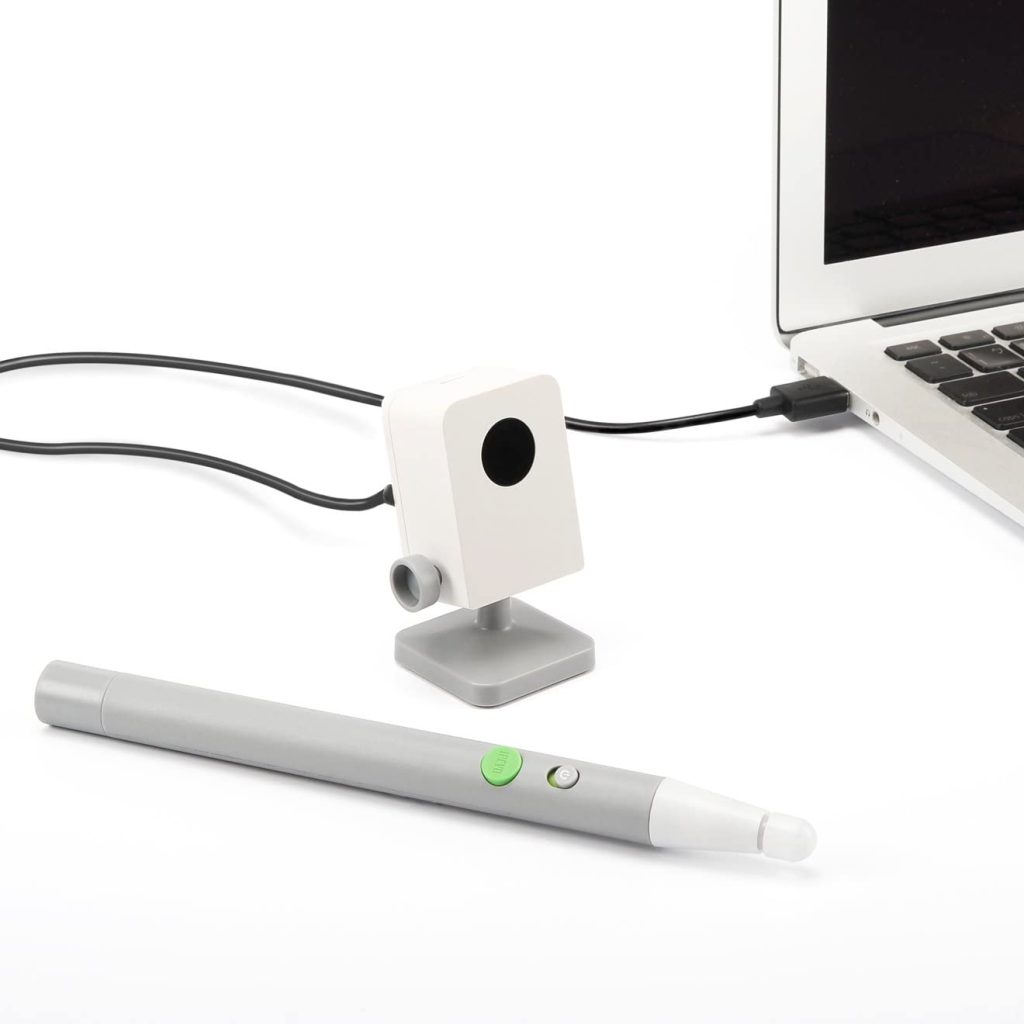 Speaking honestly, purchasing any of these boards is a sizable investment. They are expensive and take up tons of space. If you are looking for something a little more reasonably priced that gives you most of the benefits of a smart board, you should examine the IPEVO IW2 Wireless Interactive Whiteboard System.
What makes this product different from other interactive whiteboards is the fact that there is no board included. Instead, with a projector you purchase separately, the IPEVO IW2 turns any flat surface into a makeshift smart board. You can write on it and display information on the board like any other product but at a fraction of the price.
While this may seem like a no-brainer purchase, it does have several drawbacks compared to purchasing an actual physical smart board. The IPEVO IW2 does not give users the same smoothness and control that you get with a high-end smart board. You will also not have all the file-sharing services and programs you may find in other products.
However, if you are looking for a more inexpensive alternative to smart boards, this model from IPEVO should suffice for most uses. If you are a small business or are just looking for an interactive whiteboard for home, this is a suitable alternative.
Our biggest concern with this product is that it does not provide a projector. Without a projector, you really will not be able to make use of this product in the way you want. While it may have raised the price, it still would have been a worthy inclusion.
Pros
Cheapest alternative
Turn any surface into a smart board
Portable
Cons
The company does not provide a projector
Limited functionality
Buying Guide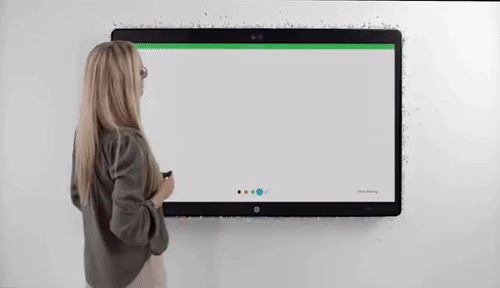 So now that you know what the best products are and some smart board benefits, we will tell you about some of the things you need to keep in mind when purchasing one of these products or reading smart board reviews.
Cost
Of course, you need to find a smart board that meets your budgetary constraints. Most interactive whiteboards are expensive, with many totaling thousands of dollars. While they are nice to have and there are many smart board uses, you need to run a cost analysis to see if they will serve your business well.
Size
You should try to find an interactive whiteboard that is in the Goldilocks zone of size. A product that is too small will be difficult for students or employees to see from too far away. Alternatively, oversized smart boards will be more expensive and may not be necessary depending on the size of the room and the number of people using them. 
Portability
While many users mount their interactive whiteboards on the wall and leave them there forever, some users may desire more flexibility in the experience. Some items like the Vibe S1 or DTEN ME are perfect for moving around. 
The Vibe S1 with a stand is perfect for taking around the classroom or moving into a conference room at work. Likewise, the DTEN ME is small and lightweight, perfect for taking with you on the go or setting up in different rooms at home.
If you intend to mount your interactive whiteboard, you should not worry about portability.
Touch Interface
We can break interactive whiteboards up into three distinct groups: products with pen-based interaction, products with touch-based interaction, and products supporting both. 
Which model of the smart board you choose is mostly up to preference on how you like to write. Of course, getting a model that supports both fingers and stylus input is a solid compromise and may be the best option if many people are interacting with the board regularly. However, these models are generally slightly more expensive.
If you are the only person using the board, you should figure out the style that best suits your needs.
Training Service
While innovative and useful in a variety of settings, smart boards have a knack for being finicky and somewhat byzantine in their operation. Most companies you purchase one of these products from will include some type of training program or installation service for you.
When choosing between items, you should look for one that gives you a robust training program so you know the usage of your new IWB.
Resilience
Nothing is worse than purchasing an expensive product and finding it does not work or it broke through normal use. IWBs are no exception, and you should look to buy from companies with high business standards who make products durably.
Durability is especially important if you plan to use your product in a classroom, as students are often rough with technology.
Software Compatibility
If you use a certain operating system like Apple or PC or certain programs like Slack or Zoom, you should ensure your new IWB is compatible with them. 
You do not want to make a sizable investment in a product that does not support the software you use at work or in the classroom. It will save plenty of headaches down the road if you are not required to change your entire corporate infrastructure on account of your smart board.
Your smart board should also be compatible with the different machines you wish to pair it with. If you want to print items from the IWB, you should check for printer compatibility. Or if you want to stream your tablet to the board, you need to make sure both devices are capable of it.
Accessories
As far as accessories, you will want to see if the board comes with a wall mount or stand. If you receive neither of these with a purchase, you will need to purchase one to be able to use your new IWB. Other accessories may be a stylus pen to use with the board or additional memory options.
Bottom Line – Best Smart Boards
While you will not go wrong with any of the products on this list, we contend that the Samsung Flip 2 is the best overall value on the smart board market today. Samsung designed the best smart board to be durable, have a bevy of optionality, and have one of the most responsive screens on the market.
Retailers sell the Flip 2 in multiple sizes, making it perfect no matter the size of your class, workplace, or home office. Samsung gives users several connection options and drawing on the 4K screen feels as natural as writing on a traditional dry-erase board.
If any of these products interest you or feel like the right fit, you can click on the links to read more and make a purchase. We hope you find the correct interactive whiteboard for your needs and that it increases your productivity.
FAQ
What are some common smart boards uses?
Business presentations, Teaching and entertainment purposes are some of the more common uses of smart boards.
What are the benefits of using smart boards?
1. Access unlimited information in real time.
2. Increase engagement by Interacting by voice, image and video.
3. Environment friendly- No more board erasers, chalks and paper.
How much does a smart board cost?
Smart boards can cost anywhere between $2200-$10,000. Samsung flip 2 (65 inch) is one of the best ones and you can get it for $3200

Where to buy a smart board?
You can purchase a smart board on Amazon, Bestbuy, ebay and other electronic retailers/suppliers.
How smart boards work?
A smart board is an interactive whiteboard that combines a projector and a touch-sensitive surface. The touch-sensitive surface is made up of a grid of infrared sensors that detect when the surface is touched by a finger or stylus.
When a user touches the smart board surface, the infrared sensors send signals to a computer connected to the smart board. The computer then processes these signals and translates them into commands that can be used to interact with various software applications or programs.
The projector displays the computer's screen onto the smart board surface, and users can interact with the displayed content using touch or a stylus. This allows users to write, draw, annotate, highlight, and manipulate digital content in real-time, making the smart board a powerful tool for teaching, presenting, and collaborating.