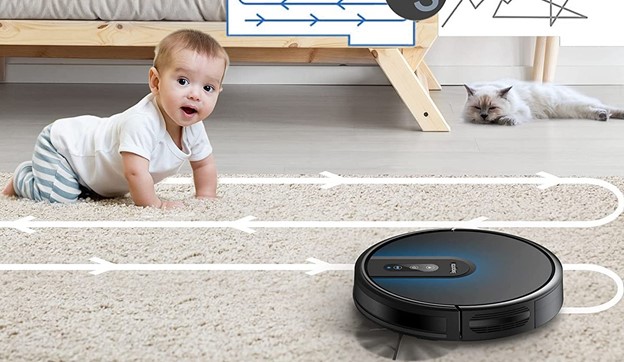 In a bid to let you know which Bagotte robotic vacuum cleaner does the cleaning business best, we reviewed four models and found the Bg800 to be the overall best for smart cleaning.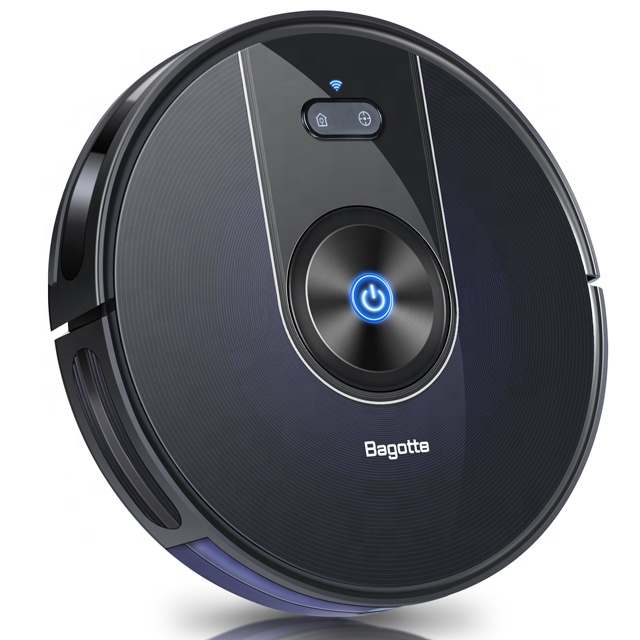 These days, we expect robotic vacuum cleaners to be fully automated, from cleaning to emptying the dustbin. While many vacuum cleaners are available on the market, not all can boast of high-level automation.
The Bg800 is our top pick because it has the highest suction power, wireless control for all smartphones, mapping, and an impressive scheduling system. No other robot vacuum on the list comes close.
We all have different cleaning needs and reasons for wanting a robotic vacuum cleaner, which influences our choices. For some, it is the removal of pet hair, while for others, it is suction strength. While having different vacuuming needs does not translate to buying a mediocre vacuum cleaner, it means you do not need the most powerful ones either.
Irrespective of your vacuum cleaning needs, Bagotte has a robotic vacuum cleaner for you.
Keep reading as we review the four robotic vacuum cleaners by Bagotte and provide you with a great buying guide to help you make the right choice.
Top 4 Bagotte Robotic Vacuum Cleaner
In this section of the Bagotte robotic vacuum cleaner review, we will highlight the features and benefits of the four models to keep you well-informed.
Most of the robotic vacuum cleaners by Bagotte feature an app and voice control. This means you can control them from afar, allowing you to focus on other activities while they clean. Besides, they also have strong suction power with (some above 2000PA) for effective extraction, loosening, and dust vacuuming.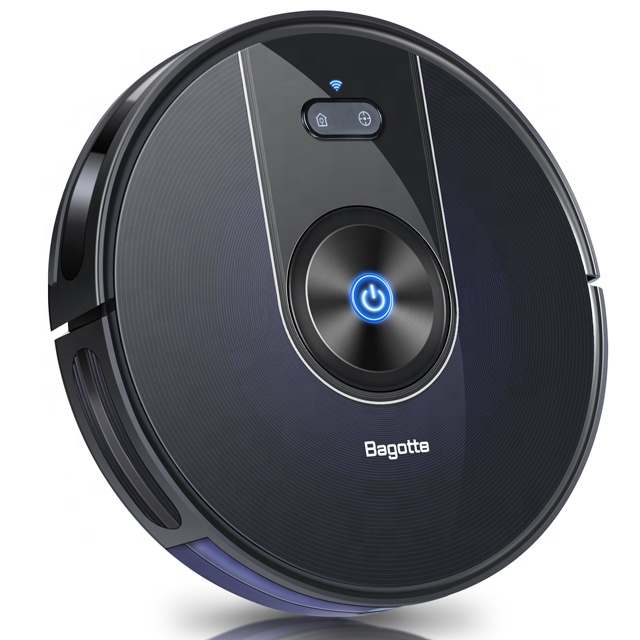 If suction power is your motivation when buying a Robotic Vacuum cleaner, consider the Bg800 model. Its advanced brushless motors generate 3 adjustable suction power of 2200 PA, making it one of the most powerful smart vacuum cleaners. It does all this while maintaining an operation noise of only 55 dB, making it one of the quietest cleaners.
While the Bagotte robotic vacuum cleaner Bg800 is not ideal for cleaning high carpets, it is perfect for other types of floors. This includes the Laminate or hard floors and low/medium pile carpets. With 14 in-built infrared sensors, this cleaner automatically senses where obstacles like the stairs are and avoids them. It also features a triple-filter system which gives your home a superior clean, ridding it of dirt, allergens, and pet hair.
The Bg800 is fully automated to return to the charging station after each clean, ensuring it is always ready for the next vacuuming with full power.
With its real-time room mapping function, this robot never misses an area, making sure every home area is clean. This helps it stay on the right track while calculating how much area it has worked on, which helps save time as the robot knows exactly where it has cleaned and where it hasn't.
One feature that makes the Bg800 stand out the most is the convenience of controlling it. It features an app and voice control, bringing the stress of home cleaning to nothing. Also, the app for controlling this robot works on all smartphones, including Android and iPhone.
With this Bagotte Bg800 robot vacuum cleaner review, you should see it frees you of the responsibility of fussing about dirt and debris in the home. With a 7-day schedule, you can preset the time and day for cleaning via your smartphone.
| | |
| --- | --- |
| Pros | Cons |
| A real-time room mapping function | Not suitable for high carpets |
| App and Voice control options | Price is on the high side |
| 2200pa suction power |   |
| Low Noise system |   |
| 14 in-built sensors for edge detection |   |
2. Bagotte Bg600 – Best for Budget-Conscious Buyers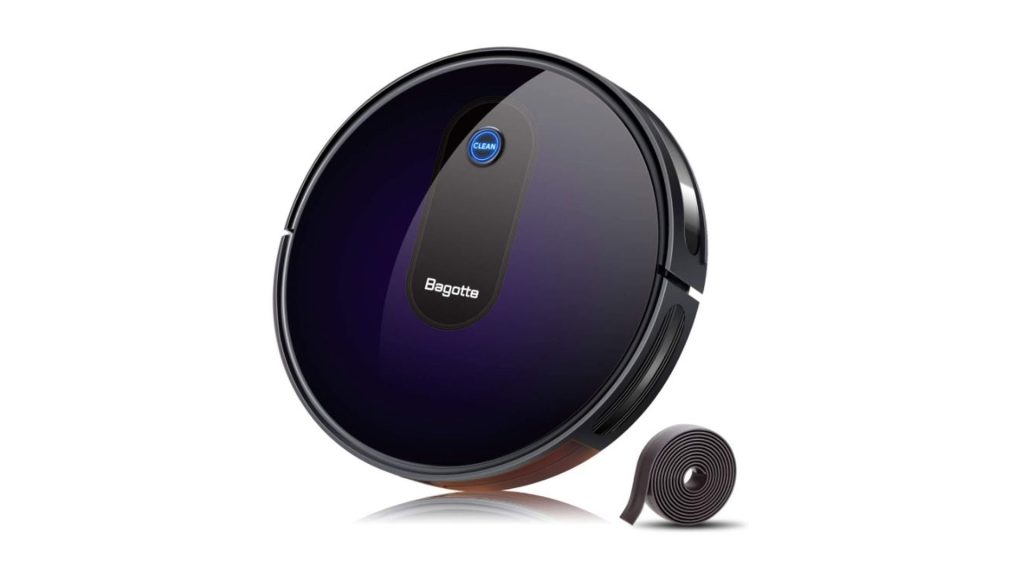 Are you on a budget and looking for a portable robotic vacuum cleaner? The Bagotte robotic vacuum cleaner Bg600 is super-slim at 2.7 inches. With its 0.6L large capacity dust bin, this robot reduces the frequency of emptying and increases efficiency by holding up more pet hair and debris.
The Bg600 has two large wheels to move from hard floor to carpet as seamlessly as possible. They effectively climb a height of 0.68 inches, ensuring the difference in floor level is not a barrier when cleaning.
It features a 2600mAh battery which guarantees you 100 minutes of cleaning time on a single charge. Besides, it automatically returns to charge on its own when out of battery, eliminating worries about efficiency.
With multiple cleaning modes, the Bg600 robotic cleaner allows you to use your time for more productive ventures while cleaning the home effortlessly. Got work to do? You could schedule and preset vacuuming times on the Bg600, and it starts cleaning right on time even when you are not home.
The 3-point system of this robotic vacuum cleaner makes it one of the most advanced cleaners on the market today. This system has a strong suction power of 1500PA and includes three brushes for effective loosening, extraction, and dust vacuuming, ensuring your home is super clean. This cleaning ability also extends to pet hair, as this robotic vacuum cleaner helps rid your hard floor and carpet of every hair.
If you are a budget-conscious buyer or have a relatively small area, the Bg 600 robotic vacuum cleaner is the best option for you. It would help save you a lot of time since it does all cleaning with minimal assistance.
| | |
| --- | --- |
|           Pros |        Cons |
| Super slim and portable | Low suction power |
| Low noise emission | 100 mins run time is low |
| Multiple cleaning modes |   |
| Ideal for most floor types |   |
| 0.6L large dust bin |   |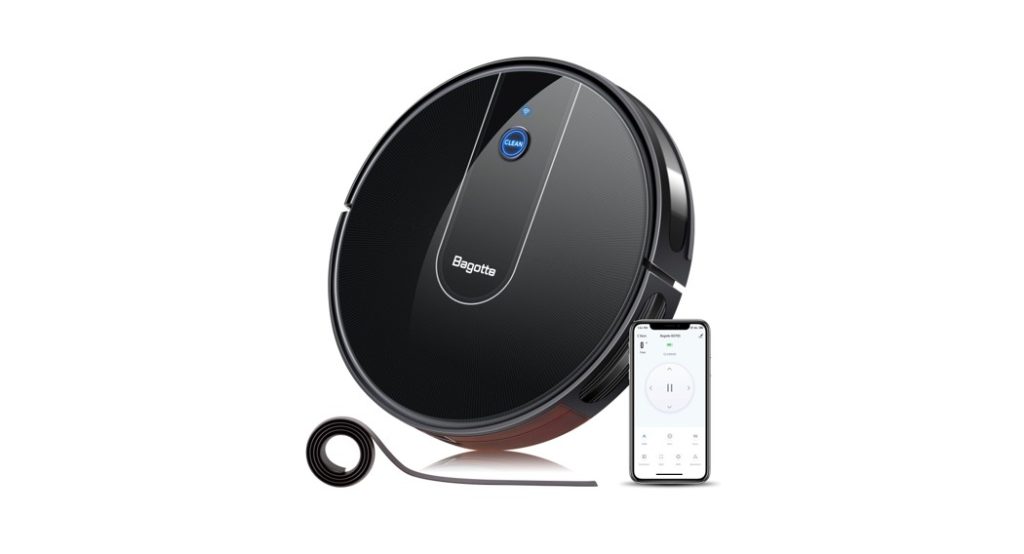 Large dustbin size is one of the trademarks of the Bagotte brand, and the Bg750 with its 0.6 L large dustbin is no exception. Large dustbin sizes extend the working time by reducing the time spent emptying them. Besides, this robot has a Max runtime of 120 minutes.  
Real-time room mapping features to ensure it never misses a spot during the cleaning process, eliminating all dirt, pet hair, and allergens on your floor. It has 2000PA suction power capacity and a water tank that complement its mapping system to ensure your home is thoroughly clean. This mapping system also helps save time and energy, as it ensures no repeated cleaning of a particular area of the home.
The Bg750 is a competent vacuum cleaner irrespective of floor type, making it ideal even for hard floors. It navigates through the aid of its Gyro system, keeping it always on track.
Do you want to ensure the robot does not clean some home areas? All you have to do is tape such areas, as the Bg750 comes with a magnetic stripe sensor which would help it effectively avoid such areas.
You can control this vacuum cleaner with both Alexa and Google Assistant with its Wi-Fi features. It also works with voice commands, which helps you save time and energy. This robot vacuum cleaner is ideal for homes with large areas that require frequent cleaning, thanks to its real-time mapping functionality and long working time
This Bagotte Bg750 robot vacuum cleaner review shows that this robot is ideal for cleaning big homes, as it has a long 120 minutes runtime.
| | |
| --- | --- |
| Pros | Cons |
| Long working time | The mopping function does not handle tough stains |
| Voice and App control system | You cannot customize its mapping function. |
| Large dustbin capacity |   |
| Real-time room mapping |   |
| Auto recharge function |   |
4. Bagotte Bg700 –  Best Value Robot Vacuum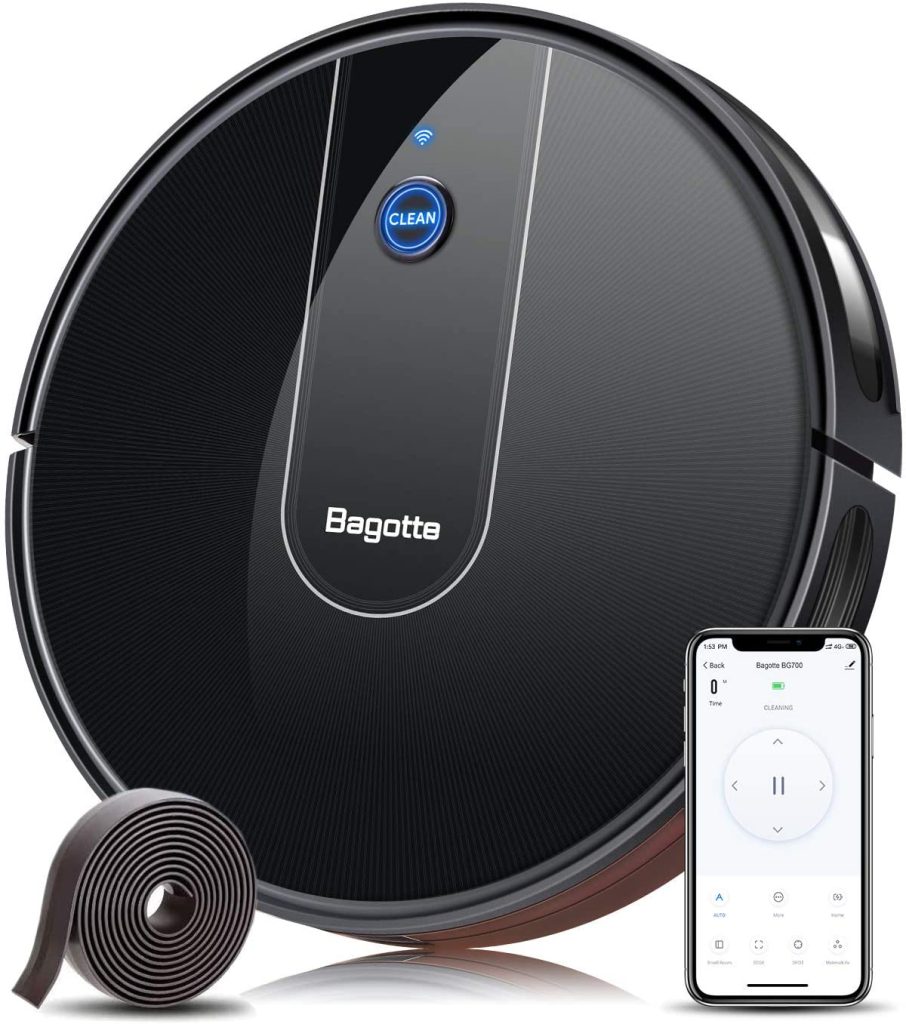 The Bagotte Bg700 is a portable vacuum cleaner with a 2.7-inch striped panel design. It comes with wheels that make it easy to roll over carpets, climb over door ledges, and under furniture in search of dirt and debris. Like the other Bg models, it has a 3-point cleaning system which, coupled with its 1600PA suction power, ensures no pet hair or dust remains on the floor after cleaning.
With a boundary strip for areas where you do not want it to clean, you have optimal control over what it does, especially when engaging in other house chores. There are also different suction modes on the Bg700, and you can easily switch depending on the floor type you want to clean.
Looking for a robotic vacuum cleaner that lets you schedule cleaning for multiple days or times in a day, the Bg700 does just that. Also, anti-drop sensors on the robot can clean stairs and other high grounds with no risk of falling.
It features Wi-Fi, voice control, and an application control system. This allows you to connect to the Bagotte App so you can arrange and customize the cleaning to your taste anytime and anywhere. This functionality works with all smartphones. After cleaning, this smart cleaner is well automated to return to its charging dock to recharge and prepare for the next task.
We believe this Bagotte bg700 robot vacuum cleaner review shows you how smart it works for your convenience. This model is the best option for those who need quiet and less affordable options with more impressive features.  
| | |
| --- | --- |
|        Pros |         Cons |
| 3-point cleaning system | The battery gets unreliable within a short period of use |
| Different suction modes are available | Inefficient mapping system |
| Anti-drop sensor for stairs cleaning |   |
| Voice and App control |   |
| Scheduling option available |   |
Comparison Table
Buying Guide
Are you heading out to purchase a robotic vacuum cleaner? Or are you considering getting one in the future? This section is for you if you are in any of these categories. As with all electronics, buying a robotic vacuum cleaner without proper information might result in a wrong buy.
So, what are the factors to consider before shopping for one? What differentiates a good robotic vacuum cleaner from a less quality one? Read on to find out.
Filter Types
The type of filter on a robotic vacuum cleaner determines how well it gets rid of dust particles in your home. A vacuum cleaner with High-efficiency particulate air (HEPA) filter is ideal because it helps rid the air of 99.97% dust particles. This makes it perfect for individuals with breathing difficulties, like asthmatic patients.
Dust Bin size
Measured in liters, the dustbin size plays a major role in how often a robotic vacuum cleaner has to dispose of dirt. In other words, the larger the dustbin size, the longer it takes to dispose of dirt, which also translates to a longer time cleaning. Dustbin sizes range from 0.25L to 1L.
With a vacuum cleaner of 0.25L, you might need to manually dispose of the waste in the bin before the robot covers the whole room. This is why Bagotte Bg model robotic cleaners come with a large 0.6L  dustbin capacity which ensures cleaning without stopping until it covers the home.
Battery Life
The battery life determines just how long the robot stays on the job. The higher the battery capacity, the higher the battery life. Most robotic cleaners go back to the dock for charging after working, but this takes at least three to four hours, which might be time-consuming. Hence, when scouting for robotic vacuum cleaners, always look out for those with long battery life, as they get the cleaning job done faster and more efficiently.
Ability To Clean Corners
A robotic vacuum cleaner should be able to clean corners that are not within manual reach, but not all cleaners do this. This is often due to their size. A bulky robotic vacuum cleaner either skips tight corners or gets stuck trying to clean them. You should always opt for portable cleaners, as they get the job done with minimum fuss.
Having examined what factors you need to consider when buying a robotic vacuum cleaner, let us look at the features you should watch.
Other Important Features to Consider
Stair Detection Feature
This is an important feature as it helps the robot sense when it has gotten to a step or ledge. This feature helps prevent the robot from tumbling down the stairs.
Invisible Wall
This accessory creates a virtual blockade around places you do not want the robot to enter. Different robotic vacuum cleaner manufacturers use different methods for setting up this blockade. Some use apps, while others use infrared towers or magnetic tapes.
Automatic Docking and Recharge Feature
This feature helps the robot vacuum cleaner locate the charger and docks automatically when the battery is low. This helps ensure the robot is always ready for the next cleaning exercise.
Running Time
If you would be cleaning large areas, you must consider this factor very important. You do not want a robot that would do the job halfway and return to the charging station, as this makes the whole process take longer than necessary. Getting one with a maximum run time of 90 minutes or above will be great.
Noise Level
While robot vacuum cleaners are generally quieter than standard vacuum cleaners, some brands make annoying mechanical noises. This noise might be of no consequence if your robot cleaner runs mostly when you are not at home. This noise could be a big distraction if you are in the house, and some even scare pets. Always consider the noise emission level of the machine you want to get.
Mopping Feature
Some robot vacuum cleaners like the Bagotte models have a mopping function. It is important to note that this function is ideal for light stains only. It involves putting a small quantity of water into a tank that uses moisture microfiber pads fitted to the robot vacuum cleaner's bottom.
Auto Emptying Function
This is a feature mostly on high-end robotic cleaners. They often come with an automatic dirt disposal unit connected to the charging dock. When the robot returns to the dock to recharge, it empties the dustbin, which helps save you time and stress.
Apps Control function
Most robotic vacuum cleaners come with this function. They often connect to your wireless router and an app to help fashion your cleaning schedule. How functional this system app control system is, depends on the sophistication of the robot, but there are basic functions. This includes putting the machine on and off, scheduling your preferred cleaning time, and pausing the cleaning cycle. Also, some Apps notify you when the robot finishes its job.
Getting familiar with the application that controls the vacuum cleaner is the best way to get the best out of this feature. It is important to note that this app works with an internet connection so a poor network would limit its functionality and capability.
Sensors
Most vacuum cleaners come with sensors that give them information regarding their surroundings. These sensors help keep your vacuum cleaner on track. In most cases, your room and floor would be cluttered with furniture and other items, and sensors allow the robot to navigate this space. There are several types of sensors, and the anti-collision sensor is one of them. This sensor prevents the vacuum cleaner from bumping into furniture, people, or pets. This helps protect the cleaner and your pets too.
Mapping Feature
With this feature, the robotic cleaner creates a virtual map of your space. This map includes walls and other obstacles the robot could run into while cleaning. Some robots use laser detection to scan your home. After the scan, it creates a virtual map which it sends to your user app. With the aid of these maps, the robot safely goes through the rooms in your home, choosing the most efficient cleaning route.
Final Word – Bagotte Robotic Vacuum Cleaner Review
We have discussed what factors and features you need to consider when buying a robotic cleaner. Also, we reviewed four different models of the Bagotte robotic vacuum cleaner; Bg600, Bg700, Bg750, and Bg800. While all these vacuum cleaners are functional and have impressive features, the Bg800 stands head and shoulders above the rest.
With its 2200pa powerful suction, real-time mapping technology, low operation noise, and 7-day schedule system, no other robotic vacuum cleaner comes close. It also features a 3-point system that ensures your home is super clean, coupled with its powerful suction. Its mapping system ensures it does not waste time as no one spot gets cleaned twice.
With the above-mentioned information,  I strongly suggest you purchase the Bg800 when looking for a robotic vacuum cleaner. But if you are on a budget and have a smaller space to clean, then the bagotte robotic vacuum cleaner bg600 is your best bet.
The Bagotte robotic cleaner is available on Amazon. But due to many options from different sellers and competitive prices on the platform, I would suggest you check their official website. When choosing any, ensure to read reviews and star ratings from old buyers so you can figure out if the vacuum cleaners meet their claims.
FAQ
How long does the Bagotte battery lasts?
On most models a full charge will get you100 minutes of cleaning time.
Which Bagotte model is the best?