This Arlo Pro 3 review will look at all the information you need when deciding whether or not you should purchase Arlo Pro 3.
The Arlo Pro 3 offers compelling features for keeping an eye on your home. But with recent developments in the industry, it may not be everyone's top choice because of its relatively high price. This Arlo Pro 3 review will examine its many advantages and shortcomings, so you can decide whether it is the best choice for your needs.
Arlo is an industry leader in machine learning technology and wireless home security cameras. Arlo products offer the best in smart home security camera technology. They are wireless, easy to set up, easy to control, and can be managed from a single app. 
Keep reading if you want to learn more about the Arlo Pro 3. 
About Arlo
Arlo Technologies, Inc. is a California-based company founded by Netgear in 2018. They manufacture internet modems, routers, and networking equipment. 
In 2014, they released their first generation of cameras called Arlo Security Cameras. Their most recent release was the Arlo Ultra 2 Wireless Security Camera which offers an advanced wireless 4k video, color night vision, premium 2-way audio, and enhanced range.
Arlo stands out among other security camera companies because they focus on what users need by creating quality products with top-notch design and excellent wireless connectivity. In fact, they were awarded three 2021 Red Dot Design Awards because their products excel in functionality and, at the same time, are beautifully designed, innovative, ecological, and of high quality. 
The company has a full range of innovative security camera systems, including battery-powered and wired cameras and smart security lights with built-in cameras.
Product Overview: The Arlo Pro 3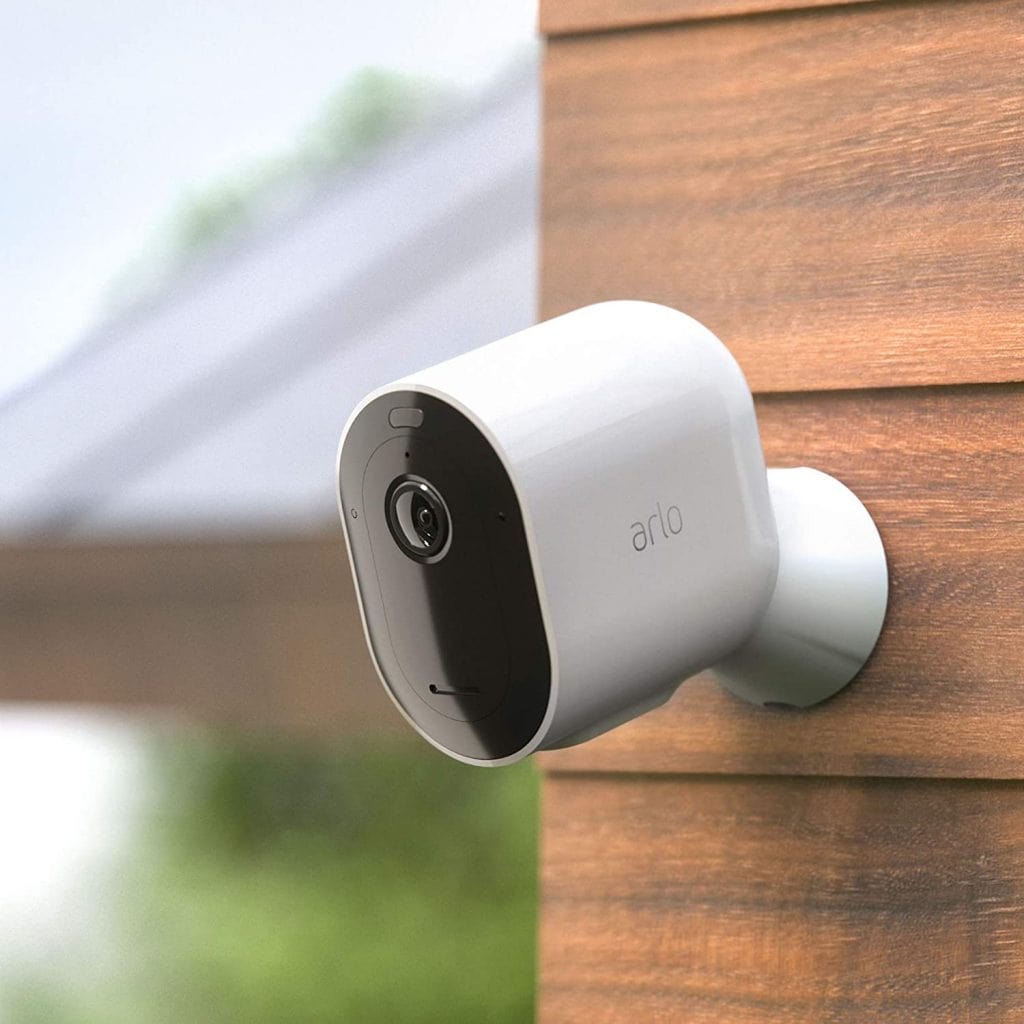 Arlo Pro 3 is an excellent home security camera offering solid performance. It connects easily with smart home devices, such as Amazon Alexa and Google Home. If you are always on your phone, you will surely love a system that immediately sends mobile notifications. 
As with all Arlo products, the Arlo Pro 3 is a quality security camera packed with valuable features. It is one of the best cameras on the market for high-quality 2k resolution. 
Specifications
Arlo Pro 3 offers the following excellent smart home features:
2K, HDR-compatible video resolution
Field of view: 160-degree
Up to 6 months battery life from a single charge
Night vision with two infrared LEDs (black and white)
Built-in spotlight
Two-way audio
Local storage via USB storage device (device not included)
Arlo Smart Plan: 30-day cloud storage $2.99 per month per camera
Smart Premier: 30-day cloud storage at $9.99 per month for ten cameras max
Smart Elite: 60-day cloud storage at $14 per month for twenty cameras max
AES-128 data encryption
IP65 weather resistance
Human detection
Smart detection zones (Amazon Alexa, Google Assistant, and IFTTT)
Overall Look at the Arlo Pro 3
This Arlo Pro 3 review starts by looking at a few highlights of the Arlo Pro 3. 
Design
If you have seen any Arlo smart camera before, it's easy to recognize the Arlo Pro 3. It looks exactly like the Arlo Ultra camera. Like Arlo Ultra, the Arlo Pro 3 uses a magnetic charging cable that allows you to charge the camera in place. Alternatively, it has a charging dock for the battery, so you can just make a switch and continue recording.
This wireless camera comes in a lozenge shape with a glossy-white plastic finish. The design has three major features:
Arlo Pro 3 is battery-powered, making it easy to place, whether you want it indoors or outdoors.
The battery pops out, which makes it easy to charge.
The camera has a compact design that excellently fits into your home.
Camera Kits
The two-camera kit includes two Arlo Pro 3 cameras and the Arlo Pro 3 Base Station plugging into the home network.  Unlike the Arlo Ultra Base Station that uses a microSD card slot, the Arlo Pro 3 Base Station uses a USB port for storage. If you already have the Arlo Ultra, you may no longer need to purchase a kit because the cameras can still connect to the Base Station of either Arlo Ultra or Arlo Pro 3.  
The Arlo Pro 3 camera comes in a solid white enclosure with a beautiful black front cover housing the camera lens, microphone, spotlight, sensors, and speaker. You can find the charging pins and the button to open up the device on the bottom. A screw mount is also located at the back. The whole device measures 3.5" x 2" x 3" and weighs 331 grams.
The camera is designed to be UV and weather-resistant. Durability is not an issue because the camera design is well-made and high-quality to withstand a wide range of weather conditions.
Setup
One thing that makes a smart home product great is if it's seamless to set up. Luckily, Arlo Pro 3 is among the security cameras that are the easiest to install.
You get the product partially charged, so start by charging them up fully. Then, plug the SmartHub into your wall, connect the Ethernet cable into the router, and finally, download and install the mobile app on your phone. You need to create an Arlo account. Set up your device, and once you've connected the smartphone to the router, the Arlo Pro 3 should appear on the list.
You can now start testing for spots where you want to put your cameras. So far, the range is excellent, which is attributed to the size of the SmartHub. It allows you to place your cameras indoors or outdoors, with both having consistently strong connectivity.
The Mobile App
The mobile app is pretty straightforward. You can find a still image of the last event captured by the camera on the Devices tab. Once you tap it, you will be directed to the live feed. You can also use the controls to speak, mute, record, capture, or even turn on the spotlight.
Another feature included in our Arlo Pro 3 review is the alarm icon found at the top right of the app, which allows you to activate the siren or connect with up to three contacts so that you can call a friend in case of an emergency.
You can find the Library tab at the bottom part on the app's main screen, which lists recorded videos. There's a filter icon to help you find specific videos. The mobile app also gives you flexibility in choosing different smart alerts for videos with people, vehicles, animals, or packages.
The final tab of the app is for mode. It allows you to arm or disarm the system and set up a schedule so that when you leave home, the camera turns on. By creating a mode, you can set motion triggers, audio triggers, sensitivity levels, and then you can decide what and when it should trigger. 
It also allows you to set until when it will continue to record or set an event that could activate the siren. In general, you can decide if something should trigger email alerts or push notifications. The push notifications are beneficial, and activity zones are crucial to avoid false positives. This is especially true if you place a camera overlooking a road.
If you wish to see the settings, you can access them at the top right of the app. You can find here information such as battery level, activity zones, video settings, and motion detection tests. You can also set up the spotlight here for night vision, adjust the brightness, power management, and field of view from 110-160 degrees.
This Arlo Pro 3 review suggests that if you get the Arlo Pro 3, you must also factor in the subscription cost because you won't have cloud storage without it. There is no way to access the recorded videos on the local storage via the mobile app, so you only see the live feed.
Arlo Pro 3: Top Features
Now that we've taken an overall look at the Arlo Pro 3, let's dive a little deeper into some of it's features.
Performance
You can get a good quality 2560 x 1440-pixel resolution footage in full color from the Arlo Pro 3 camera. The HDR feature keeps everything clear and prevents overexposure if the area has mixed lighting. Most security cameras are maxed out at 1080p only. But with Arlo Pro 3, there is a significant difference with more detailed captures at 2K. What's great is it allows you to zoom in up to 12x, although it may make things appear blocky.
Smart Notifications
Based on our Arlo Pro 3 review, the smart notification system of Arlo Pro 3 is excellent in distinguishing movements between people, vehicles, animals, etc. Things are rarely miscategorized, so you expect it works accurately. 
The alerts are also excellent because they pop on your smartphone and give you a highlight in a frame of the subject captured by the camera. In turn, it is very easy for you to identify them. It also works well in a smartwatch. Even on a tiny screen, you can see clearly which person triggered the camera.
Spotlight Feature
Having low light may affect your image. It would still be slightly grainy with the night vision mode, making it harder to perceive details. But with the spotlight of Arlo Pro 3, you can avoid this, especially if you have a confined area, like a garage. Please note that it's not strong enough to completely illuminate a large space.
Two-Way Audio
The two-way audio also works great. Using the mobile app, you can adjust the volume as needed and mute the microphone or the speaker. It's also very easy to carry on a conversation even when you place the camera in an exposed spot where the sound can be distorted, especially when it's windy outside. The siren works perfectly also, hitting 100 decibels – enough to scare intruders away.
It has support for Alexa and Google Assistant. This allows you to pull up footage on your TV through an Echo Show or Chromecast screen using simple voice commands. Don't worry; it's pretty easy to set up!
Customizable Settings
If you feel like you receive too much information and are flooded with an abundance of alerts from your Arlo camera, you can always customize your settings from the mobile app. Just proceed to the Smart Notifications tab and manage your camera. 
You can remove people, vehicles, and animals to fine-tune your movements through this setting. Fine-tuning your app can help you avoid unwanted alerts and ensure that you receive the right notifications even when you're home or away.
It's not always going to be sunshine and rainbows, though. There might be occasional delays from alerts to playbacks. Sometimes, the playbacks fail or become distorted, which is a common issue in wireless devices. 
In general, you can get faster performance in your recordings and motion detections with a stronger internet connection. Just keep in mind that missing a few appearances on your site is usually common with wireless cameras.
Waterproof Hardware
Another exciting feature included in our Arlo Pro 3 review that takes this product to the top is the camera's ability to hold up pretty well in a storm. The camera can be drenched thoroughly in the storm, but in the end, the camera takes it like a champion. This is attributed to its IP-65 waterproof rating, and it is a must for any outdoor camera to have.
Communication
As mentioned, if you have solid and stable Wi-Fi connectivity, expect real-time conversations through the mobile app wherever you are, whenever it may be.  This two-way communication feature works similarly with any security camera nowadays. Just open the live feed, tap the microphone button, and speak. Although it's real-time, expect a slight delay of about five seconds.  
Rechargeable Batteries
The next great feature included in our Arlo Pro 3 review is the camera's rechargeable batteries.
To maintain the simplicity of the Arlo Pro 3 camera, you can find that the battery is strategically placed so that it'd be easy to pop it in and out of the chamber. The battery is also rechargeable which adds up to the ease of use. 
Once the batteries are placed, you can see the battery life left in each camera. Take note that those cameras which are located in areas with frequently moving objects can lose battery life faster. For example, the camera in your garage needs to be recharged more often, while the others can last for longer days.
So, consider recharging and replacing your batteries more often for cameras placed in high-traffic areas. Arlo also gives you an option to purchase a solar panel battery charger, which you can install for consistency of power source.
Third-Party Smart Home Compatibility
The Arlo Pro 3 may not have its own home automation features, but it shouldn't worry you because of its third-party smart home compatibility with Google Assistant and Amazon Alexa. Either option gives you voice control over the camera. It also supports IFTTT4 (If This Then That), which allows you to connect your camera to several devices like Smartthings, Stringify, Wink, and Apple Homekit.
Built-in Siren
Based on our Arlo Pro 3 review, the built-in siren feature of Arlo Pro 3 is a significant improvement over the previous Arlo cameras. It allows you to activate the feature manually or set it to activate automatically once it detects a specific sound or movement. You can customize these settings in the Arlo mobile app.
Warranty
If you purchase an Arlo camera and suddenly realize it's not right for you, there is a 30-day return period from the shipment date, and they will refund you the full purchase price as long as the product is bought directly from Arlo.com. If you receive a defective product, they also have a limited hardware 1-yr warranty on all Arlo cameras.
Customer Service
Another great benefit of purchasing an Arlo camera is the extensive support you can get from their site. You can reach out to them via phone, email, or chat. They offer phone support for your concerns free for the first 90 days after your purchase. However, if you avail of any subscription plan, support becomes subsequently free.
Arlo 3 Pros and Cons
The Arlo Pro 3, like all products, has important benefits and shortcomings that need to be considered when making a purchase decision.
Pros:
High-quality video: 2K video capability
Smart security features: A built-in spotlight and siren, plus the option to call 911 from the app, means you can react quickly to intruders.
Zooming and tracking: 12x digital zoom
Flexible installation: Completely wireless installation and magnetic mounts make it easy to install and adjust.
The Smart Hub Base Station helps extend the battery life of connected cameras.
Can store recording locally on SmartHub, so cloud storage is optional
Has third-party smart home compatibility with Apple's HomeKit, Google Assistant, Amazon Alexa, and many more
Cons:
Pay extra for continuous recording
Camera has to connect to an AC power source for continuous recording.
Blurry night videos
No ongoing free cloud plan
Login limited to one device only
One of the most expensive products on the market 
Alternatives
If we haven't completely convinced you of the Arlo Pro 3 yet, let's take a look at the best Arlo Pro 3 alternatives.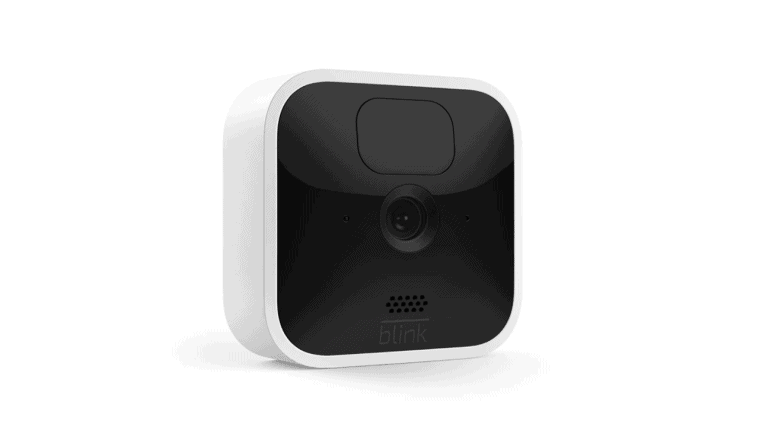 The Blink Indoor Home Security Camera is a battery-powered and wireless security camera built with infrared night vision. It does a great job of watching over your property when you are away.
The battery can last up to two years before you replace it. Another advantage is its interoperability with Amazon Alexa. The camera also offers high-definition videos, night vision, and motion detection, so you get alerted if the camera detects movements. Additionally, you can get the Blink Indoor Home Security Camera for an affordable price.
The Wansview Home Security Camera System is a wire-free camera system that delivers 1080p high-definition videos. Its camera has a motion sensor, night vision, and a 110-degree field of view. Another great feature of the camera is the built-in microphone which allows you to have a two-way conversation.
EufyCam E is a wireless, IP65 weatherproof-rated security camera offering a long battery life and sharp 1080p high-definition videos. The battery life is designed to last for 365 days per charge and can last up to 3 years in standby mode. It has guaranteed durability and performs well in the hottest temperatures. Overall, the camera features easy installation and a better user experience.
The Nest Cam IQ Outdoor is one of the most high-end home security cameras. The camera has 8MP image sensors that automatically zoom in on a person, an animal, a car, or other things with motion activity. It can track the subject more closely than a standard camera. The Nest Cam IQ Outdoor is also weatherproof, allowing it to handle varying temperatures without breaking. 
Wrapping Up-Arlo Pro 3 Review
There is no doubt that Arlo Pro 3 is one of the industry-leading cybersecurity solutions out there. Based on this Arlo Pro 3 review, we highly recommend Arlo Pro 3 for its ease of installation and excellent video quality. The colored night vision is also very helpful because it provides incredible nighttime footage compared to the other cameras we rated. It comes equipped with advanced features such as digital zoom, motion detection, built-in spotlight, and an alarming siren that is sure to scare intruders away.
Price and performance-wise, this camera is still the best available security camera system in our opinion that shoots at a high-quality 2k resolution. You can find cheaper alternatives that are almost as good as the Arlo Pro 3, but if you want a one-of-a-kind smart object detection, Arlo Pro 3 is undoubtedly worth your money.
Check out the best deal on the Arlo Pro 3 on the market today.