After looking into more than a dozen smart vents, we found Flair Smart Vents to be the most affordable and effective. The Flair Smart Vents system is the best in our opinion mainly due to its dual-action smart vent and wireless smart thermostat system. 
As more people become homeowners and technology advances, there is a clear path towards home automation via smart devices. From automatically locking doors to dimming lights, smart devices are making life easier for busy people. As you research ways to make your home work more effectively, consider investing in a smart vent – or an automatic system that controls airflow between and within individual parts of your home. 
Originated by a start-up at New York University and highlighted on Shark Tank, smart vents are growing in notoriety and popularity among those in the smart home movement. The smart vent inventors developed a vent solution to control the temperature for those problematic rooms in every home that are consistently too warm or too cold. 
Below, this article will review some of the benefits of purchasing a smart vent system, reviewing the best products on the market, and some items to consider when selecting a system. 
Selecting and Using a Smart Vent System
To help control temperature in your home, "smart vents" manage your HVAC remotely and automatically. Smart vent technology is innovative, but homeowners are not using this cost-saving and environmentally friendly option. Controlling airflow in your home is essential for you and your family's health and comfort. 
Learning more about smart vents, especially the effectiveness of a smart vent system, can inform your purchasing decision. Reviewing the best vents on the market is a great way to begin your path towards airflow control and increased comfort in your home. 
Flair Smart Vents Review
After a review of many smart vent systems, Flair Smart Vents stand apart from the herd.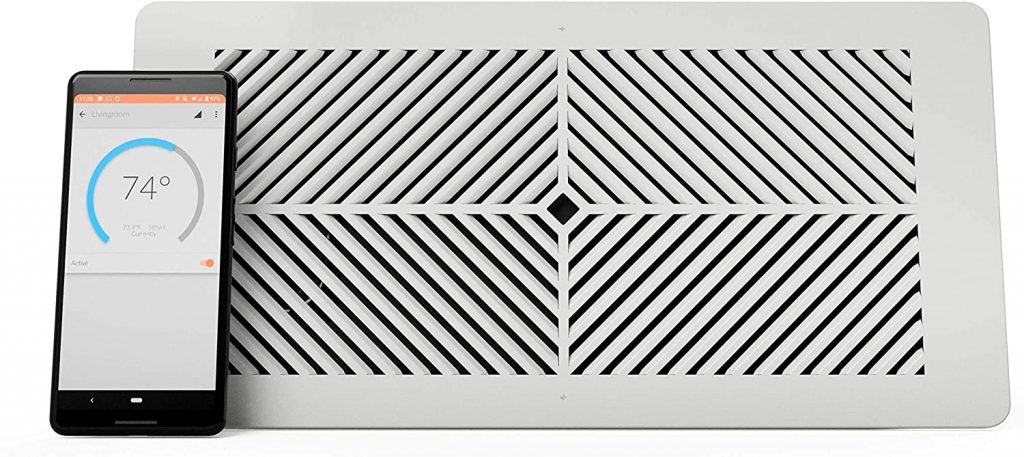 Pros: 
Flair controls airflow in your home to redirect heating and cooling into specific spaces. Additionally, the system has sensor monitoring that can detect when a person enters a room and subsequently automatically adjust the temperature according to your preset instructions. 
Cons: 
The Flair system meets all of our primary needs, which is why we've ranked this option so highly. 
Verdict: 
Recent developments to the Flair system have spurred its rise to fame over the last few years. It is affordable, compatible with other smart home devices, and includes many vital features. 
Components of the flair system
The Flair Puck
A component of the Flair system is the Puck – a smart thermostat that can set temperatures and works alongside the smart vent. The Flair Puck measures several factors to help the vent system be most effective. For instance, in addition to temperature measurements, the Puck accounts for pressure and humidity inside your house and controls motion sensor responses when a person enters a new space inside your home. 
Interestingly, with the Flair system, a homeowner could have multiple Pucks located in different areas so that every affected individual could better control the temperature in a particular space. Additionally, Flair accessories can easily pair with apps and connect with other home devices, like Alexa. While Flair Smart Vents are compatible with certain thermostats, the system was designed to have a Puck in every room. 
The Flair Smart Vent
The vent itself works with the Puck to remotely adjust the temperature and airflow in your home. The Flair vent is battery operated and has a comparably longer-lasting battery life than other smart vents on the market, but what's astonishing is that the Flair system can be wired to your home. Hence, battery lifespan and replacement never have to be considered by the homeowner after installation. 
The Flair Smart vent has exceptional integration capability and can be connected to most if not all of your existing smart home devices. This vent is durable because it is made of steel, offers easy installation, and is available in all the standard sizes. 
Other Smart Vent Options to Explore
Many other smart vent options are currently on the market, so reviewing all options before purchasing will help you decide which vent system is the best for your home, budget, and family. By reading a product review of some of the most popular and most effective options on the market, you can become an informed consumer and select the best smart vent system for you and your home. 
This ranking of other products for overall performance and outstanding services can help you decide which smart vent system is a good fit for you.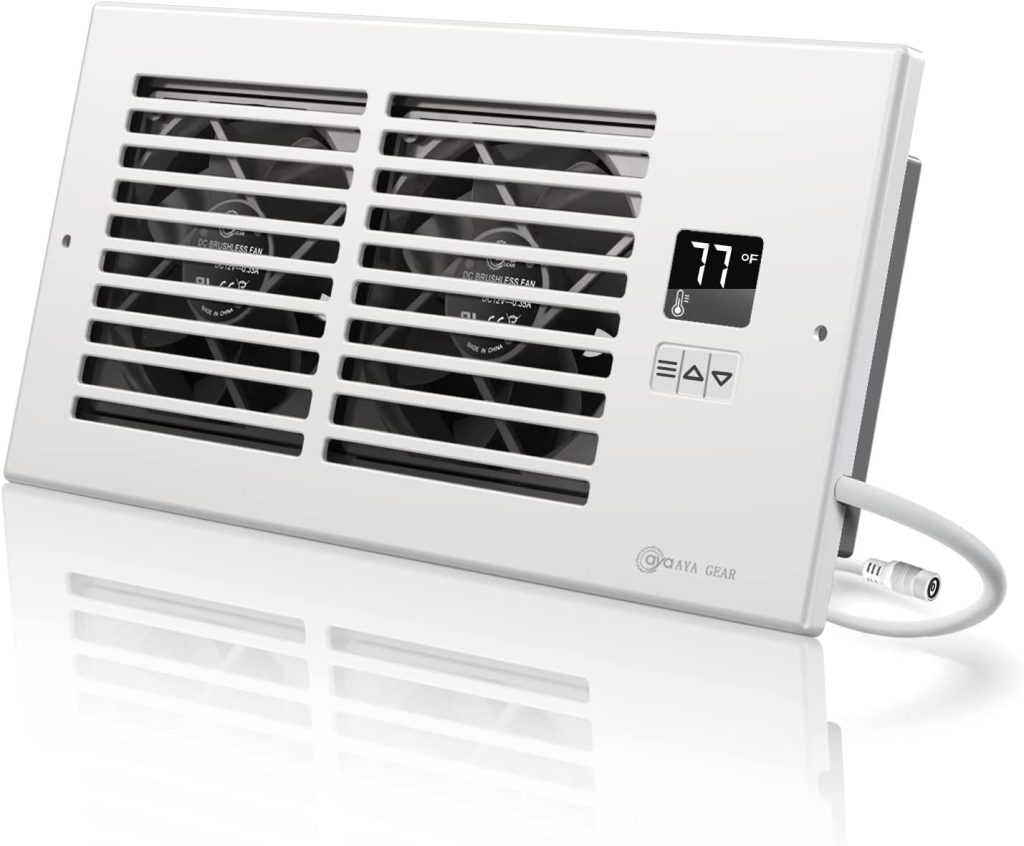 The AyA Gear Smart Register Vent is a cutting-edge solution designed to transform your home's climate control system. With its innovative features and advanced technology, this smart vent aims to enhance comfort and energy efficiency. In this review, we'll explore the pros and cons of the AyA Gear Smart Register Vent and provide a verdict on its performance.
Pros:
Intelligent Climate Control: The AyA Gear Smart Register Vent utilizes built-in sensors and algorithms to intelligently regulate airflow based on temperature, occupancy, and time of day. This ensures optimal comfort and energy savings by adjusting airflow to individual rooms in real-time.
Seamless Integration: Compatible with popular smart home platforms like Alexa and Google Assistant, the vent seamlessly integrates into your existing smart home ecosystem. It allows for convenient voice control and effortless integration with other smart devices.
Energy Efficiency: By directing airflow where it's needed most, the AyA Gear Smart Register Vent helps to eliminate wasted energy by preventing over-conditioning of unoccupied rooms. This smart feature can lead to substantial energy savings over time.
Cons:
Price: The AyA Gear Smart Register Vent comes with a higher price tag compared to traditional register vents. However, the potential energy savings and increased comfort it offers may justify the investment in the long run.
Compatibility Limitations: While the vent works well with most HVAC systems, there may be compatibility limitations with certain older or specialized systems. It's essential to ensure compatibility before making a purchase.
Verdict
The AyA Gear Smart Register Vent is a game-changer for home climate control. Its intelligent features, seamless integration, and energy efficiency make it a worthwhile investment for those seeking optimal comfort and savings. While the upfront cost may be a consideration, the long-term benefits and potential energy savings make the AyA Gear Smart Register Vent an excellent addition to any smart home. With its ability to transform how you manage airflow, this smart vent takes home comfort to new heights.
Keen Smart Vent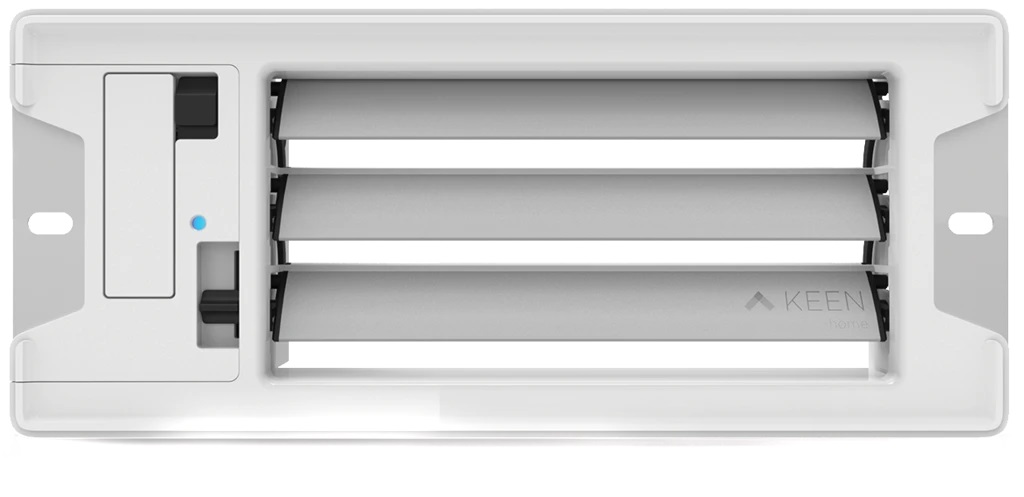 The Keen Smart Vent system is an overall best pick with an easy installation that features a magnetic plate design. While slightly more expensive than the Flair Vent System, Keen offers comprehensive features and communication integration with other smart home devices via a Keen Smart Bridge.
Pros:
The system offers individual room temperature control with an automated balancing mode to keep your house regulated. Usually, homes require between four and eight vents for the most effective results. The Keen system boosts a minimum of two years of battery life. 
The Keen brand is one of the most recognizable on the market, and for a good reason. One benefit to using a keen system is the automatic programming controls allow the user to micromanage airflow in individual rooms from one remote device. To ensure proper installation and management over the Keen System, homeowners must purchase Keen Smart Vent units and a Keen Smart Bridge. The Bridge connects vents with other smart home devices like a thermostat or additional sensors. 
Cons:
While listed as the best overall choice, some challenges with this system include unstable WiFi connection, which is highly inconvenient, and the additional equipment needed to integrate the system, which costs more money. 
On the other hand, the Keen System operates solely on battery power, unlike the Flair system, which can be wired to your home's electric grid. While changing the battery might seem burdensome, to offset that inconvenience, the Keen System includes multi-colored lights to indicate different issues – like internet connection or low battery. You never need to wonder what problem your smart vent might be facing at a particular moment because it will notify you. 
Verdict:
Notably, the vents are installed via a magnetic connection, so no power tools or heavy-duty screws are needed to secure your new smart vent to the opening. Removing, cleaning, or changing the battery on a Keen vent is more accessible because of this magnetic feature. It is the best option overall after the Flair system.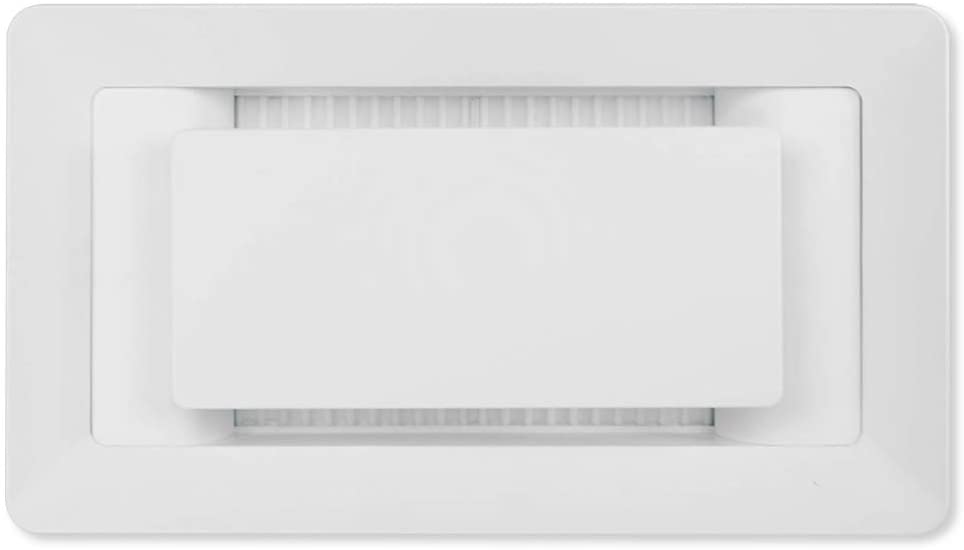 Ecovent products are sturdy and efficient, ,and expensive. If your budget allows for more robust spending on smart vent home improvements, then Ecovent might be the right choice for you. For installation, the system requires a room sensor and smart hub. Fortunately, the Ecovent systems are sold as packages on their website, so you will not need to worry about forgetting an individual item. 
Pros: 
The Ecovent system advertises exceedingly quiet operation and accurate temperature detection since temperature and pressure sensors are built into the vent itself. When the vents are connected to the same internet connection, the system can communicate to ensure comprehensive coverage. These smart vents are battery-operated and do not require wiring or additional ductwork. 
Cons:
After you have your system up and running, replacing or buying additional individual items might be challenging since they would be purchased through third-party vendors, like Amazon. 
Verdict: 
Reviewers and consumers often name Ecovent as the high-end option for a smart vent system. At nearly double the cost of the Flair or the Keen systems, Ecovent aims to deliver the highest quality services. Ecovent displays a sleek, modern design and operates very quietly. One primary reason for the more significant expense is the necessary components for the system to function as intended. However, the Ecovent Smart Hub is roughly five times as expensive as Keen's Smart Bridge despite similar functionality.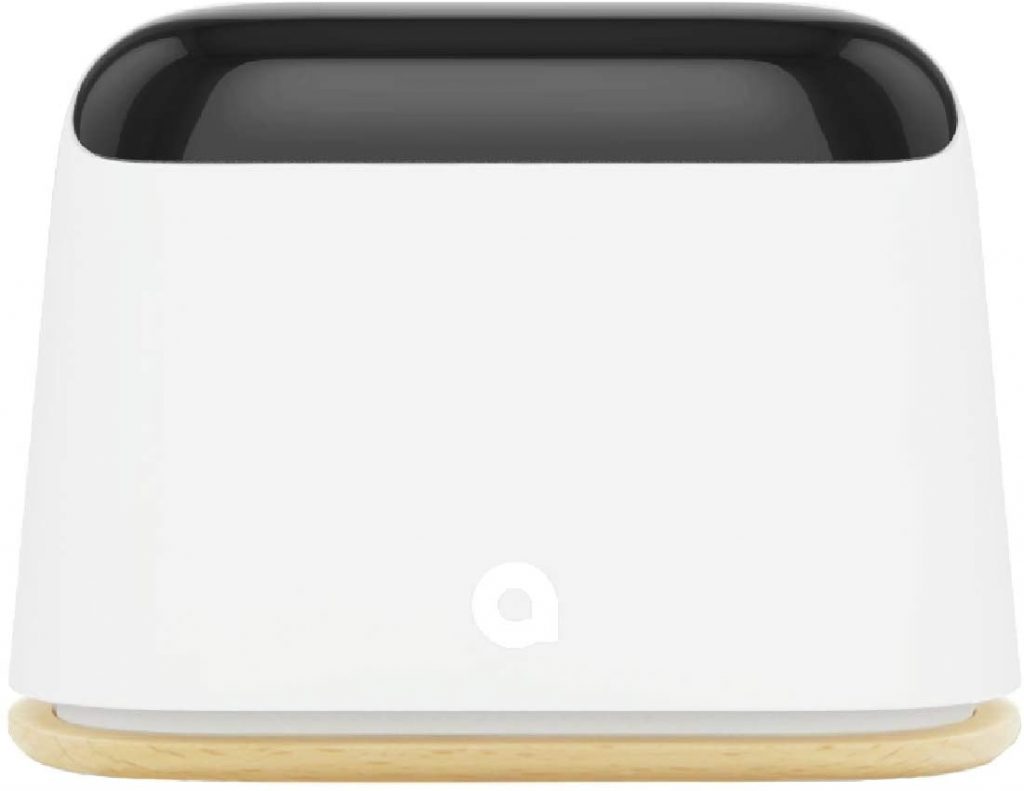 Ambi Climate 2 is a system that controls air conditioners and allows those with air conditioning units to attach this system to create a smart airflow system. For homes that do not operate from an HVAC system, airflow control is still possible if you have a stand-alone air conditioning unit. 
Pros:
Notably, Ambi Climate 2 monitors humidity and temperature; paired with your smartphone synthesizing data, you can regularly track your home's environmental status. One great feature of this system is called "comfort mode." Once you establish your preferences based on when you are home, the time of day, and other factors, Ambi creates your perfect indoor climate and operates your air conditioning units to provide a comfortable environment in your home continually. 
Cons:
Ambi requires a power outlet. While there are no controls on the device itself, homeowners can use their cell phones to set up preferences and establish controls. 
Verdict:
Ambi Climate 2 is an excellent alternative if you do not have an HVAC unit in your home but rather individual units. The application developed to use with the Ambi system is intuitive and comprehensive. Ambi Climate makes smart home air flow accessible to everyone. 
Buying Guide
Now that we have established a smart vent system and a few great options in the market, interested buyers should consider weighing their options against their goals and consider some essential factors when purchasing a smart vent or air control system. 
In addition to research and review, some basic principles regarding smart vents are essential to ensure you are an informed consumer:
Make a list of every item that you want in a system.
Read about products to see what is included with the vent and what accessories are an additional expense.
Compare your desires with what is offered to find the perfect smart vent system for your home. 
What to Look for When Buying a Smart Vent or Airflow Control System
Like other devices that use "smart" technology, a smart vent connects to the internet and uses sensors to function. Smart vents have three primary external components that boost effectiveness:
A motion sensor detects activity in a room and allows a vent to open or close as designed. 
A thermostat that uses smart technology to connect to the internet, access your programming, and automatically operate your home's HVAC system. 
A motor that opens and closes the vents or adjusts airflow streaming for the vents as programmed by the homeowner. 
The most effective smart vents on the market allow programming to be set for each room in the house, with different individual needs and goals. Because of the motion sensor technology included with some vents, the vent can close when no one is in a particular room, saving you money on energy costs. 
Smart Vents are a long-term solution and serious investment. 
When researching products available in the market, make a list of all your needs first, then compare that requirement to the various features offered by different smart vent products. Some features of smart vents are critical to their effectiveness. Consider closely reviewing the following attributes:
Temperature Sensor
Obviously, the most crucial component of a smart vent is its ability to read the temperature of a given space so that it can follow its programmed instructions of how cool or warm you want a room to remain. 
Smart vents may have a sensor built in the vent itself, which will become immediately effective upon installation. However, some products on the market do not have a built-in sensor and may require you to purchase this necessary component separately for an additional fee. 
Pressure Monitoring
Pressure monitoring is an essential feature of any smart vent system because it gauges your existing HVAC system to ensure compatibility. Without pressure controls, your current HVAC system might overload due to minimum airflow rules or excess pressure. Regulating air flow depends on the teamwork of the vents, HVAC, internet, and programming. For your venting system to work effectively, it must communicate with other vital mechanisms. 
Smart Home Integration
In the same way that pressure monitoring controls the communications between your smart vents and your home's HVAC, fully integrating your vents with the rest of your smart home mechanics is vital to ensure complete control. Reviewing systems for compatibility with your existing devices is oft-overlooked but is exceedingly necessary. Specifically, ensure that other smart sensors will not interact or interfere with the effectiveness of your smart vent system. 
So, Which System is the Best One?
After copious research, it is clear that a few products on the market stand out. After this comprehensive review, the Flair Smart Vent system is the best to work alongside your HVAC system to make your home more comfortable and ensure continual movement and airflow. Affordable, effective, and connectable, the Flair Smart Vent ticks all the boxes on a checklist for the best smart vent. 
The Keen Smart Vent system is an excellent option for consumers looking to complete their smart home device collection near the top. While the Keen vents require additional accessories to be operational – like the Keen Smart Bridge, the overall system is still relatively affordable and very useful. 
Many other products to automate airflow throughout your home are available. In addition to smart vents that work well with HVAC systems, companies have created remote smart air conditioning controllers for individual units. No matter what type of system is installed within your home, a smart airflow control system is perfect for your needs. 
Advantages of Installing Smart Vents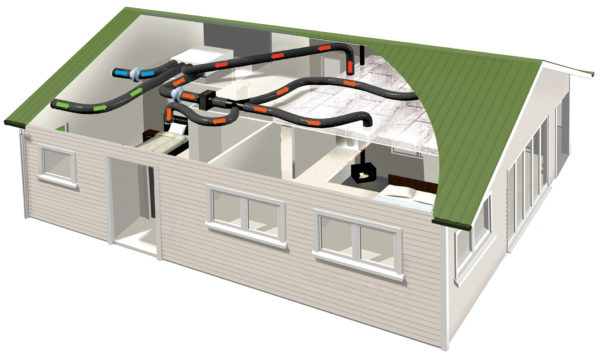 Purchasing a smart vent is an investment in your home. Many advantages accompany the purchase and installation of smart vents. Regardless of which company you choose to patronize, the resulting benefits to you and your home are sizable. 
Correct Hot and Cold Spots
Often, homes with traditional HVAC systems might have specific hot or cold spots depending on the time of day, the amount of natural sunlight, the airflow between rooms, and many other factors. The primary goal of a smart vent is to ensure that your home is comfortable, regardless of your preferences. Using a smartphone and smart home tools to regulate airflow in your home can help you save energy on energy costs and can allow air filters through your home more effectively, leading to healthier air to breathe. 
Connect Smart Home Technology
Smart home technologies are growing in popularity and are building reliance and dependability for home life. Connectivity creates enjoyment, so removing the need to worry about how your home is being cooled or heated is helpful for homeowners. 
Many smart vents on the market can work alongside other smart home devices you already have operating in your home, including many smart thermostats.
Manage Vents from Your Smartphone
After a smart vent is installed, homeowners can manage the movement and function of the vents via a smartphone – a considerable asset when HVAC vents are located high on the ceiling or in hard-to-reach places. A smart vent allows homeowners to modify the temperature room-by-room quickly and effortlessly.
Relatively Inexpensive
Even the most expensive smart vent options are still relatively affordable. If you have a large home, reconstructing ductwork or otherwise taking invasive steps to regulate the airflow in your home better can be time-consuming and costly. 
For a few hundred dollars, a homeowner facing airflow problems can install smart vents and receive near-immediate relief. What's more, there is not a requirement that you replace every vent in your home with a smart vent. If you need to target that one cold spot in your home, try your first smart vent in that space, but fair warning after you have installed and tried a smart vent, you will certainly want more! 
An All-inclusive System is the Best Option
Flair is a top choice for a smart vent system because it is all-inclusive, meaning that the thermostat communication technology and the ability to synchronize with other smart devices are exceedingly reliable. While other systems we reviewed had the option to build a system, the result is a higher cost, so if you have a specific budget, closely examine what components are included alongside your smart vent. 
How does a smart vent work?
Based on a programming system that you control, smart vents can open or restrict airflow from your HVAC unit to different rooms in your home. Traditionally, homeowners believed that a one-size-fits-all approach to heating and cooling was acceptable. Now that technology has met the needs of modern society, smart vents are necessary for a well-maintained home. 
Vents can be located in hard-to-reach places, making manual closing difficult and dangerous. For instance, it might make sense to close the vents in the guest room in a home when it is not in use. Using a ladder is burdensome if those vents are located in the ceiling. With automated vent closure, you can enjoy the benefits of saving energy without the hassle of manually operating the vent. 
How Does a Smart Vent Work With an HVAC System? 
A traditional HVAC system is generalized and acts as if every home is the same and requires no specialization. Generally, an HVAC system forces hot or cold air into a particular space and circulates that air around various rooms throughout the building. As part of HVAC installation, standard vents have manual dials that homeowners can operate to open or close the vent. Unfortunately, these vents are often located high in ceilings or in difficult-to-reach places, making manual adjustments difficult. 
A smart vent works with your HVAC system to provide regulated airflow throughout your house. Indeed, adding a smart vent can help your HVAC system work more effectively. Persuasively, people who are using smart vents have seen a reduction in HVAC operation by 30 percent. Smart vents are most effective in homes with high ceilings and few vents, homes that never seem quite comfortable. 
Some problems that cause a house to fluctuate in temperature dramatically might face bad weather-stripping or ineffective seals on windows and doors. As part of a comprehensive review of how you make your house more comfortable, consider adding smart vents to problem rooms or throughout your home. 
What are the benefits of installing a smart vent? 
Technology is making our daily lives more manageable, and that's no exception with a smart vent. By heating and cooling rooms of your house differently and in a programmatically controlled way, you, your family, and your pocketbook can benefit. 
First, because you have programmed all of the temperature settings in your home, the smart vent system can automatically adjust and keep your home at the desired temperature year-round. What's more, is that all of this adjustment is performed automatically. Forget having to remember to close or open vents around your home manually; a smart vent will always follow its programming and can close or open vents in difficult-to-reach places. 
Second, smart vents use motion-sensing technology to ensure that a room is comfortable when a person enters and is dormant when no one is around. Using proximity sensors can help guests in your home enjoy their time rather than fiddling with temperature controls or manually opening or closing vents. Furthermore, when rooms are not in use and vents are closed, you can save energy costs. 
Third, the remote control of a smart vent system reaches far beyond its day-to-day uses. For example, if you are traveling for work or on vacation, but you do not want to return to a hot and humid house, you can control cool airflow on your way back from the airport to your home. Connecting your home to your smartphone allows you to control the temperature in your home from anywhere. 
Wrapping up our smart vent reviews. Ready to invest in a smart vent?
Once you have completed your research, you should be ready to make a purchase decision of your smart vent system. Discussed above are great options for smart vent systems for HVAC units and an introduction to options for airflow control in homes that only have air conditioning units. 
Testing and questioning multiple products and labels in the market leads to our recommendations and informed information-sharing. The Flair Smart Vent system is the best system for its price, containing needed accessories and excellent connectivity. Another system with a high overall ranking is the Keen Smart vent. The significant difference between Flair and Keen is that one allows for hardwiring into your home and removes the need for batteries. 
If you are looking for a system that excels at connectivity, the Ecovent system might be a great option. However, the price of this system doubles in comparison to either Flair or Keen. Finally, we reviewed the Ambi Climate 2 system for those homes that run air conditioning units and determined that its "comfort zone" is incredibly intuitive and helpful for homeowners seeking to stabilize the temperature in their homes. 
Taking the first step to automate and remotely control airflow in your house is terrific. Visiting the website of any of the products mentioned in the article will lead you to the next step – adding a system to your shopping cart and having this new and fantastic technology delivered to your home. Make the switch to a smart vent today! 
FAQ
Are smart vents worth it?
Smart vents can be a valuable addition to a home's HVAC system, but whether they are worth it depends on a variety of factors.
Smart vents work by regulating the flow of air in different rooms of a home, helping to balance the temperature and humidity levels throughout the house. This can help improve overall comfort and energy efficiency, and may be especially useful in homes with uneven heating and cooling.
However, smart vents can be relatively expensive to install, and they may not be compatible with all HVAC systems. Additionally, there are some concerns that smart vents could potentially cause damage to HVAC systems by reducing the amount of air flow through the ducts.
Ultimately, whether smart vents are worth it depends on your specific needs and circumstances. If you have a large home with uneven heating and cooling then smart vents may be a worthwhile investment. However, if you have a smaller home or a more efficient HVAC system, then smart vents may not provide as much benefit in terms of energy savings and may not be worth the expense.
What is the best smart vent?
We found the Flair Smart Vents to be the best smart vent. It's easy to install, it uses advanced sensors and algorithms to intelligently regulate the flow of air throughout a home (The Flair Puck ). This helps to balance the temperature and humidity levels in different rooms and can help to reduce energy waste by directing air only to where it's needed. Finally Flair vents are designed to work with most HVAC systems and can be controlled using a smartphone app, voice commands, or smart home automation systems like Alexa or Google Assistant.