We reviewed six smart thermostats and found the Ecobee smart thermostat to be the most convenient thermostat compatible with Alexa.
Smart voice assistants like Alexa have been gaining popularity recently and they are more than likely to become the standard of smart home and devices operations.
Most smart thermostats are operated through apps, but I figured, why not go the extra step and make life easier by operating one through voice commands.
I ended up choosing Ecobee Smart Thermostat as the best Alexa Compatible Thermostat  
Well-established brands such as Honeywell make smart thermostats, which would mean you get the most reliable choice. Other thermostats have more ways to be sensitive to your needs such as those with multi-room sensors or geofencing for your smartphone. These choices would include thermostats like the Google Nest or Emerson Sensi Touch.
Without giving away too much, The Ecobee was the top choice as it seemed to tick all of the boxes mentioned above. It also has a sleek look that helps it stand out from some of the other competitors.
Keep reading to see which smart thermostats I tested and which one is the best for your needs.
Best Alexa Compatible Thermostats
Below are six of the best Alexa-compatible thermostats. Check out their specifications and see what you think.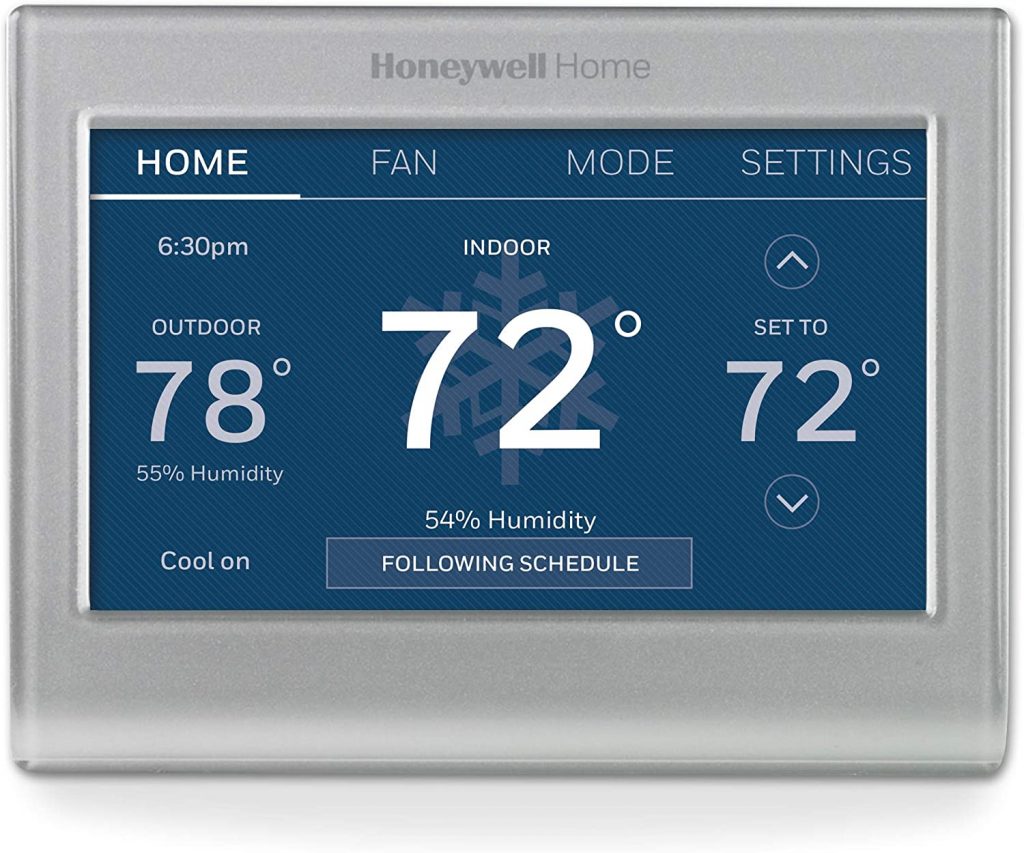 Having used Honeywell Home before, I was interested in their thermostat. The brand is well established so it didn't take much convincing to try this one out. As mentioned above, there are differences in how thermostats can work with Alexa, and the Honeywell thermostat has its own Alexa skill and works with Alexa just fine.
The one I decided to try was the Honeywell Color WiFi Thermostat. It looks sleek and modern without standing out too much from its place in your home. You can even change the color of the large, easy-to-read screen. 
This thermostat is excellent for programming as it makes you comfortable on a schedule if you need it. You can program schedules for regular days, schedules for hotter or colder weather, and what is the most interesting is you can program it for your vacation schedule too.
On the Honeywell thermostat, you'll find many interesting functions. For example, when it's time to change the thermostat's filter, if your home is too hot or cold, or if your internet connection is down, the thermostat will notify you. 
On the screen, you can view the current day as well as the five-day forecast. You can also use the Honeywell app to regulate the thermostat remotely by using the Total Connect Comfort app.
Pros
Trusted brand
Highly visible and changeable screen
Honeywell is Energy Star certified
Cons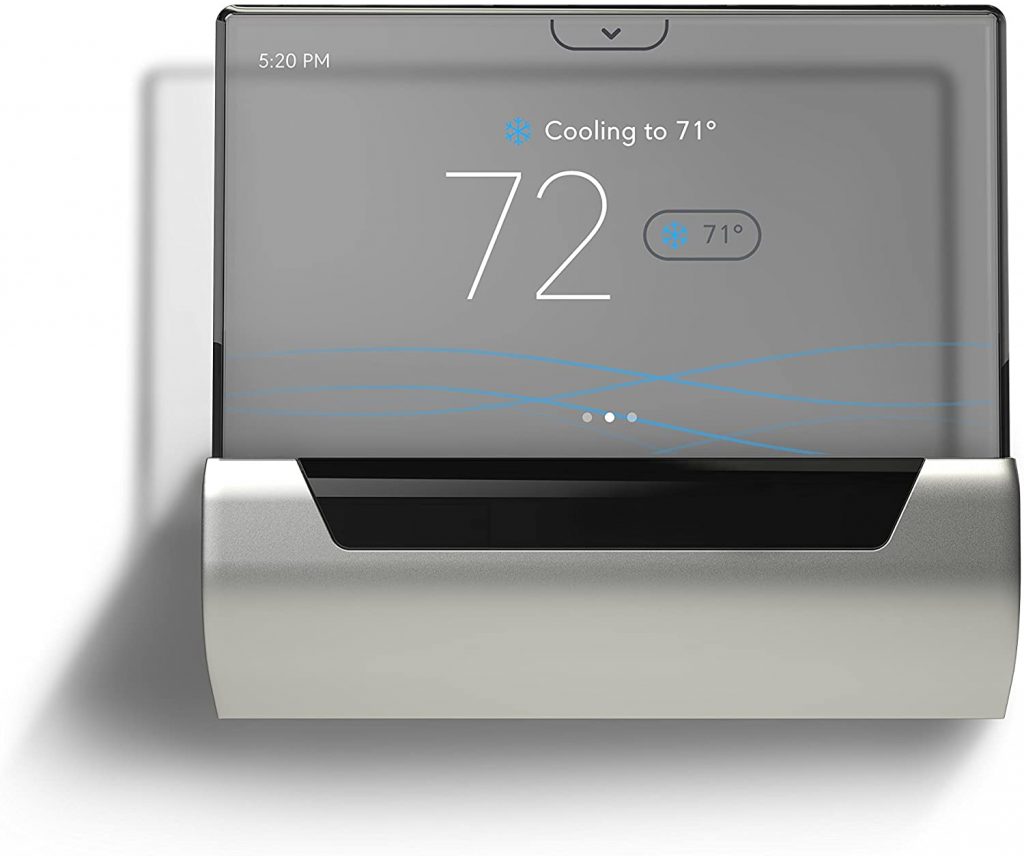 Possibly the most stylish thermostat ever made. The GLAS clever thermostat has many features that are easy to use.
The GLAS clever thermostat has a translucent OLED touchscreen that makes this one of the great searching thermostats available. The touchscreen is simple to see and control. The display additionally enters sleep mode, making it wholly translucent when you are not looking at it.
The GLAS thermostat is fairly easy to install, however it does require a C-wire (more on that later in our buying guide). Using a C-wire is pretty standard for most Wi-Fi thermostats. The thermostat is equipped with gas, oil, and electric-powered traditional structures with 2-stage heat and 2-stage cooling. It works with ground, air, water, and dual-supply heat pumps. Thankfully, their website has an entire ​GLAS thermostat compatibility checker for you to see.
You can make a schedule with the GLAS thermostat manually or with the smart functions. You can manually set your schedule 7 days a week at more than one temperature every day. Another choice is to use the smart scheduling function that uses its presence sensor to create a schedule for you.
A special feature of the GLAS thermostat is its indoor and outdoor air quality monitoring. GLAS can screen humidity, complete VOCs, and CO2 of your indoor air quality, and report it to you. The Johnson Controls app lets you remotely manage the thermostat.
The GLAS thermostat additionally "works with Alexa" so you can set the temperature with your voice via Alexa.
Pros
Works with Alexa
Air quality monitor
Cons
No multi-room sensors
No geofencing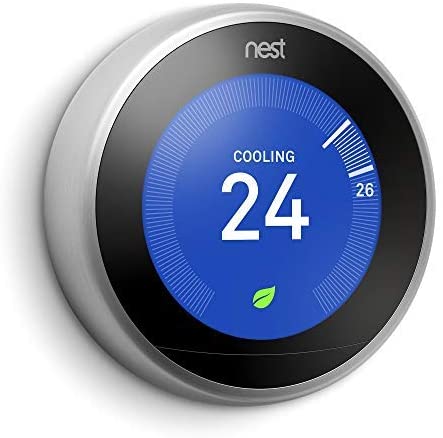 The Nest Learning Thermostat seems to be the original. The thermostat that began the need for smart thermostats in our homes. It is one of the most accessible smart thermostats on the market, and it includes many excellent features.
The way the scheduling function works for this thermostat has similarities and a big difference from other smart thermostats. The similarity is that you can manually input a schedule into the Nest. However, the difference is that Nest can additionally remember your preferences and routinely create an automatic schedule for you. 
The Nest thermostat has other scheduling features called home/away assist. Nest uses presence sensors and your phone app to decrease your HVAC utilization if you aren't at home. You can even use Nest Protect for smoke alarms to enhance detection of your presence at home.
The Nest thermostat comes in 4 colors: black, white, copper, and stainless steel. The display screen has an easy-to-read display with a large font. You can even see the temperature from other parts of the room with its Farsight feature.
While the Nest is a fantastic choice for a smart thermostat, Google has stated that it will eventually stop its "Works with Nest" software. They haven't acted on the statement yet, but it could still be that one day they decide to stop these services, and Nest may no longer be Alexa-compatible. 
Pros
Geofencing
Automatic schedule creation
Multi-room sensors
Cons
Auto schedules not for everyone
Google may stop supporting Alexa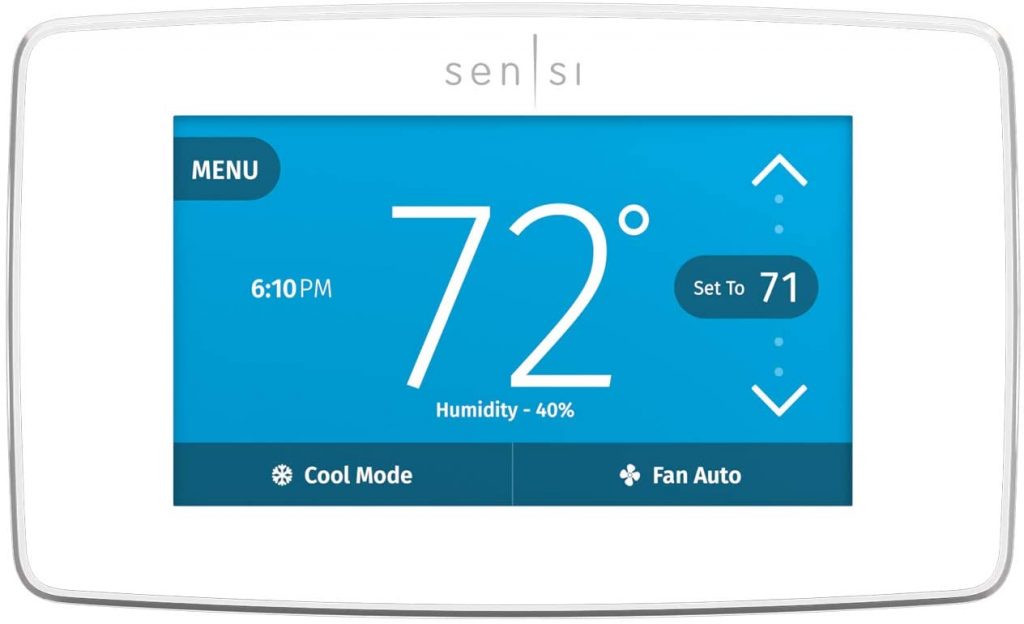 The Sensi Touch is an all-around strong thermostat that is easy to set up and use. The Emerson Sensi Touch is stylish, convenient to install, and is an easy-to-use smart thermostat. It uses an HD shade touchscreen with LED backlighting.
Many people who have bought this thermostat have persistently remarked that it is nearly effortless to install and use. Additionally, the Sensi Touch works with a huge range of HVAC systems such as:
Conventional (2 stage heating, 2 stage cooling)
Gas, oil, and electric
Heat Pump (4 stage heating, 2 stage cooling)
Geothermal
Duel-fuel
You can easily create a flexible schedule with the Sensi Touch. You can set a customized temperature for every day of the week. You can additionally change the temperature remotely with the use of the Sensi app. The Emerson Sensi Touch thermostat also has the "works with Alexa" feature so you can change the thermostat by using voice with your Amazon Echo devices.
Other features on the Sensi Touch include something called smart alerts for severe temperatures or humidity.
Pros
Works with Alexa
Geofencing
Easy installation process
Cons
No multi-room sensors
Size is a bit bigger than others on this list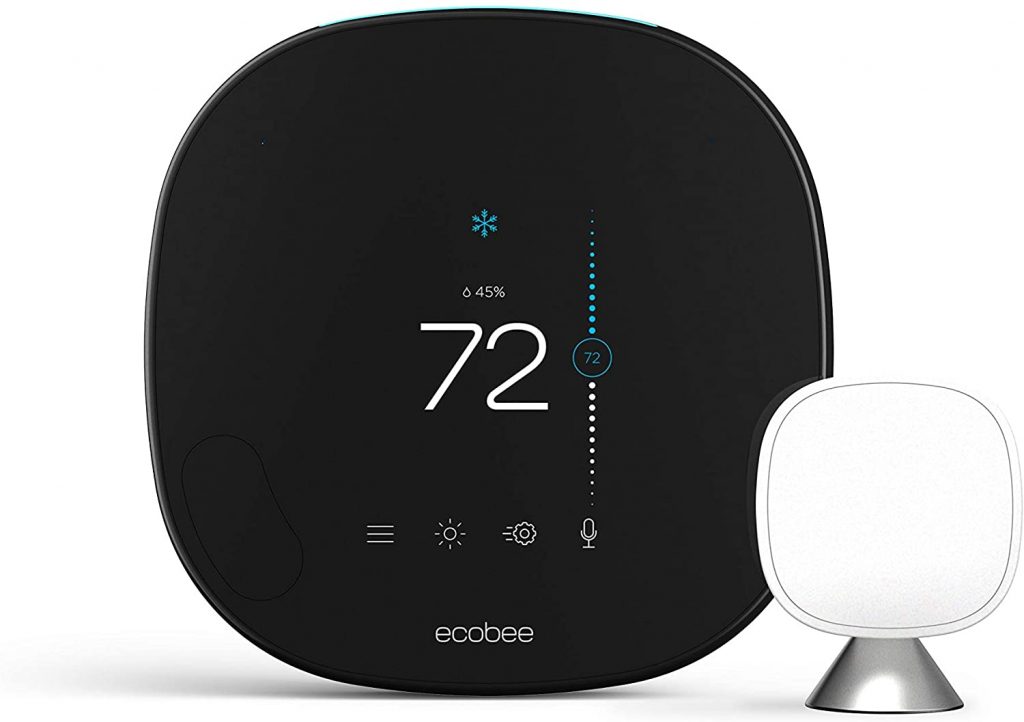 The Ecobee Smart Thermostat is the one thermostat here that is actually Alexa Enabled. You can use this thermostat like another Amazon Echo device you may have. You can control it with your voice or through Amazon Echo devices. 
On the Ecobee, you can get the weather report, set timers, and anything else you might need from an Echo device.
Scheduling is easy with Ecobee. You can create customized heating and cooling schedules by day of the week and time of day. For example, you can create a timetable to cool your room each night just by using the bedroom sensor. You can additionally set a vacation schedule so the thermostat uses a minimal amount of electricity while you're away from home.
The Ecobee is simple to install and easy to use. Ecobee Smart Thermostat works with most HVAC systems. According to the manufacturer, the thermostat is compatible with:
Gas, oil, electric, and twin fuel
Humidifiers
Dehumidifiers
Ventilators
Conventional – 2-stage heating and 2-stage cooling
Heat Pump – 4-stage heating and4-stage cooling 
Heat Recovery Ventilators (HRV)
Energy Recovery Ventilators (ERV)
The Ecobee does an excellent job of exact heating or cooling your home via the use of its Room Sensors, which you can place throughout your home. What's interesting about the sensors is their ability to detect both presence and temperature. The thermostat can use the information from the sensors to warm or cool the room you are in at the time to your desired temperature.
The Ecobee, unlike the Honeywell thermostat, has geofencing, which means that it can cool or heat your home less when you are not there to save you money. This is possible with the Ecobee's phone app, which allows you to change the temperature remotely, and gives you stats and updates regarding the thermostat's performance.
Pros
Alexa enabled
Room sensors
Geofencing
Cons
Alexa enabled setting may be troublesome for some, as you cannot turn Alexa off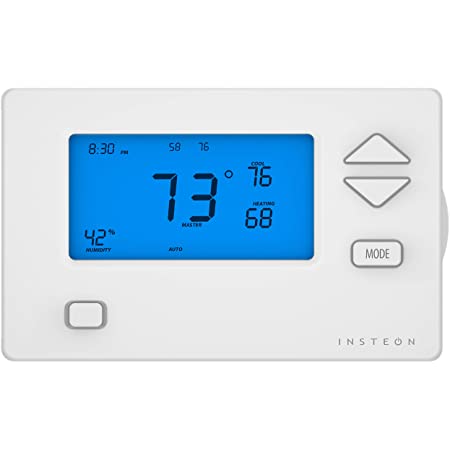 The final choice on the list is the Insteon Remote Control Thermostat. This thermostat works with an Insteon Hub that helps the remote control function. If you want to work with this thermostat the way you can with apps or voice recognition, you can use it through an Amazon Echo device, thereby using it with Alexa.
The Insteon works with many heating and cooling systems such as those with 2-stage heating and 2-stage cooling. One feature I found unique to this thermostat was its ability to control the ceiling fans in your home and your air duct dampers in addition to adjusting the temperature.
You can also use it as an Insteon controller, meaning that it controls and activates other devices when the temperature reaches a certain high or low. This thermostat is also one of the more affordable on the list, so you can easily cool or heat your home without breaking the bank. 
Pros:
Controls several devices in the home
Affordable price
Cons:
Less modern looking than others
Requires the Insteon Hub
What to Look for When Shopping for an Alexa-Compatible Thermostat: Buying Guide
Getting used to newer or "smarter" technology isn't always easy. When I first got into smart gadgets, I struggled a bit with what I needed to have in my home already vs. what the gadgets and their kits might provide.
There is a lot to get used to in terms of apps on your smartphones, sensor technology, voice recognition, and so on. If you do your research beforehand, you will come across the thermostat that seems the most familiar and easy to use for you.
I promise that after you get to know the technology, everything will become easier, and purchasing a smart thermostat will seem much less intimidating.
Here are some of the key things you will want to look for while you shop. These are only a few of a long list, but it's a great place to start for first-time buyers.
Compatibility
Alexa is compatible with several thermostats. However, not all thermostats are compatible with Alexa. Alexa-enabled thermostats fall into two groups.
Alexa Enabled – Thermostats labeled "Alexa Enabled" come with a fully functional Alexa built in. You may use your voice to control the thermostat directly from the device or through other Echo and Alexa-enabled devices.
Works with Alexa – Through a skill, thermostats that "work with Alexa" can be linked to Amazon Echo and others. These thermostats are used via voice commands through your other devices.
Ease of Installation 
Any smart thermostat that you purchase should not require you to have a degree in rocket science to install it. You should receive a detailed but easy-to-understand manual with your thermostat that gives plenty of instructions and illustrations. 
Another thing to check is if the thermostat parts are clearly labeled for helpful removal of your old thermostat and the installation of the new one. For example, wires should be color-coded.
C-Wire
Most manufacturers advise the use of a C wire for your thermostat. This wire is a dedicated wire to aid in the power of the thermostat in addition to the HVAC system it should be working with. Some can use the power from an R wire, but it is best practice to have a C wire installed.
You can check for the presence of a C wire if you temporarily remove your current thermostat. If you have one, great! You can install the smart thermostat. If not, it is highly recommended to have one installed.
Remote Access
Remote access is fairly self-explanatory, as you should be able to control the temperature from elsewhere. 
Geofencing 
Geofencing is a convenient feature to have. It uses your phone's GPS to find the perimeter of your home. When you leave that set perimeter, the geofencing feature allows you to adjust the temperature to save your money on heating and cooling when you're not home. Then when you return, your HVAC system starts up again for when you go back inside.
Sensors 
While geofencing works for anyone with a smartphone, sensors are handy to have as they can actually sense when you are home or away. If you are in a particular room with a sensor, for example, you can have that room's temperature adjusted. Meanwhile, this saves energy in other rooms if all other rooms in your home are empty, according to the sensor. 
Proximity sensors are equally helpful, as they detect when you walk into a room, avoiding any confusion with the system's heating or cooling. They can also light up as you walk by. This feature can also work with different sensors you may have, such as your home security system.
Which is the best Alexa-compatible thermostat?
Ecobee is still my recommendation if you are similar to me and enjoy those features. However, if an Alexa skill is not your ideal, any of these other choices would be amazing. I personally think the Honeywell and Nest were excellent options as well.
Check out their amazon prices and enjoy shopping for a smart thermostat now that you are an expert on the topic.