There are various Samsung TVs, from affordable to expensive models. But regardless of the one you own, it is not good news if you misplace your remote or it becomes damaged. The reason is that this will limit your use of the Samsung TV's features.
Samsung TV remotes are multifunctional, but their basic task is switching the TV on or off. Nowadays, we've become very much reliant on the remote, which has translated to not knowing how to turn on TV without remote Samsung included. Besides, without turning the TV on, it becomes impossible to perform simple tasks like changing channels or navigating the TV menu.
If you own a Samsung TV but can't find the remote to turn it on, you don't have to worry. Here, we provide easy ways to turn on TV without remote Samsung included. Read on as we provide this great information so you can turn on the TV anytime.
Easy Ways to Turn on TV Without Remote Samsung Included
Do you want to know how to turn on Samsung TV without a remote? There are several ways you can do this. Here are a few. 
Using Samsung's TV Controller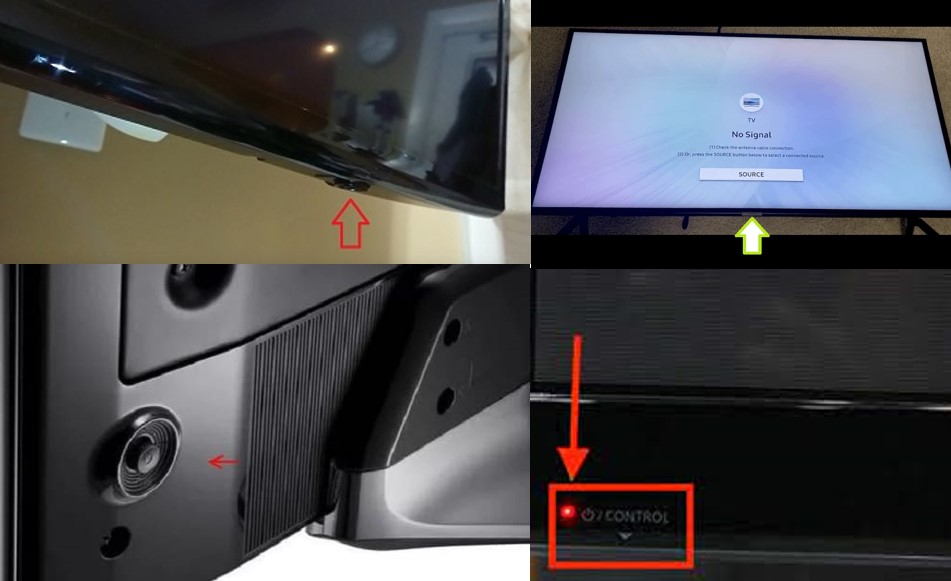 The makers of Samsung TVs figured that the TV remote might not always be available, so what did they do? They incorporated a TV controller in the design. They are a set of buttons on the TV which you can use to Turn it on or off, regulate volume, and perform other tasks.
Where you find this TV controller differs from the Samsung TV model. However, you'd most likely find it on the back of the TV. If it's not there, check the front panel's middle or side. 
So, how do you use this controller? Here is how to turn on TV without remote Samsung included using its TV controller.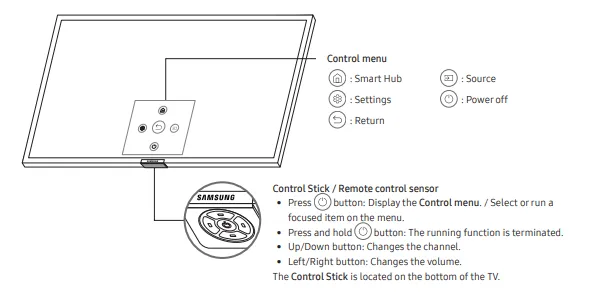 TV Controller Under the Front Panel (Middle or Side)
TV controllers under the front panel often come with two designs; a five button system or a single-button one. The five-button system features an up and down button, a left and right button, and a center button.
Long pressing the center button helps you turn on the TV without remote Samsung included, while short pressing opens up the TV menu. The up and down button changes the channel, while the left and right buttons regulate the volume. Left for a reduction and right for an increment.
The single-button system works similarly to the five-button system in that long pressing turns the TV on or off. Short pressing the button opens up the TV menu, where you can access different control options.
Not Under the Front Panel? Check TV Controller at the Back Corner of the TV, then!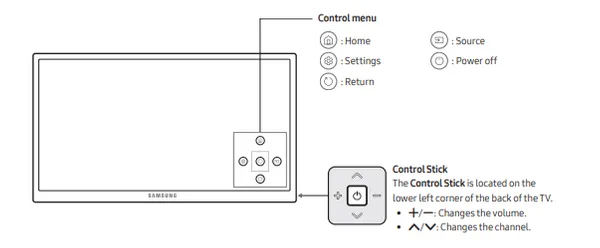 Most Samsung TVs feature this TV controller type. You often find it in the bottom right corner. TVs with this controller type have a control stick used for horizontal and vertical toggling. Pressing the stick once calls up the control menu on the TV screen. On the other hand, long pressing the stick will turn on TV without remote Samsung included.
Use Samsung SmartThings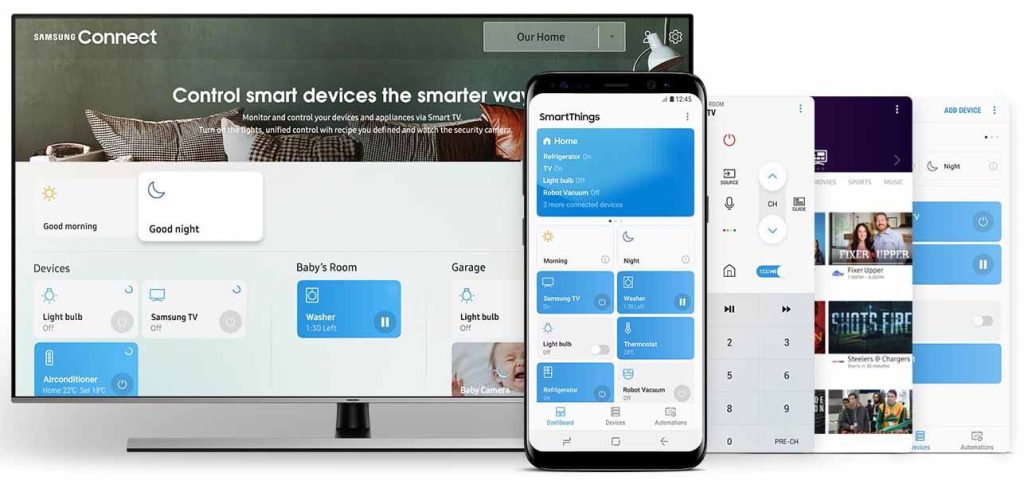 No TV remote, and you do not want to use the TV controller? There is an option just right for you! Here is how to turn on Samsung TV without remote no buttons. 
Have you heard of the SmartThings app? 
It is an app that allows users to control and access their Samsung TV using their mobile device as a remote control. This app fits the Smart home ecosystem narrative just right! It is free for download via Google Play Store or Apple App store, depending on the type of mobile device you use.
So how do you use the SmartThings App to turn on TV without remote Samsung included? Here are the steps;
The first thing to do is to download and install the SmartThings app on your Android or Apple device. You can get it via Google Play Store or Apple App store
After a successful installation, launch the app so you can start controlling your Samsung TV through it.
Now that the app is open click on the plus (+) icon on the page to add a device
On the drop-down menu, click on the Add Device Option
Click on the Television
Also, click on the start button
Select a location from the list of options available
Ensure you select your television, then enter the code on the screen. This is to help establish a connection between your mobile device and your Samsung TV set
After establishing this connection, relaunch the app.
Tap the name of your TV.
You should see a virtual replica of your Samsung TV remote on your mobile device's screen. This remote has the same control as your physical Samsung TV remote, so you can use it the same way.
To switch on or off your TV, you only need to click on the virtual power button on your phone screen.
However, you should note that SmartThings works ideally for Samsung TVs not older than 2016. If you are using an older TV set, you might have to use a remote control app designed by a third party to turn on TV without remote Samsung included.
Conclusion
Samsung TVs are popular for many reasons, ranging from advanced features to elegant designs. However, just like most TV remotes, Samsung TV remotes do not last forever! We often misplace them, or they get faulty. So what do we do when this happens? 
We provided easy ways to turn on TV without remote Samsung included, using the TV controller and SmartThings. This ensures a missing or damaged remote does not stop you from enjoying your Samsung TV.
FAQ
Does Samsung TV have a controller on every model?
Yes, every Samsung TV model not older than 2016 features a Jog or TV controller. This controller allows you to access TV functions quickly without the aid of a remote controller.
Can I Turn on Samsung TV without a Remote with Android?
Yes, especially when your Android device has features that allow it to function remotely. Samsung smart TVs come with many features geared towards enhanced viewer experience. One such feature is giving users the ability to control the TV via their smartphones. All you need to do is download the "TV Remote for Samsung TV" app from either Google Play Store. Once you synchronize this app with your Samsung TV, your mobile device starts working as your TV remote. Hence, you can use it to turn on TV without remote Samsung included.