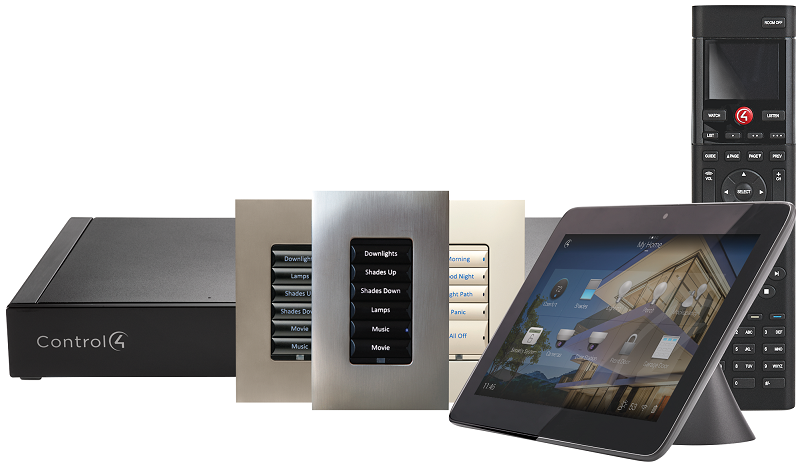 Technology has advanced far beyond the predictions to make everyday life simpler than ever imagined, which explains why the automation industry has found itself shifting toward the smart home trend. The smart home implementation provides many benefits to the homeowners such as optimal energy consumption, security, comfort, and convenience. The home automation process, which is recognized as the most important Internet of Things (IoT) cluster, enables centralized management and control of smart devices locally or remotely.
When thinking about smart homes, people usually take into account Google Assistant, or Apple's HomeKit ecosystem. It is important to notice that Control4 designed and implemented customizable smart home solutions long before common and widely spread home automation products were presented to the market. The Control4, as the company specialized in high-class smart home products, was introduced in 2004 at the CEDIA Expo home technology trade show. Its primary goal is to meet the needs of customers ready to pay for installation, system maintenance, and updates as well.
What Can You Do With Control4?
Today, Control4 evolved to a world-class provider of automation and networking systems, capable to meet the most demanding users' needs. It designs unified and personalized smart home platforms that successfully manage (via a universal remote and voice control) connected devices such as lighting, audio, video, A/C and heating systems, home network, multi-room audio, smart doorbells, smart outlets, security cameras, thermostats, centralized lighting panels, motion sensors, and KNX devices. Moreover, Control4 solutions are embedded with several wireless protocols such as ZigBee, Z-Wave, Wi-Fi, and Bluetooth. They are installed in hundreds of thousands of homes in more than 100 countries worldwide and are compatible with more than 35000 third-party products.
Control4 implementation
The networks of official dealers are responsible for Control4 products, their installation, software customization, and configuration. The general conclusion is that the Contol4 concept is far away from a plug-and-play comfort, and the initial step that leads to customer satisfaction is contacting the authorized dealers and organizing their visit. Since Control4 offers high-end products, it is often very useful to get several quotes from different dealers, before a final decision about the smart home system or device is made. Typically, a Product Planner portal is recommended to ask questions and get some suggestions via e-mail about the equipment list and setup scenarios or ideas.
The dealer's responsibility is not only the installation of products. They have to configure every system parameter – both hardware settings and software tuning that makes the deployed devices interoperable within the determined scenario. Control4 solutions are completely different from HomeKit, Alexa, and dedicated smart home hubs such as Wink or SmartThings. The users of Control4 systems are not supported by access to their configuration and settings. Moreover, the company has a unique approach in the market regarding the position and the role of their official dealers – a dealer is responsible for everything and everything needs to be done by the dealer. It means that Control4 dealers and their on-call support teams have to be available whenever a customer might need them. At the same time, end-users do not have to worry or think about smart home settings and its maintenance, or the integration of Control4 with some other third-party devices that often need specific drivers' installations and additional timely – consuming tuning. It is important to notice that all of this commodity comes at an extra cost.
Control4 is the system designed for people that want experts to manage their smart home services and upgrades. The Control4's vision of IFTTT is When-Then. It represents the maximum available level of creativity reserved for the curious users and enables customers to add layers of automation to preset ones.
The leading position of the Control4 company in the smart home market is recognized worldwide. According to some available sources, it has approximately 6000 official dealers in June 2019. Furthermore, Control4 established professional cooperation and partnership with construction industry representatives proven in home building, such as Toll Brothers and Arthur Rutenberg Homes.
Controlling the Control4
Typically, the Control4 system is managed and controlled via a controller, smartphone application, wall-mounted keypad, traditional remotes, or portable touch screens.
A controller is the most important Control4 system element. It is the heart and brain of system automation, similarly to a smart home hub that gathers all smart devices within a home. A Control4 controller is allowing all the electronic devices and systems to work together, so they support the control of different types of smart products like heating and A/C systems, blinds, shutters, lighting, security, and connected locks.
The Control4 controllers are user-friendly and embedded with touch-screen panels or keypads. They are compatible with Amazon Alexa and available on both iOS and Android operating systems.
There are several different models of controllers available in the market. For example, the CA-1 controller is the most basic Control4 controller that supports ZigBee, Z-Wave, and Wi-Fi connectivity, so it is recommended for control of things like connected locks, electric blinds, and smart lights.
On the other side, the CA-10 is a high-class controller that has four times higher processing power and available memory compared to EA-5. It is a proven solution designed for complex smart home systems, with hundreds, or thousands of connected devices.
EA-series of controllers (EA-1, EA-3, or EA-5) provides streaming audio and HDMI output, where the amount of streams is always correlated with the number in the controller model number, while the HDMI output enables the control over your TV, digital media, and compatible set-top boxes. For example, the abovementioned EA controllers work smoothly with a wide range of audio switches, amplifiers, and speakers designed by Control4 or by Triad. Triad is an audio company acquired by Control4 in 2017. It is important to notice that the price of a mid-range EA controller, for example EA-3 is approximately 1000USD.
EA controller that is connected to a TV via HDMI cable provides the access to Control4 UI on TV. In this scenario, a dedicated remote control enables the management of different products and services – audio and video feeds, smart lights, thermostats, security systems, etc. Considering the available remote controls, users can choose between the standard SR-260 remote or the advanced Neeo Remote for Control4, as presented in Figure 1.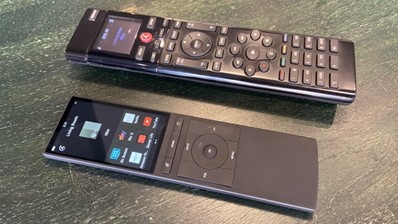 Control4 introduced a new version of its operating system Smart Home OS3, in 2019. By this improvement, the users are motivated to easily adjust settings and make some changes to their Control4 Smart Home system. Control4 added streaming of MQA files in OS3 and became the first home automation company in the world that supports the transfers of high-resolution audio format. It is a result of a partnership Contol4 established in 2019 with streaming and download service Qobuz. The latest OS3 interface has been established as the gold standard for simplicity and functionality within the smart homes industry. Moreover, OS 3 provides for more customization and capability for users to select their favorite operations that are displayed on the main home screens in every room.
The most intuitive Control4 controlling device is a dedicated touchscreen panel, presented in Figure 2. The company offers 7-inch and 10-inch wall-mounted, or free-standing models.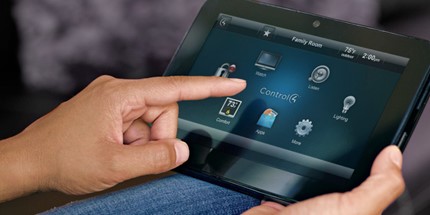 Moreover, some applications are available on both iOS and Android operating systems that replicate the touchscreen panel content, with some restrictions.
Additionally, the company offers the keypads that wire into your light switches, capable to trigger Control4 scenes. These Scenes are predefined routines that automate smart home actions. For example, a useful routine is a "Good night" scene, that turns off all of the lights in the home, turns off the TV or music, sets the house alarm, locks the smart locks, activates the motion sensors or alarms, and so on. For some others "Good morning" scene is more important, as it can be set to turn on your TV and set it to a favorite channel, or to deactivate a morning alarm and switches the kettle on.
Oppositely to other smart home solutions, the Control4 platform deployment is not as simple as scanning activation for detecting new devices and their synchronization. Compatibility between the Control4 and other products is achievable via the installation of specific drivers for non-native devices (third party equipment). For sure, this technical job has to be realized by the dealer and this activity has its costs.
In 2012, Control4 released its proprietary protocol – Simple Device Discovery Protocol (SDDP), which enables company products embedded with the code to be automatically discovered in a Control4 network. Some other vendors are licensed by the Control4 to implement the protocol in their products and today there are several thousands of SDDP-embedded products worldwide.
The Control4 ecosystem offers great choices of smart in-house products without the restrictions caused by the existence of third-party devices. Most of the mainstream smart home devices today are interoperable with Control4, including Nest, Apple TV, Amazon Music, Amazon Alexa-enabled speaker devices, Netflix, Spotify, Sonos, Bose, Denon, Yale, Lutron, Philips Hue, and more. Very important isthe existence of Amazon and Google products compatibility with Control4.
To sum up, everyone should be aware that Control4 is a high-end smart home system, dedicated to people that want to enjoy in commodity and someone else to take care of all technical details. It is not recommended to users that like to play with their devices and continuously change settings.
Control4 solutions
There is a great choice of different smart home products introduced by Control4, such as one-zone systems designed to fit under the TV in the living room or powerful audio and video matrix systems packed in racks. Also, some perfectly stylized outdoor speaker systems are available, such as Triad Garden Array.
Today, Control4 sells a wide range of high-quality products for smart homes under three brands:
Control4 – for smart lighting, multi-room audio and video, HVAC, home automation controllers, and smart home interfaces such as touch screens, door stations, keypads, and the Control4 applications.
Pakedge – is responsible for smart homes networking infrastructure and designs products such as access points, routers, switches, IP cameras, and wireless controllers.
Triad – for speakers and audio amplifiers.
Generally, the wide range of high-quality products is offering scalability in structuring the easy-to-use and handy smart home solutions. It enables to start home automation with just one room or basic devices, according to the customer needs, and later to add new smart boxes to the home. Contol4 is a proven solution for full home automation, including home theatres, smart lighting, multi-room audio, and video, door locks and security systems, pool and Spa control, irrigation control, appliance monitors, etc.
Instead of a conclusion, we can say that Control4 is one of the most avant-garde and innovative home automation platforms in the market. It is capable to offer proven comfort and high-level services for smart homes or business facilities.
FAQ
What Is Control4 and What Can You Do with It?
Control4 is a control panel allowing you to connect all compatible smart home devices such as smart lights and multi-room smart speakers and control them from one device. Control4 uses wireless protocols like Wi-Fi and ZigBee to connect to hundreds of supported smart home devices.
But you can find modules using Z-Wave to connect to smart devices using this wireless protocol. After connecting your smart home devices to this control panel, you can shut your motorized blinds remotely. Also, you can unlock your smart locks, control your smart lights, and stream your favorite music to your smart speaker.
The control4 controller supports 35,000 devices. But you can find some smart home devices it doesn't support directly. Basically, this control4 allows you to set up a smart home ecosystem. And if you have non-native smart home devices, you can add them to your control4 controller after installing dedicated drivers to your control panel.