Apple HomeKit is a 'smart home' management system that allows Apple smartphone users to control various home systems digitally and remotely via an app.
With Apple HomeKit, you can control compatible devices throughout your home. That means that through a simple app interface on your smartphone, you can adjust your thermostat, lock and unlock your doors, turn lights off and on, and even monitor your security cameras. 
Apple HomeKit is not compatible with as many devices as similar home kit management systems, like those offered by Google or Amazon. At least not right now. But Apple is steadily expanding into this platform, so there will likely be more and more compatible cameras in the future. 
Features of Apple HomeKit
With Apple HomeKit, it's quite easy to turn your lights on and off or even dim them. HomeKit users can also use their system of smart electrical plugs to control outlets and appliances or lights plugged into them or to make thermostat adjustments. 
And the best part is this is all achieved through the simple integration of these devices with your existing smartphone. That means that you can have unparalleled levels of awareness of what happens in your home. 
Since you control all of the devices via the HomeKit, they can also work in concert with one another to set 'scenes.' Apple's HomeKit will allow you to customize your devices so that one scenario will cause a reaction from more than one of them. 
For instance, if you want the lights to turn on, the thermostat to set itself to your preferred temperature, and unlock the front door, you can accomplish all three tasks with the press of a button or even through Siri. 
HomeKit and Security Cameras
One of the devices that many consumers want to integrate with their Apple HomeKit system is a security camera. There is a lot of competition in the market for wireless surveillance cameras that can be controlled and seen using a smartphone.
With an Apple HomeKit system and a surveillance camera, you can bring real intelligence and awareness to your smart home. Not only can you see a visitor arrive, but you can also automatically engage with other devices on your HomeKit to unlock the door, turn on a light, and adjust the thermostat.
The integration of a security camera into your Apple HomeKit environment is truly a game-changer. Motion sensors, cameras, and all the compatible devices on your Apple HomeKit network can work together to make your life easier and keep you and your family safer. 
We have tested many security cameras, both those compatible with Apple's HomeKit, and some that work with other home monitoring systems on offer from manufacturers like Amazon and Google. 
Any security camera is going to be limited if it can't provide the coverage we need. So, a reliable HomeKit security camera needs the ability to stream video in real-time. 
But, if we get a motion alert every time the wind blows, we are numbed by constant false alarms. And, those false alarms can start to use up your storage space pretty quickly. 
So, many cameras take advantage of technology that discerns human motion from other patterns. And, some cameras even allow you to customize the areas of their field of view that will trigger an alert notification and video recording. 
The Logitech Circle View security camera is our top choice for an Apple HomeKit security camera. It has the right blend of features, versatility, and accessibility for us. Plus, its pricing is very competitive.
As a bonus, its design is exclusively for use with the Apple HomeKit system, making pairing very easy. Controlling and viewing the camera is a no-brainer through the seamless integration with the Home app on your smartphone. 
To make the most out of a HomeKit security camera, you need to see which one is best for you and your smart home. There is almost always a tradeoff that you should consider before purchasing one camera over another. 
We have broken down the features of some of the top Apple HomeKit compatible security cameras currently on the market. Let's take a look at what we found out.
Logitech Circle View The Best Overall HomeKit Security Camera
The Logitech Circle View is a wired security camera. It needs to be plugged into a power source. Its design is specifically for operation within Apple HomeKit's environment, making it effortless to set up and use with your Apple devices and the Apple Home app.
The camera itself is weatherproof, so it's suitable for outdoor use, and the included brackets make mounting a relatively easy task. It is also relatively unobtrusive and stylish with simple black housing. 
The camera offers a 180-degree field of view in a 1080 resolution. Images are sharp and clear to at least fifteen feet in all light conditions, with high contrast as needed to ensure reliable viewing. 
It is at a price point that puts it near the middle of the pack. So you don't have to break the bank to get a reliable and durable camera that seamlessly integrates with the Apple HomeKit system. 
eufyCam 2C Best Wireless Security Cam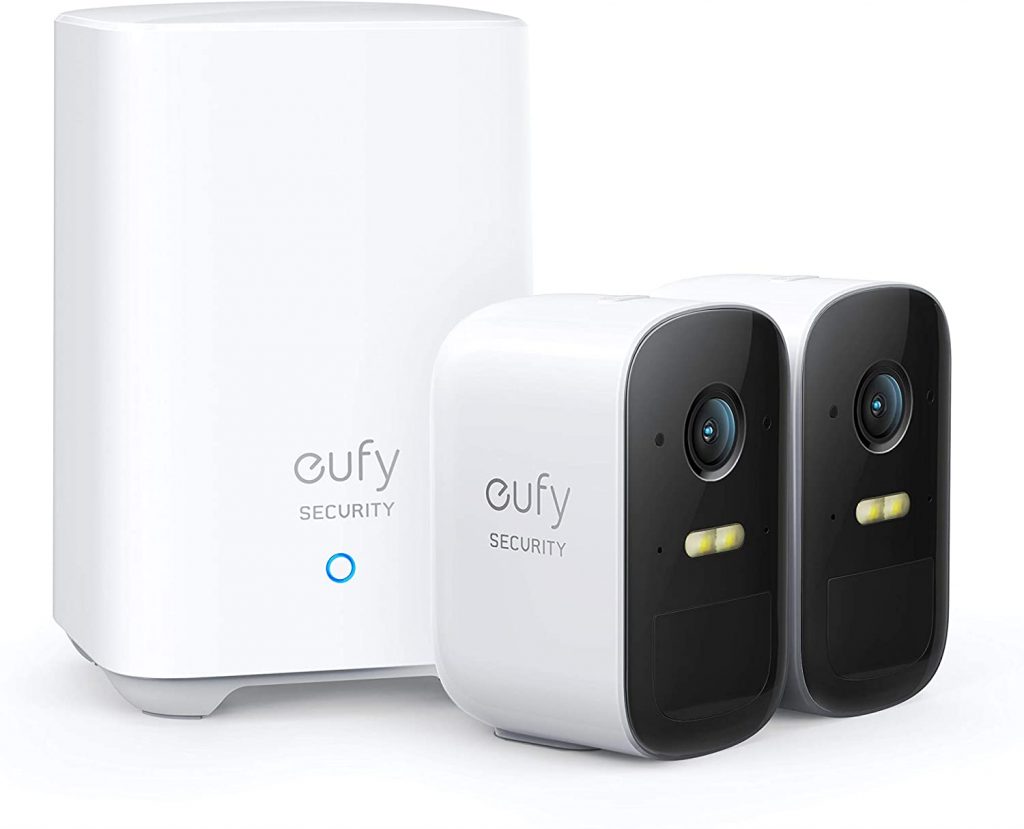 This security camera kit from eufy includes two wireless cameras and a hub for local storage of your video. The cameras have a 135-degree diagonal field of view, which is more limited than the Logitech Circle View. But, you can use the two cameras to gain additional perspective around your home as needed. 
What they may lack in field of view, these cameras make up for with their utterly wireless design. That adds to their versatility quite a bit. 
So, instead of having to run a power cord, you will need to recharge the batteries. Unlike some other wireless cameras with short battery life requiring frequent recharges, these cameras can remain fully powered for up to half of a year on just one charge. 
Capable of streaming and storing your surveillance in 1080 resolution, the camera is also programmed to detect the patterns of human activity, which will alert you to any intrusion onto your property and cut down on false alarms by ignoring the motion of animals and cars going by down the street. 
You can still stream the camera's feed or review video, but you won't get constant false alerts. 
The features of this set of cameras certainly justify their moderate price tag. And the versatility of their wireless setup is a huge plus. You can even find bundle packages with more cameras if you want to expand your surveillance range. 
But, even though wireless charging is a big plus for some users, it has a significant drawback. To charge the camera, you need to dismount it and charge it via a cord. 
That might mean getting out a ladder a couple of times per year or having to mount your camera at an easier-to-access height. That limits your view and potentially exposes the camera to vandalism or theft.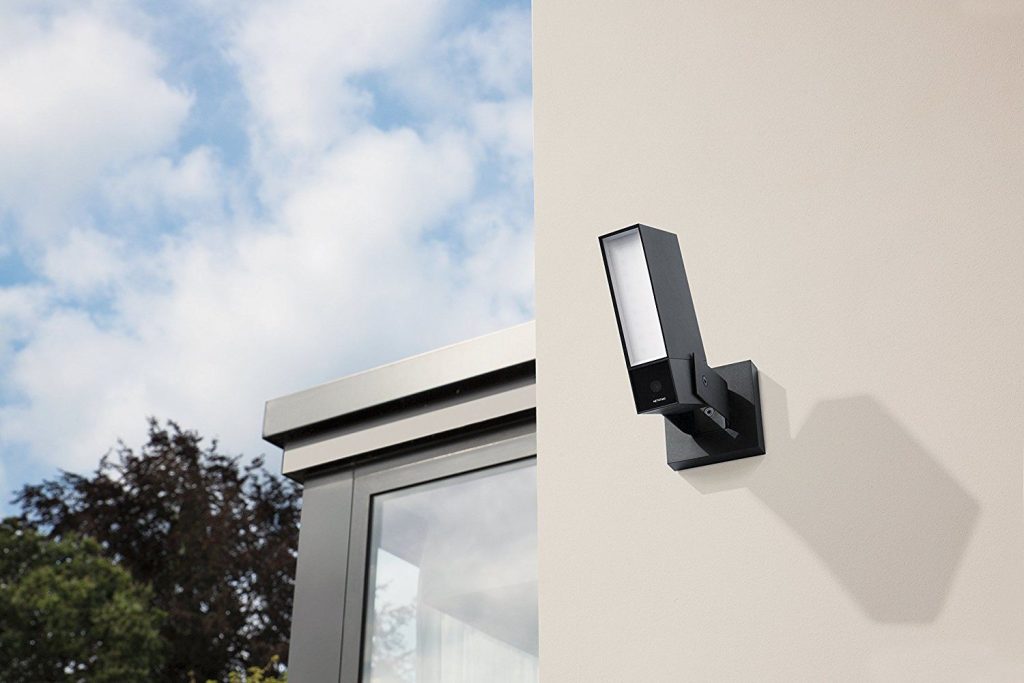 This security camera from Netatmo has a built-in floodlight. When it senses movement, it records video on its local storage, illuminates its powerful floodlight, and sends you a notification. 
You control all of that via the Apple HomeKit. This camera can also integrate with Google and Alexa systems. 
Unlike some other cameras, this model only records when it senses movement. You can fine-tune its sensitivity and when you receive alerts through the app. 
It also takes the place of an existing floodlight, tapping into your home's wiring for its power source. Simply remove your existing floodlight, follow the included instructions for wiring, and you're ready to go. 
This camera is not just for security but practicality. Yes, there is a bit of work to do to set it up, and you need basic DIY skills to do some elementary electrical work. But, once installed, this camera and floodlight are ready to protect and illuminate the perimeter of your home.
Infrared night vision, 1080 video resolution, and long-range motion detection round out the features included with the weatherproof Netatmo security camera. 
You may also consider an upgraded model with a built-in siren for scaring off intruders. One drawback is that video storage is done via a local microSD card onboard the camera itself. You can expand that storage through a home server or Dropbox account. 
But, at some point, you will probably have to physically remove the microSD card from the camera. To do so, you just have to pop off the bottom cover. Then you can either insert a new card or remove the data off the one you have and reinstall it. 
Some users of an Apple HomeKit system may just want to monitor activity inside their home instead of around the outside perimeter. In that case, the Solo Indoor Cam P24 from eufy is a top choice. 
It not only can detect motion, but it also has the artificial intelligence to determine which events are of interest and should be recorded. When motion is detected, the camera can track it by panning the lens a full 360 degrees horizontally or even up and down. 
You can also use the app for two-way voice communication through the camera in real-time.
This functionality is great for monitoring your home when you're away, but the ability to carry on a conversation remotely is also an asset. FOr instance, you'll not only be able to see that your kids are home from school, but you can also remind them to empty the dishwasher and do their homework before they watch TV. 
This camera is very affordable, so it is suitable for any budget. It is also ideally suited for use in a garage or other access point protected from the weather. 
Some people looking for a security camera for their smart home are focused on watching their doorway. The Logitech Circle View Doorbell camera is designed and optimized to do just that. 
With a 160 degree field of view, a tall head-to-toe angle of the lens, and color night vision, this camera is perfect for monitoring all the activity at your door.
It is perfect for keeping tabs on deliveries, and its two-way voice capability allows you to interact as needed. You can see from the floor to the ceiling, so you can see where your package sits. 
Plus, there are no batteries to change. Instead, this doorbell camera mounts in place of your existing doorbell and comes with all the wiring accessories you need to tap into your existing power circuit. 
This camera is developed by Logitech exclusively for use with Apple's HomeKit, so integration is seamless. It is available through Logitech or Apple at the same competitive price. 
Buying Guide
When you set out to buy a security camera for your home kit, here are some of the major things you want to consider before purchasing. 
Compatibility 
If you want your camera to do any good at all, you should always check to make sure that it is compatible with your system. Some cameras work with multiple systems, while others integrate exclusively on only one system. For instance, the two Logitech cameras work specifically and only with Apple HomeKit.
We see that is more of an advantage than a limitation. When the camera's design is based entirely on integration with Apple's HomeKit and intended to work together, the pairing is more straightforward. You don't need multiple apps to get things working. 
In many cases, you can save yourself some hassle by going with a camera designed to work specifically with your homekit, as they are often easier to set up than a universal camera choice. 
Wired or Wireless? 
Security cameras either use a wired or wireless design, both of which have distinct advantages and disadvantages you need to consider. 
A wireless camera will be easier to set up and adjust, but it will also require you to remember to charge it periodically. 
A wired camera will take much longer to set up, but there is little else you will need to do once you finish. This also makes it harder to adjust in the future though. 
Coverage
How far can the camera see? If your security camera has obvious blind spots, it will not give you the protection you need. When thinking about coverage, there are several things you want to consider: 
Where you want to put the camera
The degree range of the camera's vision
The camera's sensitivity (is it prone to false alarms?)
If the camera can pan to search a wider area
Think about the area you want the camera to cover and what range of vision your camera will require to fully monitor that area. 
So which is the best homekit security camera?
You and your home are unique. We all have different priorities when it comes to home monitoring. These cameras are our top picks for use with the Apple HomeKit system. 
They are all reliable and can be effectively integrated into your home. 
Our favoriate one was the Logitech Circle View which you can check out here==>
Questions? concerns? feel free to comment below!